Over the past few years, several government agencies in Singapore have been working together to make the central core of the city more people-friendly and create green, community spaces that help preserve history and memories, as well as contribute towards place-making. One of the measures that has been implemented is to pedestrianise streets in the city centre and close them off to vehicular traffic. (Top photo: Civic District)
The Empress Place, for example, has been paved over to create a public park with art installations and benches in front of the ACM and the Victoria Theatre and Concert Hall. The latest precinct to be pedestrianised is the civic district, which will entail closing off Connaught Drive and Anderson Bridge and enable free movement of foot traffic between the Asian Civilisations Museum (ACM), Victoria Theatre and Concert Hall, the National Gallery Singapore and The Arts House at Old Parliament.
Making the announcement, the Land Transport Authority (LTA), the National Parks Board (NParks) and the Urban Redevelopment Authority (URA) said that the changes will come into effect from the end of December 2021.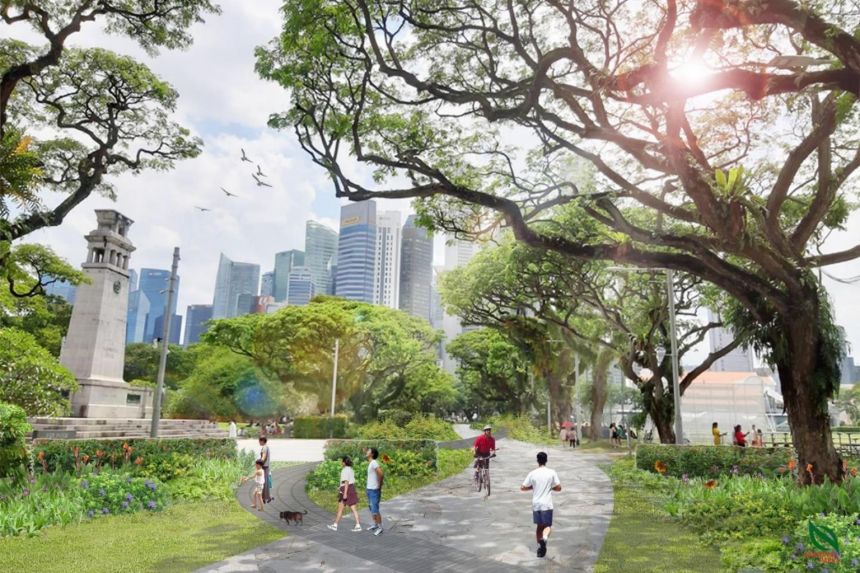 "We hope to offer visitors a green, idyllic and elegant cultural precinct where they can walk in leisure to enjoy a glimpse of the past without having to compete with vehicular traffic," said Mr Ng Lang, chief executive of the LTA.
After the ongoing beautification works have been completed, the three agencies will work with the stakeholders – the Civic District Alliance, which consists of ACM, Esplanade – Theatres on the Bay, National Gallery Singapore, The Arts House and Victoria Theatre and Concert Hall, to plan open spaces to hold outdoor programmes for visitors.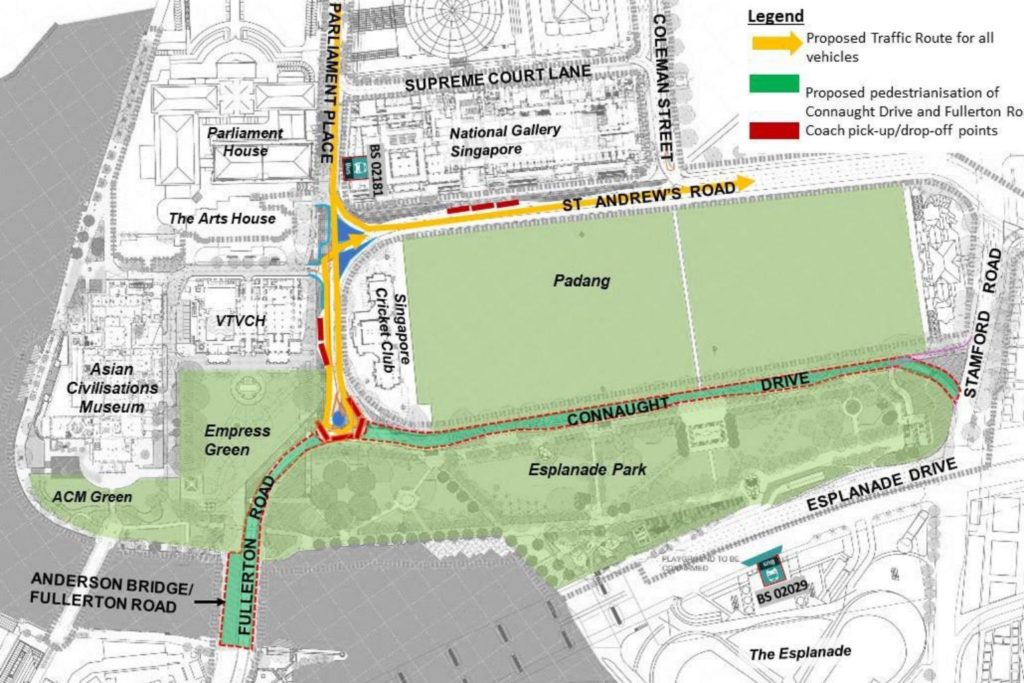 The move is aligned with Singapore's push towards becoming a car-lite city, one of the several goals stated in SG Green Plan 2030. The pedestrianisation is not just limited to the city centre, but areas away from the city fringes and further into the heartlands, such as Sembawang and Bishan-Toa Payoh, are also being primed for such a transition. The LTA has pointed out almost 60 sites that could shift to more environmentally-friendly modes of transport such as pedestrian footpaths, cycling networks and public buses.
The announcement is a reflection of the prevalent global trend in cities that has taken a more urgent shape due to the need to create more liveable cities in a post-pandemic world, as well as the increasing call to to action towards climate change. In the West, cities such as Paris, where Mayor Anne Hidalgo announced that it will ban automobiles in the city centre by 2022 to reduce car traffic and carbon emission. Its 15-minute City Plan by Professor Carlos Morena recently won the Obel Award for this concept. Plans are afoot in other cities such as Edinburgh, Porto, London, Manchester and Milan to convert some of the most congested streets to foot traffic only.
You might also like:
French academic Carlos Moreno's 15-minute city plan wins OBEL AWARD 2021
UNStudio unveils Project H1, a new tech-assisted masterplan for a 10-minute city in Seoul
Singapore Deputy Prime Minister highlights why cities will remain relevant during World Cities Summit and suggests solutions