The Urban Land Institute (ULI), an international nonprofit education and research institute that provides insights into the future of the built environment and its impact on communities, recently announced the nine winners of this year's ULI Global Awards for Excellence. Three out of the nine winners are Singapore projects. It includes two projects – Kampung Admiralty designed by WOHA, and Punggol Town – by the city-state's Housing and Development Board (HDB), as well as Funan Mall by CapitaLand. Top photo: Patrick Bingham-Hall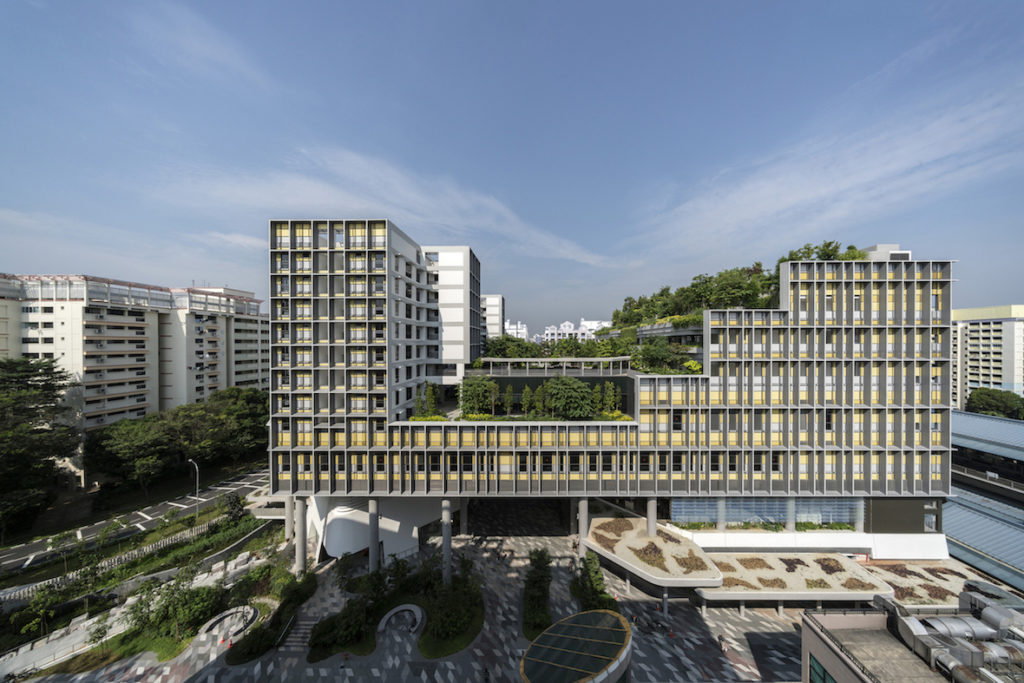 The Kampung Admiralty integrated project by award-winning practice WOHA is located on a tight 0.9ha site with a height limit of 45m, and the scheme builds upon a layered 'club sandwich' approach. A "Vertical Kampung (village in Malay)" is devised, with a community plaza in the lower stratum, a medical centre in the mid stratum, and a community park with apartments for seniors in the upper stratum. These three distinct stratums juxtapose the various building uses to foster diversity of cross-programming and frees up the ground level for activity generators. The close proximity to healthcare, social, commercial and other amenities support inter-generational bonding and promote active ageing in place.
Punggol Town, a public housing estate by HDB has won several awards in the past for its sustainable and thoughtful planning that takes into account not only a well-designed built environment with a myriad of facilities for the residents, but its impact on the area's biodiversity. As such the estate has successfully integrated diverse bio habitats that encourage a harmonious co-existence with humans, flora and fauna.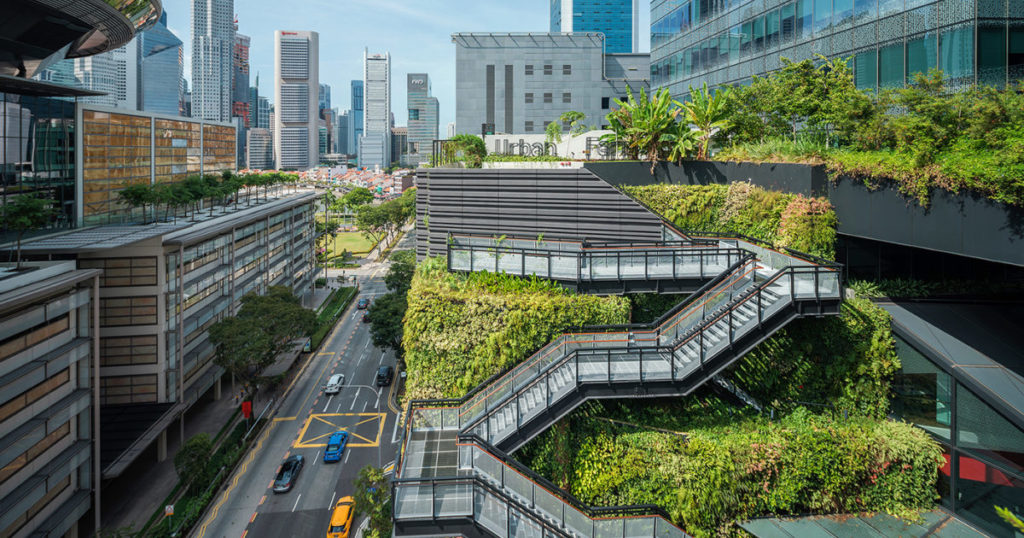 Funan Mall opened to rave reviews in 2019 after its previous incarnation was demolished and then redeveloped by leading real estate company CapitaLand. Its location in the Civic District, in close proximity to cultural institutions, heritage hotels and nightlife venues, seems to have contributed to its present form. How do you strike a balance between commerce and culture, even as retail concepts continue to reinvent themselves by offering new and experiential shopping to customers?
Designed by Woods Bagot, RSP Architects, Planners and Engineers, with landscaping by UK practice Grant Associates, the retail venue, which features a rooftop garden, open-air space, in addition to shops and dining establishments, has won accolades for seamlessly integrating green public spaces into a commercial building, which not only evokes a sense of placemaking but also optimises land use in land-scarce Singapore.
Established in 1936, ULI has more than 45,000 members worldwide representing all aspects of land use and development disciplines. In 2021, the winners of the regional ULI Awards for Excellence in the ULI Americas, Asia Pacific, and Europe regions became finalists in the 2021 ULI Global Awards for Excellence. The 45 finalists included 2020 winners of the Asia Pacific and Europe Awards for Excellence; the Americas awards program launched in 2021.
Out of the list of the 45 shortlisted finalists, nine winners were selected by a multidisciplinary jury of nine ULI members who had served on their respective regional juries. The jurors represent a range of real estate and land use expertise, including development, finance, planning, urban design, architecture, and landscape architecture.
"Each of the 45 finalists demonstrated a level of excellence and best practices within their respective regions," noted jury chair Alex Rose, senior vice president, Continental Development Corporation, El Segundo, California. "In addition to superior levels of achievement at the regional scale, the winners each exhibited a higher level of excellence in their community enhancement, uniqueness, innovation, and replicability at a global scale—the characteristics that enable developers and communities around the world to learn from one another and transport and adapt aspects of such phenomenal projects to their respective, unique circumstances."
In addition to Rose, the 2021 ULI Global Awards for Excellence jury members are Ame Engelhart, director, Skidmore, Owings & Merrill, Hong Kong; Siew Leng Fun, chief urban designer, Urban Redevelopment Authority, Singapore; Manfred Guenterberg, member of the board, Wolfsburg AG, Wolfsburg, Germany; Peter Holland, director, Cistri, Melbourne, Australia; Jane Jenkins, president and chief executive officer, Downtown Oklahoma City Partnership, Oklahoma City, Oklahoma; Tinka Kleine, senior director, private real estate, PGGM, Zeist, Netherlands; Paul Morris, chief executive officer, MCP Foundation Inc., Atlanta, Georgia; and Giancarlo Scotti, chief executive office, Reale Compagnia Italiana, Milan, Italy.
You might also like:
President's Design Award 2020 winners announced; include a popular design thought leader, architects and community projects
HDB Awards 2019 puts the spotlight on Singapore's public housing excellence
Singapore Post launches new stamp series to commemorate the Lion City's iconic tall buildings with green spaces