Singapore President Halimah Yacob presented the President's Design Award (PDA) 2020 today at the Istana to 11 Designer and Design of the Year recipients for creating innovative and impactful solutions that address global and local issues such as ageing societies, underserved communities, climate change and sustainability.
Jointly organised by the DesignSingapore Council (Dsg) and the Urban Redevelopment Authority (URA), the biennial award was given to two Designer of the Year and nine Design of the Year recipients who have contributed to economic, cultural and community transformation, raised quality of life, made ground-breaking achievements in design, and elevated Singapore on the world stage.
A total of 129 submissions across various disciplines — including architecture, interior design, visual communications, user interface, UX/UI design, educational and user experience, spatial design, engineering design and more — were received, reflecting the critical role of design in shaping how we can better live, learn, work, and play.
Ar. Mark Wee, Executive Director of Dsg said: "This cycle of the P*DA takes place amidst an unusually trying time when societies and economies are in flux. The turbulent changes are a stark reminder that as designers, we can serve a higher purpose by seeking to solve societal challenges to create a better world. This year's PDA recipients exemplify design's ability to transform, improve and touch the lives of people from all walks of life. We hope others will be inspired by these projects and see how good design can create a brighter, better future."
Ar. Yap Lay Bee, Group Director (Architecture & Urban Design), URA added: "The P*DA 2020 recipients and projects have demonstrated responsiveness to environmental and community outcomes. This is a testament to the pertinent role that architects play in creating places that inspire the community, drive connections and break social barriers. This results in well-designed buildings and spaces that aren't just attractive, but also sustainable and beneficial for generations to come."
The Designer of the Year award went to a Singapore designer and an architect duo, all of whom have spent their careers focused on making a difference to their industry, community and country:
KELLEY CHENG, FOUNDER, THE PRESS ROOM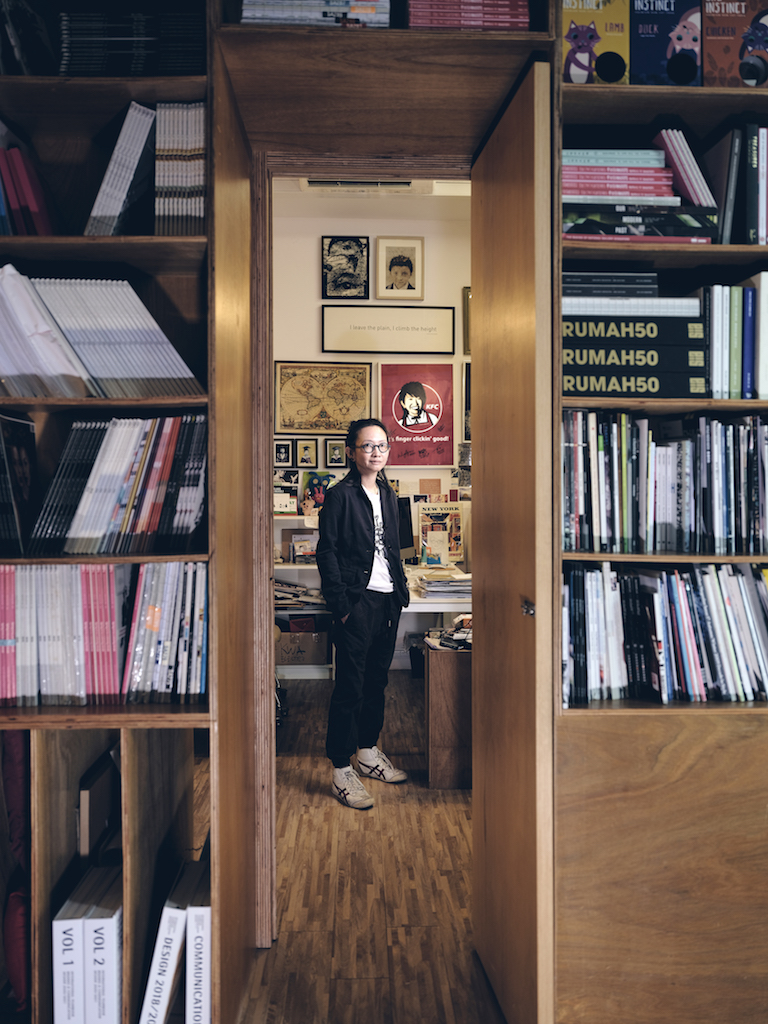 Kelley Cheng, Creative Director of The Press Room, was recognised by the Jury for her outstanding body of work spanning visual communications, publishing and exhibition design; and for tirelessly working to champion and nurture Singapore's creative community. Ms Cheng is a stalwart of Singapore's design scene, and one of the earliest champions of a multidisciplinary design approach in the Lion City.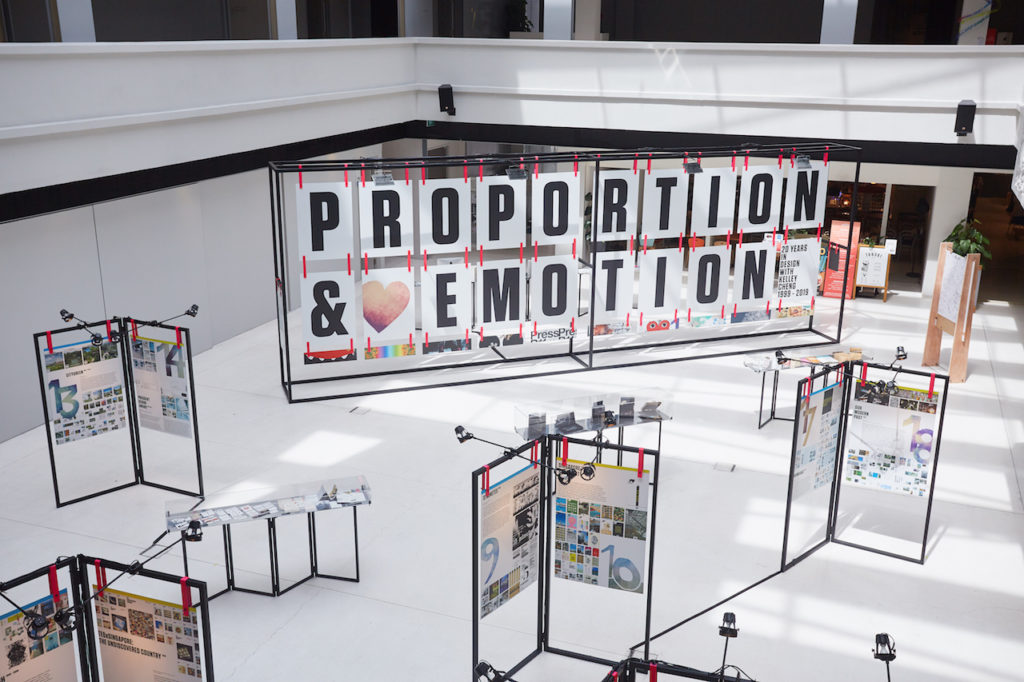 With an oeuvre spanning visual as well as exhibition design, her body of work was the subject of an exhibition at the National Design Centre in 2019. She is frequently invited to international events, such as the Red Dot Design Awards and Design Asia Awards, as a jury member.
---
ARCHITECTS KHOO PENG BENG AND BELINDA HUANG, CO-FOUNDERS, ARC STUDIO ARCHITECTURE + URBANISM

Husband-and-wife architect team, Ar. Khoo Peng Beng and Ar. Belinda Huang, Directors of ARC Studio Architecture + Urbanism Pte Ltd, were lauded for developing socially meaningful, community-focused projects and for their outstanding contributions in mentoring and developing young and aspiring architects.
One of their seminal projects, Pinnacle@Duxton, has been hailed worldwide for its human-centric approach to urban living in densely populated cities.
---
Nine projects received the Design of the Year award for demonstrating design's ability to transform and touch the lives of people from all walks of life, here and abroad:
SPARKLETOTS PRESCHOOL, PUNGGOL BY LAUD ARCHITECTS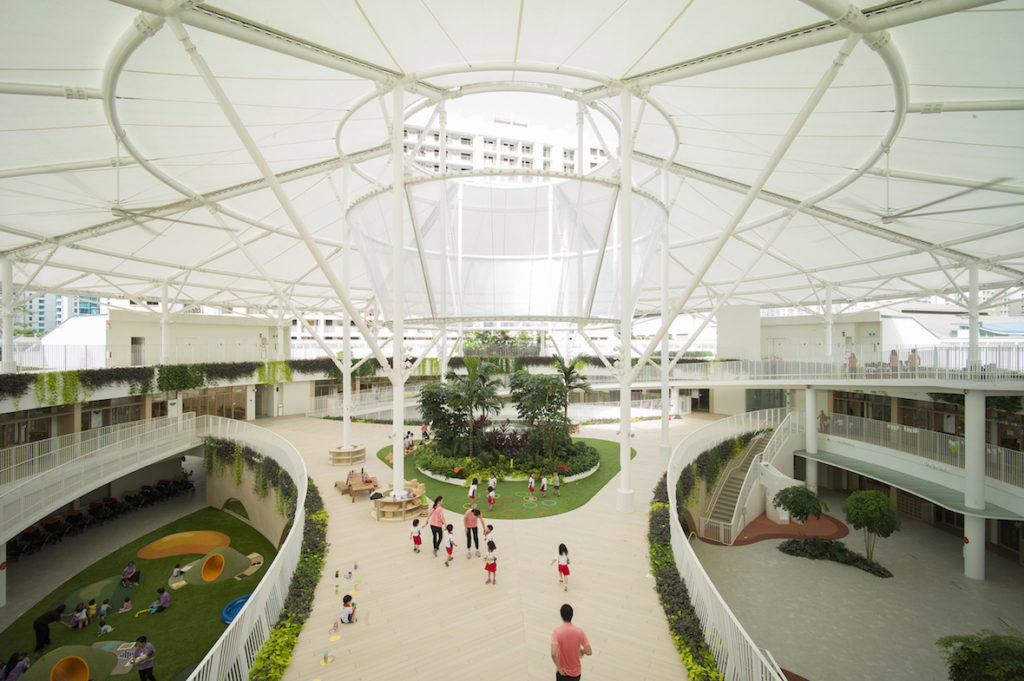 For the young, Sparkletots Large Preschool at Punggol, led by Ar. Ho Tzu Yin and Ar. Matthew Yeo from LAUD Architects Pte Ltd, provides a safe and inclusive space to learn and play by reinventing the conventional notion of a childcare facility.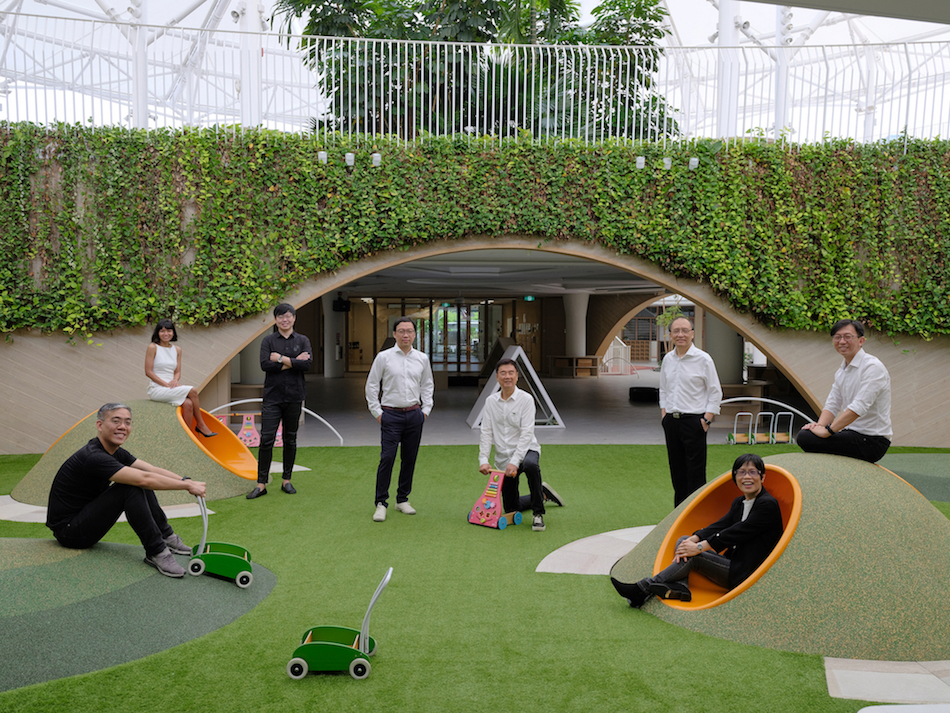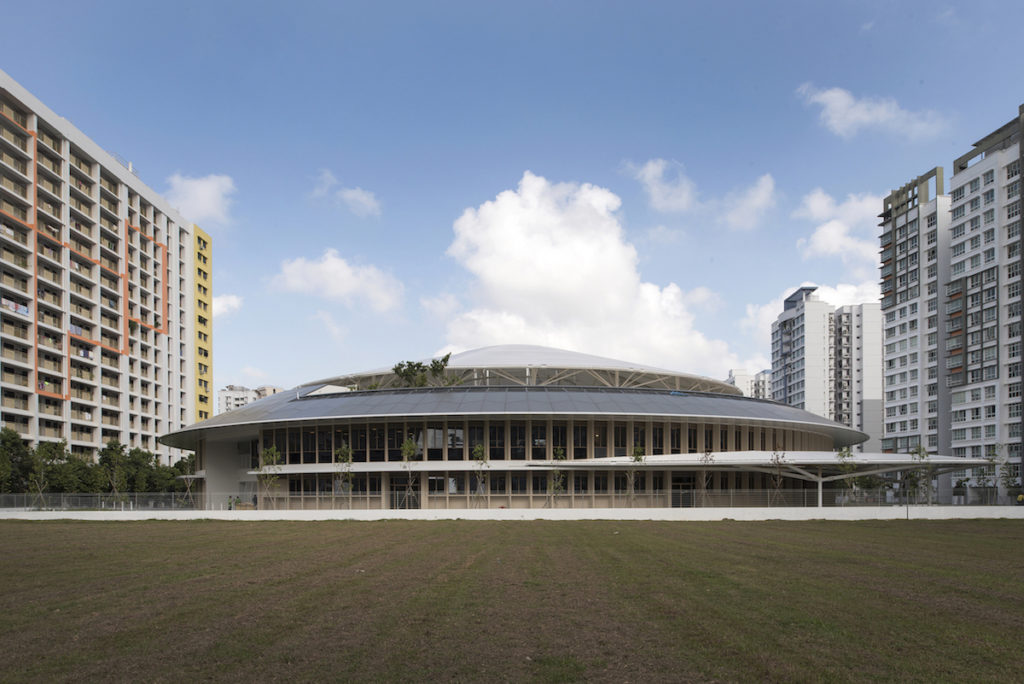 Home to 1,000 children, the development is located in Punggol, a relatively new town characteriSed largely by young couples just starting their families. The elegant circular building form with an overhanging roof canopy conveys an image of shelter and protection. Prominently located along Edgefield Plains, the grand drop-off with the large ETFE (Ethylene tetrafluoroethylene) canopy and double-volume main entrance allows convenient and sheltered drop-off/pick-up points and doubles up as an event plaza for celebrations. 
The façade of the three-storey building is composed of a series of vertical fins integrated with operable ventilation louvres in a light timber colour to emphasise the connection with nature. The alternating solid panels and operable ventilation louvres are cleverly angled such that the louvered windows face away from and minimise sun exposure from the western direction. 
---
KAMPUNG ADMIRALTY BY WOHA ARCHITECTS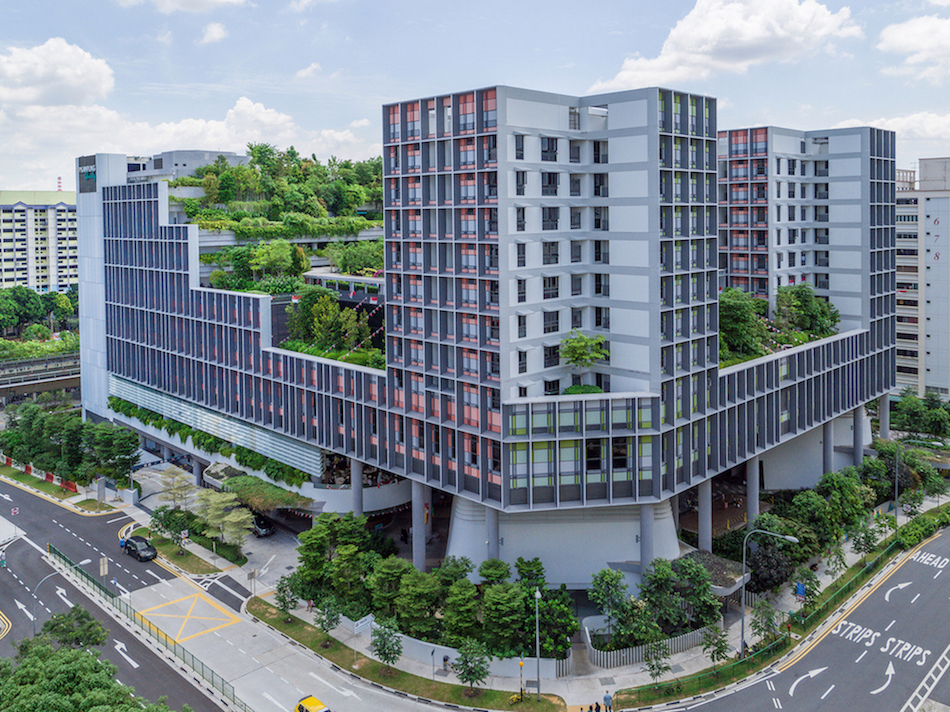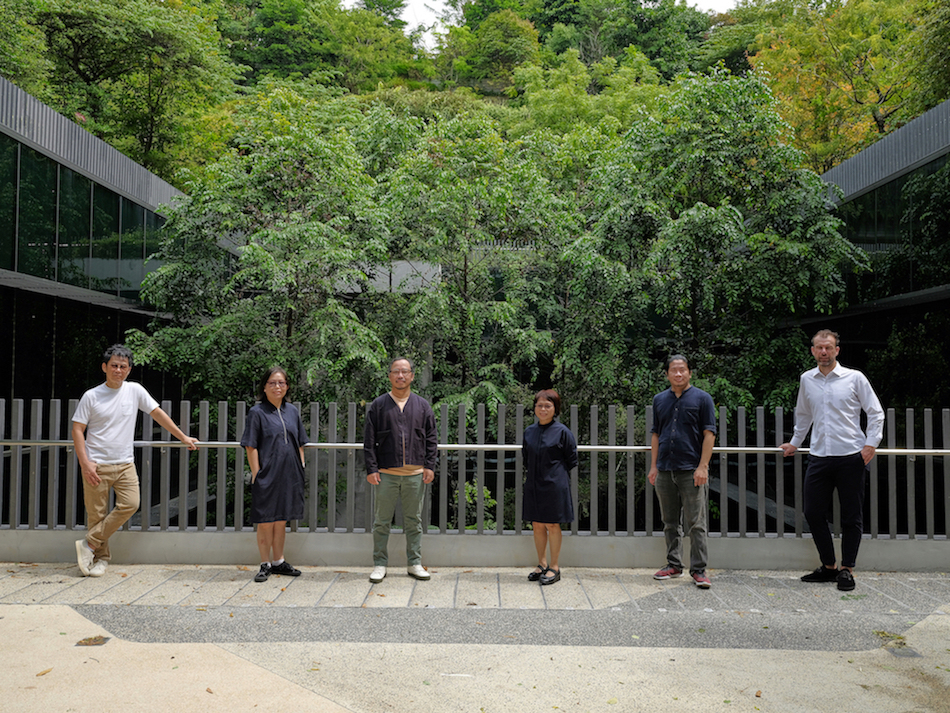 Kampung Admiralty, led by Ar. Wong Mun Summ and Ar. Pearl Chee from WOHA Architects Pte Ltd, and Goodlife! Makan, led by Ar. Seah Chee Huang from DP Architects Pte Ltd, create spaces that reintegrate our silver generation into the community and revitalise their golden years.
Located on a tight 0.9ha site with a height limit of 45m, the scheme builds upon a layered 'club sandwich' approach. A "Vertical Kampung (village in Malay)" is devised, with a community plaza in the lower stratum, a medical centre in the mid stratum, and a community park with apartments for seniors in the upper stratum. These three distinct stratums juxtapose the various building uses to foster diversity of cross-programming and frees up the ground level for activity generators. The close proximity to healthcare, social, commercial and other amenities support inter-generational bonding and promote active ageing in place.
---
GOODLIFE! MAKAN, MARINE TERRACE BY DP ARCHITECTS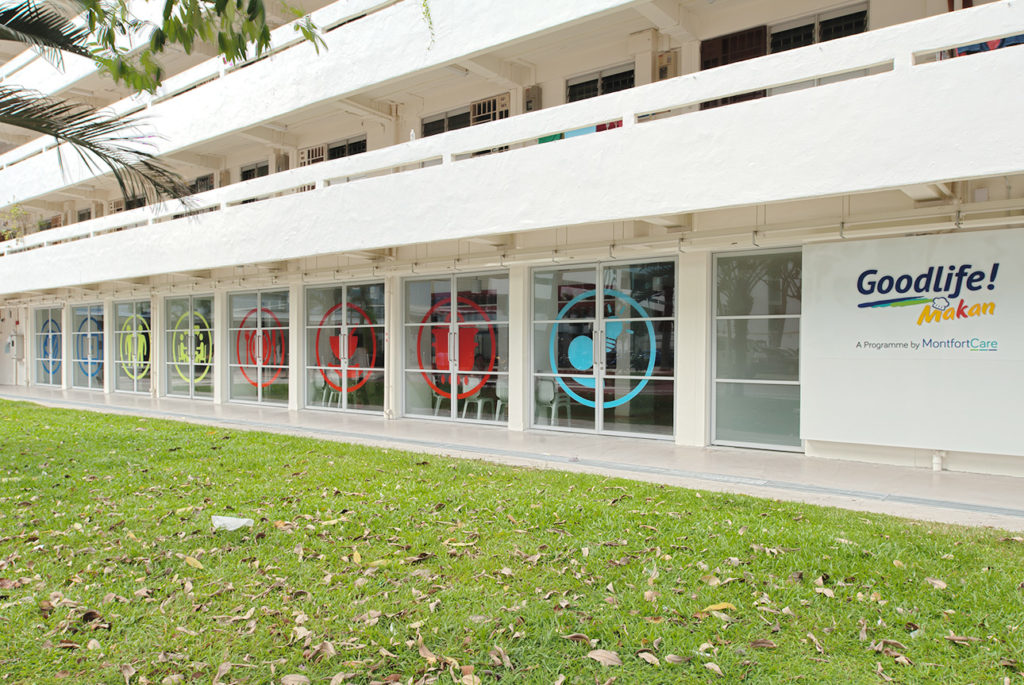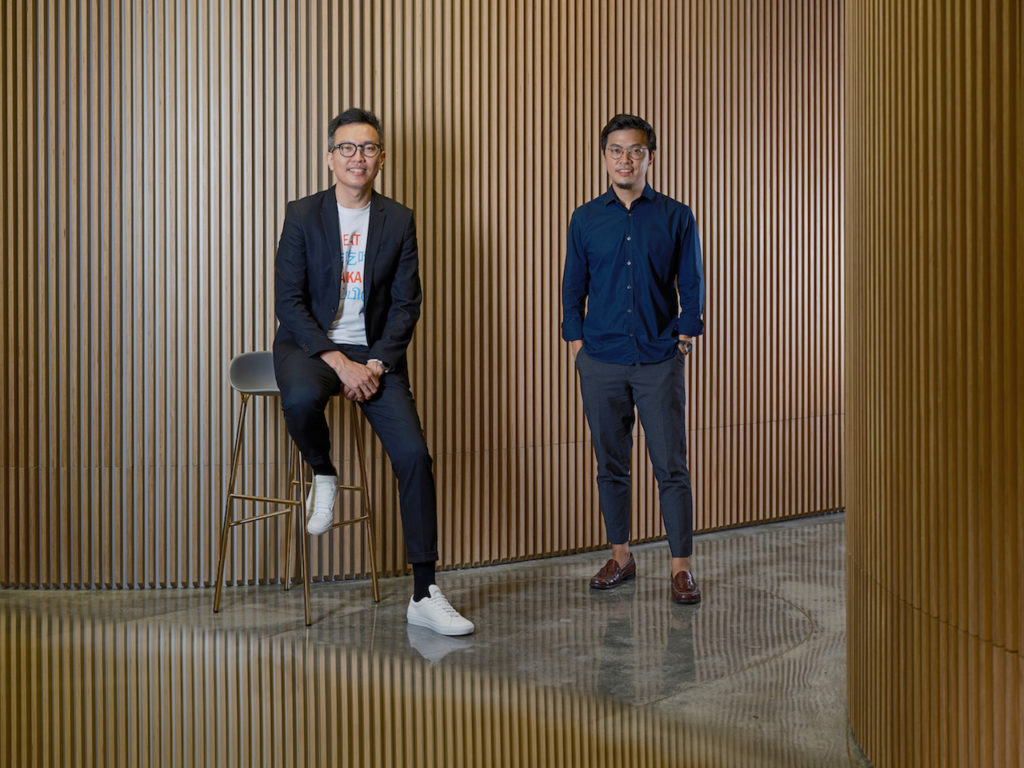 GoodLife! Makan is an innovative social initiative that supports ageing-in-place, built around meaningful pastimes that address the physical and mental wellness of seniors.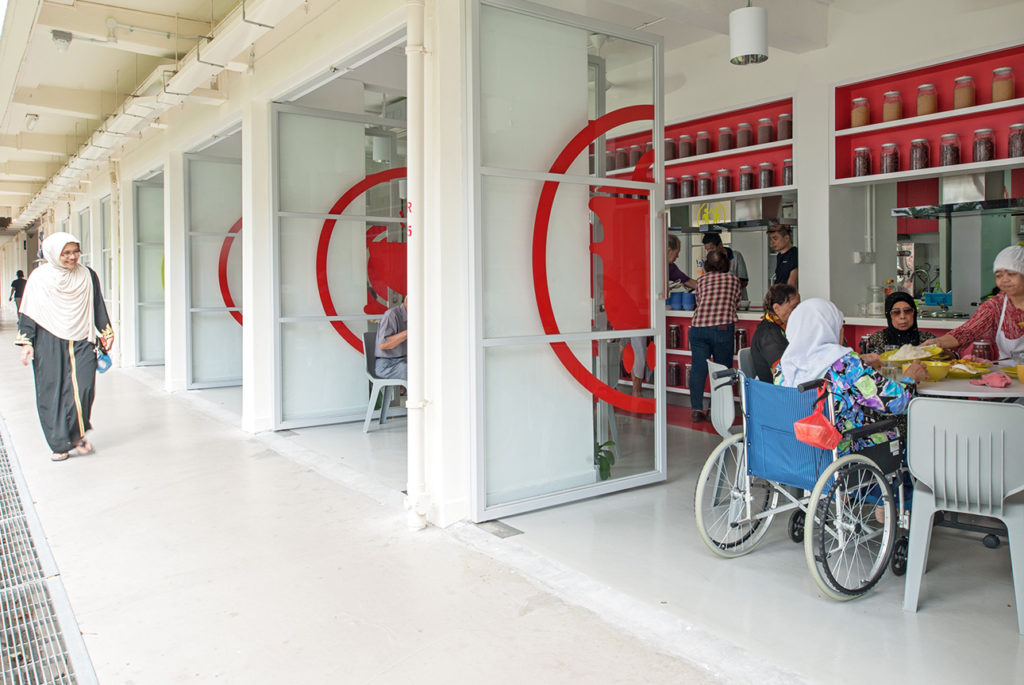 Keeping in mind the elderly's movement patterns, the daily activities of cooking, dining, cleaning up as well as mingling were kept to an intimate space. An extensive array of full-height transparent glass doors was utilised along its entire frontage to enhance the social space's appeal, allow effective cross-ventilation and daylight to flood the interiors and provide shelter in the event of adverse weather.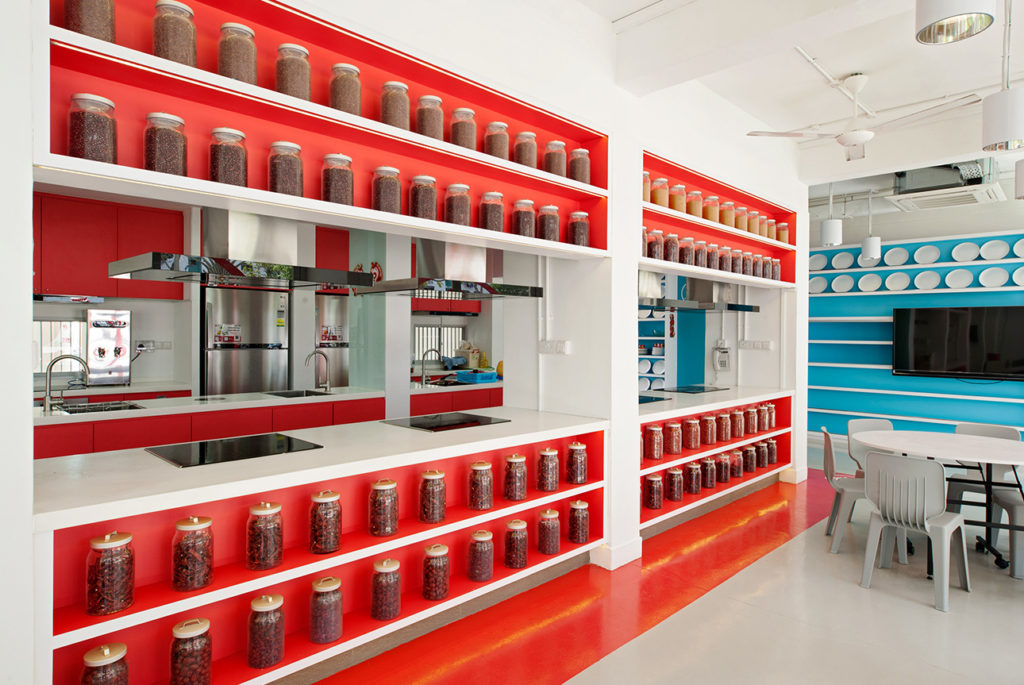 This notion of openness extends to the interior space. The kitchen forms the heart, around which spaces are organised to complement the preparation and partaking of food. Mobile partitions are strategically positioned to allow the flexibility of multiple concurrent activities and events of different scales to take place. Activity areas were clearly demarcated through colour and explained with universally understood signages and pictograms – cutting across different language and ethnic backgrounds.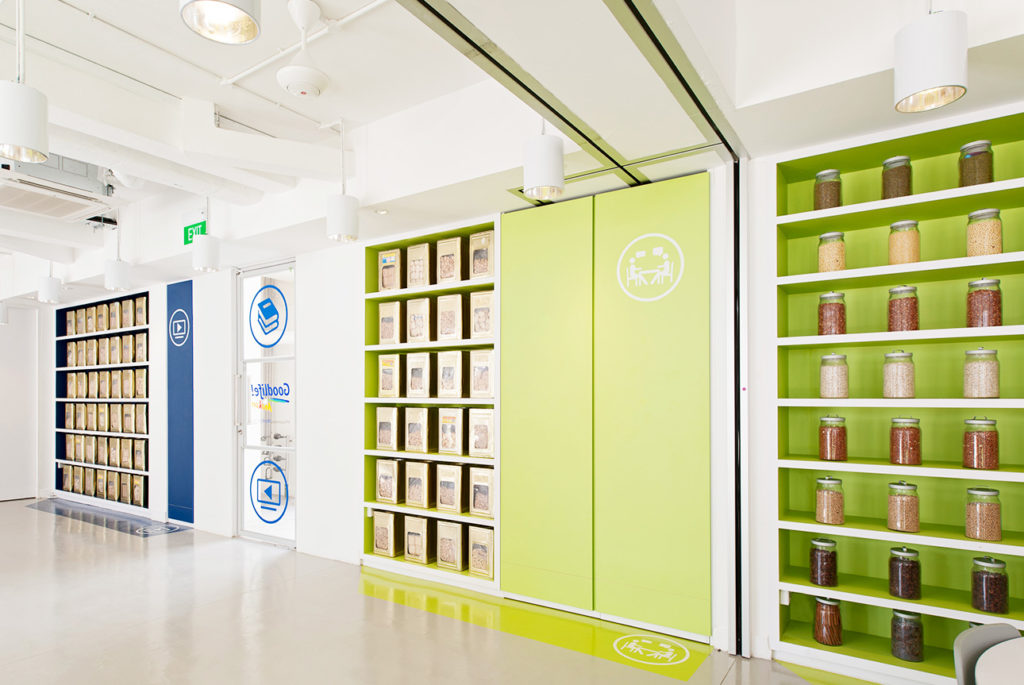 Through these thoughtful design elements and open concept, the space retains a lively and dynamic character while effectively working to reduce social stigma and address the psyche of the stay-alone seniors. The facility reinterprets social settings for the elderly, as a pioneering and alternative model that is inclusive and cost-efficient to create and maintain across open neighbourhoods.
---
CLOISTER HOUSE, MALAYSIA, FORMWERKZ ARCHITECTS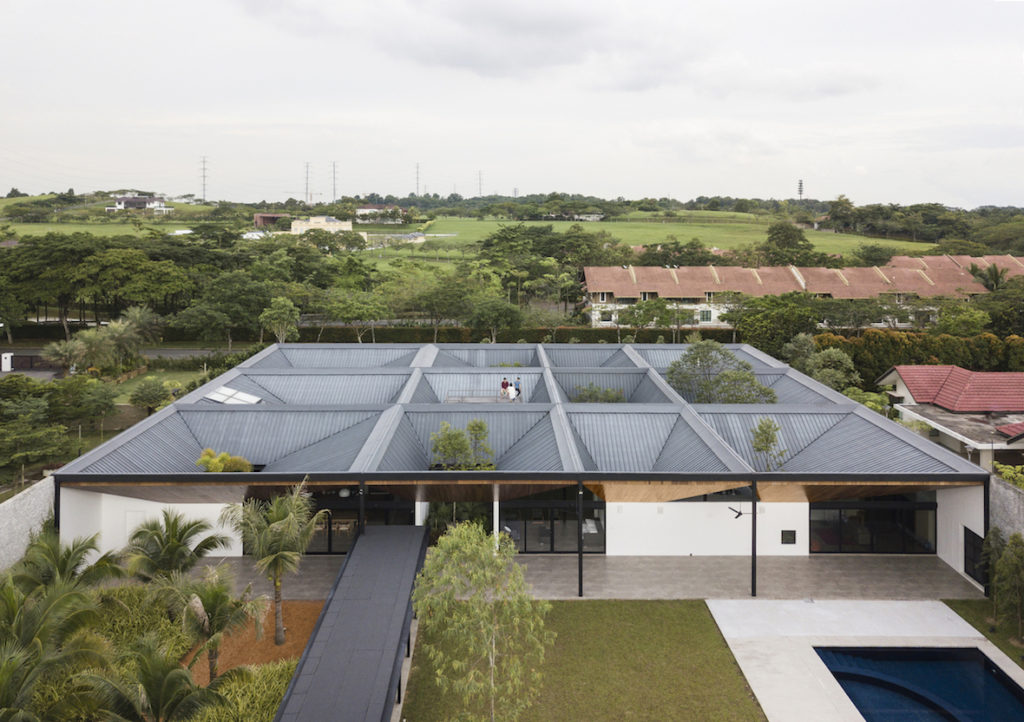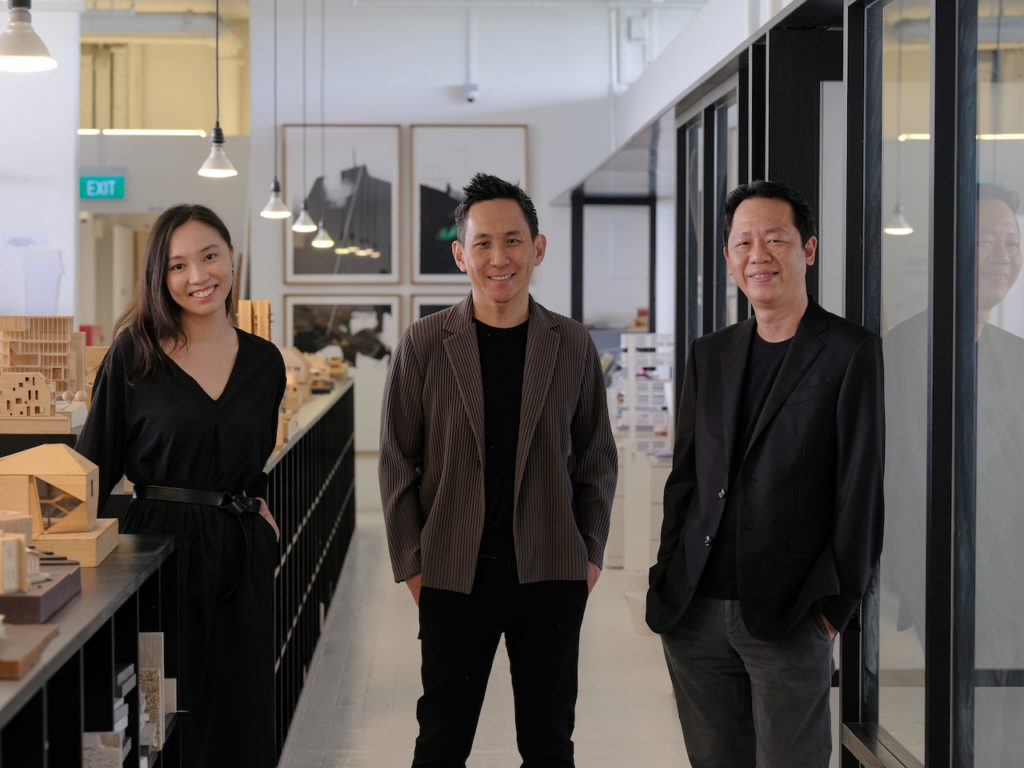 Cloister House, led by Ar. Alan Tay and Ar. Seetoh Kum Loon from Formwerkz Architects, reinterprets the cluster house typology to provide a functional yet stunning living space in the tropics.
Geoffrey Bawa's house on 33rd Lane in Colombo and the House of the Faun in Pompeii (2nd century AC) were references that were instrumental in the formulation of the plan in early stages. From the street, the house looks understated, almost unapologetically flat, revealing little of the interior except for the faceted, sloping timber ceiling that hangs within.
The 5m tall walls fortify the interior and encapsulate the roofs that slope inwards to the courtyards. Within the compound, the main bulk of the house, where communal living and entertaining occurs, is compacted over a third of the plot size, freeing up a vast expanse of space for a back garden, pool and an annex block that houses the immediate family's quarters. A dominant interior feature that characterises the different, inter-connected cloistered spaces is the multi-faceted, Merbau timber ceiling that slopes from the high ridges towards the courtyards.
---
ETANIA GREEN SCHOOL, SABAH, MALAYSIA, BY BILLION BRICKS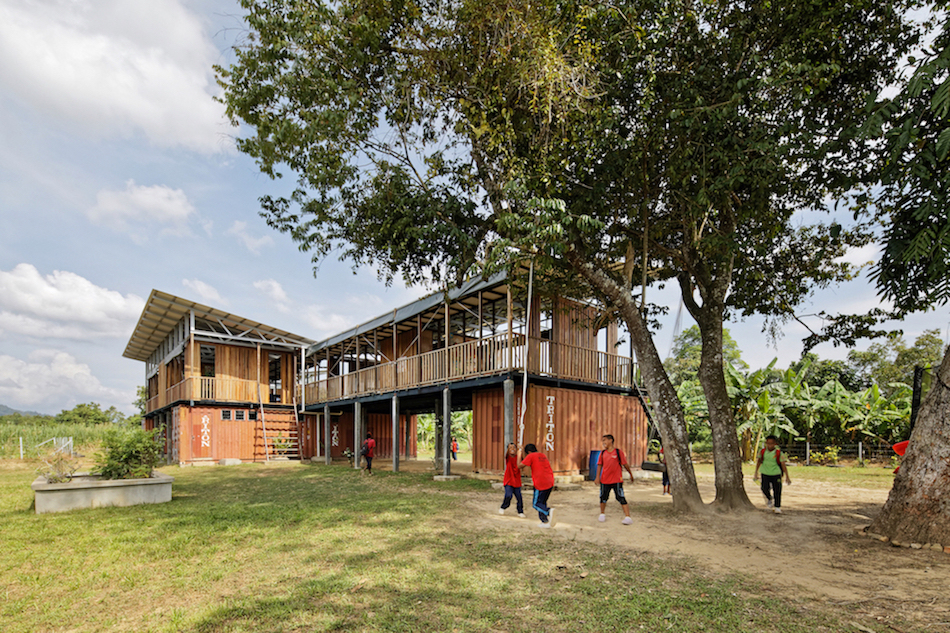 Etania Green School, by architects Prasoon Kumar and Robert Verrijt from Billion Bricks Ltd, is a source for experiential learning as well as a place of pride and dignity for the stateless children and community in Sabah, Malaysia.
In Sabah, Malaysia, many thousands of stateless children have become marginalised due to their legal status. These are mainly children of illegal or legal Indonesian migrant workers, who come to Sabah to seek work on the plantations in the hopes of a better life. The school, which accommodates around 350 children aged five to 13, is located along a river with a history of massive floods once every 10 years or so. The destruction of the original rainforest and their replacement by oil palm plantations has increased the flood risk even further. Therefore, the prototype school is, not unlike much of Borneo's vernacular architecture.
However, the classrooms are here lifted off the ground in an unconventional way. Five decommissioned shipping containers and an artificially created mound from soil excavated for a water harvesting pond, support the classrooms. This minimises the structural components, and stabilises the framework. Additionally, it creates a covered space below the classrooms for a lunch area and gathering space. The containers are also used for storage and toilets.
---
EYEAH! PUBLICATION BY STEVE LAWLER and TANYA WILSON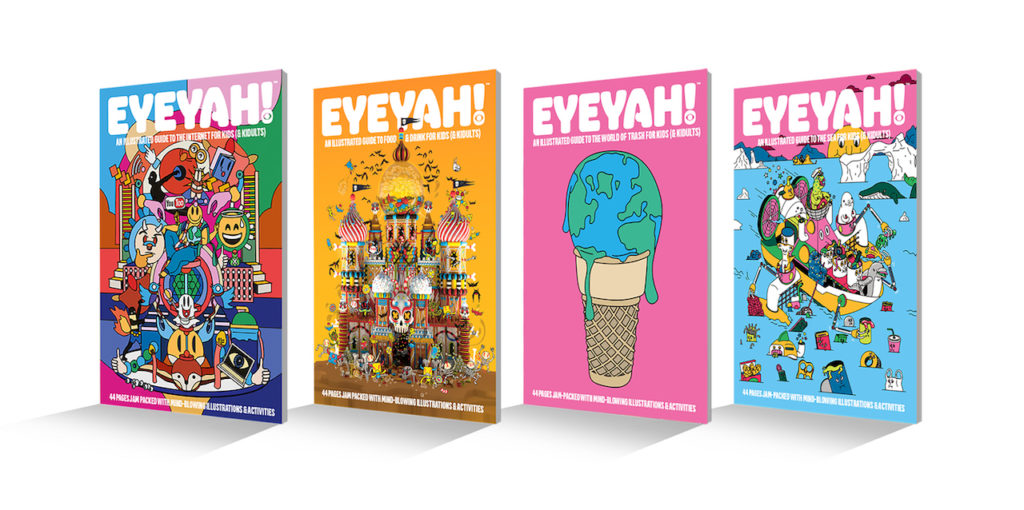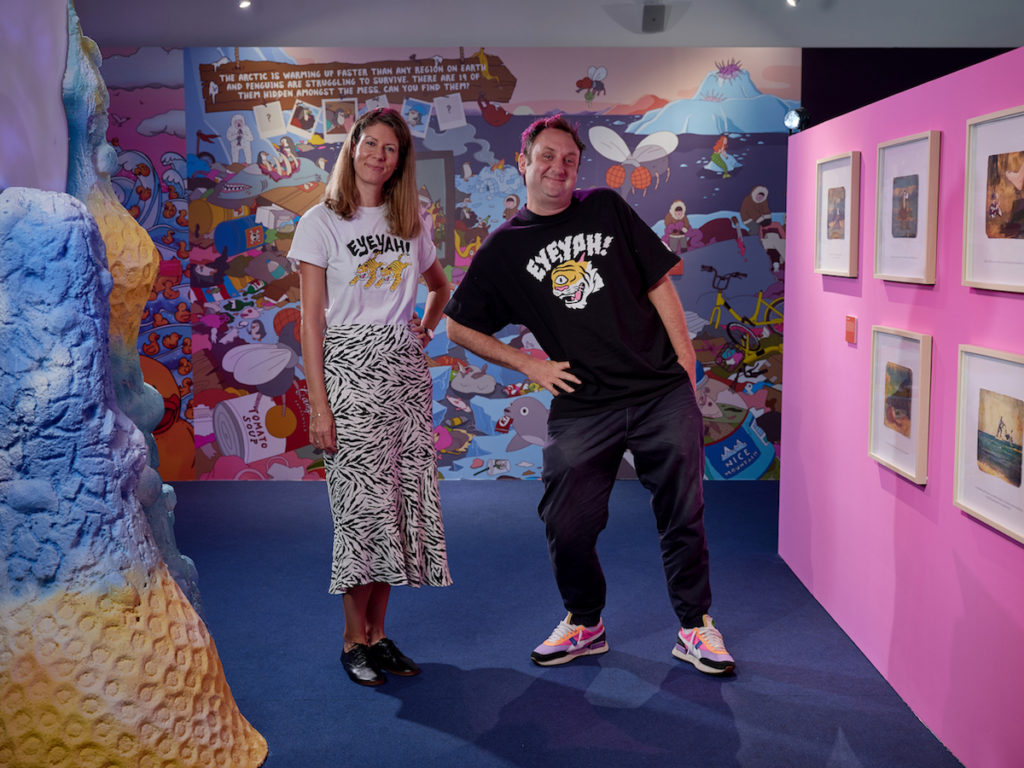 EYEYAH!, an art-based publication by Steve Lawler and Tanya Wilson, empowers children with creative and problem-solving skills through visual communications not just in Singapore, but in the United Kingdom and the United States.
---
THE [NOT-SO] CONVENIENCE STORE BY KINETIC SINGAPORE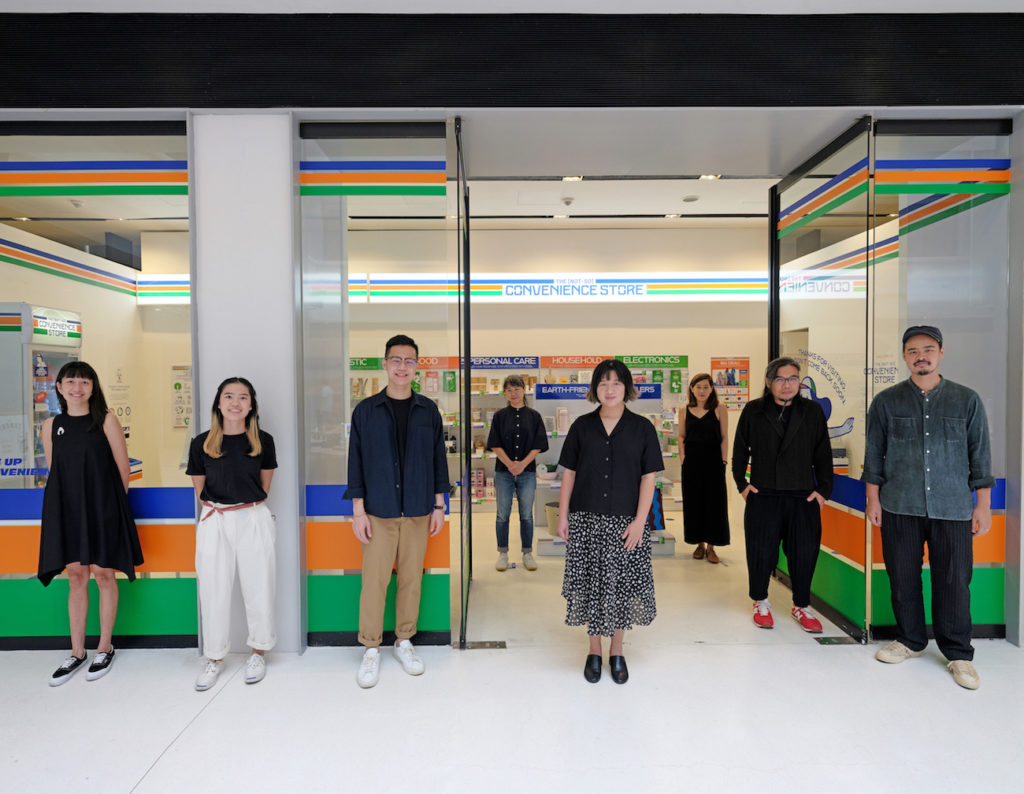 The [Not-So] Convenience Store, led by Astri Nursalim from Kinetic Singapore is a tongue-in-cheek exhibition, which has sparked necessary discussions around the cost of our culture of convenience on the environment. First commissioned by Temasek Shophouse, home to Temasek's philanthropic arm which comprises organisations such as Temasek Trust, Temasek Foundation and Stewardship Asia Centre, the concept store was exhibited at the National Design Centre from January to March this year.
---

JEWEL CHANGI AIRPORT BY SAFDIE ARCHITECTS AND RSP ARCHITECTS, PLANNERS & ENGINEERS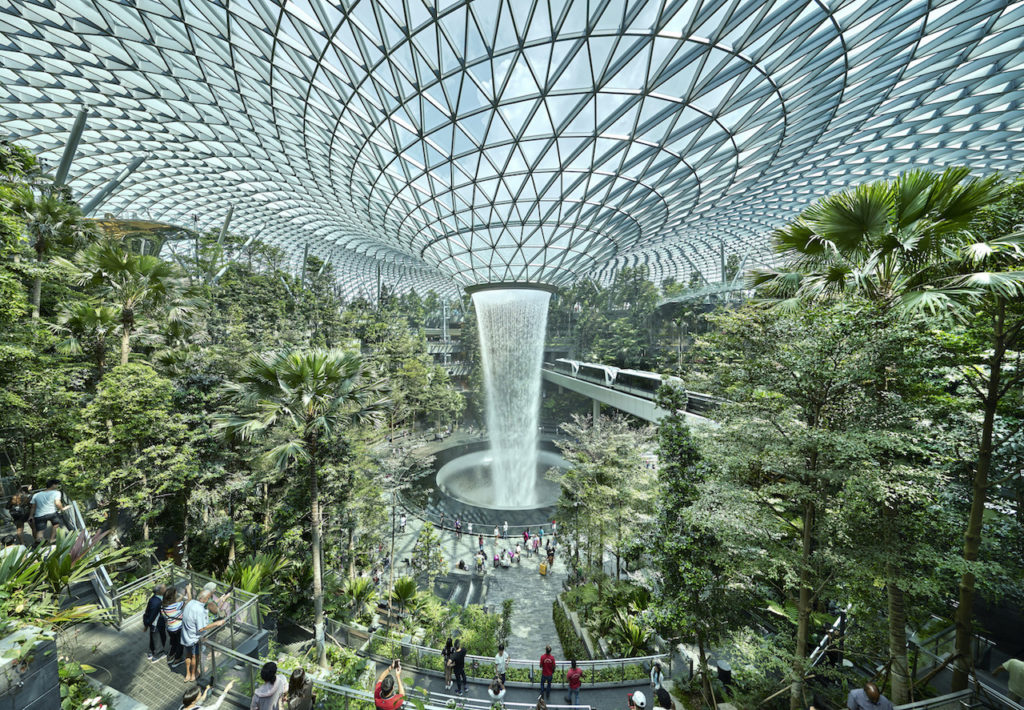 Jewel Changi Airport, led by Moshe Safdie from Safdie Architects as well as RSP Architects, Planners & Engineers (Pte) Ltd, is an architectural feat that has propelled Singapore to the world stage by redefining the notion of an air transit hub.
---
AIRMESH PAVILION BY AIRLAB, SINGAPORE UNIVERSITY OF TECHNOLOGY AND DESIGN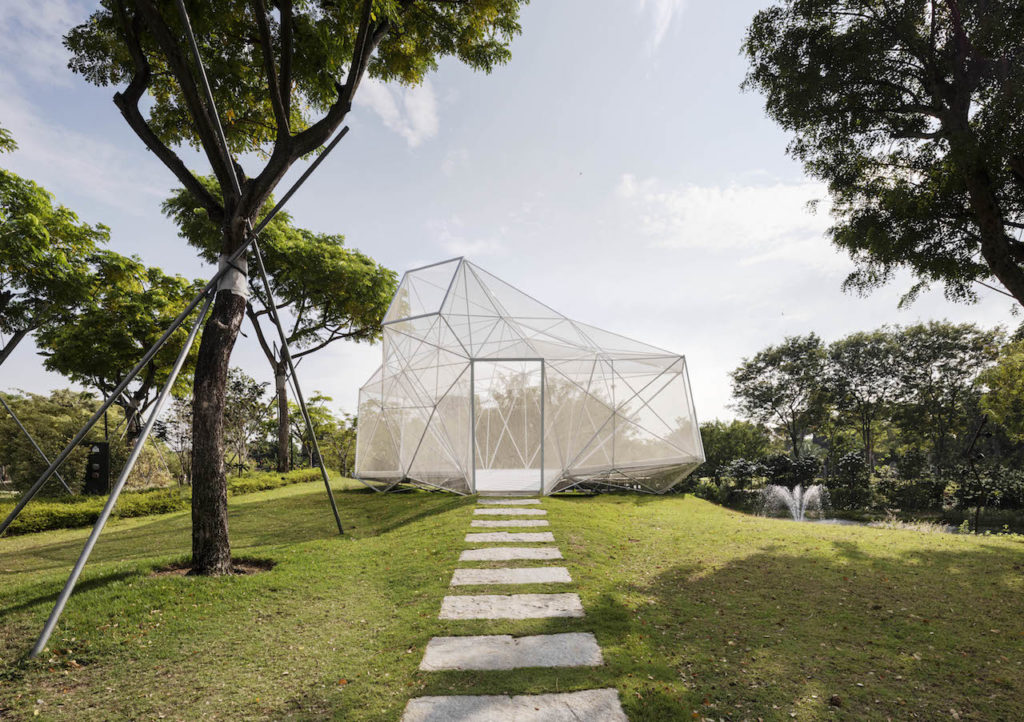 AirMesh Pavilion, led by Professor Carlos Bañón from the Architectural Intelligence Research Lab (AIRLAB) @ Singapore University of Technology and Design (SUTD), realises the future of construction by pushing the boundaries of 3D printing.
Of the 129 entries received for this edition of the P*DA, 13 designers were shortlisted for Designer of the Year, while 38 design and architecture projects were shortlisted for Design of the Year.
Candidates for the Designer of the Year category were assessed on their design philosophy, innovation and originality and the level of leadership in their design disciplines, with accomplishments that demonstrate impact on contemporary life and living environments, social and national significance as well as iconic value. The Designer of the Year is also a role model who actively nurtures the next generation, and a driver of change — advancing the standards of the industry through his or her influence and contributions.
Design of the Year projects were evaluated on the creativity and originality of their design ethos, design research, aesthetics and craftsmanship, and impact of design in one or more of the four areas: enabling economic transformation, raising quality of life, advancing Singapore's brand, culture and community and ground-breaking achievements in design.
The recipients were selected by a panel of 18 prominent Singapore and international leaders in design, business, and architecture. This year, seven of the jurors in the Design and Architecture Panels were past P*DA recipients.
The architecture jury panel was chaired by Ar. Chan Soo Khian (P*DA 2006 Recipient), Founding Principal and Design Director, SCDA Architects. Jury members comprised Professor Ho Puay Peng, Head, Department of Architecture, School of Design and Environment; National University of Singapore; Ma Yansong, Founder and Principal Partner, MAD Architects; Tan Kok Hiang (P*DA 2014 Recipient), Founding Director, Forum Architects; Alejandro Zaera-Polo, Founder, AZPML.
The jury of the design panel was chaired by Dick Powell, Co-Founder and Chairman, Seymourpowell, UK and vice-chair Dr Hossein Rezai (P*DA 2016 Recipient), Director, Web Structures. The design panel jury members include Welby Altidor, Group Chief Creative Officer, Cityneon Holdings, Singapore; Jane Withers, Founder, Jane Withers Studio, UK; Dr Ming Tan, Managing Director, IPOS International, Singapore; Hans Tan (P*DA 2018 Recipient), Founder, Hans Tan Studio, and Associate Professor, Division of Industrial Design, National University of Singapore; Larry Peh (P*DA 2016 Recipient), Founder and Creative Director, &Larry, Singapore; Lekshmy Parameswaran (P*DA 2018 Recipient), Co-Founder, The Care Lab, Spain; Christina Melander, Programme Director, Danish Design Centre, Head of Danish Design Award, Denmark; Professor Dr Lou Yongqi, Dean, College of Design and Innovation, Tongji University, Shanghai, China; Chris Lee (P*DA 2009 Recipient), Creative Director and Founder, Asylum Creative, Singapore; Melissa Kwee, CEO, National Volunteer & Philanthropy Centre, Singapore; Randy Hunt, Head of Design, Grab Singapore
The award-receiving works will be featured in a travelling exhibition across the island, slated to commence at The URA Centre after the award ceremony before moving to selected venues including National Design Centre, library@orchard, Temasek Shophouse and SUTD. More venues will be confirmed closer at a later date. For the well-being of all visitors, visitation arrangements will adhere strictly to prevailing safe management measures. Find out more information about the P*DA travelling exhibition here.
You might also like:
WOHA to design Singapore Pavilion at Expo 2020 in Dubai
Four Singapore design studios share how they found global acclaim and new markets, with a little help from DesignSingapore Council
3D-printed installation by AIRLAB unveiled in Gardens by the Bay Singapore
Singapore's Oasis Terraces by Serie Architects and Multiply Architects wins at World Architecture Festival 2019