Last week, the winners of the prestigious President*s Design Award 2020 – Singapore's highest recognition for creative practitioners in the design and architecture sector – were announced that included personalities and projects. Professor Carlos Bañón, whose AirMesh Pavilion, located in the Gardens by the Bay, was bestowed with the honour in the projects category, is well-known in the industry for his work in the technology-driven building arena, such as 3D-printed structures.
Having moved to Singapore in 2014 to join the Singapore University of Technology and Design (SUTD) as faculty, Prof Bañón is also the co-founder of Subarquitectura, an award-winning boutique architectural firm in Spain. Prior to relocating to Singapore, he taught at his alma mater, the University of Alicante, for nine years. In 2015, he set up an Architectural Intelligence Research Lab (AirLab) in Singapore. It is a multidisciplinary space constituting architects, engineers, material scientists, and artists with the ethos of pushing the boundaries of innovation in resource-efficient architecture and sustainable design through the integration of state-of-the-art technologies.
In an exclusive interview, Prof Bañón shares with DE51GN how technology is enabling innovation in the built environment sector, his involvement in affordable housing projects in Africa and Indonesia, and the growing use of 3D printing in design.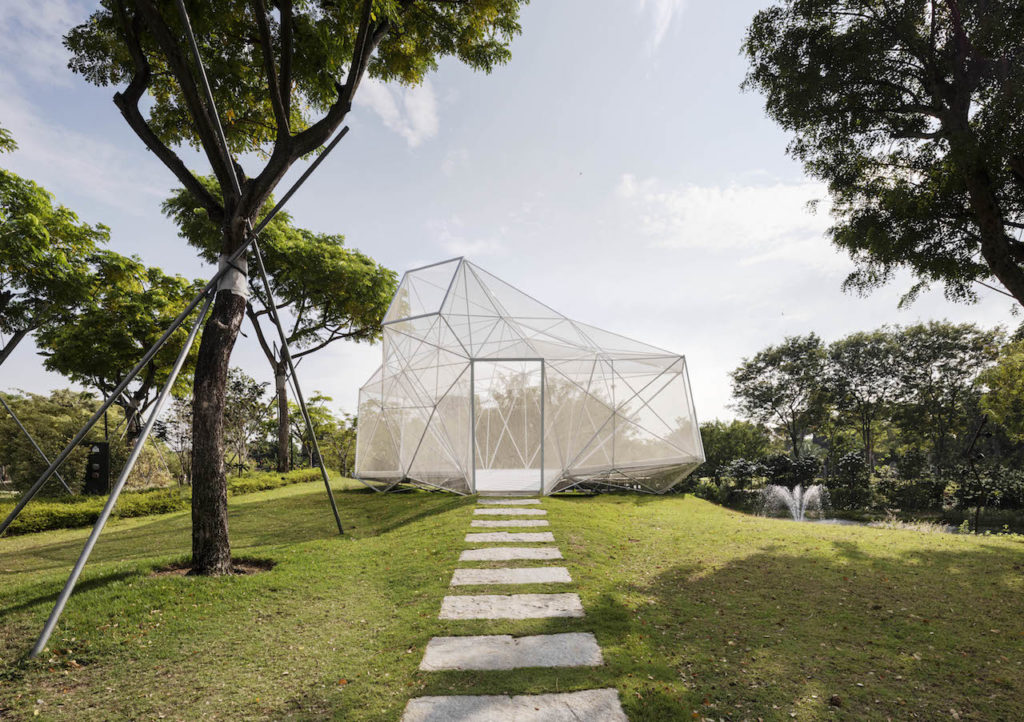 What brought you to Singapore, specifically SUTD?
What attracted me was that this was a brand new school focused on design and technology and was established in collaboration with MIT. It represented an exciting challenge to be a part of the founding faculty.
How would you describe Singapore's preparedness to embrace such technology to improve urban living aspects in the city?
Singapore is a very advanced and forward-thinking society. It is an early adopter of technologies and workflows to improve the city's liveability and make it more sustainable and efficient. The outcomes of pioneering research are being applied in various fields such as transportation, food security, circular economy, and construction. Therefore, I firmly believe that Singapore is ready to take the lead in introducing 3D Printing and other technologies embedded in the built environment. The system we created for AirMesh is an excellent example of an extremely resource-efficient, and reliable structure.
In addition, it produces added aesthetic and functional value while minimising the material used in its construction. While there wasn't any precedent set prior to AirMesh for 3D-printed built structures in Singapore, the authorities at Building Construction Authority were very collaborative and worked hand in hand with me to make 3D printed architecture possible.
There are also multiple stakeholders in the ecosystem keen to innovate in the areas of sustainability and technology in the built environment. For example, we work with the National Additive Manufacturing Innovation Cluster (NAMIC) in implementing this sort of technology in designing farms, interior architecture spaces, more sustainable concrete structures, and deployable structures for disaster relief. Of course, more awareness needs to be raised before having the ecosystem become mainstream, but Singapore moves fast. Thus, I have confidence that there is a genuine interest to push boundaries and in turn, Singapore is a great leader when it comes to improving urban living.
Team Airlab constantly pushes the boundaries of tech- and AI-driven design. How would you describe the evolution of technology in the design realm in the past 20 years?
AI attracts us in a way that generates incredibly complex outcomes that can't be achieved with conventional methods. For example, we recently finished the AI_Table, an AI-driven table design in which we worked with the information of the structural loads at a maximum level of precision to generate the material-efficient intricate supports. That complex shape can't be fabricated with conventional methods, so we used 3D-printed sand moulds to perform bronze investment casting. The final supports are relatively large-scale parts with the highest possible structural performance, minimum use of material, and radical new aesthetics.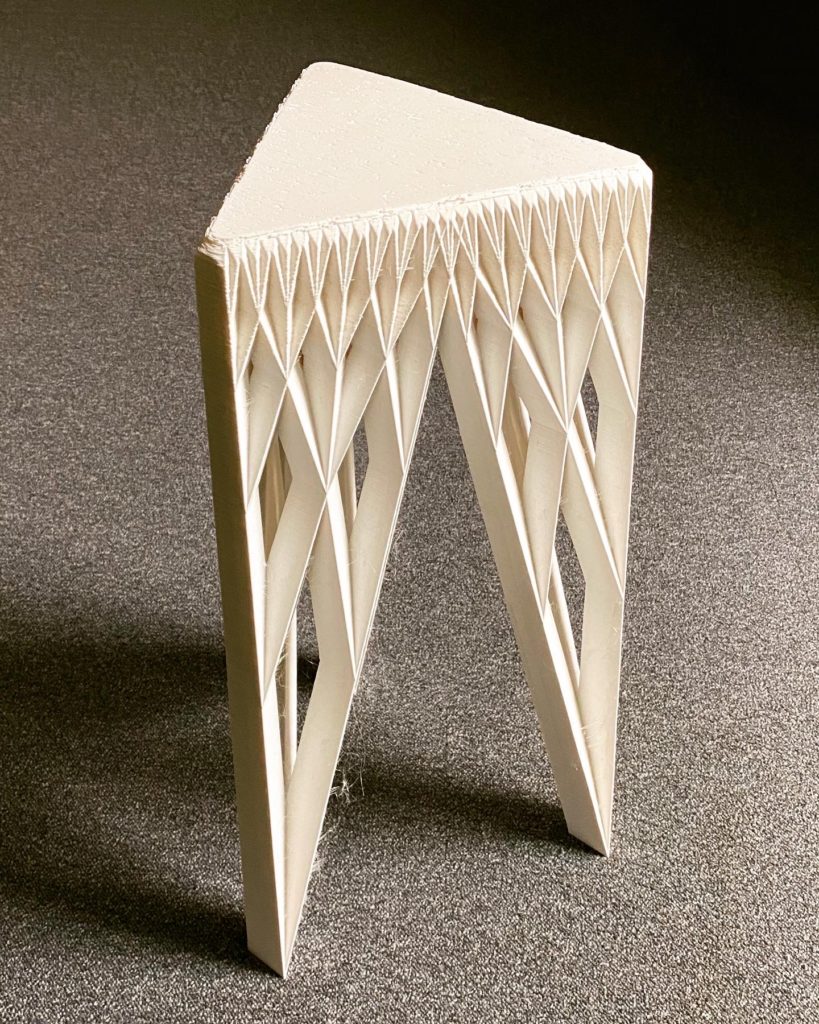 We received many international awards and made a case study in Voxeljet, Germany, one of the biggest and most innovative manufacturers in the 3D Printing field in the world. Twenty years ago, this design could have only been simplified, using traditional fabrication methods, which will not deliver precision, the efficiency of materials used, and the quality achieved.
Materiality plays a significant role in your projects. How do you select these materials? Which material, according to you, is the material of the future?
Rather than materiality, I would say that geometry plays the primary role in my projects. I believe that form should be at the base of any sustainable design. Through a rational, efficient, and elegant arrangement, lots of embedded energy, construction time, and material utilisation can be saved. But, of course, materials take a critical role in sustainability, and both should be addressed in tandem. I have explored in-depth metals, wood, clay, concrete, plastics, and bamboo. I always aim to favor the properties of the materials I use and maximise their utilisation and integration in my designs. In Louis Kahn's words, "You say to a brick: What do you want, brick? And the brick says to you, I like an arch." Similarly, my designs don't work against the nature of the materials I use. Geometry and matter constitute a bijective relation where one informs the other.
How do you incorporate sustainability in your projects?
We do it at many levels – mainly by using fine-grain control of the geometry, we allocate the material where it is actually needed, reduce its use, and minimise wastage in fabrication. But we also incorporate principles in circularity: this includes repurposing discarded parts from waste or upcycling plastic from collected bottles by 3D Printing into decorative and functional designs.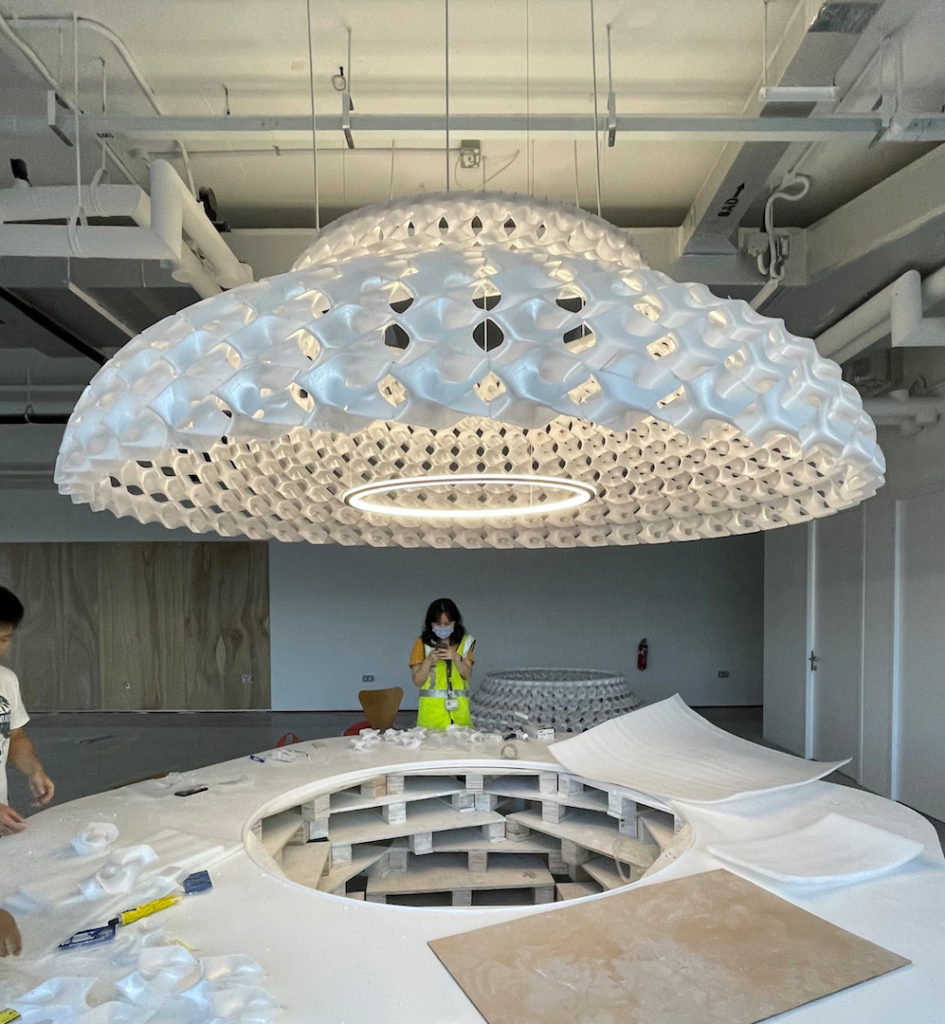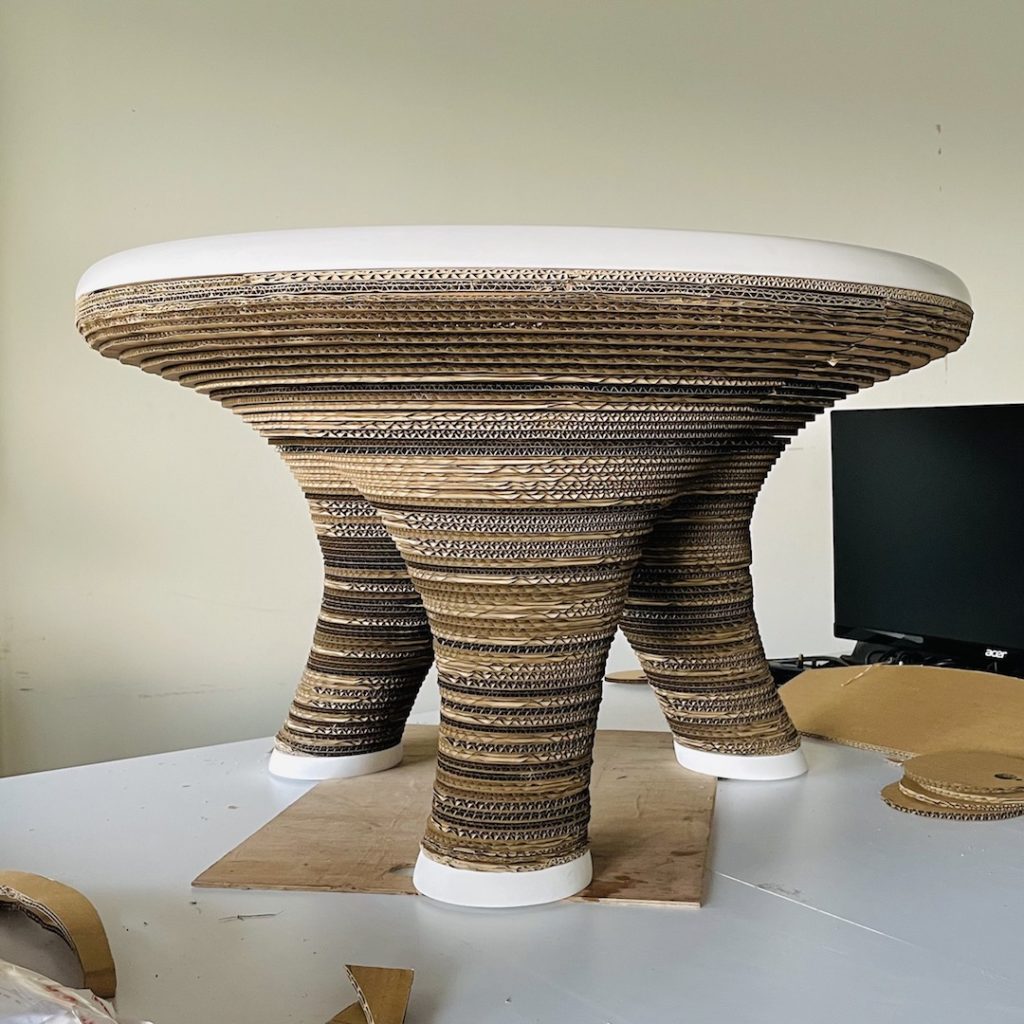 We are about to complete two projects that will be a point of reference in Singapore – the first is for the APAC office of global logistics and supply chain management company, DB Schenker, and the second is for CHANEL Sustainability. In the former, we upcycled discarded parts using additive manufacturing and digital strategy to create furniture and lampshades. DB Schenker's Upcycling Hub will be the first space in Singapore to have furniture and functional elements 3D printed and entirely upcycled from their waste. For the CHANEL project, we used discarded perfume bottles to create beautiful spherical chandeliers by developing a bespoke 3D-printed interface. They will be presented in Q3 of this year.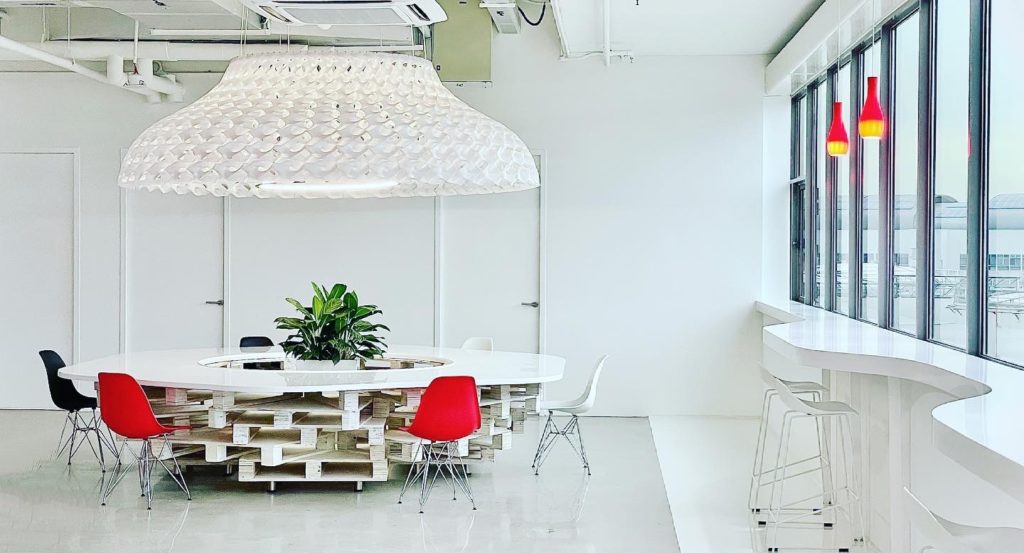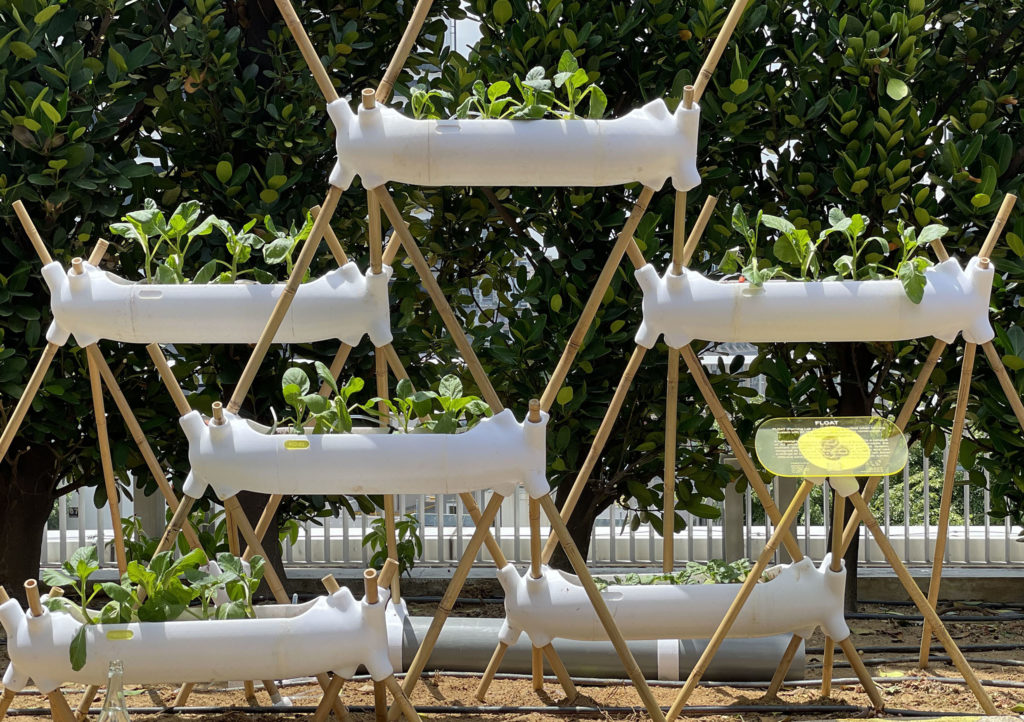 In addition, we are working with biopolymer plastics and bamboo to create vertical farms in collaboration with City Development Limited (CDL) and an innovative floating farming module with Netatech Singapore. Functional prototypes have been tested and will be visible in Singapore very soon.
How is sustainability intertwined with innovation? Please cite an example.
Innovation allows for new strategies to achieve more sustainable products and spaces. For instance, 3D Printing is instrumental in achieving sustainable construction and circularity as the material is only used where is needed, optimising resources to the maximum. Moreover, digital data-driven designs allow designers to make more informed decisions to address sustainable issues at the early stages of the invention when changes are less costly.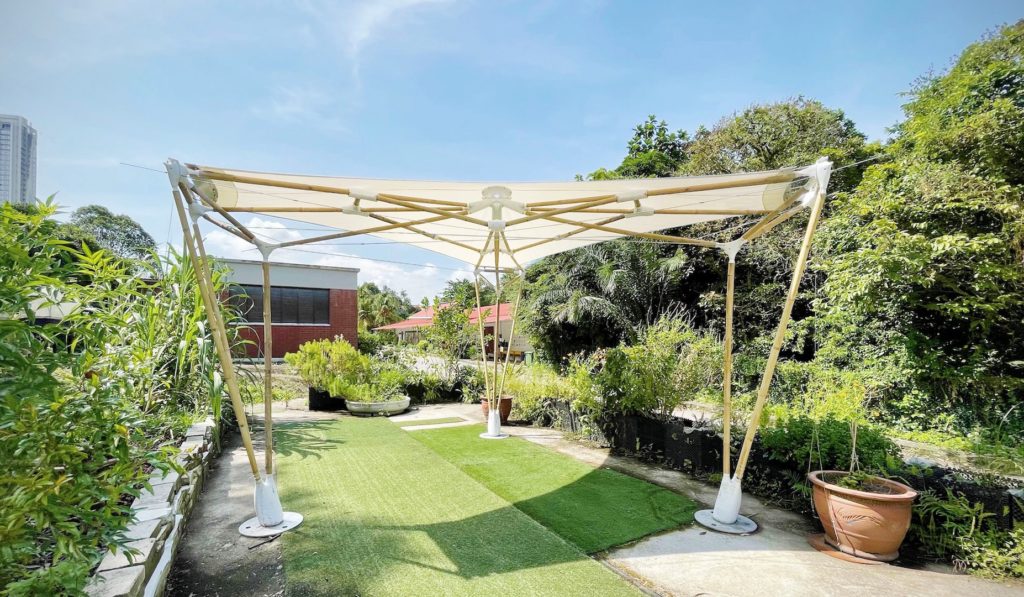 To name one example, we have worked with bamboo structures and 3D-printed components in biopolymer plastic to create affordable shelters such as "Sombra Verde" for the Singapore Urban Design Festival 2018 and, more recently, "AirBamboo" for the Singapore Archifest 2020. The whole design is an organic construction that is low-cost while significantly reducing the carbon footprint in its fabrication. Furthermore, using entry-level 3D printers, we parametrically design the connectors between bamboo poles that have been 2D scanned previously, fitting the irregular profile of each bamboo pole. The result is a more resource-efficient construction method for bamboo structures, tested at various scales and functions.
What is the most significant role that Singapore has played in developing creativity and innovation-focused industries here?
Singapore is tackling creativity from many sides, putting design innovation at the forefront of its national goals. Institutions such as SUTD are instrumental in achieving these goals. Since 2013, it has become a beacon in Singapore, if not globally, on innovation using state-of-the-art technology. Our alumni are taking key positions in the local and foreign industries as their education track is unique.
In addition, DesignSingapore Council has fostered innovation by launching a wide range of programmes and grants. For example, AirLab is a trusted partner of DesignSingapore's "Good Design Research", where my role is to advise and help local designers and industries incorporate new technological advances to help them innovate and develop more resource-efficient products. Singapore is at the forefront of sustainable strategies from large to small scale, and designers here are fortunate to have such great support and solid endorsement from the national institutions.
What kind of innovative urban development do you foresee in the post-pandemic world, especially in highly urbanised and dense cities such as Singapore? You've done extensive research on affordable housing. How does your research lend itself to the concept of affordable housing in an urban context?
Affordable housing is usually linked to shoddy construction, where elegant design has no space. I have developed affordable prototypes for West Africa and Habitat for Humanity in Indonesia, where design, i.e. good aesthetics and usability play a crucial role in the desirability of these housing types.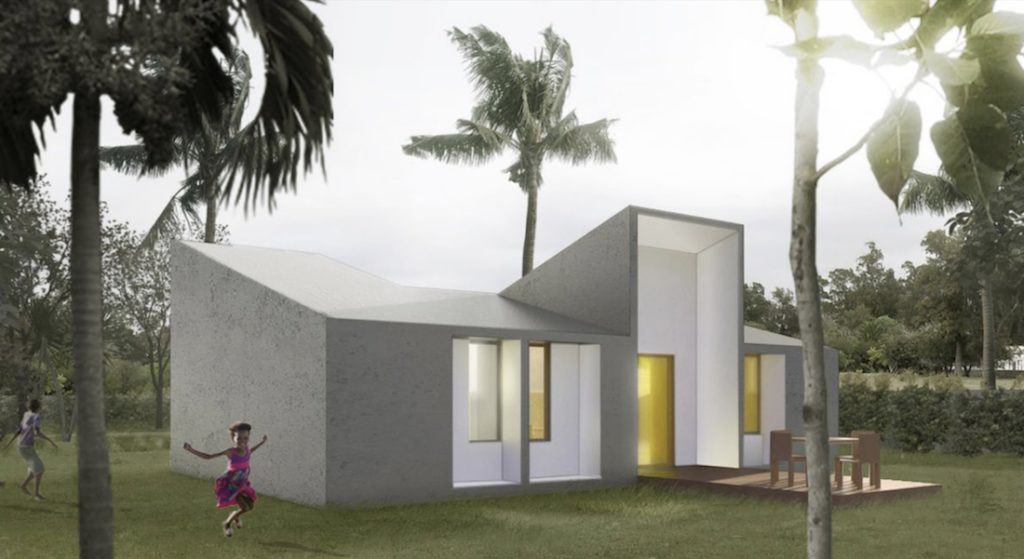 Currently, I am exploring with the Government of Rwanda in developing affordable housing using sustainable materials and construction methods by incorporating 3D Printing and circular economy strategies that can reduce the cost of construction. It is an important topic to me because good design can have a profound impact on the lives of everyday people.
Institutes of higher learning such as SUTD play an essential role in nurturing a culture of innovation and youth. How does it stand out from other technology universities?
Design is never the same as 20 years ago. Now, digital design and fabrication skills are at the base of design thinking. Therefore, SUTD's innovative curriculum nurtures students with advanced skills at a very early stage. As early as 19 years old, students activate both their left and right brains, design through code, and code with design. It exposes students to a vastly refreshing perspective of how integrated these two seemingly different skill sets can co-exist in the same person.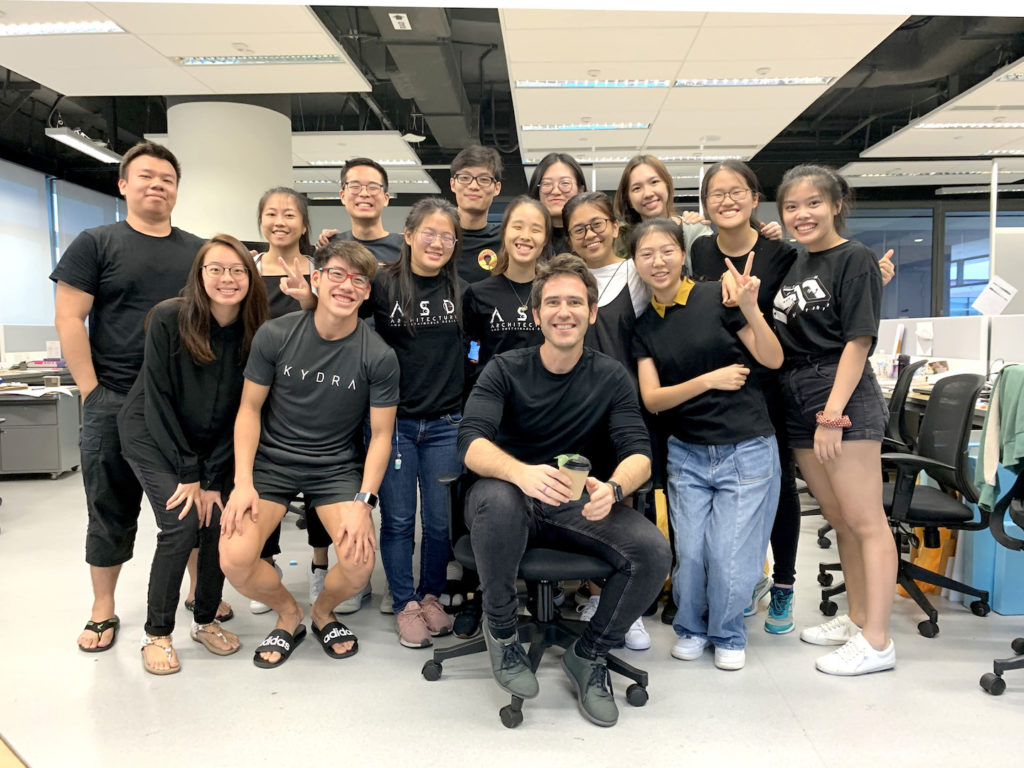 SUTD is a very young university but is already creating a massive impact in academia and industry. I genuinely believe that we are setting a new standard in architecture education.
What is the next biggest thing for the built environment after AI?
To be honest, the impact of AI hasn't even really come to fruition in the built environment yet. It will take many more years to weave itself into the industry and into the mainstream. For most designers and architects, this is still a new field that hasn't seen much applicability yet in the work that they do. However, AI will definitely accelerate the ongoing revolution in digital manufacturing and data-driven designs in the coming years.
You might also like:
3D-printed installation by AIRLAB unveiled in Gardens by the Bay Singapore
President's Design Award 2020 winners announced; include a popular design thought leader, architects and community projects
SUTD students inspired by Ironman win Singapore edition of James Dyson Award 2019