Recently, the national winners of the James Dyson Award were announced and the Singapore chapter was won by a team of students from Singapore University of Design and Technology (SUTD) for their invention, Wheelson.
The James Dyson Award is an international design award that celebrates, encourages and inspires the next generation of design engineers. It's open to current and recent design engineering students, and is run by the James Dyson Foundation, James Dyson's charitable trust, as part of its mission to get young people excited about design engineering.
De51gn speaks to the winning team behind Wheelson: Glenn Chia, Wilson Lim Wei Sheng, Wei Jie Ang, Keerthana Janmugam, Sarah Ong, and Kei Sheng Leong, all of whom are pursuing different majors in SUTD. The group includes a business analyst, computer scientist, mechanical engineer, electrical engineer, and computer engineer, creating a diverse mix of interests and personalities, bringing different perspectives to the table.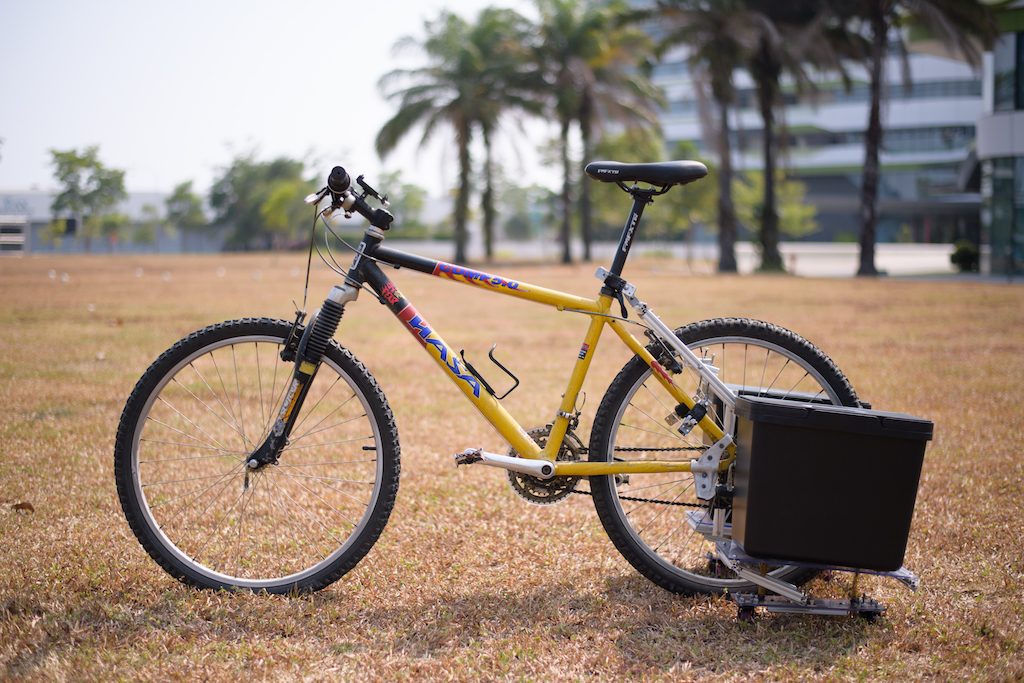 De51gn: What inspired the idea for Wheelson? What are its main features? 
Team Wheelson (TW): The idea came about when we noticed the problems people face while cycling on campus. Many are carrying heavy loads on their backs or front baskets, making it very difficult for them to manoeuvre their bicycle. Because of how unstable they are, safety was also a concern – for the cyclist, pedestrians and also drivers on the road.
In order to solve this problem, we knew for certain that the product we came up with had to satisfy two main criteria:
1) Counteract the instability of the rider/ provide stability to the rider when riding with a load
2) Modularity of the device for ease of installation
With these fundamental considerations, we came up with some concept sketches on what the solution could look like. The first iteration was a gyroscopic system that worked to keep objects stable and upright when cycling.  Many of these initial concepts were complex. While they sounded cool and futuristic on paper, we realised that they either had little real-world benefit to the user, or they just did not make engineering sense at all.
We eventually narrowed down our ideas to the most elegant solution: Attaching a pair of training wheels that supported a platform that could support heavy baskets. This marked the beginning of Wheelson that we see today.
Our initial iterations were inadequate and could barely provide any support to the bicycle itself, let alone have the user sit on it. At each checkpoint, we would go back to our fundamental considerations, re-analyse the bicycle frame, consolidate our user studies and document our learning points. We learnt a lot through this iterative design process. For example, we learnt about the critical points of the bicycle on which Wheelson could be attached to such that stability is maximised.
Through experimentation and numerous designs, we were also able to figure out the optimal amount of suspension that will ensure a smooth riding experience for the user. The current version of the Wheeelson that we have today truly provides both stability and modularity for users. We achieved this by engineering it with an adjustable height feature, and a clamping system that allows the user to fit Wheelson on to any bike effortlessly.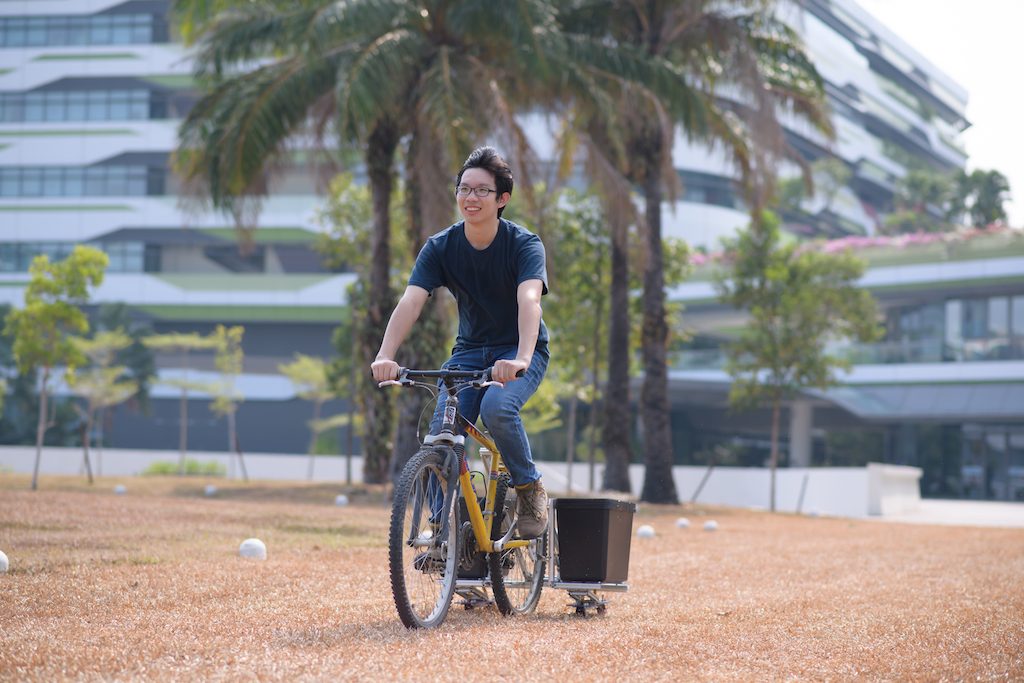 De51gn: How many iterations did you go through in the process? 
TW: We went through numerous iterations from whiteboard sketches and 3D modelled design. We would debate over the ideas for countless hours and reflect them on whiteboards. These were then translated into 3D models which again would undergo further discussions. Subsequently, when the design was finalised on computer, we then proceeded to fabricate the physical protoypes.
Overall, we had two physical iterations that resembled the current version of Wheelson. The first was named Woodson because it was made of wood!  The second is the current iteration of Wheelson that was completed on a tight deadline. Subsequent improvements were improvements to the parts used and not a major design overhaul. 
De51gn: What were the biggest challenges and what kind of support you received from your peers and/or mentors? 
TW: One of the biggest challenges was conceiving the solution. Wheelson is the only product of its kind in the world as no one else has done a similar design. Other designs either use a rear/front basket or a trailer. Thus, it was challenging to think of a solution that can perform better than the products that are currently out in the market.  
We also overcame this challenge by conducting user interviews on the pain points when using these other products on the market. This input led us to think of reducing Wheelson's form factor and positioning it closer to the bicycle frame with a lower centre of gravity. These fundamental principles which we've kept faithful to are what led to the final design that we see today.
De51gn: What role does engineering and design play in creating a positive impact on society according to you?
TW: All the products that we see today require a combination of engineering and design. To us, engineering is about making a product come to life and delivering on its promised features. Design comes to play by improving the user experience which ensures that users see value in the product and utilise it. 
De51gn: Who is your biggest inspiration? 
TW: The team is rather diverse and have different sources of inspiration. But we all agree that an inspiring fictional character is Tony Stark (Iron Man Marvel Comics). Tony is a brilliant engineer, who finds solutions to solve the toughest of problems. This often requires him to improvise with whatever tools he has available. Most of these innovations, if not all, are novel and ideas that no one has thought to create. It is inspiring because we know that one does not need the best tools to make a meaningful product, one just needs to have an active mind and a "never say die" attitude.
De51gn: What career path do you want to follow? 
TW: The team has diverse interests. Some of us already have return offers to the companies that we have interned in. Others want to create their own start-up while others are looking at post-graduate opportunities. We have different career aspirations to be design engineers, software engineers, and business analysts.
De51gn: If there is one existing invention which you think you would have liked to create, which would it be? 
TW: We agree that this would be the light bulb. If we look at it now, this seemingly "simple" invention changed the foundations of society in an enormous way. To us, it is an inspiration as we dream of eventually creating something that has a similar widespread impact.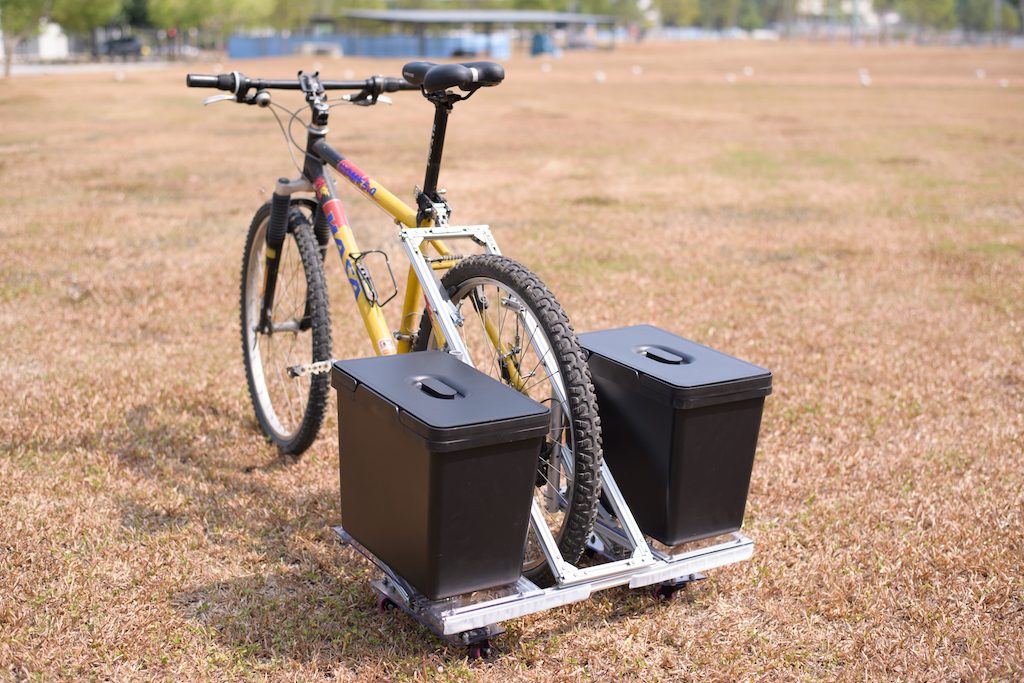 De51gn: Do you reckon the innovation culture is on the rise in Singapore, and that designers/engineers are giving enough importance to creating solutions to problems? 
TW: The innovation culture is certainly on the rise in Singapore with workshops that inculcate design thinking being rolled out to all levels of students. It is also encouraging to see a more project-based approach being adopted by the tertiary institutions to encourage real-world problem-solving.  
While the shift in the education industry is in the right direction, we feel that more can be done to encourage hardware product development in Singapore. These can be in the form of grants for "crazy" ideas or even giving innovators the "space" to fail as failure forms an important part of the design journey.
De51gn: Which section of society would you like to create a solution for? 
TW: Our team enjoys dabbling with product design in the lifestyle space. We are always looking for projects that allow us to solve everyday problems, with solutions ranging from app to hardware development. Wheelson is our first venture into that space and from that project, we have explored many other interesting opportunities that have allowed us to learn more about user perspectives and the importance of user-centric design.