Heatherwick Studio, led by the enigmatic British designer Thomas Heatherwick has completed one of the most anticipated projects in Singapore – a 26-storey luxury tower located in the swish district 10, popularly known as Orchard Road. The architect of record is RSP Architects, Planners & Engineers and the landscape design is by Coen Design International, while the interiors are by local practice Ensemble. Surrounded by luxury hotels, malls, exclusive residences and foreign embassies, the project called Eden, commissioned by the Swire group, stands out for its distinct approach that aims to entwine nature with high-rise urban living.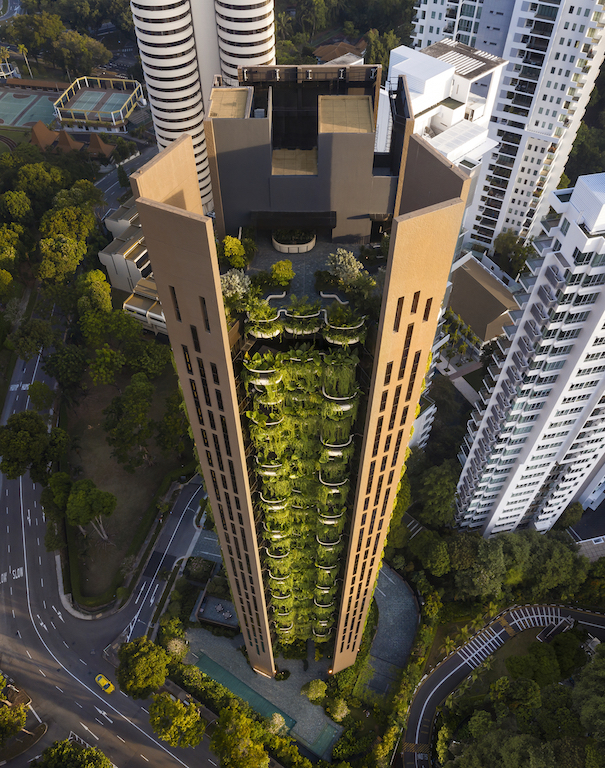 The design of the 104m-tall tower resembles a spine blade: simple vertical rectilinear plains with slim windows form the blade with generous garden balconies situated in between. This approach grants privacy for each of the 20 apartments and allows for a generous central living space that forms the heart of each residence. The unconventional concrete walls are moulded with a topographical map of Singapore's terrain which has been abstracted to create a unique three-dimensional texture.
The focus on creating a garden for each apartment is in response to the disconnection between high-rise apartments and the lush greenery at street level in Singapore. Responding to founding father Lee Kuan Yew's original vision of Singapore as a 'city in a garden', the design extends the landscape of Singapore upwards through the building with a series of hanging gardens, connecting the interior living space with the outdoors, providing views of Singapore's green landscape.
The design reflects Heatherwick's fascination with fusing organic sculptural forms with biodiversity – a characteristic also seen his recently completed 1000 Trees project in Shanghai. His other projects that tread similar grounds of biophilia and sculptural form include the Learning Hub at Nanyang Technological University in Singapore and an upcoming project in Tokyo.
See the full image gallery here:
Photos: Hufton + Crow
You might also like:
1000 Trees in Shanghai by Heatherwick Studio nears completion
Vincent Callebaut unveils design for modular timber tower in Cebu City
Heatherwick Studio and KPF are believed to be the frontrunners to design Changi Airport's Terminal 5 building