Pratone, Gufram
This year, Italian brand Gufram celebrates the 50th anniversary of one of its most well known icons: Pratone. As one of the pioneers of the nonconformist spirit of Italian Radical Design that put the "fun in function", it pays homage to its history with a special edition of one of the most innovative seating creations in the history of design. To celebrate its golden anniversary, Gufram launched PRATONE® FOREVER, the spin-off of its famous predecessor: open edition of the iconic modular chaise lounge, which subverts the idea of "sitting down". This new version preserves its surreal aesthetic but its more contained dimensions makes it easier to be inserted into any domestic space.
Designed in 1971 by Ceretti, Derossi & Rosso, PRATONE was ahead of its time. It strove to take Italian design away from the bourgeois style to more avant-garde style – a movement that we now know as collectible design. Indeed, the piece serves as a reference point in the history of design ever since it was selected for the cover of the catalogue of Italy: The New Domestic Landscape developed by MoMA in New York.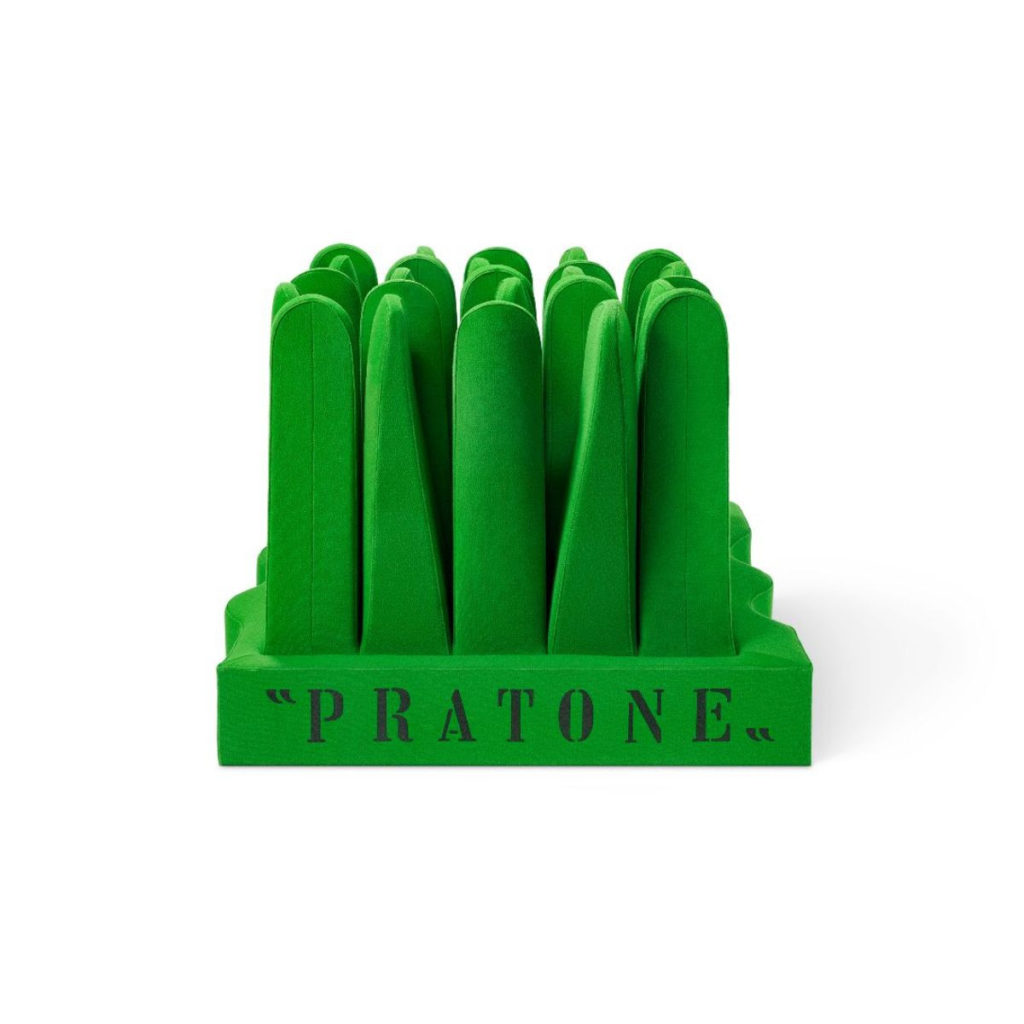 While maintaining its soft polyurethane soul – a material which has always characterised Gufram products –PRATONE® FOREVER changes its "skin": originally covered in Guflac®, the special paint invented and patented by the company to coat its creations in polyurethane while still maintaining their softness and elasticity, this special edition is covered in an elastic wool bouclé fabric that adheres to the eccentric forms of this out of the ordinary chair, ensuring excellent resistance to wear and tear.
Hypóstila Shelving, BD Barcelona
Designed in 1979 by Spanish brand BD Barcelona's founders, Lluís Clotet and Oscar Tusquets (above), together with their engineer Jesus Jimenez, the Hypóstila Shelving can support heavy weights on minimal profiles while achieving infinite sizes and configurations.
Its simple form and aesthetically neutral appearance have also withstood the test of time. The tubular structure provides a myriad possibilities to arrange the shelving system. Its sleek modular form allows additions and removal of shelves – both width and height – to suit any given space.
SOLDITA, ANDRÉ TEOMAN STUDIO
Portuguese design firm, André Teoman Studio – helmed by designers André Teoman and Ana Rita Pires – takes on a new approach on welding, creating a series of metal objects named Soldita. Inspired by techniques of aesthetic enhancement of the human body such as modern tattoos and ancient sacrificial rituals, the welding transforms plain metal surfaces into objects of adornment.
Soldita aims to treat welding not just as a technique that unites structures but also as a creative vehicle that turns mundane objects into something special by creating imperfect pieces. 
Just as tattoos or scarification use the body as a surface for the imprint of culture, the whole series tells the story of earth, fire, water and wind, the four primary elements, all needed to work metals since the medieval ages. All of this made in a way that from a distance it simply looks like a classic pattern, however, upon closer observation, the contemporary elements will pop up.
According to the designer duo: "We wanted to simulate what tattoo artists do by drawing on a piece of furniture and making it storytelling and long lasting. And at the same time giving a new and fresh approach to a timeless technique such as welding."
The name of the series came from the combination of two Portuguese words, Solda (Weld) + Bonita (Beautiful) resulting in Soldita. The idea came to life during the first pandemic lockdown in early 2020. The designers' love for drawing combined with the ease with which the producer, a local friend, worked welding in architectural structures made the whole project possible without needing to leave the county.
Medallion 3.0, Nendo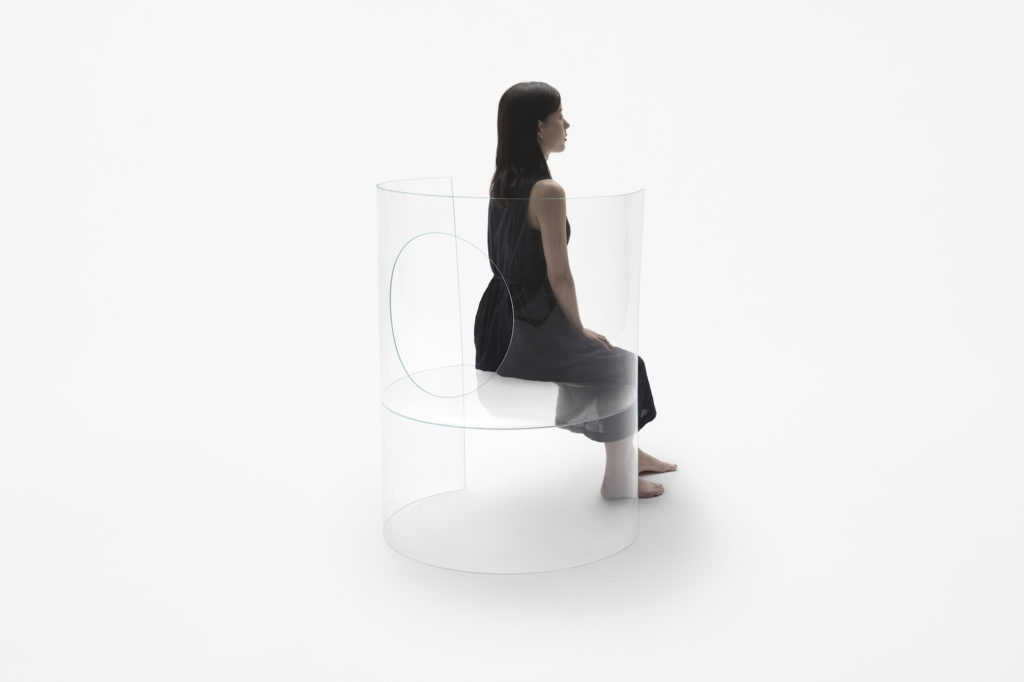 When fashion house Dior set up its first boutique on 30 Avenue Montaigne in Paris, 1946, it was characterised by simple and modern interiors but with classical features. Founder Christian Dior believed essential French aesthetics resided in the Palace of Versailles, and adored especially the oval-backed medallion chair said to have been used by Louis XVI, featuring it frequently in boutiques and fashion shows. The chair became an icon of the maison, later appearing as a visual element for perfume bottles and advertisements.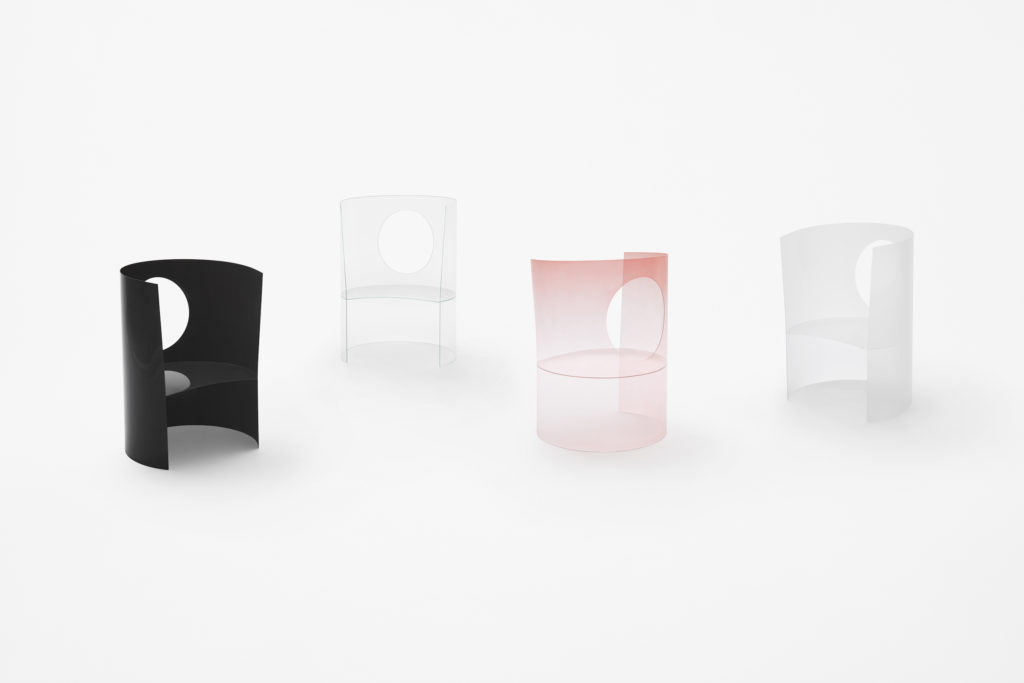 At this year's Milan Design Week, 18 groups of creatives were invited to showcase new works inspired by the medallion chair. Japanese studio Nendo decided to reinterpret this classical chair using state-of-the-art technology using glass. The glass is a single sheet of 1800 x 1100 mm, just 3.0 mm thick. While ordinary techniques only allow for bending as far as a U shape, a newly developed method enables a deeper, C-shaped curve. The curved glass sheet became the chair's leg and back, and a separate glass sheet of 3.0mm thick formed into a dome was used as the seat.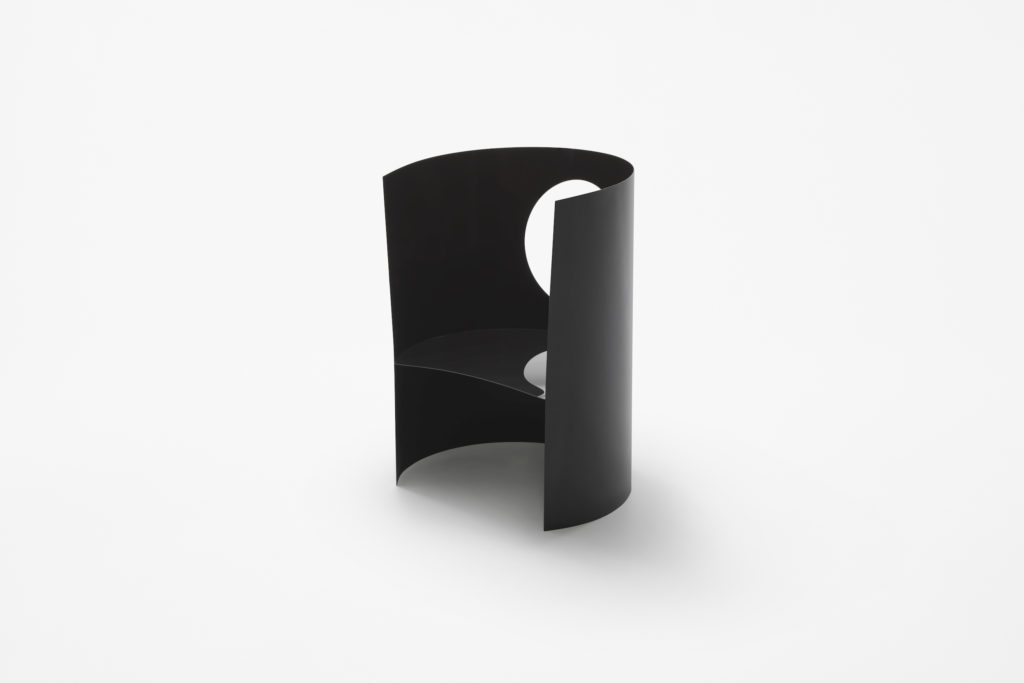 After shaping, the two pieces were immersed in potassium nitrate molten salt at 450℃ and then chemically hardened by cooling. The process consequently increases not only the hardness of the surface through ion exchange from sodium to potassium ions, but also the chair's flexural strength and resistance to scratching. Last of all, the back and seat were bonded with a clear UV adhesive and silicone. The result is a comforting curvature and softness so unique as to raise doubts of its glass composition, despite its remarkable transparency. Alongside the fully transparent chairs, are frosted chairs, as well as ones in black and pink ombré that are evocative of the Dior brand, are produced. The oval cutout in the back of each one conveys the impression that the medallion chair's most notable characteristic is floating delicately in midair.
You might also like:
studioLATOXLATO reinvents ceramic slabs to design monolithic table collection inspired by classical architecture
Gufram and Snarkitecture team up to add to the Broken series of imitation concrete furniture