Architects Francesco Breganze de Capnist and Virginia Valentini, founders of studioLATOXLATO, and the Italian company TerzaDimensione that is known for its work with large ceramic slabs have collaborated to create an evocative collection of tables, coffee tables and consoles.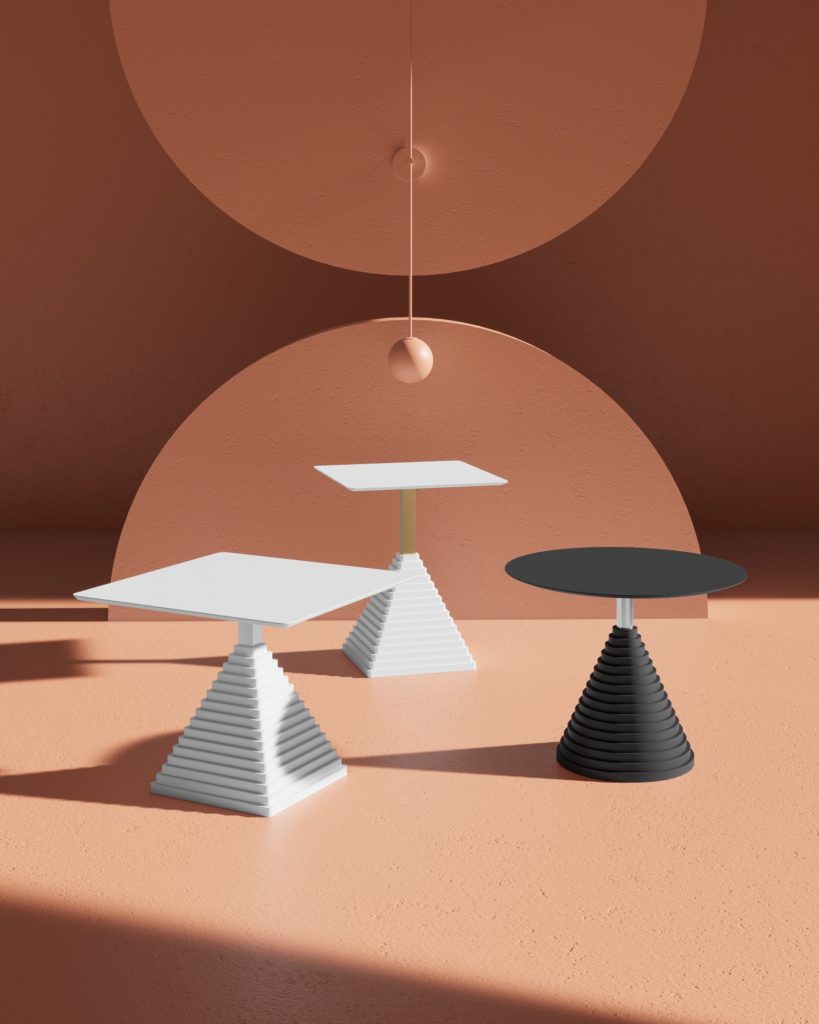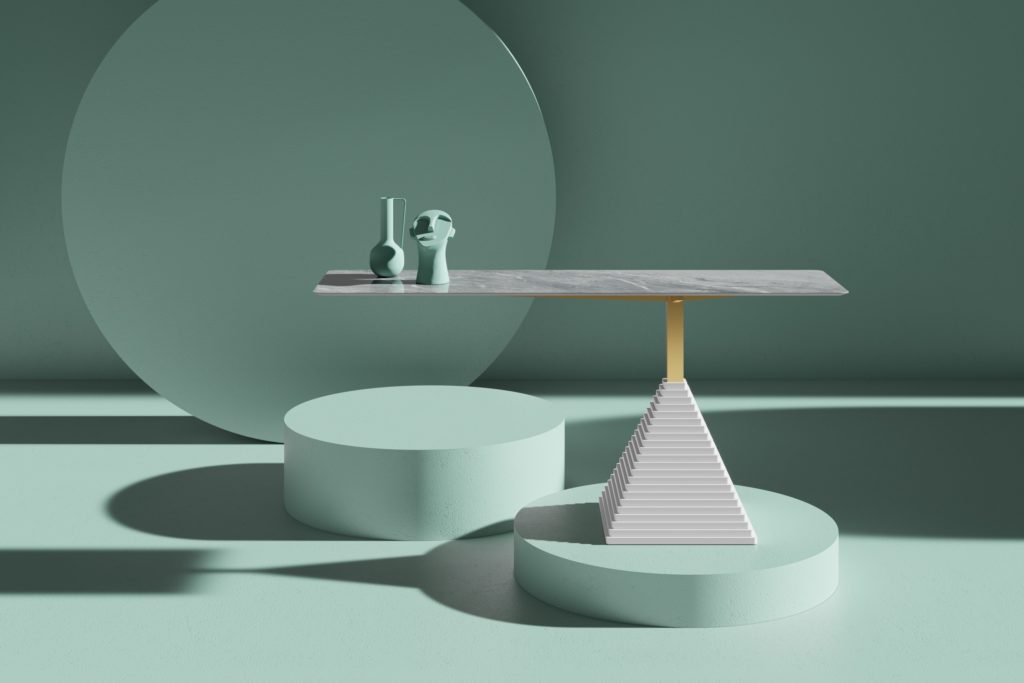 Komos was born from a mutual challenge shared by the two partners: shaping three-dimensional and monolithic furniture objects, starting from the two-dimensionality of ceramic slabs. "We really like to experiment and with studioLATOxLATO, our department dedicated to collaborations, we can do that. Designing products for other companies allows us to deal with precise constraints and imagine new solutions. Designing Komos for TerzaDimensione was very stimulating. Finding ourselves in front of a two-dimensional material born for coatings, we gave shape to a series of tables deliberately imposing," say US-based de Capnist and Valentini, who moved to New York after completing their education at the Milan Polytechnic.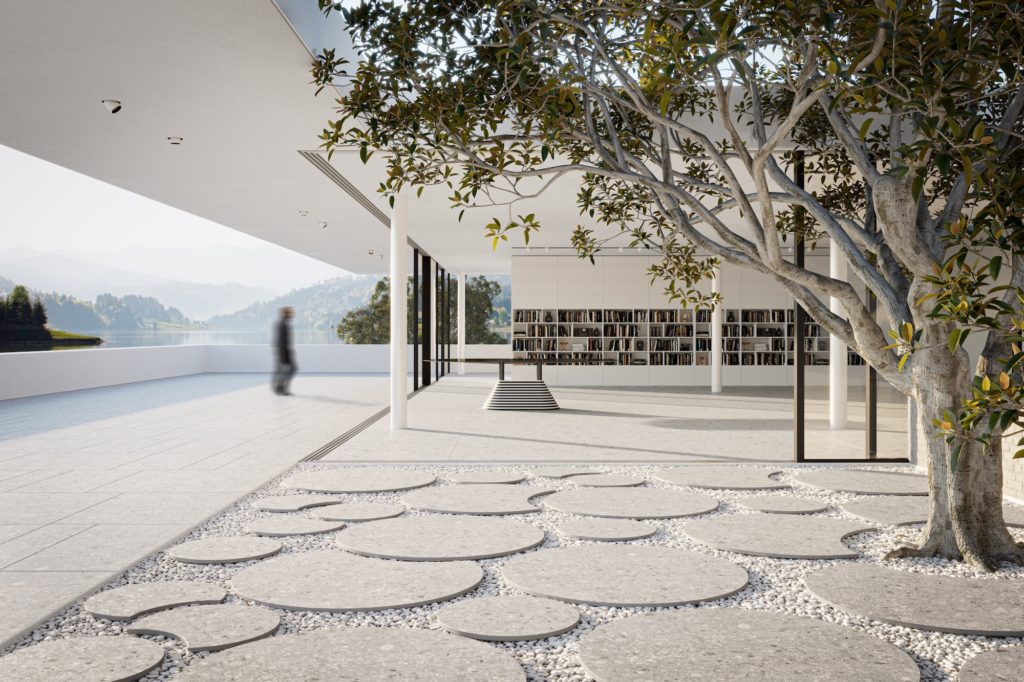 "TerzaDimensione wants to explore the full potential of ceramic slabs, using them not only for coverings but also to create three-dimensional furnishings designed by external designers. The affinity with studioLATOXLATO was immediate. They have an international vision, given by their experience abroad, and at the same time they are inspired by Italian architecture and art giving very original results," says Alfredo Brusa, CEO of TerzaDimensione.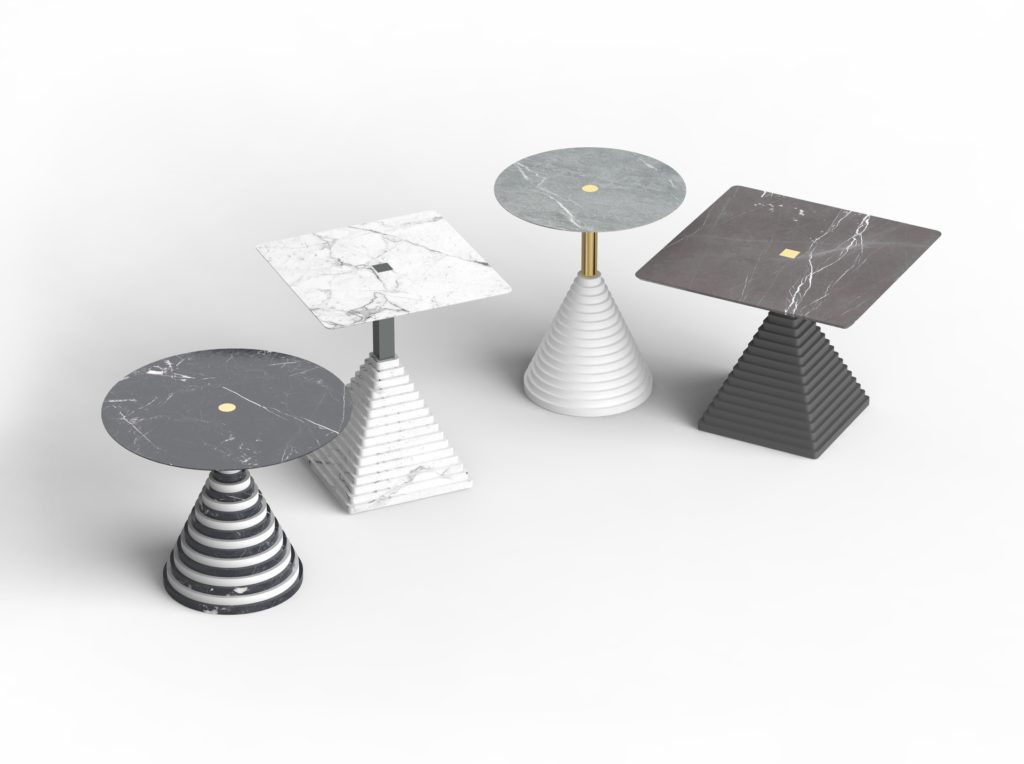 The unusual design of studioLATOxLATO and the skills of TerzaDimensione, which uses ceramic slabs made with the most advanced digital technologies, are translated into a series of furnishing accessories. The reference to architecture and in particular to classical architecture, always projected in a contemporary vision, is the fil rouge (main theme) of all LATOxLATO projects and it is especially impactful in this collection.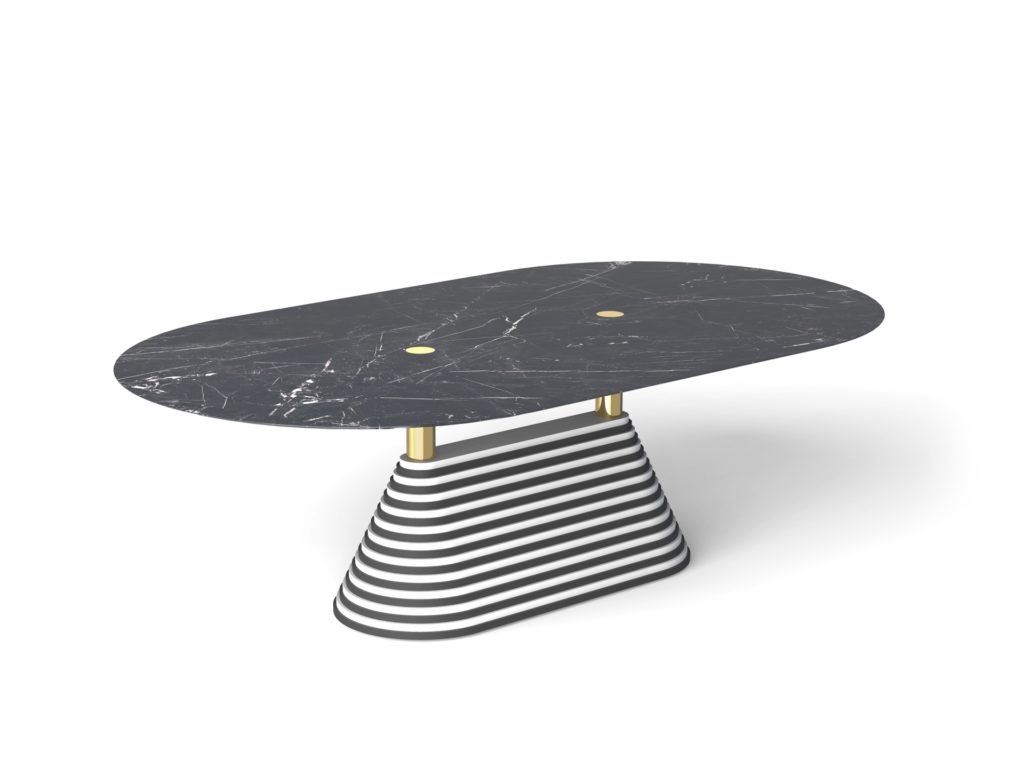 Komos, from ancient Greek, refers to the ritual processions of the Dionysian festivals, which were celebrated amid singing, dancing and bacchanalian reverie. And as happened to the temples or theaters of antiquity, ready to come alive with people and life, but austere and sacred once empty and immersed in silence, the table in the vision of studioLATOxLATO has a dual meaning. An imposing and composed object, and at the same time magnetic fulcrum of any dining activity.

The base is the Komos tables' strong distinguishing mark: a pyramidal architecture that seems carved in stone. The metal element that connects the base and top recalls the construction method of Greek columns, in which the different portions were joined by a central pivot.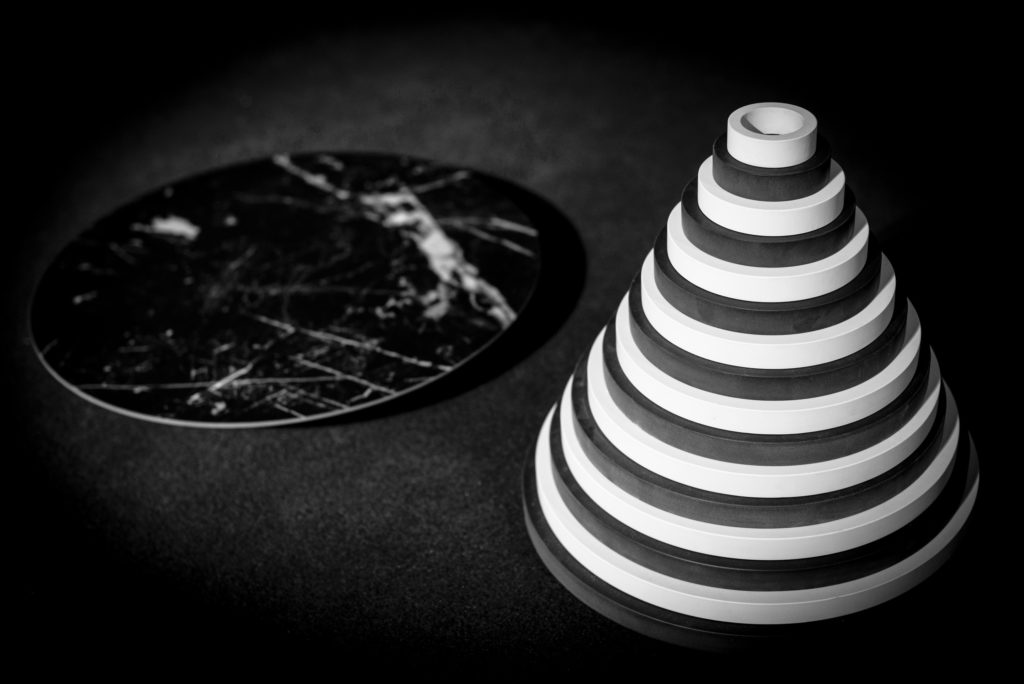 "TerzaDimensione's slabs have a peculiarity that struck us right away: they are mass-decorated, which allows for continuous decoration on all sides, including the edge. In a slab with a marble finish, for example, the through vein also runs along the edge and it is just like having a real marble slab. This gave us an important design cue for Komos. We decided, in fact, to emphasise this characteristic, stacking a large number of slabs in a pyramid shape, so that only the edge would remain visible, thus obtaining the monolithic effect of a carved block of stone," explain de Capnist and Valentini.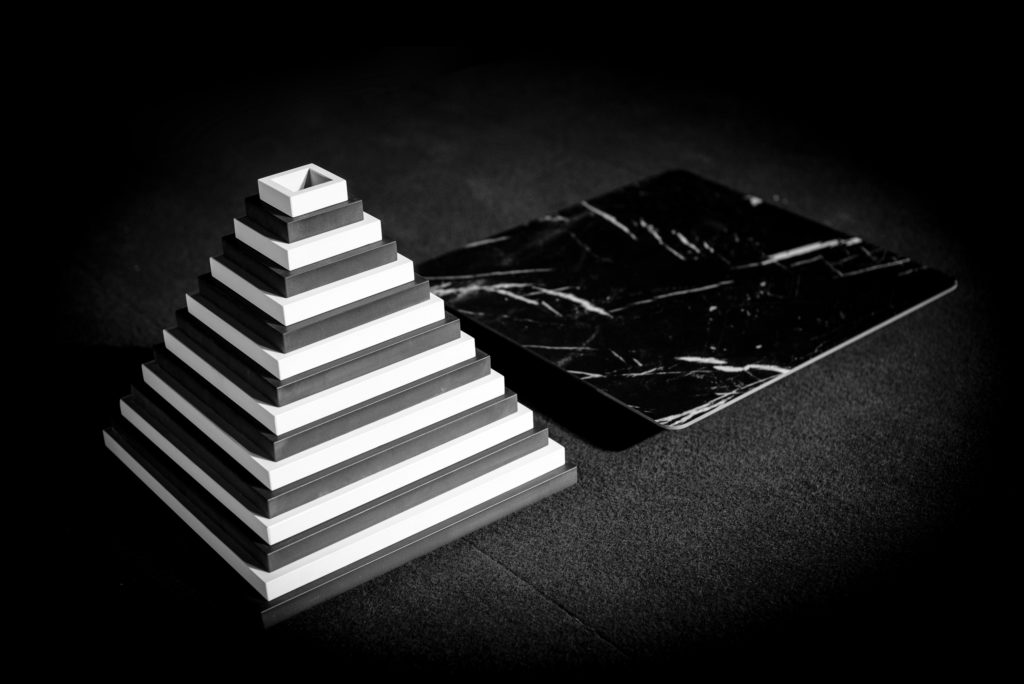 Komos includes three tables, two consoles, four side tables, two coffee tables and a series of vases. Playing with the shapes of the tops and the combinations of colors and finishes, marble and solid color, the collection offers a wide range of aesthetic combinations.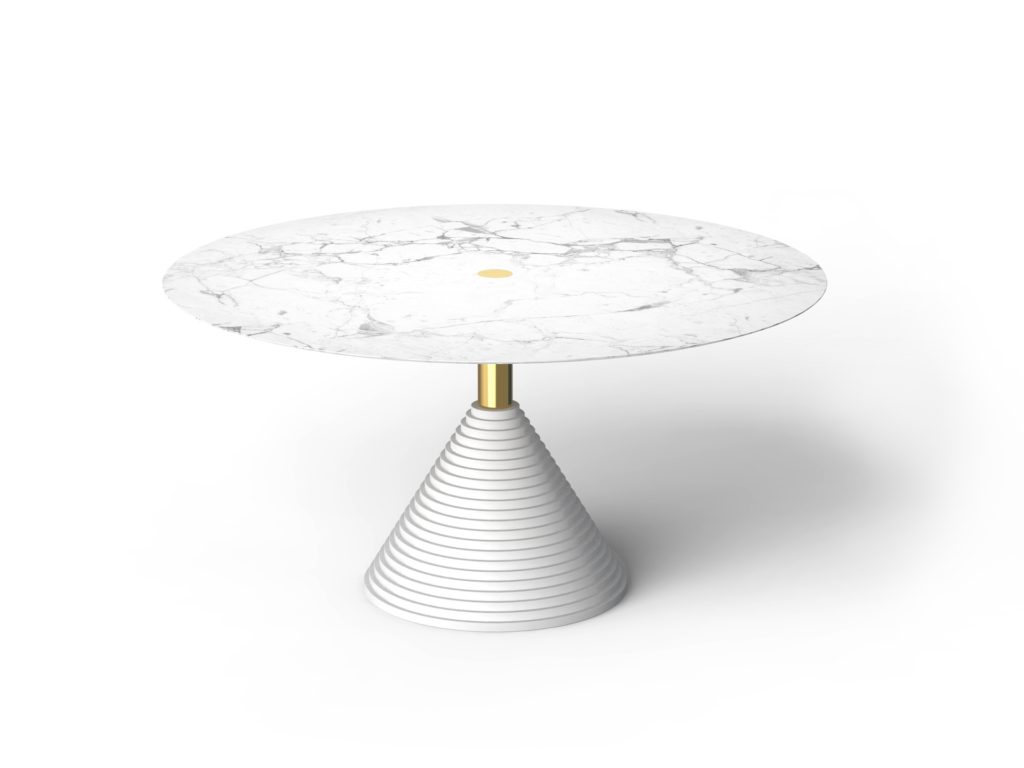 Craftsmanship and technological involvement are well-calibrated. The slabs are made with computer-controlled
processes, while the assembly of the different elements is entirely handmade. The human component was decisive in the study of the prototypes, to fine-tune the structural strength of the tables, which are characterised by an important weight.
You might also like:
Made in Ratio's Brodie Neill showcases popular Alpha and Cowrie chairs at Galleria Rossana Orlandi during Milano Design City 2020
Formafantasma designs new lighting product for Flos with flattened industrial power cables
Gufram and Snarkitecture team up to add to the Broken series of imitation concrete furniture