International design and innovation office Carlo Ratti Associati (CRA) has unveiled Caffetteria, an innovative project in Lavazza's brand new flagship store on London's Regent Street. New technologies – from germicidal materials to lights with disinfecting properties – have been employed to rethink the quintessential Italian coffee experience with one objective in mind: rebuilding social proximity.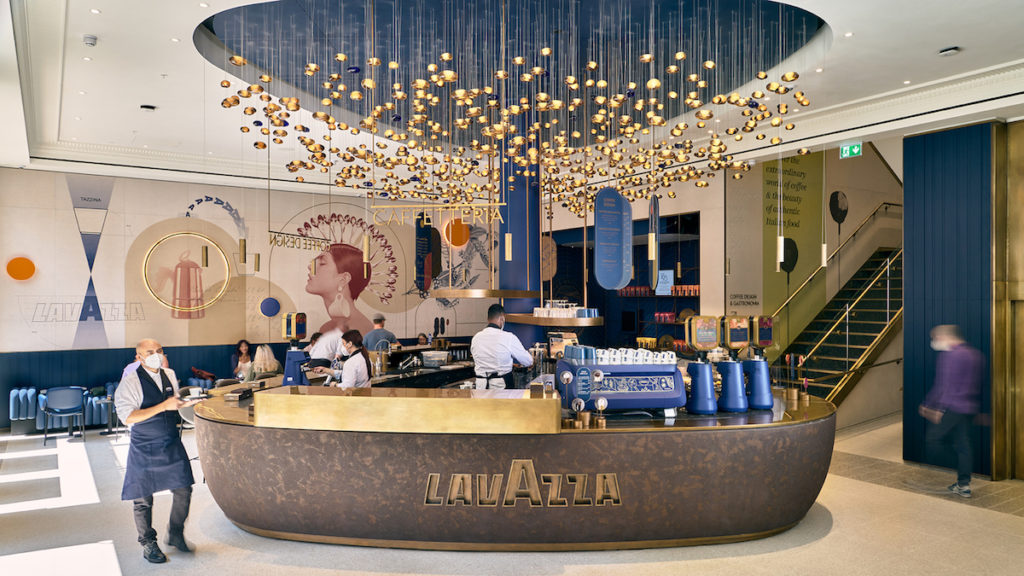 The original design concept by CRA has been conceived as a "social proximity cafe" which allows people to socialise safely while enjoying a full coffee experience, taking advantage of new technologies and germicidal materials. In addition, the design employs the principles of circular economy, with coffee ground serving as a construction material in the interior space.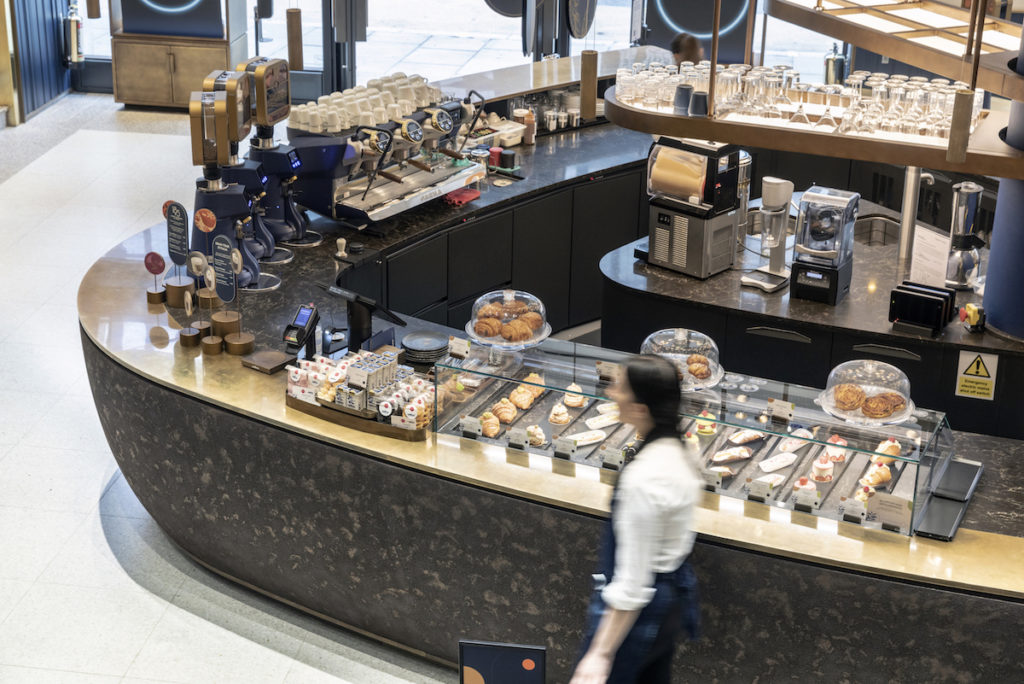 The project by CRA aims to enhance social relationships, especially after the disruption brought upon by Covid-19. CRA consulted Harvard University professor and public health expert, Edward Nardell, as well as biotechnology company MEG Science in the research phase to investigate how innovative sanitisation systems such as lights and copper-based germicidal materials could be adopted in the framework of a coffee shop.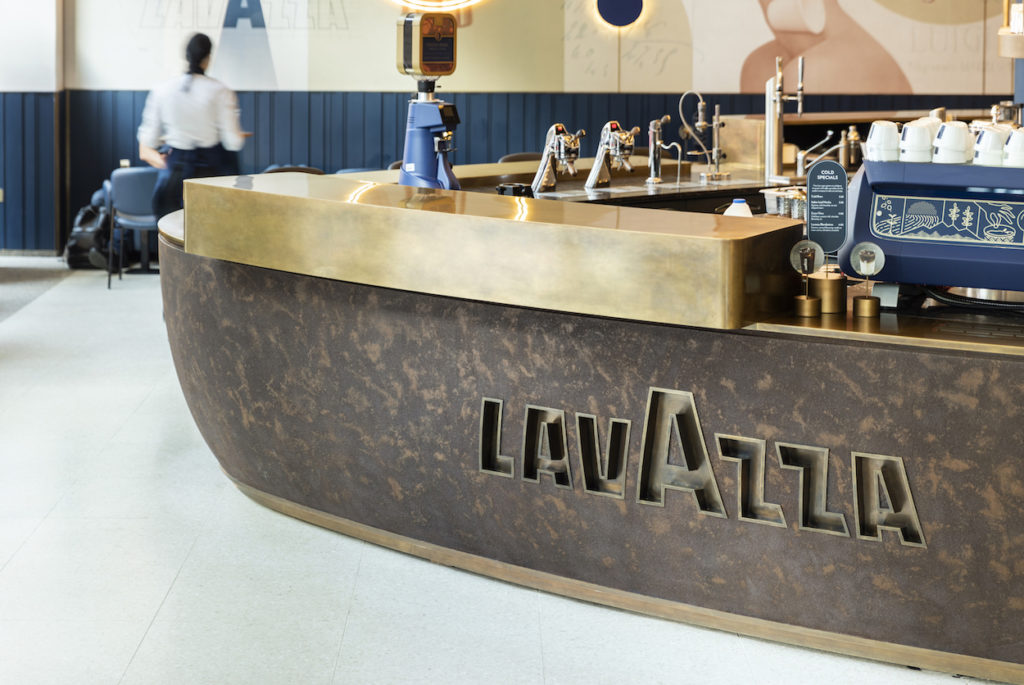 The research led by CRA inspired the ultimate selection of lamps with disinfecting properties to remove bacteria and viruses on the countertop. Coinciding with this is the extensive use of brass, a germicidal material which is used throughout the shared surfaces of the café, such as the counter top. Moreover, the lower part of the counter is built using coffee ground to reflect the principles of circular design. The convex shape of the counter, which at one meter of depth is wider than usual, allows customers and employees to interact safely.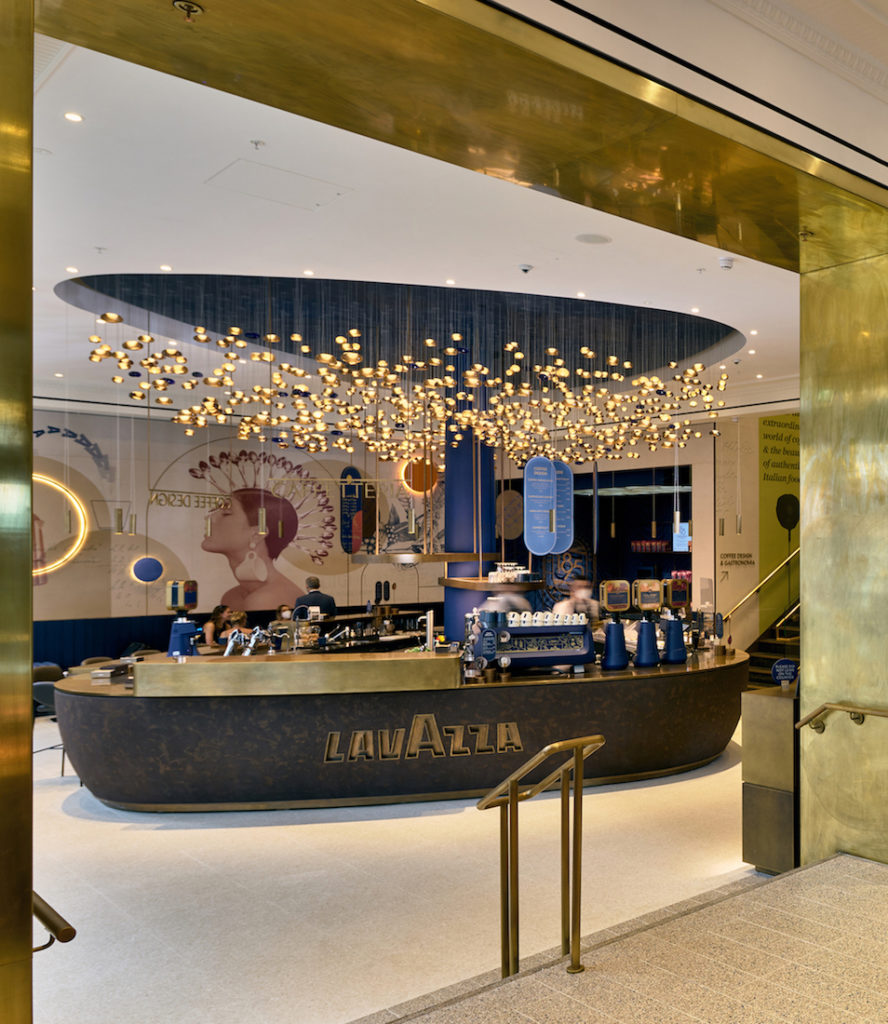 "At the moment we are living in calls for an innovative vision to improve our post-pandemic social life," says Carlo Ratti, founding partner of CRA and professor at the Massachusetts Institute of Technology. "Along with other safety and sustainable measures, copper – from which brass is derived – could play an important role in this in the future. The Lavazza London Flagship is an extension of the research we conduct with copper specialist KME to understand how we could take full advantage of the material."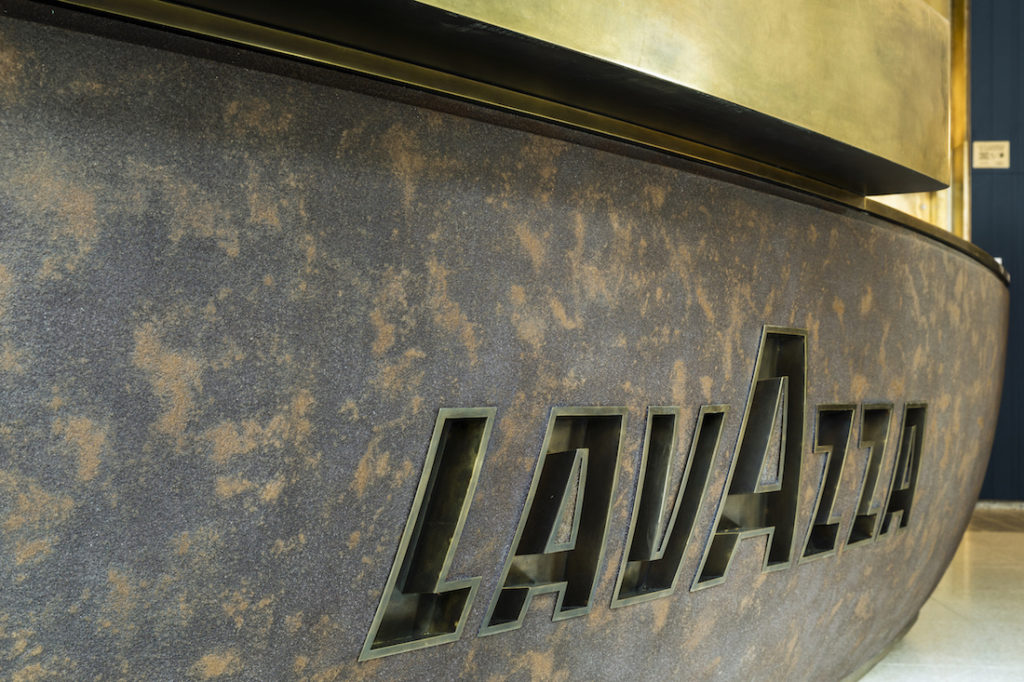 The Lavazza London Flagship furthers CRA's investigation into the post-pandemic urban space. In October 2020, it released the design of the Sella Innovation Center for Turin-based financial company Sella Group, proposing a safe workplace sanitised by UV-C lights and air-purifying windows. Coffee ground and other compostable materials constitute part of the Italian Pavilion at Expo 2020 Dubai, designed by CRA and Italo Rota in collaboration with Matteo Gatto and F&M Ingegneria. It highlights how temporary exhibitions and biennales can be built with minimum waste. In another example of circular economy, the studio developed Circular Garden for energy company ENI. The installation displayed at the Milan Design Week 2019 consists of a series of tall arches made of mycelium, the root of mushroom that is totally biodegradable. 
Credits
Creative Lead: Italo Rota
CRA Team: Carlo Ratti, Andrea Cassi (partner in charge), Marco Caprani, Mario Daudo, Luca Giacolini, Chiara Morandini, Nicola Scaramuzza
CRA Graphic Team: Pasquale Milieri
Scientific Advisor: Edward Nardell
Photobiology Consultant: MEG Science
Photographers: Marco Joe Fazio and Tom Parker
You might also like:
Carlo Ratti Associati and Italo Rota transform a former warehouse into high-tech carbon fibre museum in Italy
Carlo Ratti Associati's Singapore CapitaSpring project and Brasilia masterplan extension address environmental concerns through smart technology and IoT
Creative Crews designs a boxy cafe featuring green marble wall tiles in downtown Bangkok garden