Located in the centre of the Nai Lert Park in downtown Bangkok, the recently-opened Caviar Café is a converted gift shop within the food and beverages zone adjacent to Som Khit Alley.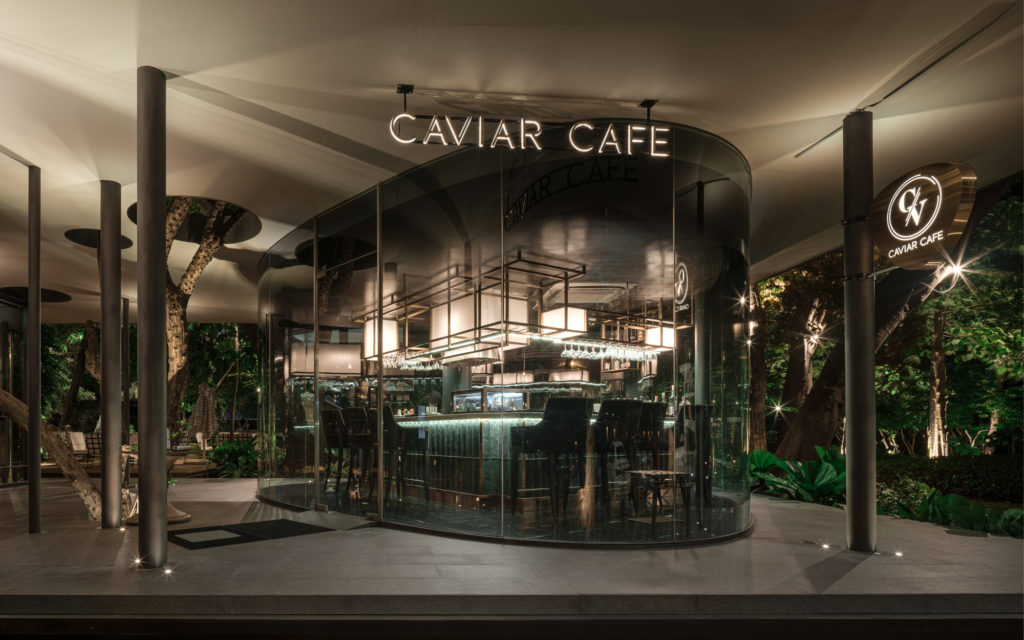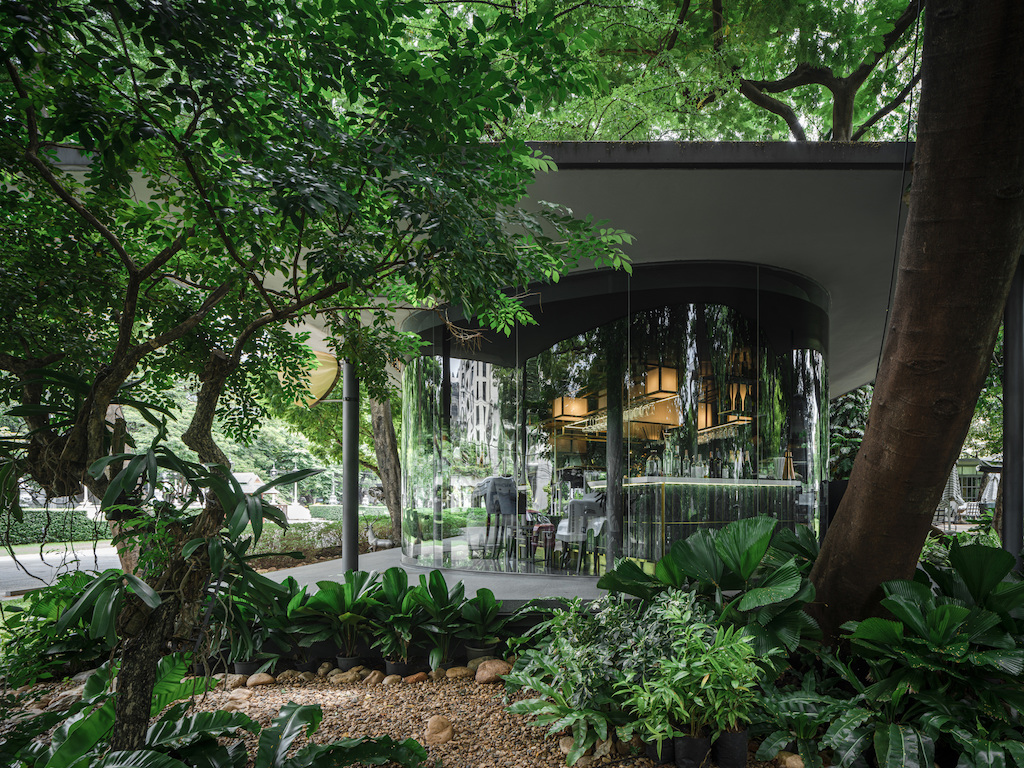 Designed by Creative Crews, the objective is to immerse users in the abundant greenery of this unique urban oasis. Designed with a main free-standing island bar in the centre, the venue can accommodate stage performances. The bar and seats are located such that guests' views are directed away from the carpark and towards the lush greenery.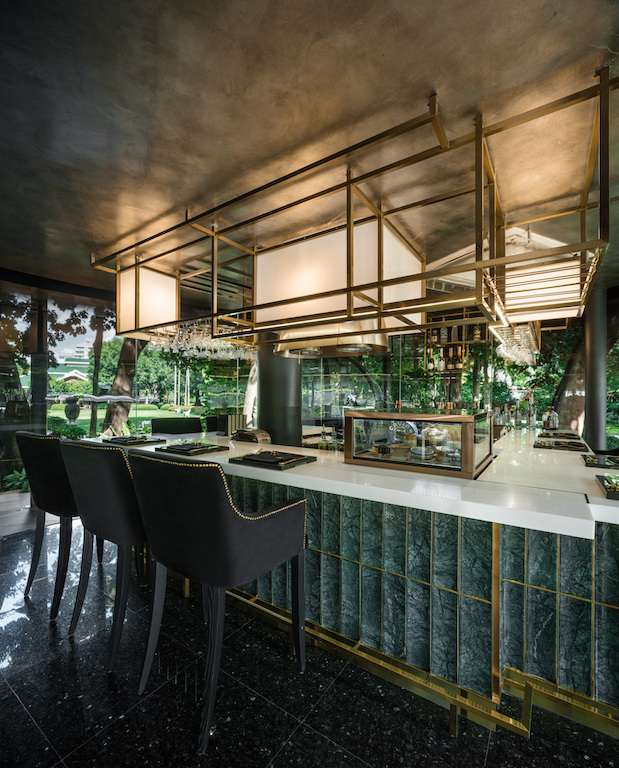 The materials selected are reminiscent of shimmering lights that shine through the foliage that surrounds them. The floor is laid with polished dark granite embedded with silver grains. Counter walls are clad with handcrafted green concave marble tiles that reflect lighting unevenly and distribute organic reflections onto surrounding surfaces and topped with white glittered surface. The ceiling is lined with silver leaf. The reflective motifs extend even to the pearl serving spoons.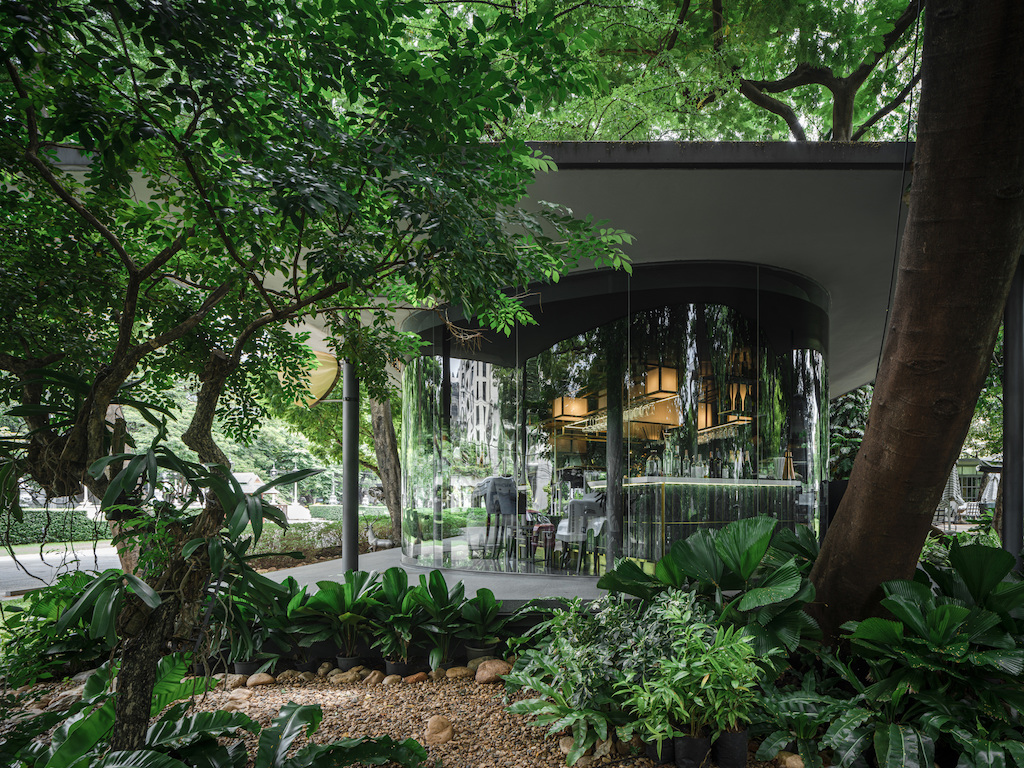 The caviar display box is designed as a simple understated sophistication, drawing inspiration from a jewellery box. It is equipped with cooling equipment to ensure no fogging and unwanted water vapour appear on the display glass. The design elements aim to accentuate the atmosphere of the space to complement the overall dining experience.
Project details
Architect: Creative Crews
Area: 24m²
Year of completion: 2019
Photographs: Panoramic Studio
Architect-in-charge: Puiphai Khunawat, Ekkachan Eiamananwattana
Design team: Creative Crews Limited
Collaborator: Altitudez Company Limited
Collaborators: Nova Asset Management
City: Bangkok
See the full image gallery here:
You might also like:
Creative Crews discusses its award-winning classroom makeover for blind children in Thailand
Cafe by PHTAA Living Design maximises tiny space with built-in shelves in timber gate
Onexn Architects creates a tiny 9sqm cafe in a former air-conditioner repair shop in Shenzhen that has impacted the entire street