Designed by architecture practice Kamitata, the AL-HOUSE in Bandung, West Java features an asymmetrical gabled roof. The client's brief for the firm was to build a simple and modern two-storey house that was distinct from the rest on the street. The client's concern about privacy and security have been interpreted into a seemingly enclosed facade design yet without excessive massing, featuring several openings from the front. Most of their openings are on the side of the building. For privacy reasons, AL – HOUSE is designed with an inward orientation, to minimise interruption from the street passers-by and surrounding neighbours.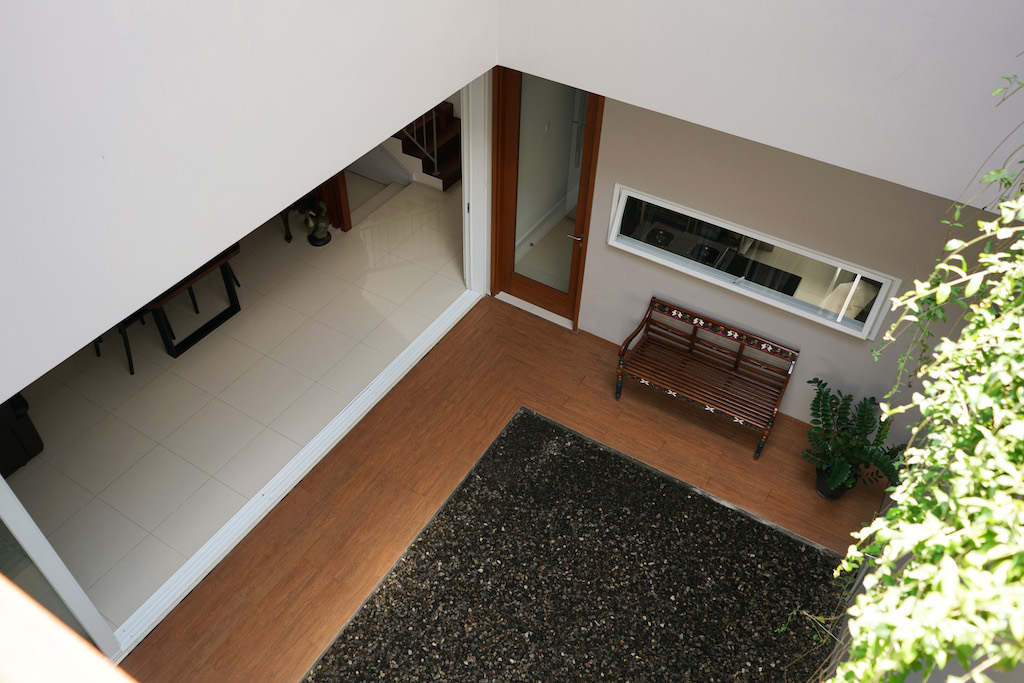 The house was constructed on an elongated plot of land with a 225m2 (9 meters length x 25 meters width), making this residence compactly designed so that it can meet all the needs of its residents. It has a linear spatial flow and the design team created an inner court concept as a central mass of the building. The courtyard enables the flow and circulation of natural light, fresh air, creating a healthy living environment.
The main bedrooms have been placed at the back of the site emphasising the users' privacy in this property. Keeping in mind the elderly residents, the first floor consists of the client's parents' main bedroom and common room, whereas two other bedrooms, two children's bedrooms, and an ancillary room are on the second floor. Each room adjoins the void as well as the inner court, so every room gets natural light and fresh air.
Wooden floor and garden elements along the inner court and open area make the house liveable and warm. The explicit usage of materials such as a textured wall, merbau wood, and monochrome colours used for the exterior, create an impression of a modern tropical house.
See the full image gallery:
You might also like:
Studio Avana designs tropical house in Bandung with multiple gardens on different levels
Ruangrona designs a Bandung family home with separate masses to keep it light and airy
Ruangrona architects designs modern house in West Java with dense facade and skylights