IDIN Architects has designed a boutique resort called the Tara Villa on the banks of the Kwai River, located in western Thailand. The 5,900m² property, designed by architects Jeravej Hongsakul, Wichan Kongnok and Eakgaluk Sirijariyawat, and assisted by Jureerat Korvanichakul for the interior architecture, is popular for events such as weddings and conferences. There is a large area on the rear of the project provided for further residential construction. The common building housing the reception and multi-purpose courts was placed facing the Kwai river so as to take advantage of scenic views.
The court, which is connected with the swimming pool by the end of this continuous space, features an exclusive family suite, which provides privacy from the visitors in the other wing of the resort.
At first, the owner wanted to lower the level of the land on the right side by about three meters or about one storey-high building which would have placed the multi-purpose court and swimming pool closer to the river. To achieve this, there would be a lot of digging which led to the idea of what could be made out of the dug-up soil. The architects realised that the rammed earth could provide an interesting dimension to the project. The unique yellow rammed earth wall made this place distinct from any the rest of the properties in the area. All the rammed earth wall was used on the outdoor architectural elements because of its strength and its granularity for a more tactile feel.
The concept of the hotel was to focus on the space that could be used for different functions. The materials used in the project appeal to senses – touch: material texture, hear: the sound of the wind, feel: the warmth of sunlight and smell: the pleasant odour that is released from rammed earth when it comes into contact with rain.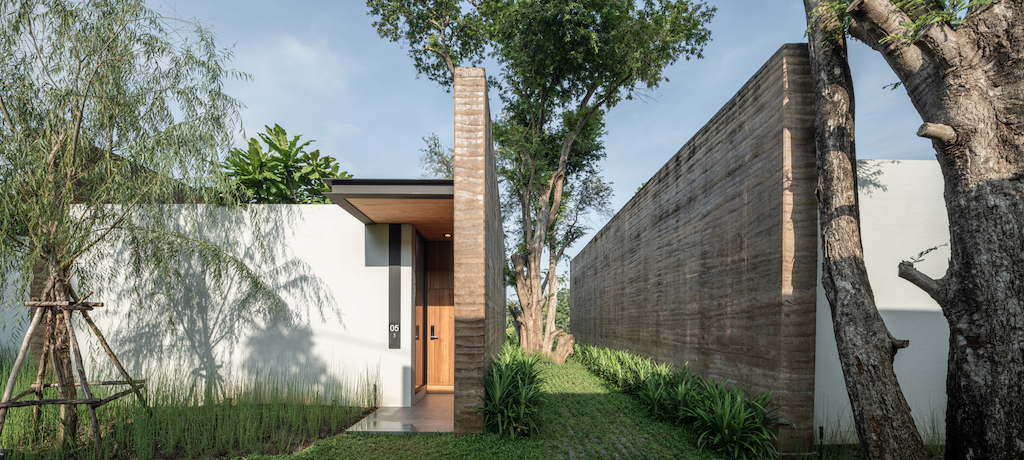 The layout was created to have the main circulation connect with all of the common areas and to keep most of the existing trees as possible. Direction and position of the rammed wall plays an important role in both openings and closed ends, taking visitors on an exploration of the resort.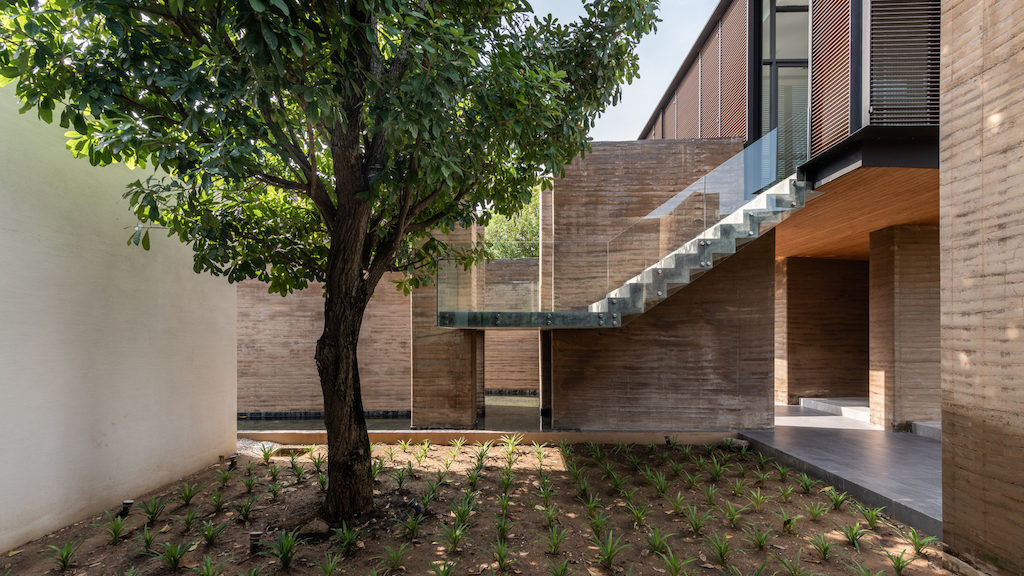 In the villa zone, visitors are led through the semi-outdoor space upon entry, which works as a transition space before getting into the indoor-residential area. All of its sliding doors can be opened widely at once which helps to merge indoor and outdoor space together and also helps with the free flow of air ventilation. When an event takes place indoors, the spatial flow ensures continuity through to the terrace and the swimming pool outside.
See the full image gallery here:
Photos: IDIN Architects
You might also like:
PHTAA designs a white wedding venue in Thailand accentuated by arches and curved lines
Blankstudio converts former dormitory in Chiang Mai to boutique hotel using disused materials
Phang-na boutique hotel by Studio Locomotive harks back to owner's Peranakan heritage