Italian porcelain stoneware manufacturer Ceramiche Refin, part of Gruppo Concorde, launched its new range, Affrescati Collection, recently at Cersaie in Bologna. Offering an original and eclectic interpretation of the Italian artistic heritage enclosed in the tradition of wall decorations, the collection complements the interiors – from the fresco to the floor.
For the creation of Affrescati, Ceramiche Refin dived deeper into the beauty of Italian art and the rich history of frescoes, while combining it with the ancient techniques of mural painting to give life to an original surface with powerful character that can cover various types of surfaces, adapting to a range of contexts, thanks to the versatility of stoneware.
THE BACKSTORY
The story of Affrescati collection can be linked back to several icons of Italian heritage such as the frescoes of Pompeii, the colours of the Amalfi Cathedral and the starry vault of the Scrovegni Chapel. The various sources of inspiration are deeply connected to the Italian tradition of wall decorations that constantly give arise to new ways of conceiving spaces. The result is a real fresco, created in the cutting-edge laboratory of Ceramiche Refin and transformed into an exclusive decorative ceramic surface, deeply textured and rich in colour contrasts.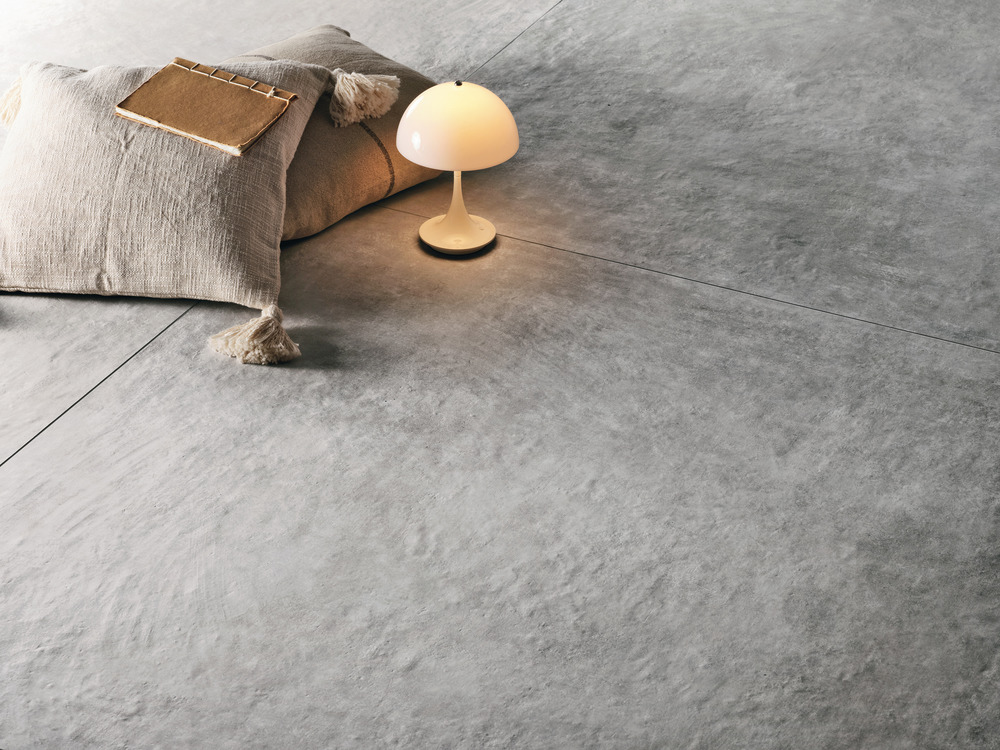 The reaction between the background lime and the pigments makes it possible to attenuate the chromatic tones and generate a range of different shades, with a slightly worn-out effect, all the while highlighting the unmatchable emphasis that Italian culture places on craftsmanship.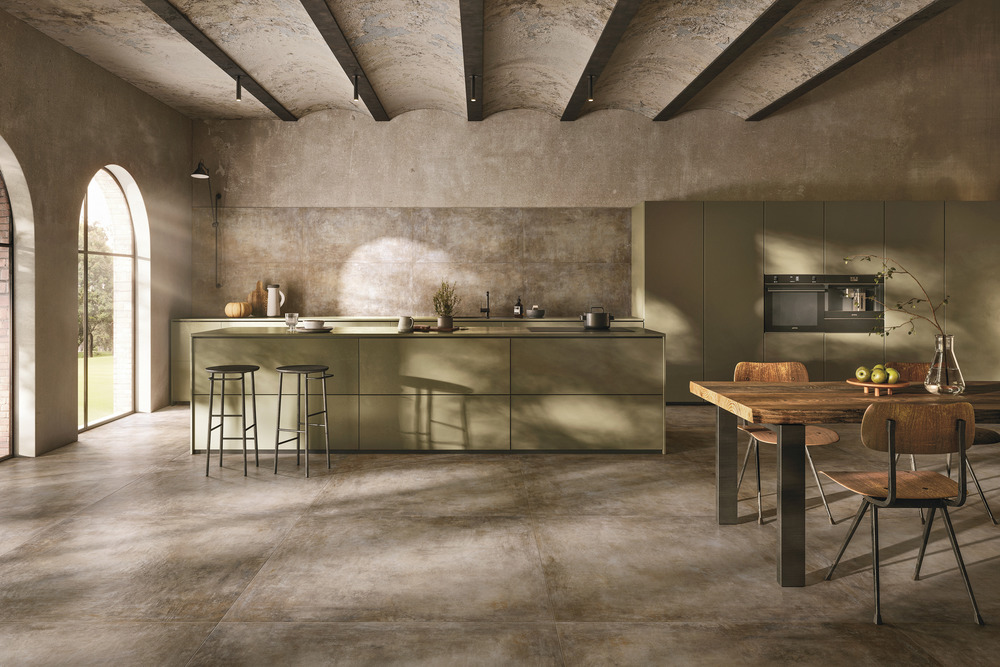 TRADITIONAL APPROACH
The collection is characterised by its exquisitely textured surfaces, enriched by spatula marks, imperceptible waves and a careful chromatic stratification that evoke the old world and the artistic heritage of Italian history. The sponge technique, in particular, transforms each slab into a surface steeped in craftsmanship, with a unique and unpredictable character. The sensation of being in front of a fresco is further reinforced by the presence of cracks and chemical reactions dotting the surfaces, but also by the considered choice of colours – Calce, Ocra, Ombra, Lapis and Terra – all shades that clearly recall the colours of the wall art, together with their typical heritage and dusty appearance.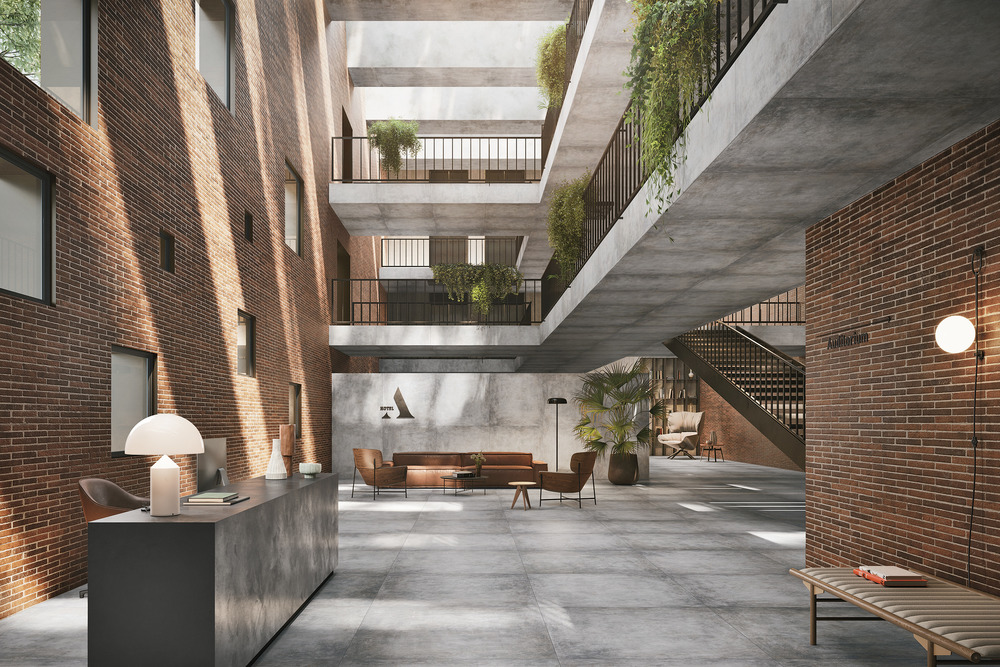 The collection is also enriched by the Giotto decoration, especially designed for walls and floors, with its monochromatic blue background inspired by the sky painted in the Scrovegni chapel.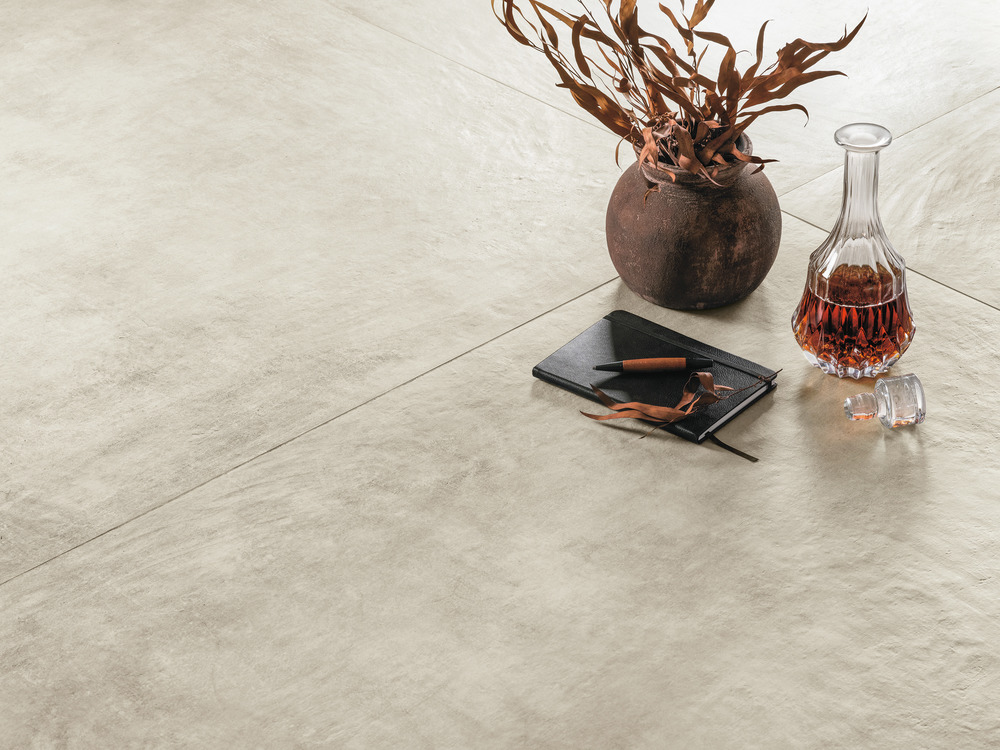 The evocative power of the frescoes has been projected into modernity also thanks to the qualities of a material such as stoneware. With this new collection, focused on frescoe-aesthetics, 60-year-old firm Ceramiche Refin establishes a link between the past and present triggering new design surfaces and presenting new opportunities for designers to create contemporary spaces whose surfaces have a story of their own.
Photo credit: Ceramiche Refin

You might also like:
Cosentino commissions five top designers to create first-of-its kind Dekton furniture collection
Interior of Malaysian conglomerate headoffice by Ministry of Design features vertical lobby spanning seven storeys
Gio Ponti's Blu Ponti ceramic tiles among iconic Italian design items at pop-up shop in MoMA