Dubai-based Italian studio NIU has teamed up with famed Italian mosaic brand Fantini Mosaici and lighting company Artemide to design a glittering installation at the entryway to the ongoing Downtown Design – a prominent design fair in the Middle East and North Africa region that takes place alongside the annual Dubai Design Week affair. The annual event runs through November 12 at the Dubai Design District Waterfront.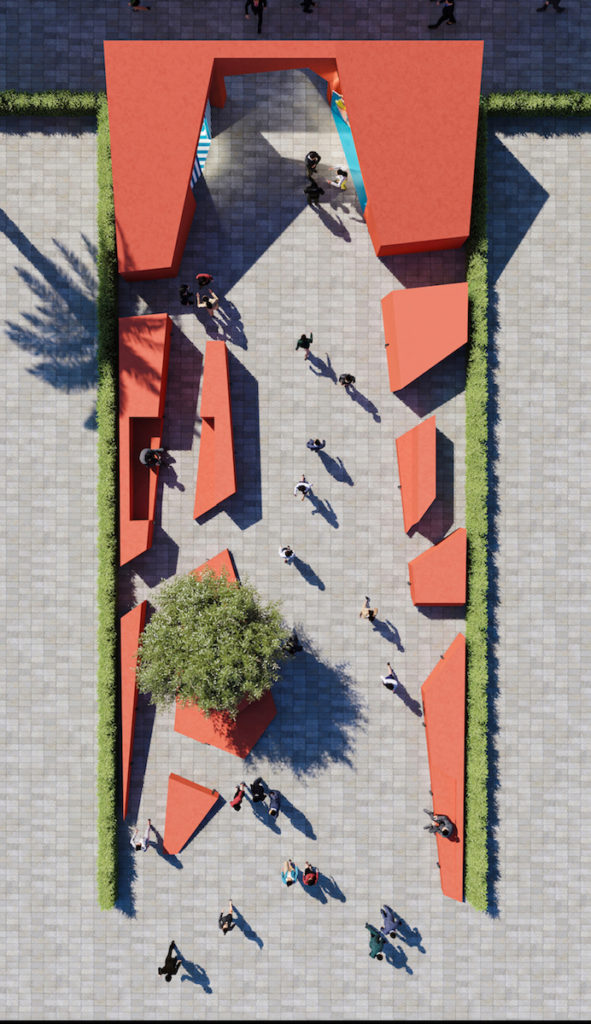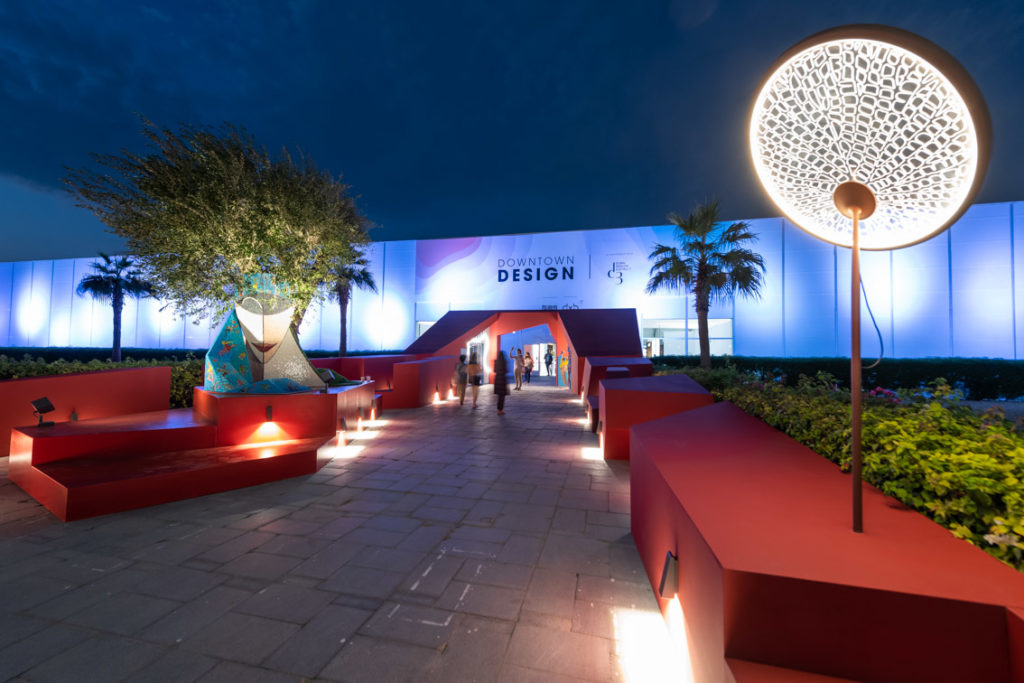 CONCEPT
Built using sustainable materials, the project known as 'Thru' is an interactive, multifunctional architectural passageway leading to and from the fair's main entrance.
"Our aim was to design an installation that would highlight the Fair's entrance from a distance, act as an entrance portal and also be a waiting and meeting place, to celebrate Dubai's post pandemic design boom."

Giorgio Palermo, NIU's founder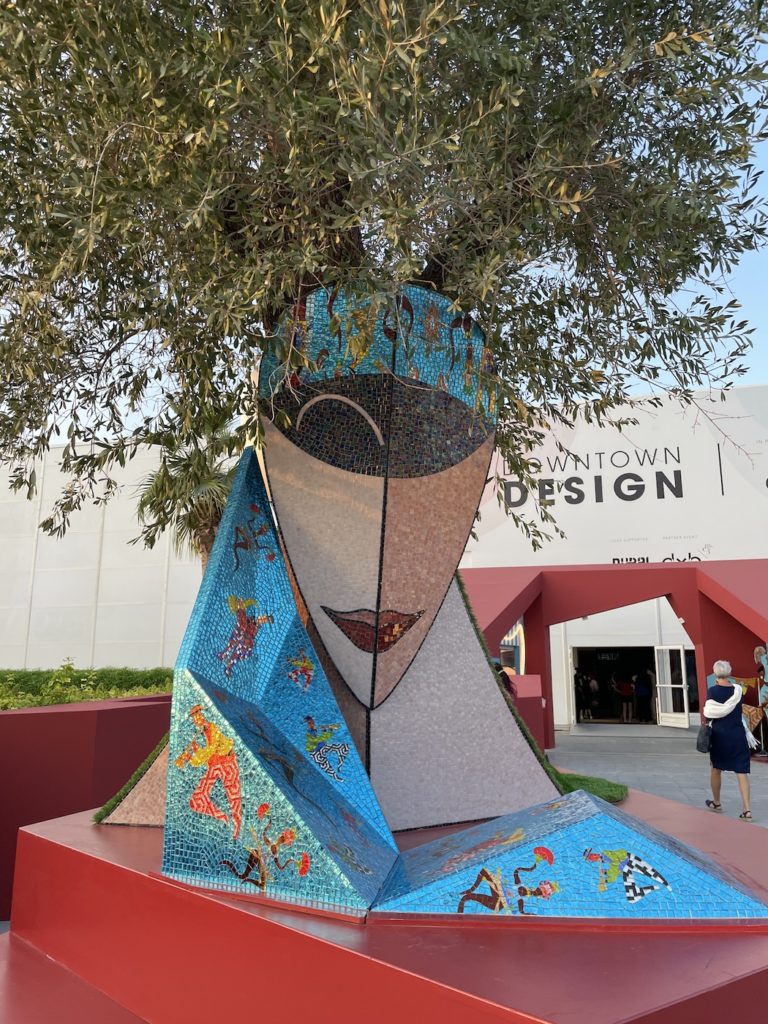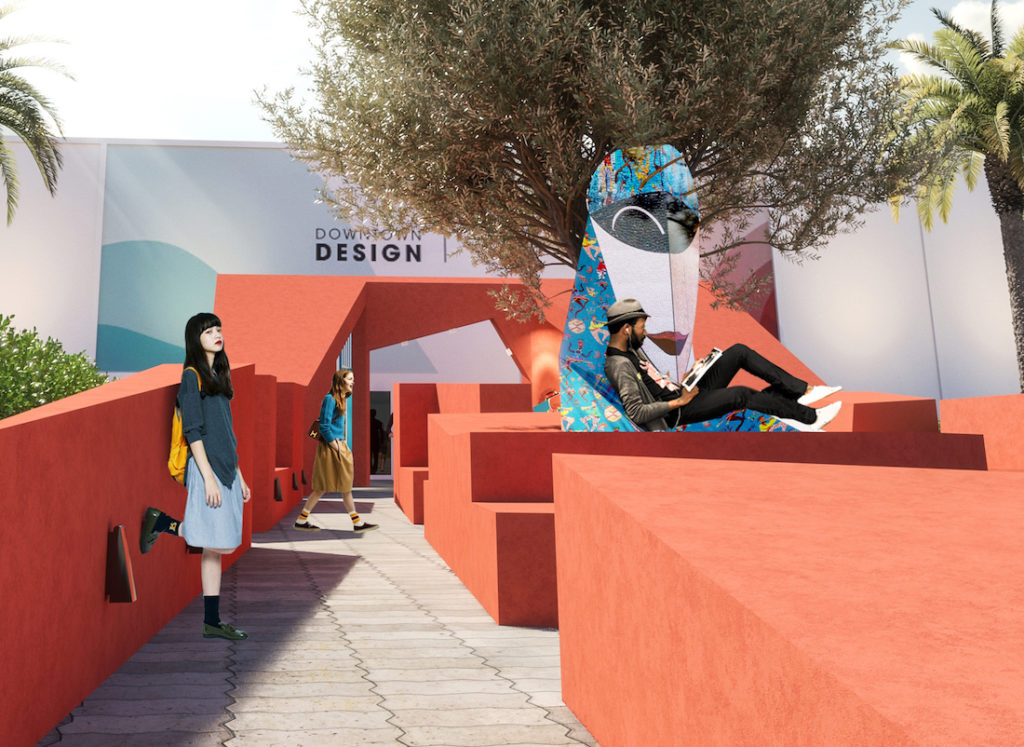 DESIGN HIGHLIGHTS: Selfie pods and sculpture
The focal point is Fantini Mosaici's large mosaic-clad caricature, evocative of a design muse, created by Italian artist Antonello Blandi. The sculpture references an olive tree, representing the ideas and concepts that are bouncing around in the muse's head. Meanwhile, a richly decorated mosaic bandeau scarf drapes from the head to form a chaise where visitors can recline and relax.
"Our artisans are creating dramatic and intriguing mosaic elements for the Downtown Design event that will play a key role in reconnecting and reinvigorating the A&D community."

Enrico Fantin, CEO Fantini Mosaici
To make the installations more interactive, designers have created two larger elevations for the visitors through which to enter the selfie pods, whose design is inspired by traditional circus games. The pods are decorated using avant-garde mirrored and stripped 'Barrisol' stretch fabric and Fantini mosaic patterns; they are complemented with energy-boosting and sanitising Artemide light features that blend to create an aura of positivity and wellbeing and deliver optical illusions.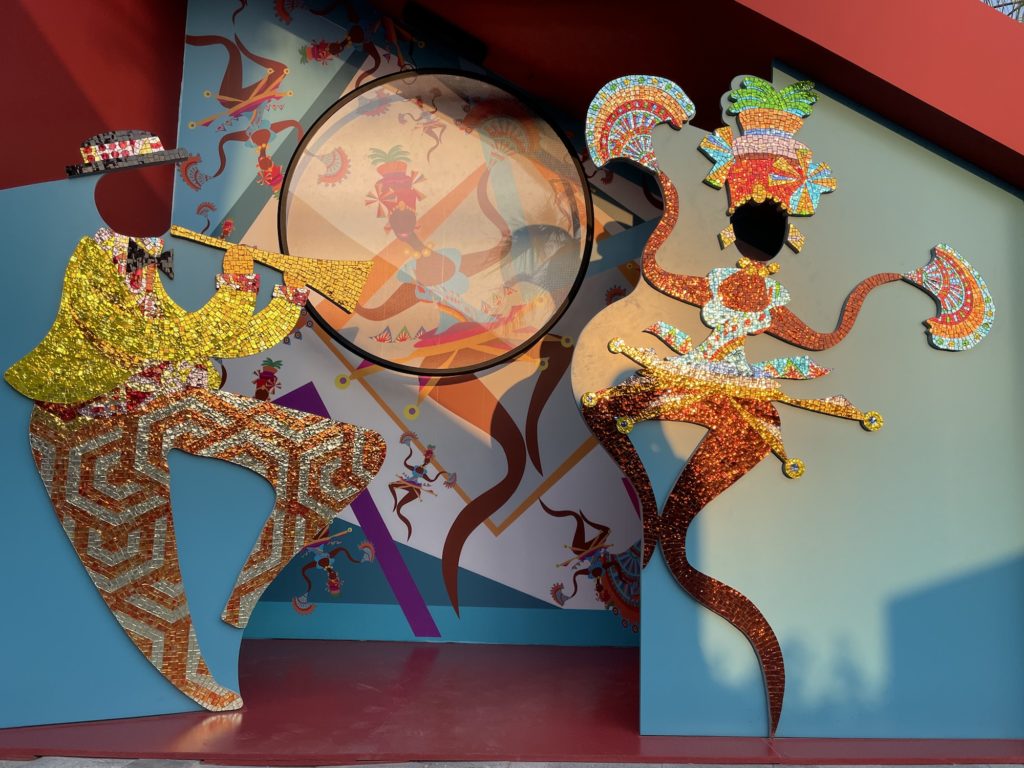 "Artemide light makes the entrance installation even more interactive and engaging. Light is extraordinary circular energy, capable of feeding nature, supporting human beings' lives and, today, thanks to Integralis technology, also allowing us to return to living together safely."

Carlotta de Bevilacqua, President of Artemide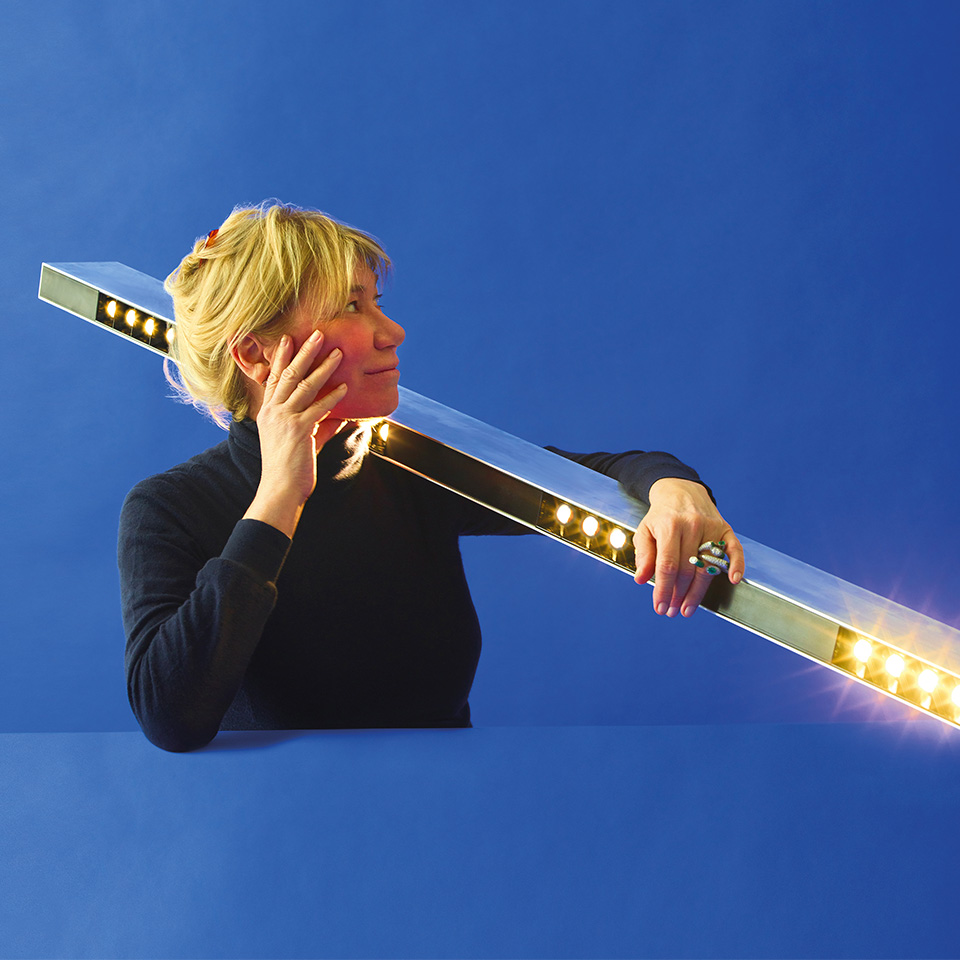 "It's an uplifting and engaging space where you can experience the elements characteristic of city life: people, landscaping, seating, archways – all complemented by subtle sound effects," elaborates NIU partner Elena Gregorutti.
"We sought to create an urban path – a piece of land art – that is also a container of contemporary artistic expression; an experiential space where visitors will explore various ways of self-expression/representation through art," Palermo adds.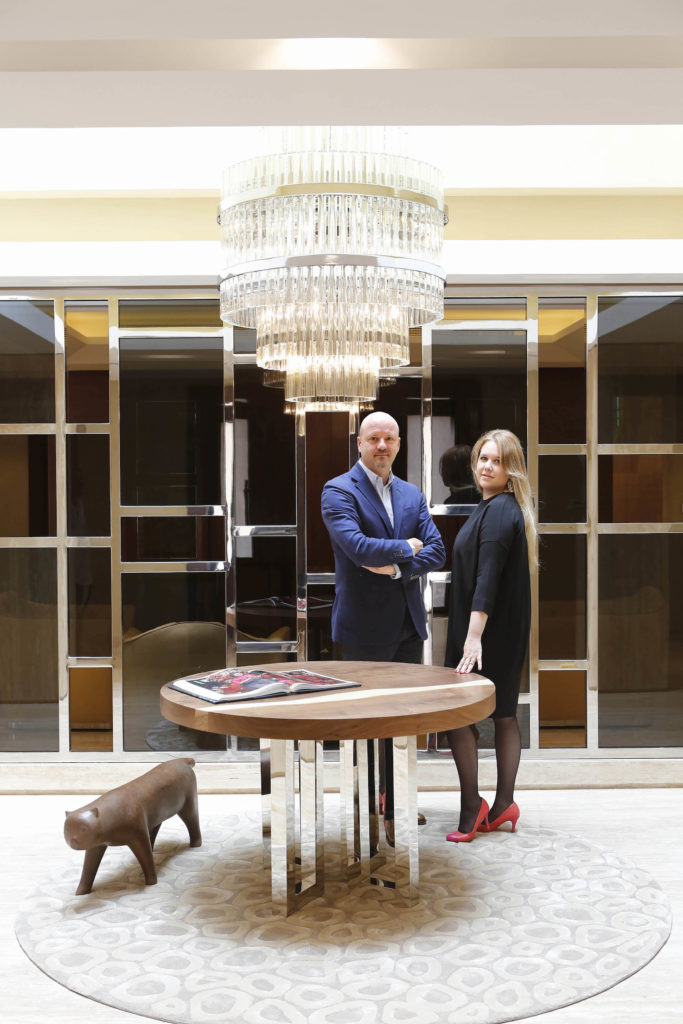 In this path, the Artemide light creates a sustainable scenography, engaging the visitor in a dialogue with nature, space, and perspective towards the entrance.
Built and installed by Vogue Interior Decoration, the main components are a series of angular blocks of varying sizes, constructed from eco-friendly 'Viroc' cement-bonded particleboard panels that provide seating and house the two larger units. "Major considerations included the narrow space and height restrictions, and the challenge of creating a functional structure that would enhance the flow of visitors while allowing them to enjoy the immersive design experience," the design partners say.
SUSTAINABILITY
Keeping the environment in mind, all design elements and materials were strategically selected to ensure that they can be relocated or reused following the five-day event.
The installation was built and installed by Vogue Interior Decoration using materials from Wow Factor Building Materials and Lapietra Nursery.
You might also like:
Dubai's new snack bar concept by NIU Studio is inspired by retro elements and futuristic spaceship
Aedas to design futuristic Dubai fuel station inspired by local flora
Roar studio blends Japanese minimalism with Emirati craftsmanship and data-based design in Takeda's Dubai offices