This year's Serpentine Pavilion – an annual commission awarded by London-based Serpentine Galleries to an architecture practice after a worldwide competition – has run into further trouble after being delayed last year due to the ongoing Covid-19 pandemic. While the pavilion – designed by Johannesburg-based Counterspace studio – that was supposed to have been built last year was pushed to 2021, it restarted construction recently and has invited criticism due to its excessive use of concrete. The Serpentine Gallery that awards the commission has been lambasted for pouring 95m³ of concrete into the ground to support the pop-up structure that is centered on the concept of "gathering spaces and community places around the city, folding London into the Pavilion structure in Kensington Gardens".
The annual pavilion programme has won global plaudits as one of the greenest to date due to its emphasis on using environmentally-friendly materials and building techniques. Upon being launched in the early part of 2020, the team had declared that it would be "employing a mix of low-tech and high-tech approaches to sustainability", including low-carbon K-Briqs.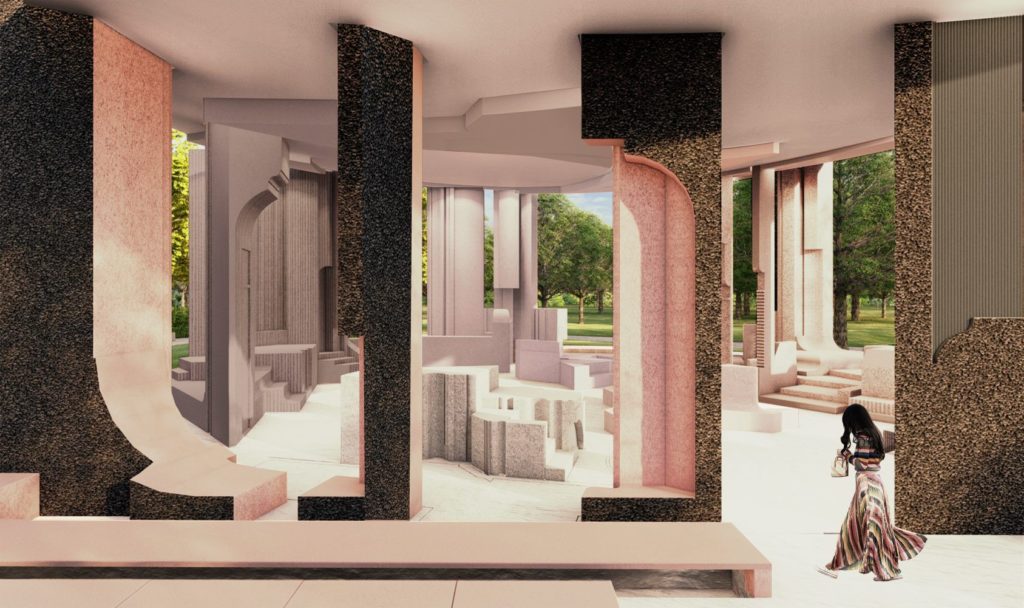 However, when one of the construction and engineering companies working on the project, Stage One, announced on Twitter that the 'mighty concrete pump has arrived' to pour the concrete foundations, it invited scrutiny among industry experts because of the high carbon cost of concrete and the amount of the material used.
At the launch last year, the Serpentine's artistic director, Hans Ulrich Obrist had said that the gallery, which celebrated its 50th anniversary in 2020, would respond to the climate change emergency by placing ecology "at the heart of everything we do".
Jon Leach, project director at AECOM that is overseeing the engineering aspects attempted to shed more light on the construction process. While insisting that the structure had many positive and sustainable attributes such as the use of repurposed cork, sourced from the wine-producers, he said: "Though temporary, the large-scale and complex structure had thin walls which were sunk into the landscape and that buried foundations such as anchors or temporary piles were not possible.
"[With] the very high footfall and multi-functional events that the pavilion hosts over its five-month installation each year, a concrete wearing surface has been deemed to be the most suitable for safe public use. The concrete volume has been minimised structurally, while maximising the use of cement replacements (Ground Granulated Blast-furnace Slag, an industrial by-product), and will be recycled after the pavilion is moved to the next site as it has successfully been in previous years. All of the primary steelwork has been re-used from previous projects by the contractor, with all components manufactured off-site."
The pavilion will be open from June until 17 October 2021, after which it will be successfully relocated to another site and repurposed as has been the practice with all Serpentine Pavilions.
You might also like:
Fish trap installation by Taiwanese artist Feng Cheng Tsung aims to revive bamboo craftsmanship among local community
OUALALOU + CHOI designs Morocco Pavilion for Expo 2021 Dubai
Carlo Ratti Associati unveils the Italian Pavilion design as the one-year countdown to World Expo2020 Dubai begins