Located on the eastern Gulf of Thailand, some 80kms from capital city Bangkok, Chonburi province is known for its beaches. Bangkok-based architecture firm VaSLab Architecture – led by architect Vasu Virajsilp and assisted by Kittipat Sirijumpar, Nattapon Panjasakulwong – has designed the Mason Resort along Na Jomtien Beach. Inspired by the local craftsmanship of Ang Sila community's stone masonry, concrete and stone have been carefully cut and crafted to form a distinct architectural language.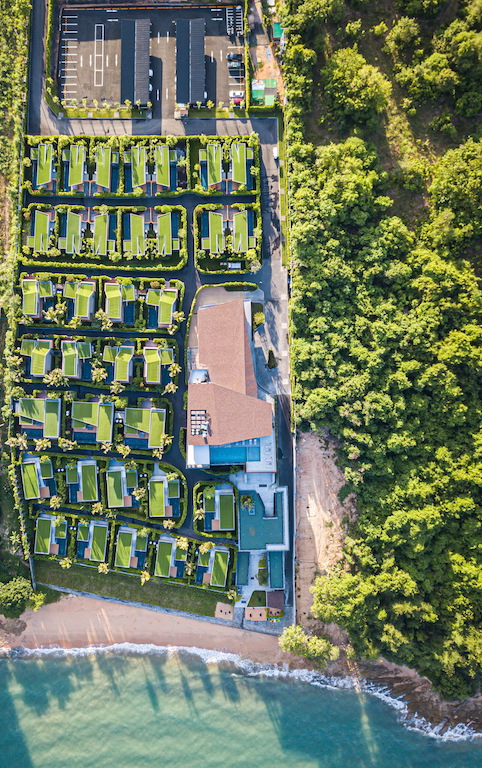 Mason Resort is a hideaway pool-villa resort located at Na Jomtien Beach between fishermen's village and the city of Pattaya. The brief for the project was to create a structure that naturally blends into existing land and seascapes, and to offer the panoramic ocean view from all corners. Each villa has a large roof deck and a private pool.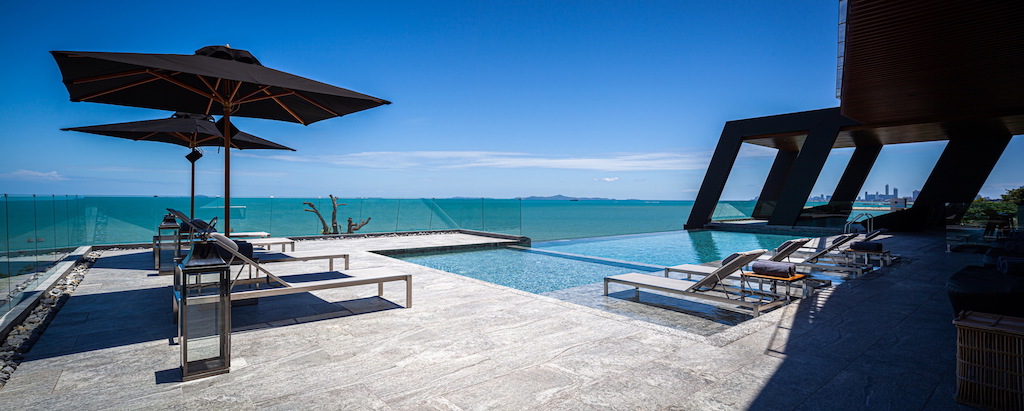 The private pool-villa architecture is harmonised within its topography of the land not only by its material selection, but also within its individual setting of 35 villas, that is to preserve its site condition as much as possible, minimising impact to the environment.
You might also like:
IDIN Architects designs boutique hotel along Kwai River using rammed earth
Phang-na boutique hotel by Studio Locomotive harks back to owner's Peranakan heritage
IDIN Architects designs boutique hotel along Kwai River using rammed earth
Approaching from double-volume welcoming lobby space, the space is imbued with an experiential journey right from the grand staircase at the entrance. Before visitors reach the beach, an architectural hierarchy of space is conceived not only by visual dynamism through different levels of reflective pools, but over proprioceptive sensation through a combination of transitional outdoor and semi-outdoor spaces.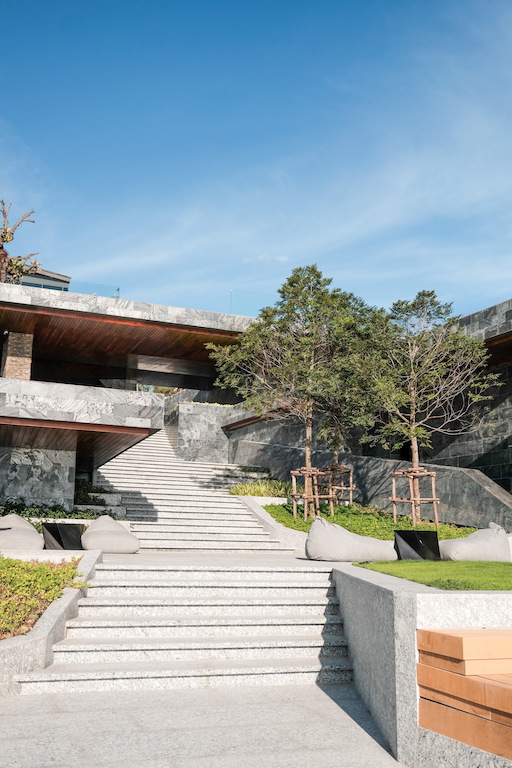 In descending the slope, the cave-like villas are carved on one-third of the 48,000m² site, maximising the sea view, while keeping tranquility and privacy within. Located nearest the sea, two rows of one-bedroom villas are entered from above, via an open-air staircase from the back, which leads to the spacious sundeck terrace.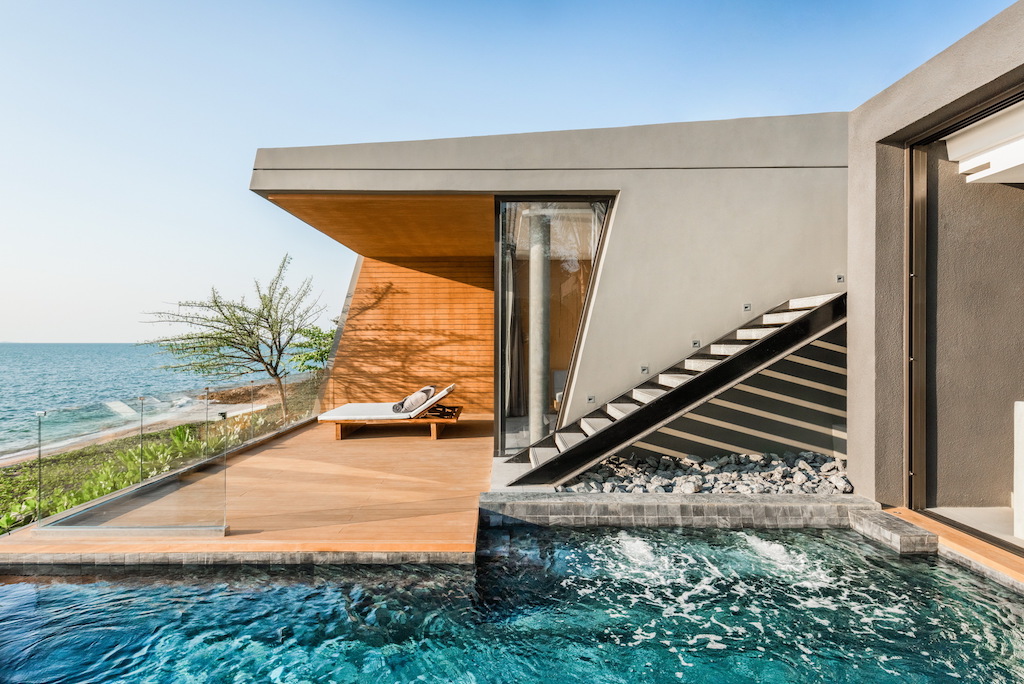 Light and shadow play with positive and negative space in a light-filled enclosure beneath the staircase. Further inland, family two-bedroom villas with full height opening from the entrance, create dramatic scenes by framing the seascapes. Behind those are two rows of duplex villas that guests enter via a landing between floors. Furthest from the sea, garden villa maintains privacy and features an extra-large private pool, and spacious bathroom. Expression of light is interlaced into its interior by skylight and it is changing dramatically during the day.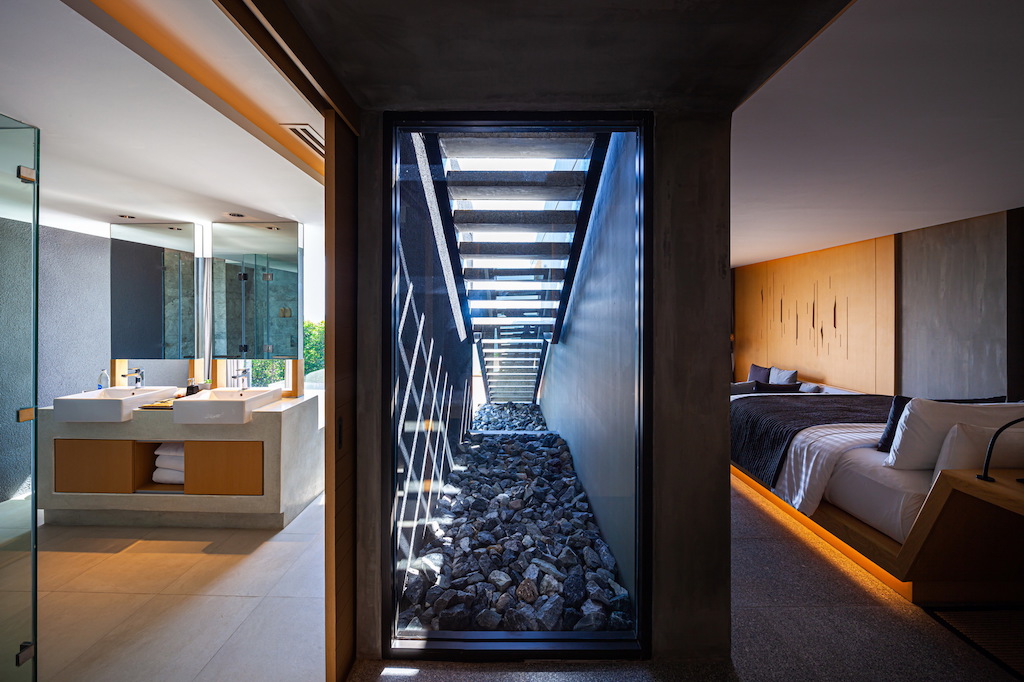 Resting on granite rock hill, the architecture has been metaphorically sculpted in order to become one with nature. Local granite has been used for sculpting walls, defining spatial perception. These also include the over-sized terrazzo bathtub and other decorative artisans, shaping a carving-like effect by either daylighting and artificial indirect lighting within interior space.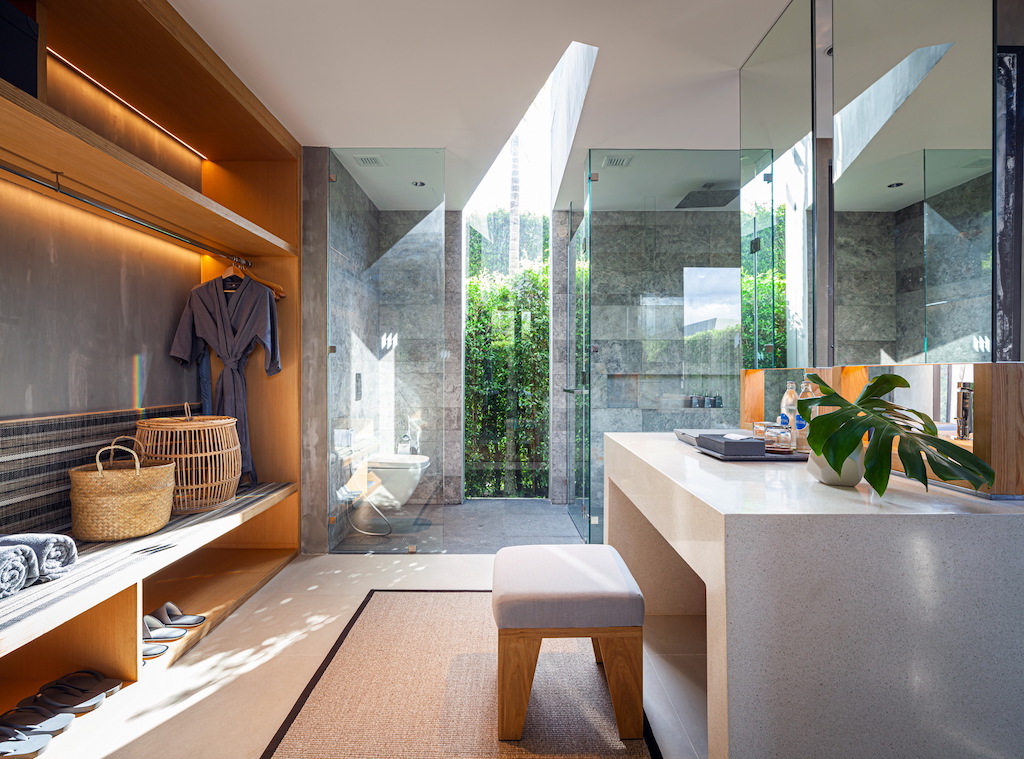 Designing architecture as an art and craftsmanship, there are three main contributors. First, its interior space exhibits as an art gallery of wet-plate photography by Chardchakaj Waikawee. Second, decorative elements like hand sculpted woven bamboo lights are designed by Korakot Aromdee. And finally, sculptural washbasins, vases and other artisanal objects are contributed by the local stone sculptors from Ang Sila community.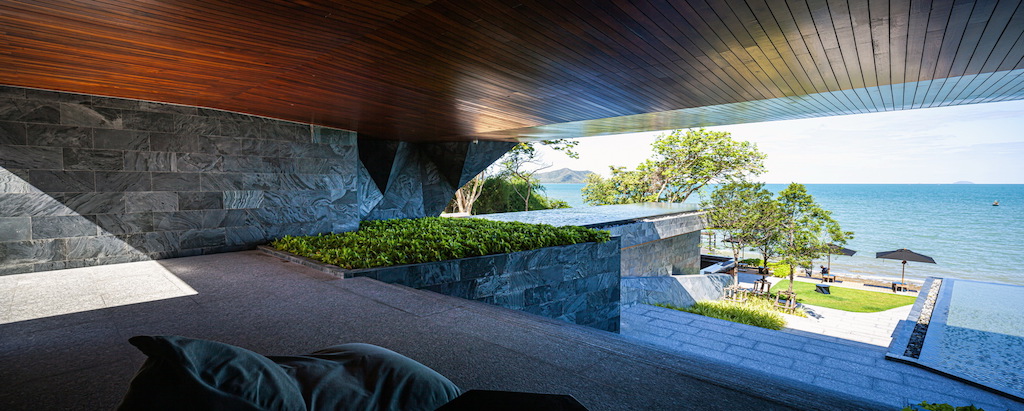 A dying breed, the stonemasons of Ang Sila need projects like this to prevent it from extinction. It is likely that the current generation of stonemasons may well be the last. Thus, the collaboration between the property owner, the architect and the local artisans makes Mason not only a tourist resort, but the architecture that helps local people and their community to preserve their craft and livelihood.
See the full gallery here:
Photos: Ketsiree Wongwan, Wara Suttiwan, Spaceshift Studio