India- and Germany-based multidisciplinary practice Studio Symbiosis has been acclaimed for its approach to challenge the status quo and propose solutions that address sustainability-focused issues. The award-winning firm led by co-founders, Amit Gupta and Britta Knobel Gupta, has designed Plexus, a modular exhibition stall that can be produced in parts and assembled at exhibitions as required.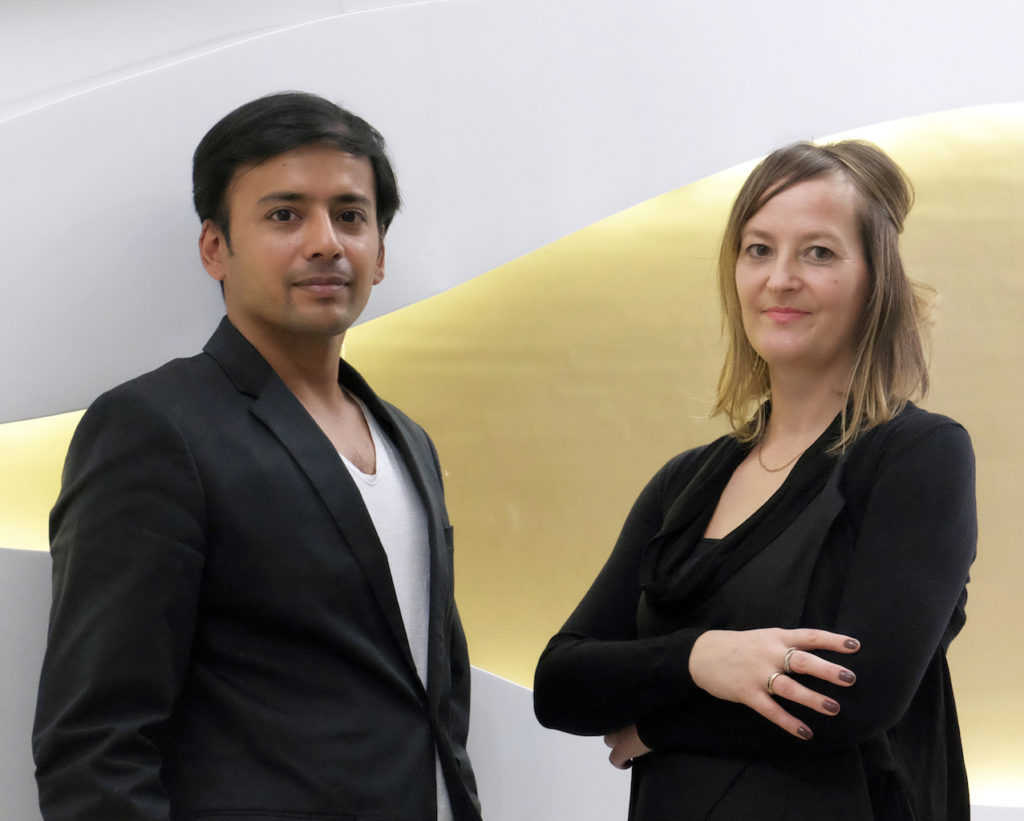 Designed as an iterative plug-and-play system, it presents a solution to curb wastage resulting from discarded trade fair stalls. Trade shows lead to massive production of waste in terms of the various components of the stalls being discarded post the show. This results in a huge impact on the environment, as the exhibitors envision a new look for various locations of their display booths to keep the brand fresh and also the stall sizes vary from location to location.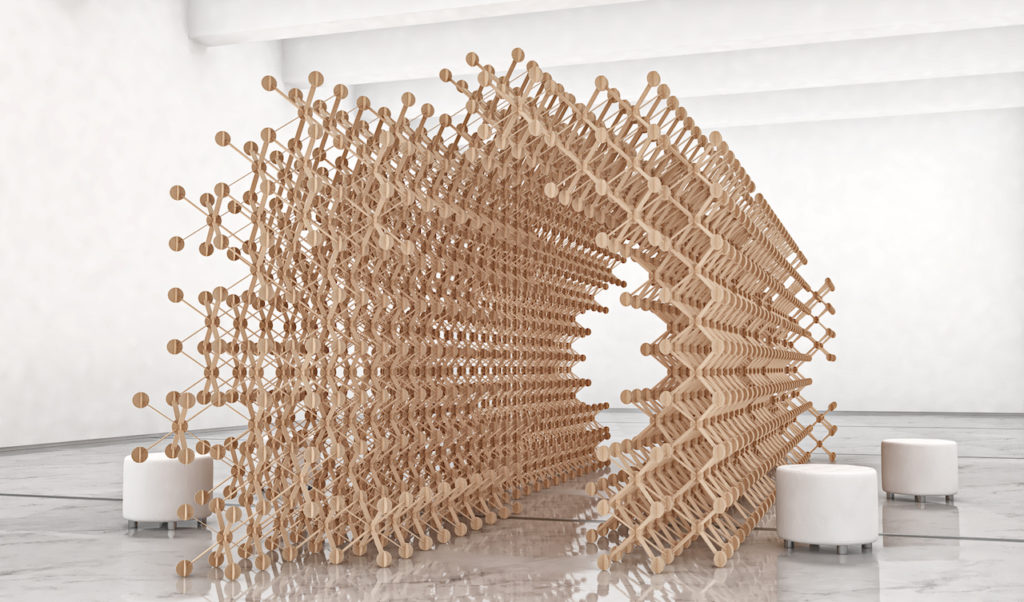 Plexus, inspired by cellular logic, is designed as an intricate network, whereby a series of simple components, based on aggregation principles can result in a new design of the display booth for every exhibition, capable of creating a new brand image. Designed as a universal model this system can adapt to non-standard stall sizes and to a differentiated product range.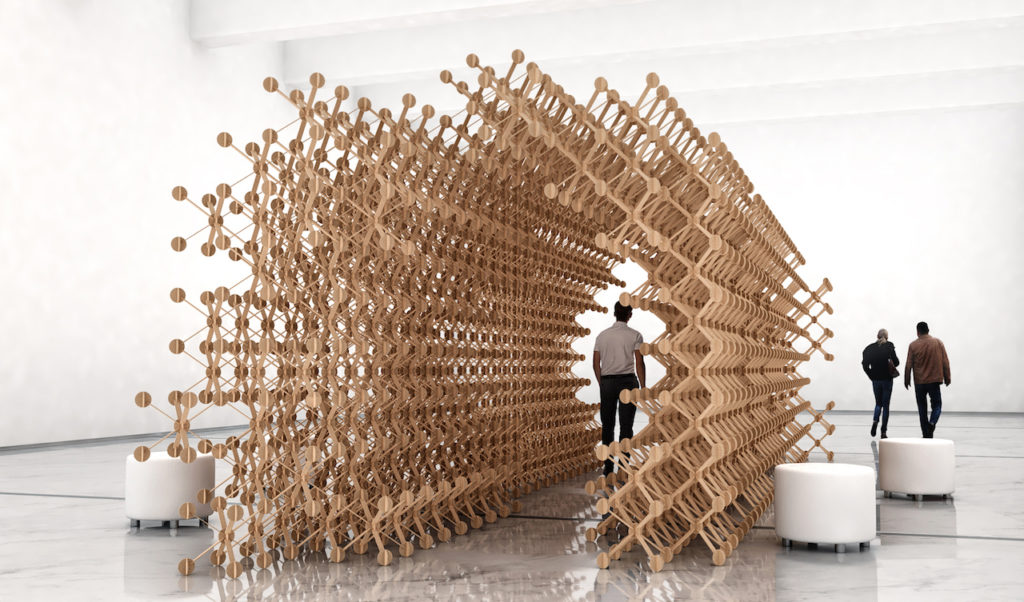 This plug-and-play system can be flat-packed into crates for ease of shipment and can be built in a short span of time at the site itself or in parts beforehand. Time is of the essence at trade shows where participants usually get 24 to 48 hours to complete the display pavilion, and Plexus has been designed keeping this factor in mind.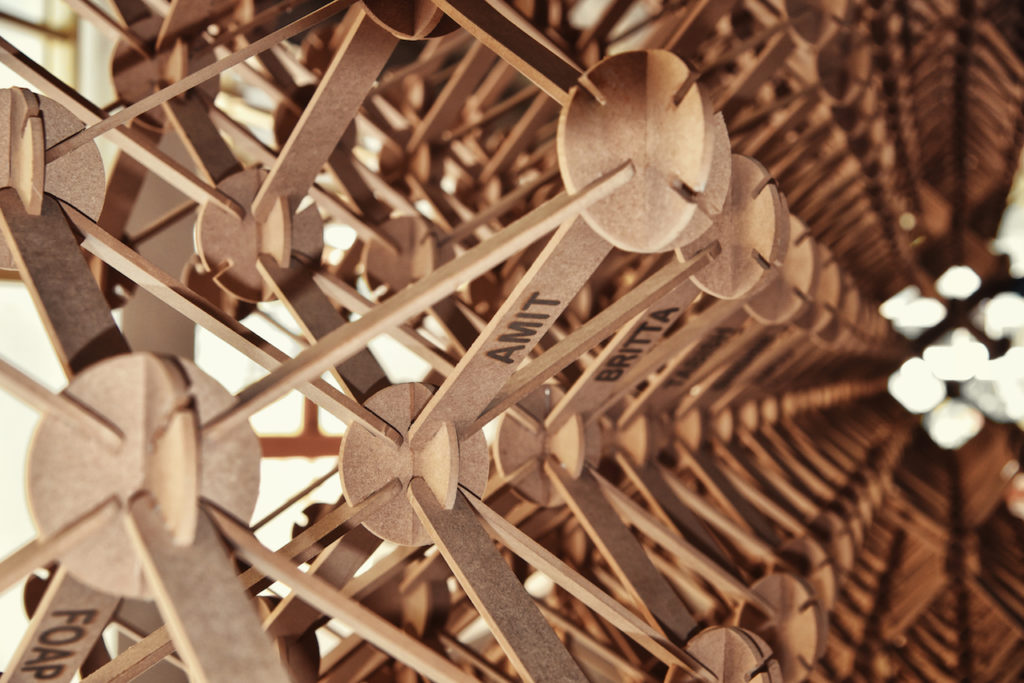 Design of the modular stall system is based on the principle of cellular automata model. Cellular automata are mathematical models designed to construct the complexity of natural systems displayed in diverse and naturally occurring phenomenon of logic and patterns. This complexity model consists of simple systems resulting in dynamic field behaviour when interacting with each other.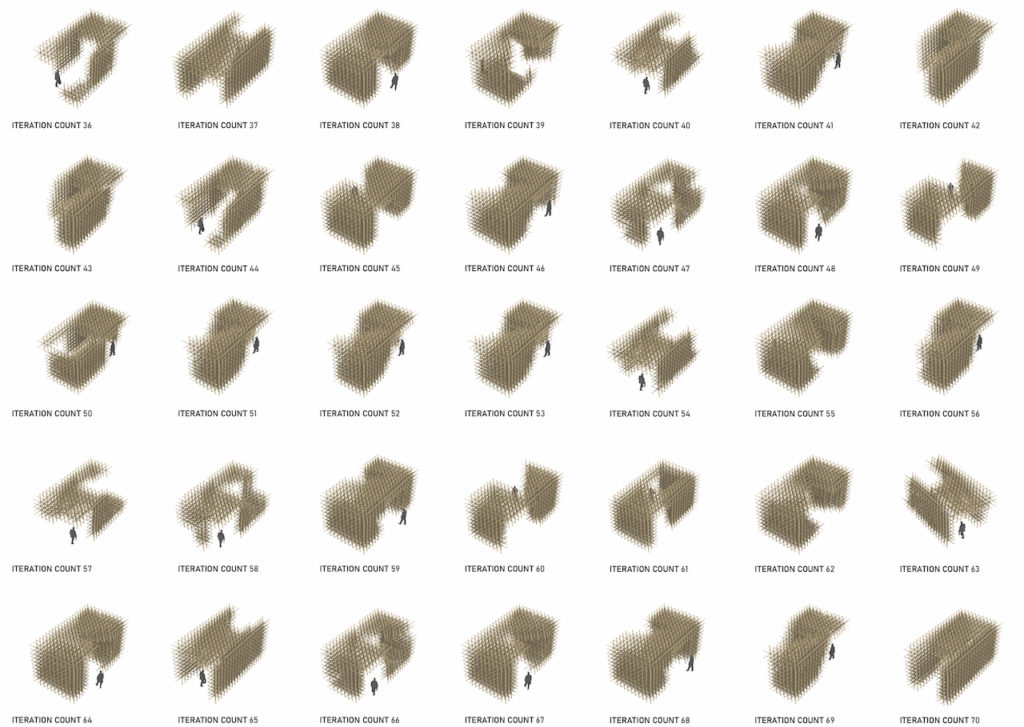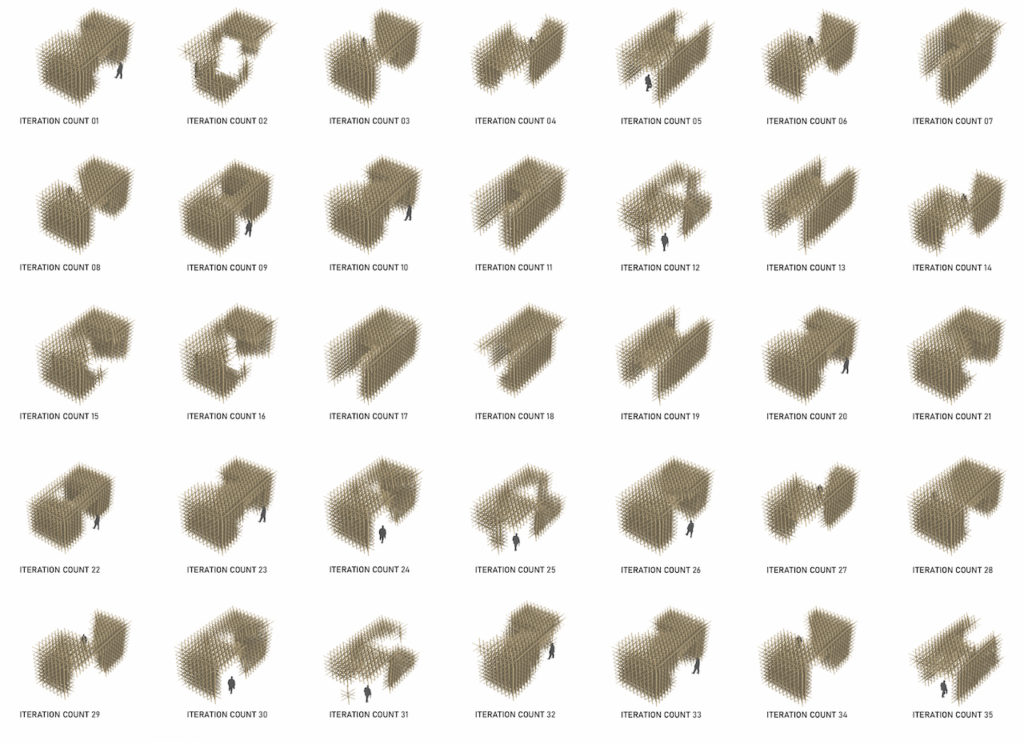 In Plexus, there are two components, that follow a series of aggregation principles. Based on these principles, Studio Symbiosis has created a catalogue of 1,000 dynamic designs that are dramatically distinct in design and use. Its form generation based on a series of simple components following a bottom-up approach and resulting in complex formal expression based on algorithmic organisations.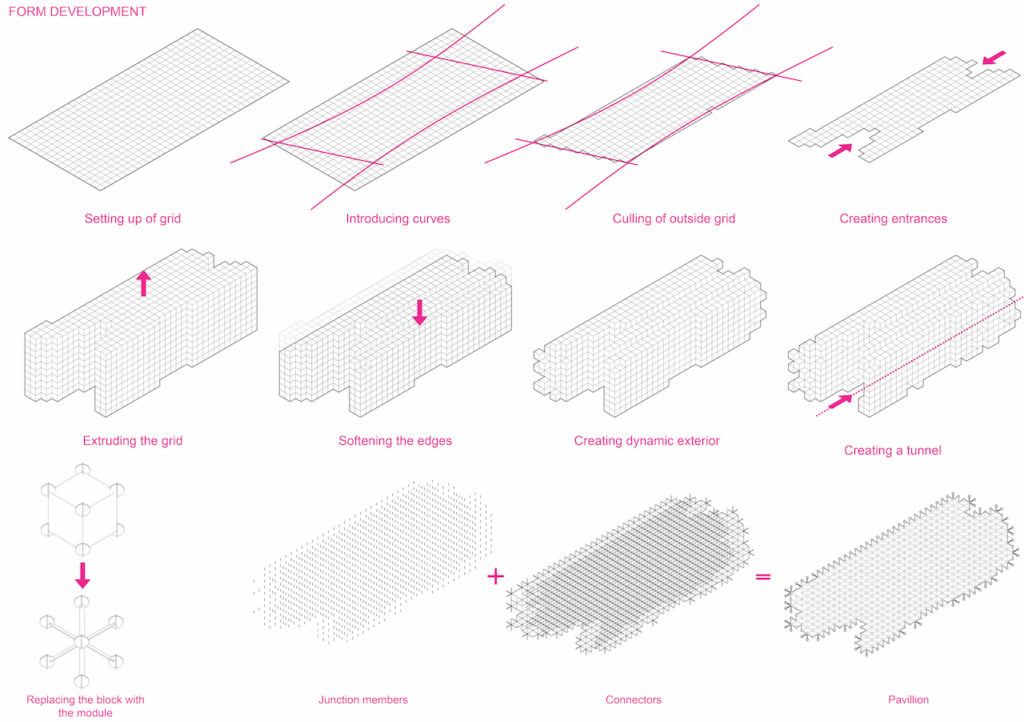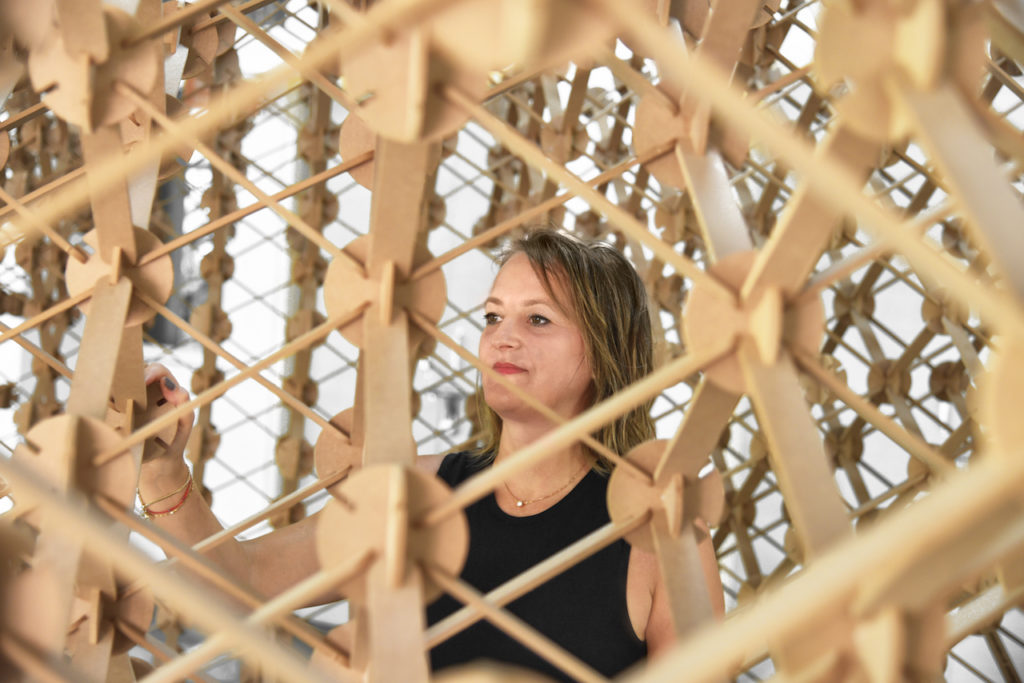 A prototype of Plexus has been generated by Studio Symbiosis during a computational design workshop held as a part of faculty development programme for Faculty of Architecture and Planning at A.P.J. Abdul Kalam Technical University in the north Indian city of Lucknow in the Uttar Pradesh province.
Project details:
DESIGN: AMIT GUPTA, BRITTA KNOBEL GUPTA
PROJECT LEAD: KARTIK MISRA, DEWESH AGRAWAL, VEDANT SANGAL
TEAM: ANJAN MONDAL, ADITYA SHARMA
SITE AREA | BUILT UP AREA: 60m2 | 15m2
See the full image gallery here:
You might also like:
Interview: Studio Symbiosis on fusing architecture and technology to design a revolutionary solution for India's pollution problem
Studio Symbiosis designs Hyderabad residential villa with cantilevered terraces that are tailored to counter hot climate
Studio Symbiosis to design Perfume Park and Museum in India's Kannauj city