Bangkok-based AOMO architects has designed a six-storey residential-cum-office building, comprising office spaces for a TV broadcast company and a penthouse residence on the top two floors for the organisation's owner. The area of the building is just under 2,000m² and the building height limit in the area apply minimum setback since the site is very small with two roads around the corner.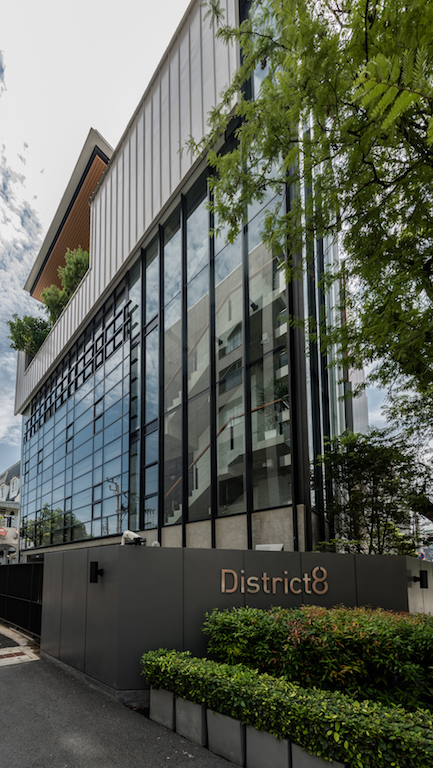 "For the design approach, we have tried to operate and organise all the factors, such as the building functions, spaces and site context and let them play their parts. As a result, we get a wedged gable roof shape with different heights at the ridgeline from split levels on the top part. We just let each part come and play their roles and not too overwhelmed. We keep them organised with the simplicity of form with multiple textures or details and materials." – AOMO architect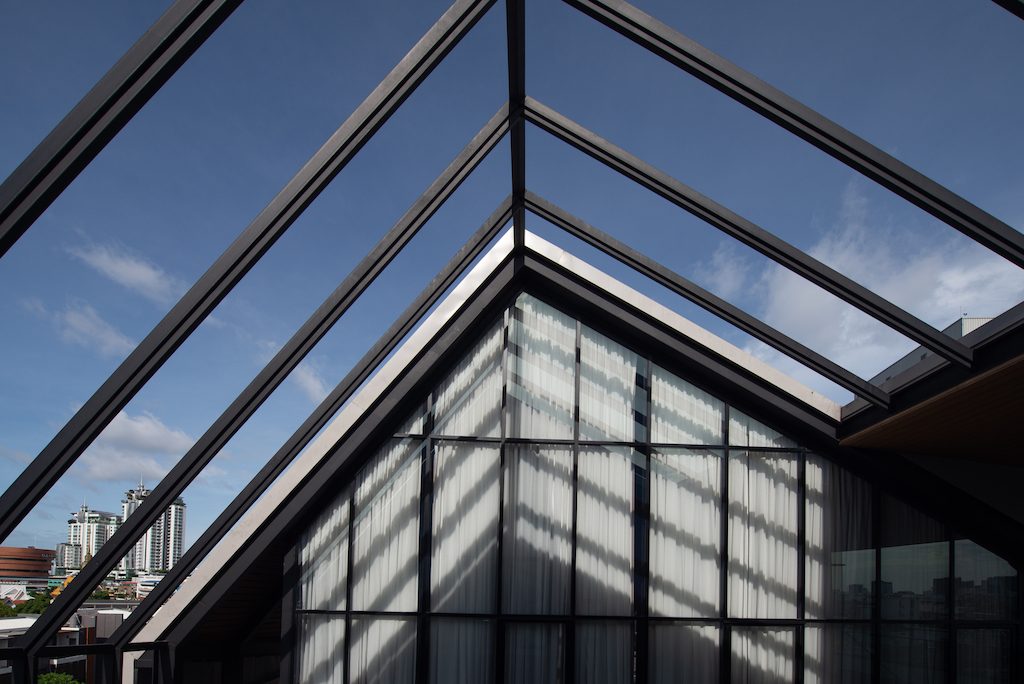 This resulted in a steep gable roof shape for the residential unit on the top with large glass façade in the north for the office spaces. Vertical aluminium fins and architectural elements have been applied on the western façade to provide maximum shading for the west wall. The swimming pool is a critical factor that anchors the residential floors. The floors are split at half level since the pool has to sit on the main floor and the space below is needed for the office.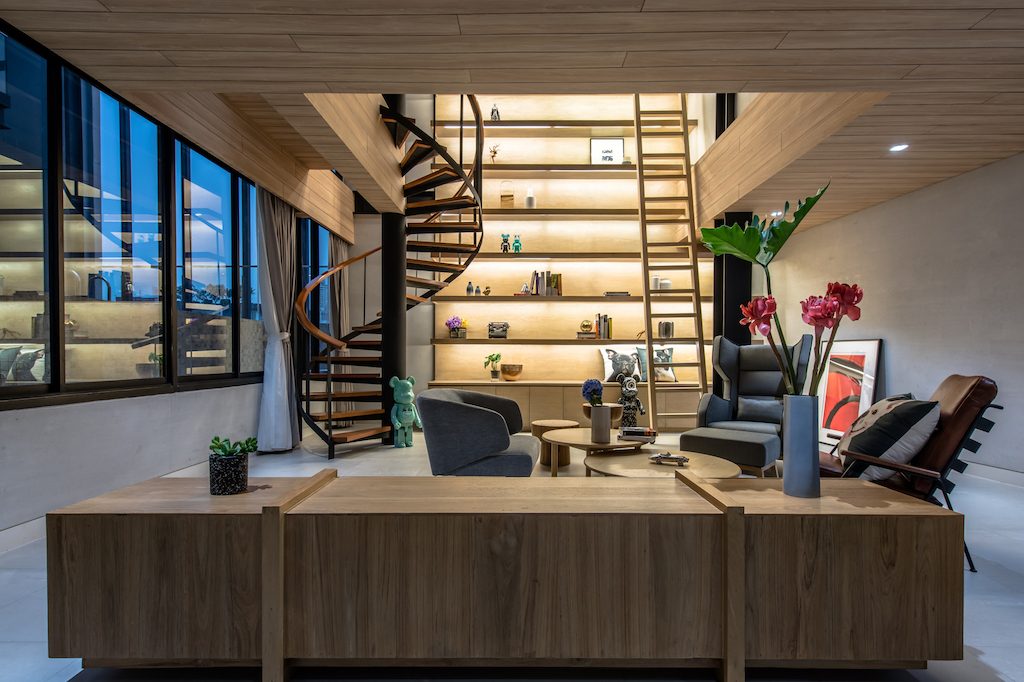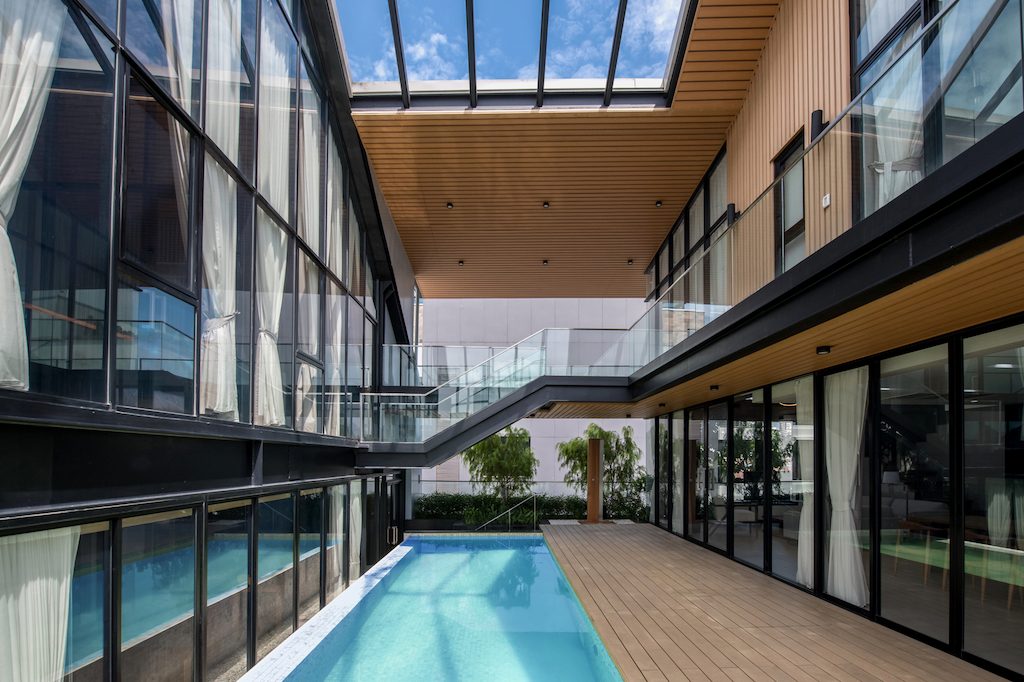 The living spaces are located on two sides of the pool with a big opening in north and south directions to take advantage of natural ventilation and light. The split levels give more privacy between the bedrooms and within the building itself. A less steep-sloped roof is designed to cover the outdoor terrace area to give a more intimate space as a transition between two sides. Solid wall of the broadcast studios is located against the adjacent townhouse to give a minimum set back of two meters. The circulation elements are set on the west of the building which is stairs and elevator to block the western sun along with an existing tamarind tree that the architects have managed to preserve.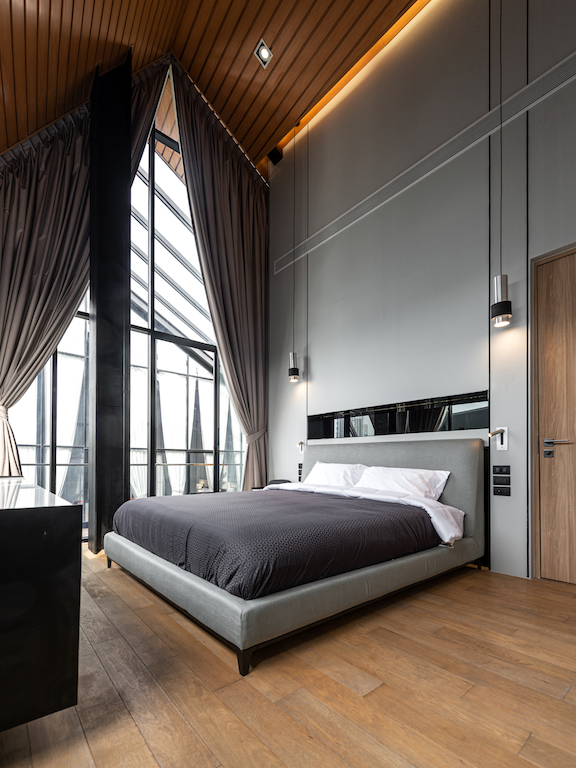 The building presents a composite structure between concrete and steel. The top two floors are steel frame structure and the bottom part is concrete structure with post-tension floor system. Concrete elevator core is showed as an exposed concrete wall with embedded floor numbers with reinforced concrete stairs wrap around. The glass walls along the stairs are pushed out as another skin layering over the concrete core.
Photos: JOYA 49 Photography