SPC Technocons architecture firm has completed a cantilevered house in Bangkok, Thailand, with an integrated design and build approach.
Located in a peaceful Bangkok neighbourhood, the 800m2 house is designed for a family of five.  Hidden behind the private entrance, is a modern five bedrooms home designed for relaxed living and outdoor entertaining. The highlight is the cantilevered concrete-like box and the courtyard pool which serves as an office space overlooking the nearby canal. A garden on the lower floor's west-side rooftop can be seen from the inner courtyard, and that serves as a cooling feature for the roof deck as well as softening the building edge by blending into its green surroundings.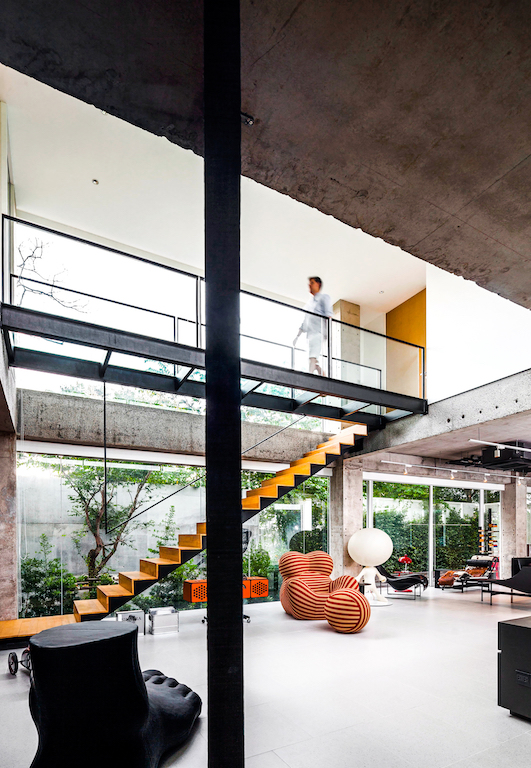 The spatial design focuses on creating a 'living quarter' and establishes a flow of activities between multiple areas. A large dark teak wooden door, at the private entrance, conspires guests through a small foyer then impresses them with a large double volume space of a spacious gallery hall and stair hall then flowing continuously into a living and dining area. The glass bridge crosses over the hall connecting a bedroom quarter on the upper floor to a cantilevered working room at the front.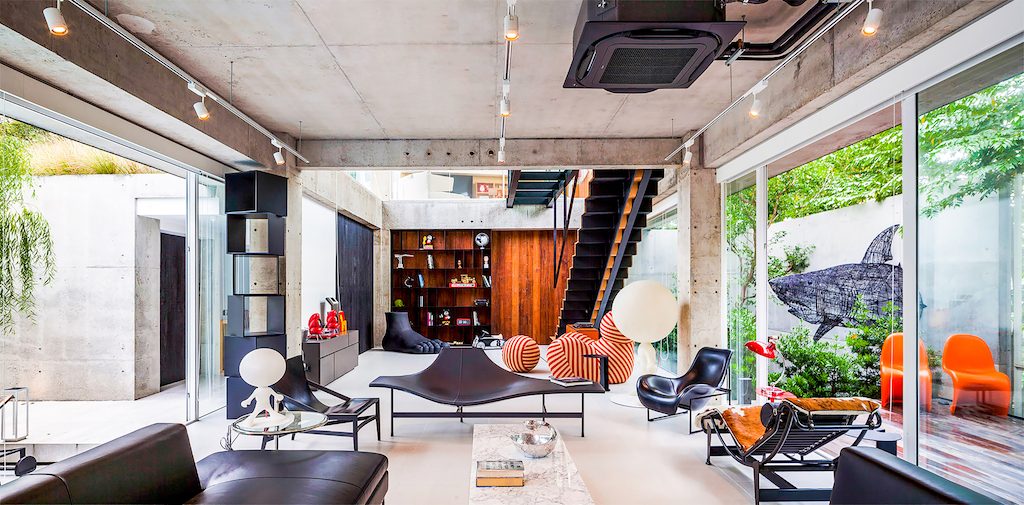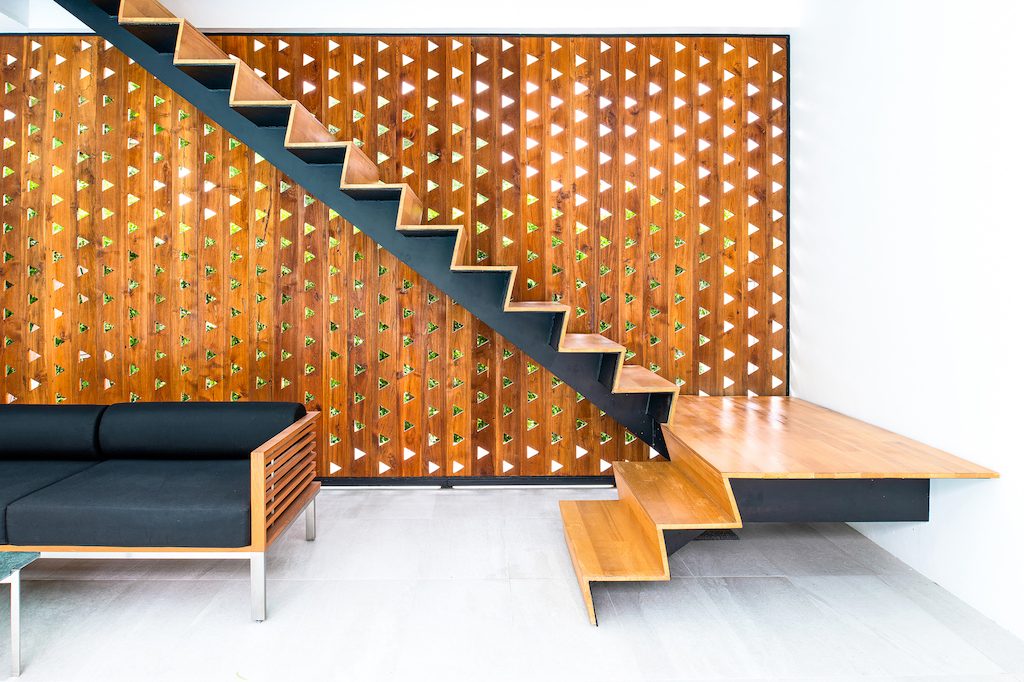 The 8-meter-wide living area is in between the hall and dining area to perceive visual wide space. Adjacent to the living room area is the outdoor terrace facing along the natural canal on the north side and parallel with internal swimming pool court allowing activities to connect 360 degrees. An interior architecture design integrates with an architectural design thoughtfully by accentuating space character. A high steel shelving unit in black colour on the wall aligns with structural support, making it seem like the shelves are floating. The longitudinal counter bar with teak touch top counter is parallel with a long over-size dining table illustrating an exquisite atmosphere for a daily dining experience.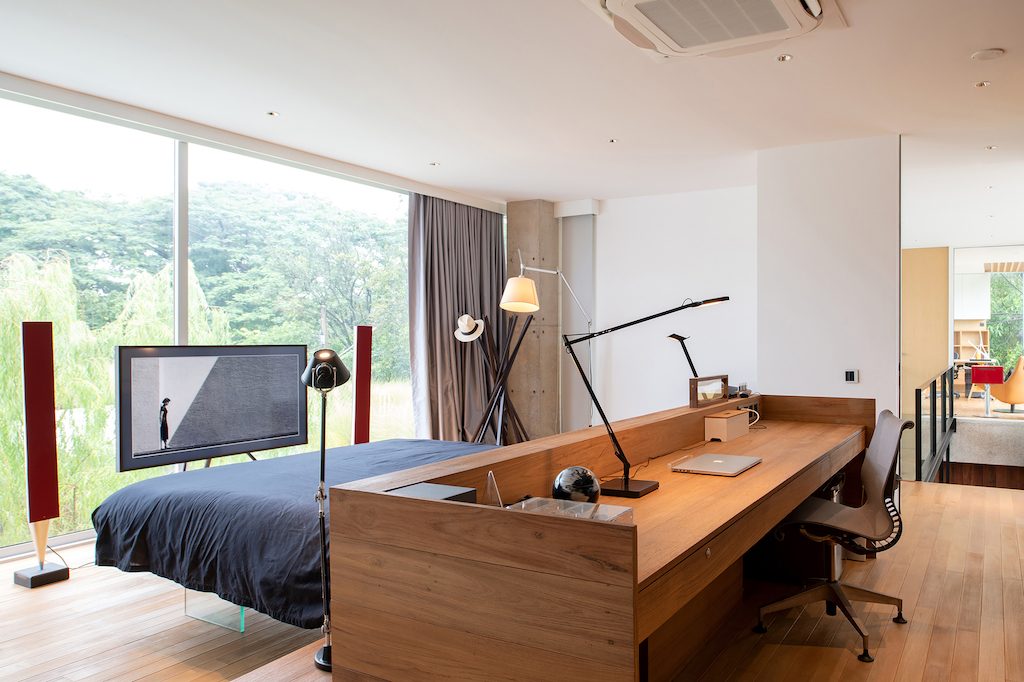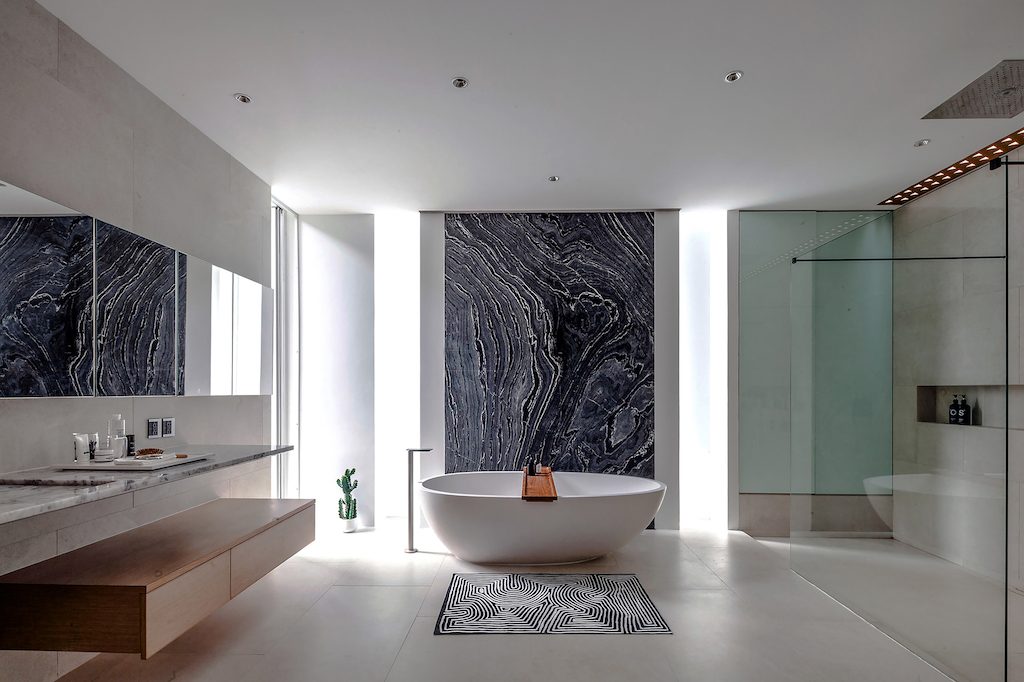 The bedroom quarter on the upper floor combines a master bedroom, a walk-in closet, a master bathroom and a multi-purpose room connecting a staircase to the internal courtyard on the lower floor. In the master bedroom, the bed end support is a 20mm glass structure giving the illusion of a floating experience. A working desk is built as a part of the bed frame facing towards the window.

Photos: Chaichoompol Vathakanon, Anake photo