Expected to be built by 2025, in line with the United Nations( UN)-Habitat's New Urban Agenda, Busan in southeastern South Korea will house the world's first sustainable floating community called the OCEANIX City for 10,000 residents on 75 hectares. The design is anchored in the UN's Sustainable Development Goals, channeling flows of energy, water, food and waste to create a blueprint for a modular maritime metropolis.
The development will feature flood-proof infrastructure comprising several human-made islands that will rise with the sea levels to eliminate flood risks. Being built at an estimated cost of US$200 million, it could also withstand other natural disasters including tsunamis and Category 5 hurricanes as its floating platforms will be anchored to the seafloor.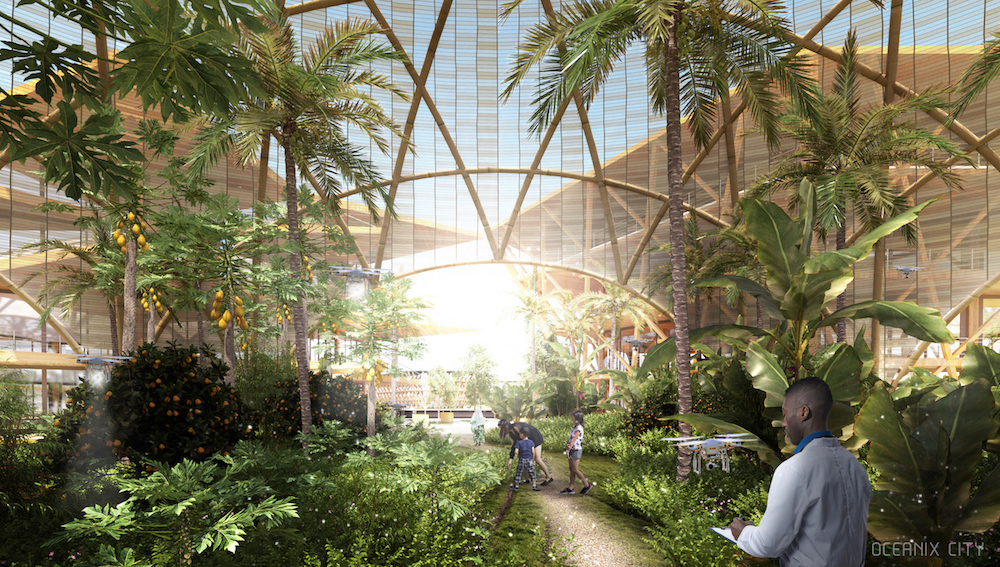 Floating Cities can be prefabricated on shore and towed to their final site, reducing construction costs. This paired with the low cost of leasing space on the ocean creates an affordable model of living. Such technology and approach will enable affordable housing to be rapidly deployed to coastal megacities that are increasingly facing the threat of rising sea levels. According to a recent UN report, in Bangkok, the ground on which some parts of the city stands is sinking by around two centimetres every year, according to some estimates, while sea levels in the Gulf of Thailand are rising.
Growing urban populations are also increasingly pushing people closer to the water.  In Lagos, the urban poor have responded to the lack of land and a growing population by living in floating villages on the outskirts of town. Cities such as Seattle, Jakarta and Mexico City have made way for houseboats and floating markets for some time. The relationship of these communities with the water they live on highlights how water is integral to cities. Floating cities could also experiment with ways to grow their food right on their doorstep — for example through hydroponics and sustainable aquaculture. In the Dutch city of Rotterdam, a floating dairy farm is already under construction.
The floating development in South Korea is designed to grow, transform and adapt organically over time, evolving from neighbourhoods, to village, to cities with the possibility of scaling.
Developed in close collaboration by OCEANIX and the UN Human Settlement Programme (UN-Habitat), Danish architecture practice Bjarke Ingels Group (BIG), the floating city will be self-sufficient in terms of food, energy and water. The infrastructure will allow it to harness electricity from solar panels installed on the top of buildings and ferry the inhabitants on futuristic boat pods. Farming will be a big feature in the floating city with aeroponic and aquaponic systems along with traditional outdoor farms and greenhouses. BIG has already worked on floating housing projects in its native Denmark.
Modular neighbourhoods of two hectares will feature self-sustaining communities of up to 300 residents with mixed-use space for living, working and gathering during day and night time. All built structures in the hexagon-shaped platforms perched on top of water are kept below seven storeys to create a low center of gravity and resist wind.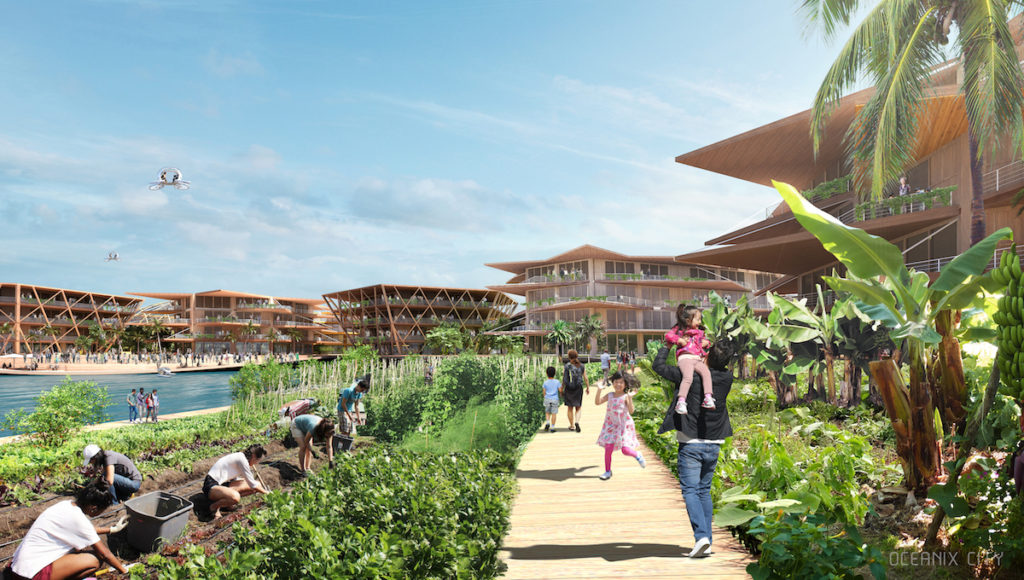 Each building has been designed such that it fans out to self-shade internal spaces and public realm, providing optimum thermal comfort and lower cooling costs while maximising roof area for solar capture. Communal farming is the heart of every platform, allowing residents to embrace sharing culture and zero waste systems. The city will be constructed using locally sourced materials like fast-growing bamboo. The platforms will be built using limestone coating. Cages underneath the platforms could be used to farm scallops, kelp, or other forms of seafood.
By clustering six neighborhoods around a protected central harbour, larger villages of 12 hectares can accommodate up to 1,650 residents. Social, recreational and commercial functions are placed around the sheltered inner ring to encourage citizens to gather and move around the village. The city will promote walkability and residents could also use boats to get around the city.
A larger protected harbour will be sited in the heart of the city. Floating destinations and art, including six specialised landmark neighbourhoods with a public square, market place and centres for spirituality, learning, health, sport and culture.
You might also like:
Bjarke Ingels designs sustainable floating housing units signalling new urban living and mobility solution
Floating hotels by Admares and Sigge Architects will meet Qatar's accommodation demands during World Cup 2022
UN WORLD HABITAT DAY: Documentary film by Boris Benjamin Bertram showcases homes on four different continents