Set in a conservation building in the Little India historical district, the boutique hotel oozes quiet elegance amid colourful heritage.
As wide-eyed speculation over the future of travel and hospitality in a post-pandemic landscape (hermetically sealed rooms, anyone?) makes its rounds, it may be worth noting a trend that held us rapt before the advent of epic post-flight quarantines – the experiential trip. For those aching for cultural immersion, whether domestically or overseas, a stay at a heritage hotel in the heart of a teeming ethnic enclave may be a good way to slough off lockdown trauma.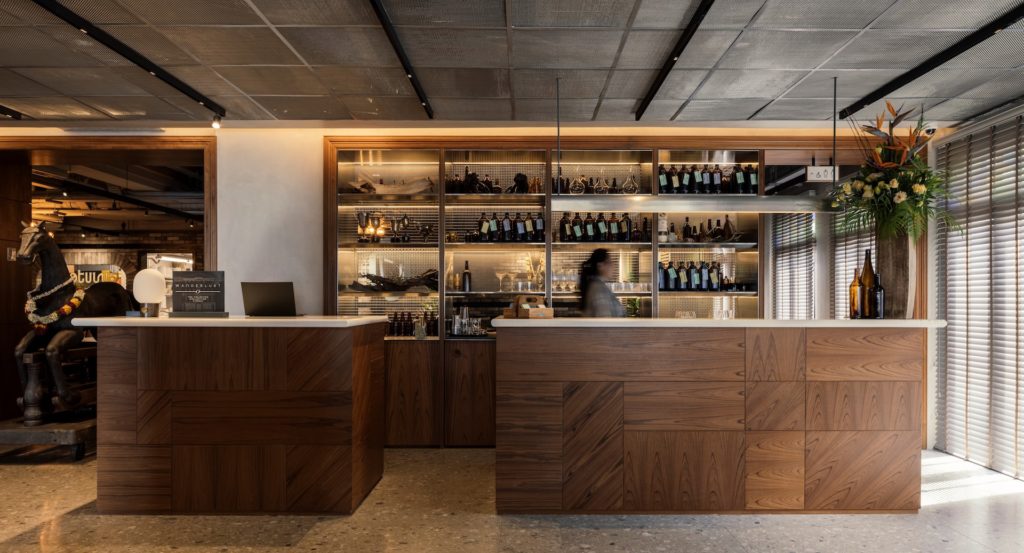 The recently reopened Wanderlust hotel at Dickson Road, now branded under The Unlimited Collection by Oakwood, stays true to its old soul despite having received a makeover that's a masterclass in subtlety. Gone are the kitschy themed rooms of its previous iteration, their noisy embellishments replaced by more muted teak panelling that cocoons guests in an atmosphere of calm.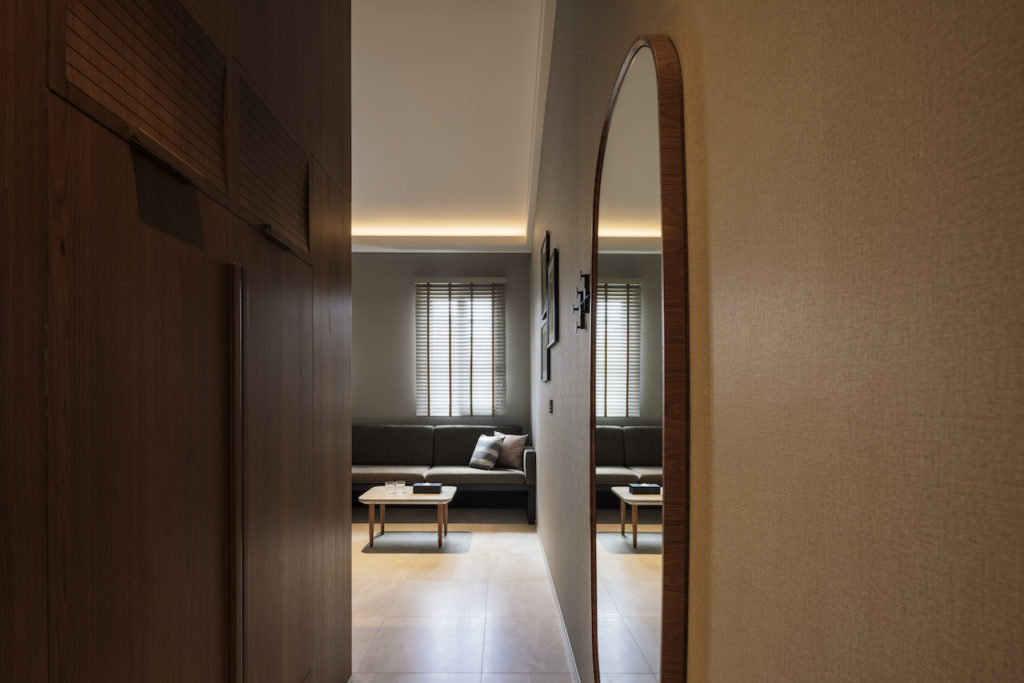 On the exterior of the 1920s Art Deco building though, all the delightful details such as stained glass and floral fretwork of painted ceramic tiles, wink as cheerily under the sun as they did when they fronted a Chinese clan school in the 1950s. Set along a snugly fitted row of shophouses in Singapore's Little India Conservation Area, the 29-room bolthole is a counterpoint to the district's frenetic energy.
Homegrown design practice Farm has managed to keep out the clatter and clutter of the surrounding streets, with a design blueprint that showcases apposite restraint. Part of that has to do with its contemporary finishes throughout the boutique hotel, with teak furniture and accents complemented by a palette of textural grey tones that wash over screed pillars, bathroom tiles and terrazzo surfaces. The firm's "Quietude within the City" theme is tangible, with spaces characterised by simple geometry.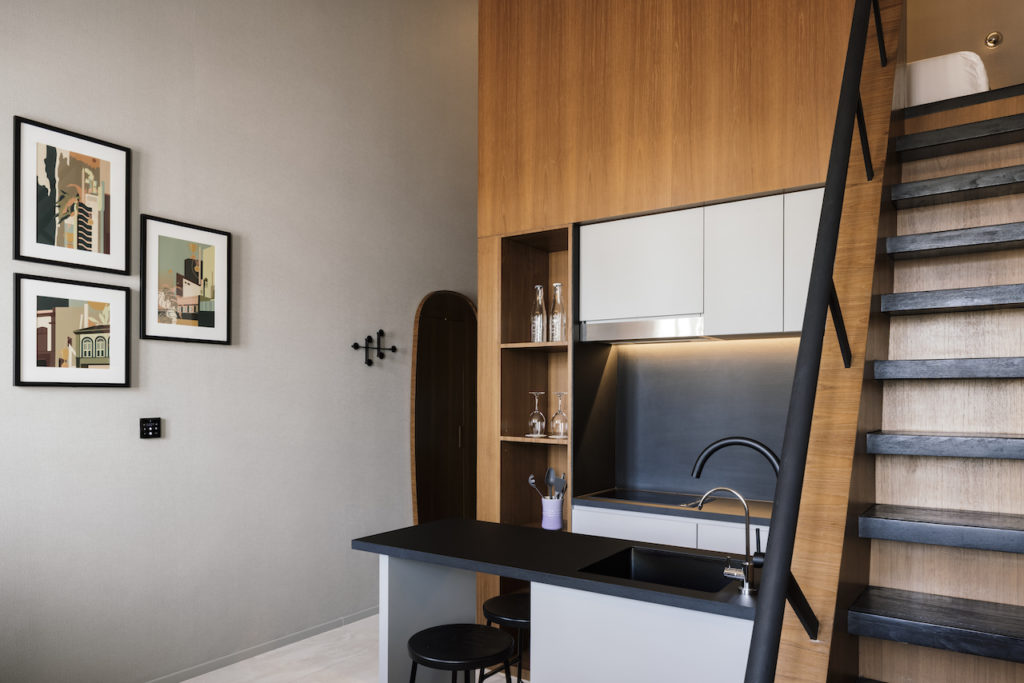 I stayed at the property's Studio Premier (16 to 21m2 ) room, which felt spacious despite its liberal use of dark wood cladding. Here, a wall-to-ceiling frame separates the sleeping and living spaces – kitted out with a fully-stocked kitchenette complete with gleaming pots and pans. The room is well suited for long-staying guests, with its ample yet unobtrusive storage space concealed by clever carpentry – just slide your bulky suitcases in lit shelves beneath the queen-size Simmons bed.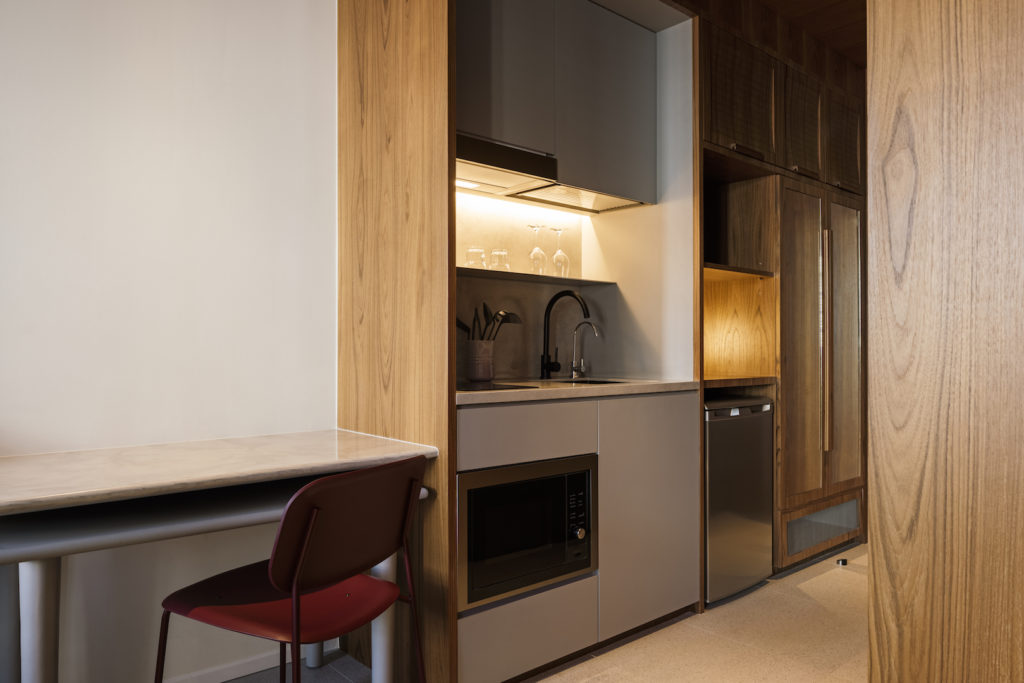 They're not likely to feel hemmed in though, with windows that allow you to peer over the rooftops and into the laundry-lined terraces of neighbouring shophouses. It almost evokes a sense of community, as you ruminate over spatial context and how the area's early settlers must have lived and interacted in close quarters a century earlier, in homes that abutted one another. Another great spot for contemplation – or indulging your arthouse movie fancies – is the rooftop terrace with a dipping pool that overlooks weathered buildings. Nurse a tipple here at sundown, when you can best capture the symmetry of concrete spiral staircases clinging to rows of conservation shophouses on camera.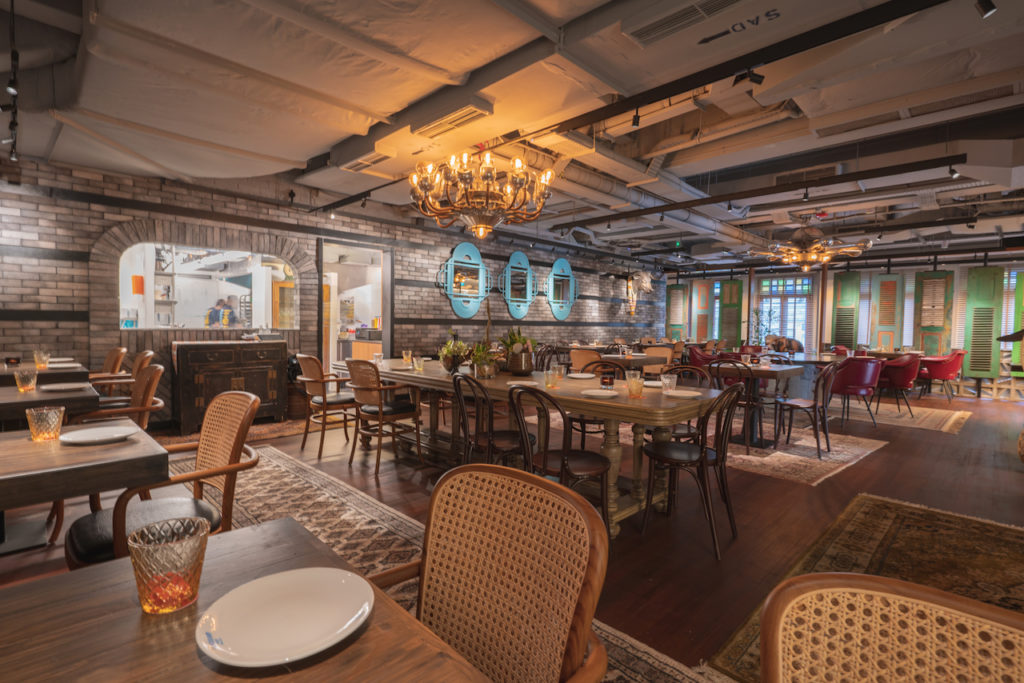 Don't just indulge your muse while there. Wanderlust is anchored by onsite Sri Lankan 'it' restaurant, Kotuwa, a destination in its own right that hums with guests on a Friday night. Its dimly – but sensibly – lit interior is particularly inviting, with a careful curation of plump couches and cushions to sink into, rattan furniture and mismatched carpets.
You might also like:
Ministry of Design transforms Singapore's heritage shophouse into all-white co-living space
OWIU refreshes Singapore shophouse office for ADDP Architects with new visual and lobby design
"It was important for us to keep the emotional resonance of the Raffles Singapore," says Champalimaud Design's Ed Bakos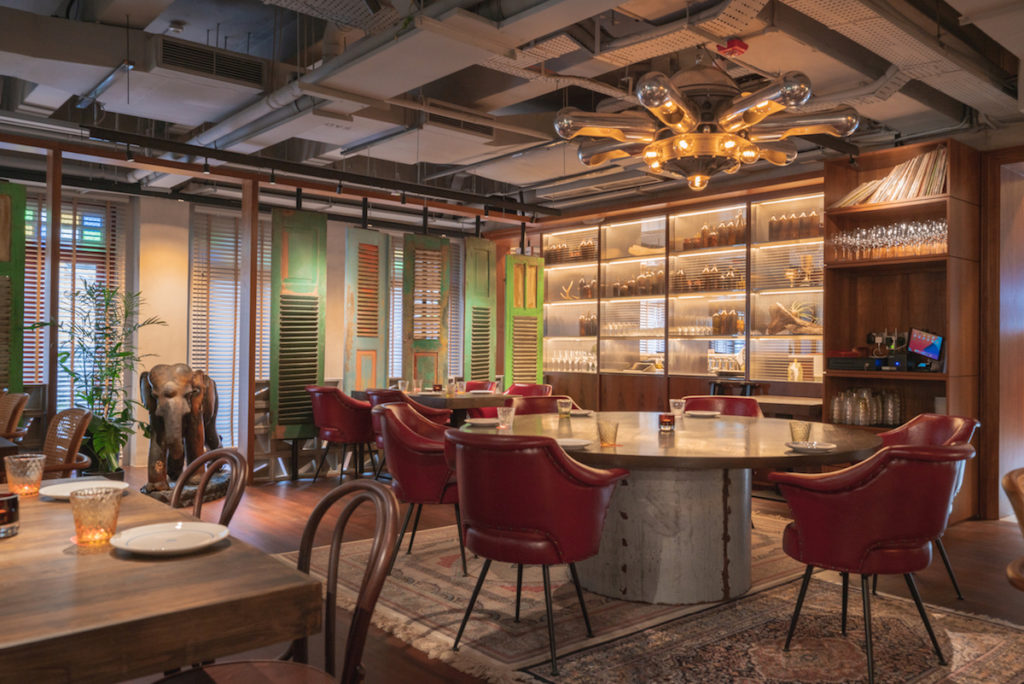 Appointed design studio Restless has a notable knack for fabric and crockery selection, with swatches of turquoise and mustard yellow reminiscent of Colombo's colourful streets, and textures that Goldilocks (that little interloper) would say, feel just right. The restaurant is fronted by a bar that presides over the hotel lobby, turning it into a buzzy focal point.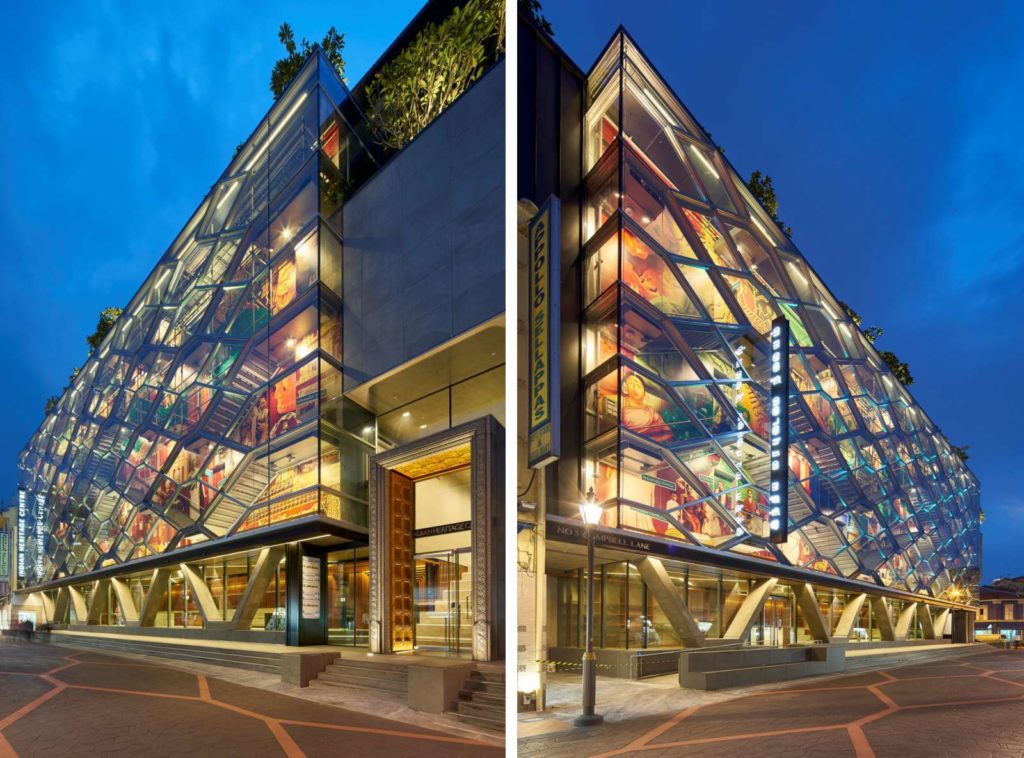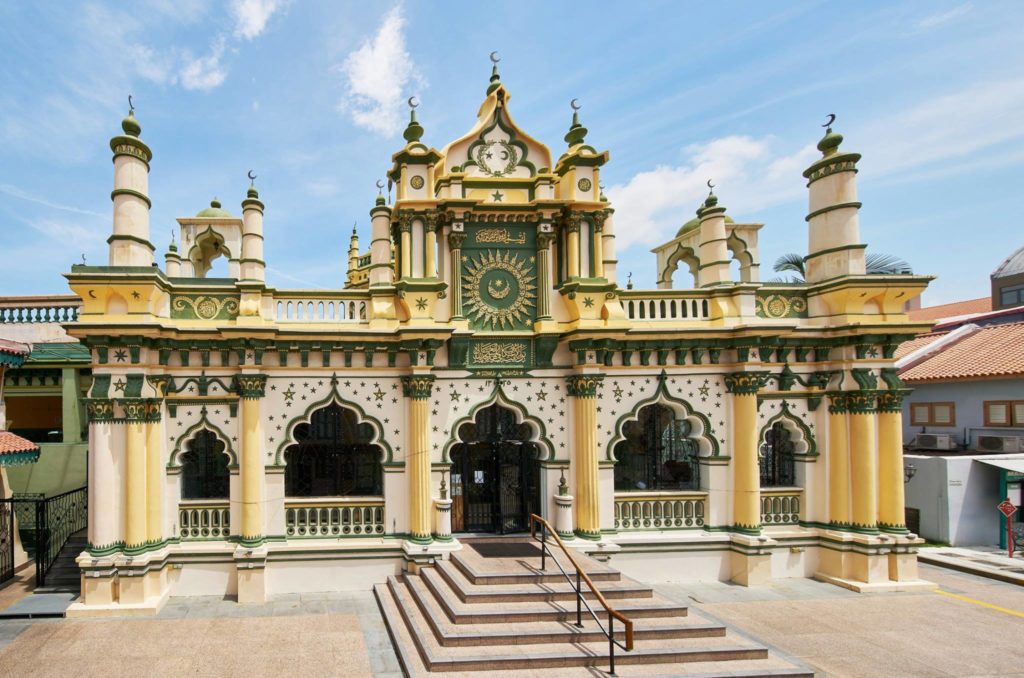 But take it from us and give the surrounding precinct more than a once-over – its wonderland of architectural gems includes the 19th-century Abdul Gafoor Mosque – a gazetted National Monument – with its distinctively Moorish imprint, and the Indian Heritage Centre boasting a kaleidoscopic, honeycomb-like exterior. The latter opens to the maze-like Little India Arcade, a cluster of neoclassical shophouses built in 1913. Sign up for the hotel's foodie tour of the area, or make like a flaneur and people-watch at your own leisure.  
About the writer: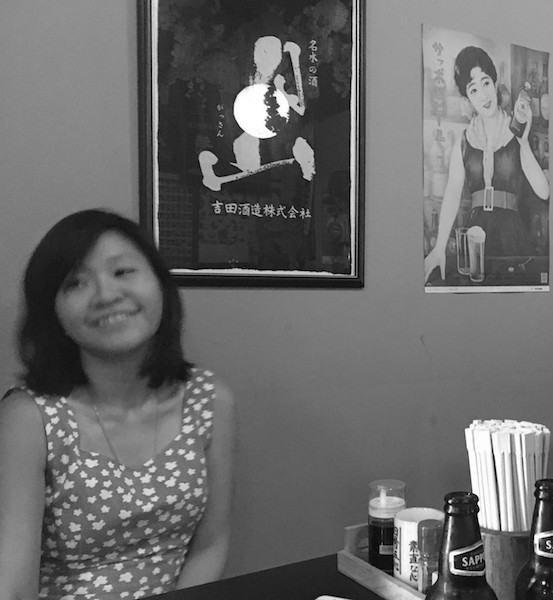 Cara Yap is a former travel editor who contributes pieces on thought leaders and social entrepreneurs to the likes of CNA Luxury and Singapore Magazine. She has a penchant for country roads that disappear into hills and end at the coast, plus cities with mouldering architecture. She is averse to minimalism; the curlicues and embellishments of the Art Nouveau style speak to her love of excess. When she is not covering in-depth human interest features and lifestyle pieces, Cara runs her backpacker's hostel in Indonesia.