Acclaimed Singapore practice Ministry of Design (MOD) has recently completed an all-white Canvas House for co-living for developer Figment, set in a heritage shophouse in Singapore along Blair Road, a historic precinct within the city's prime Central Busines District.
Created on a tight budget and timeline – four months to be precise – the brief was to do something appealing to long-stay renters, and a way for this co-living shophouse to stand out. To reinterpret the contemporary role of the historic property, founder of MOD, Colin Seah, and his team – Kornpetch Chotipatoomwan (Nong), Yupadee Suvisith (Fai), Justin Lu, and Zhang Hang designed the 350m² Canvas House in a way that captures its journey through time through the use of several conceptual layers and up-cycling, which also helped with the tight budget.
The accommodation is aimed at expats who want to make short-term commitments ranging from three to 12 months. It comes with facilities such as two common living rooms, a dining room, kitchen, laundry, powder room and a rooftop area. The suites come in a range of sizes spanning 28m² (300 sq ft) to 58m² (620 sq ft).
MOD collaborated with Kang, an artist who specialises in upcycling and working with fused plastic
to craft fashion accessories, to produce his first series of lights. Part of MOD's incubation
programme that creates opportunities for collaboration with emerging creatives, Kang works from the MOD office to craft his materials. MOD commissioned Kang to create three sets of luminaires with fused plastic made from cling film, placed at the five-foot-way (the corridor shopfront unique to shophouses in Singapore and Malaysia), the living and the atrium areas. Keeping to the theme of layers, the cling film was layered and then ironed and heated to create a waterproof, leathery material.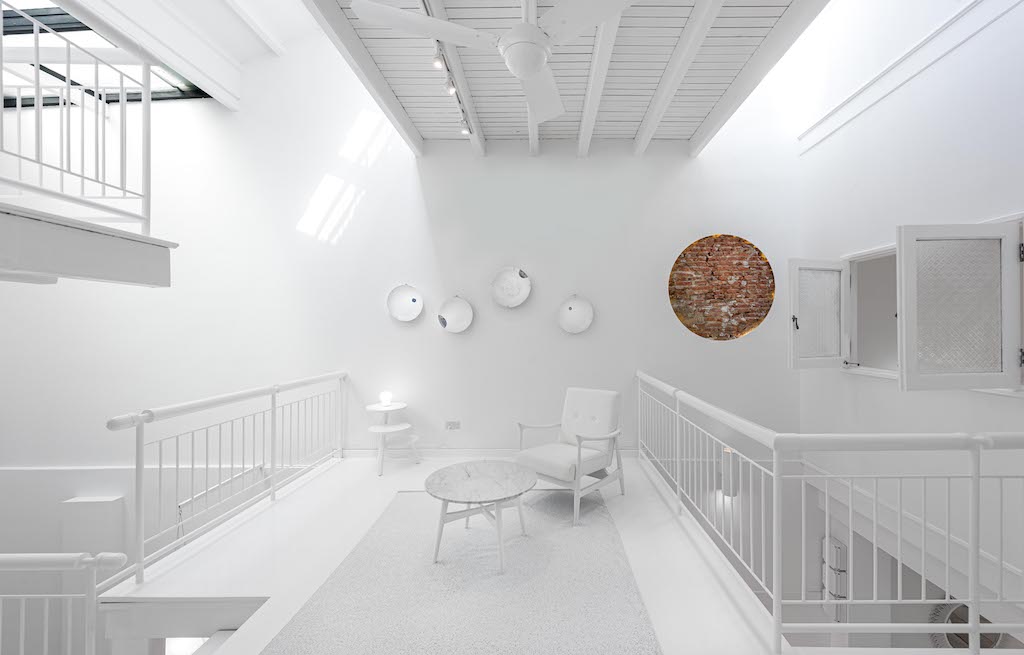 To blur the boundaries between space and object, MOD conceptually blanketed Canvas House with a layer of white that provides a canvas for the future and focuses historical preservation in concentrated areas.
"It is a neutral white canvas for the future to be dreamt upon, rather than a wholesale homage to the past." – Colin Seah, founder, Ministry of Design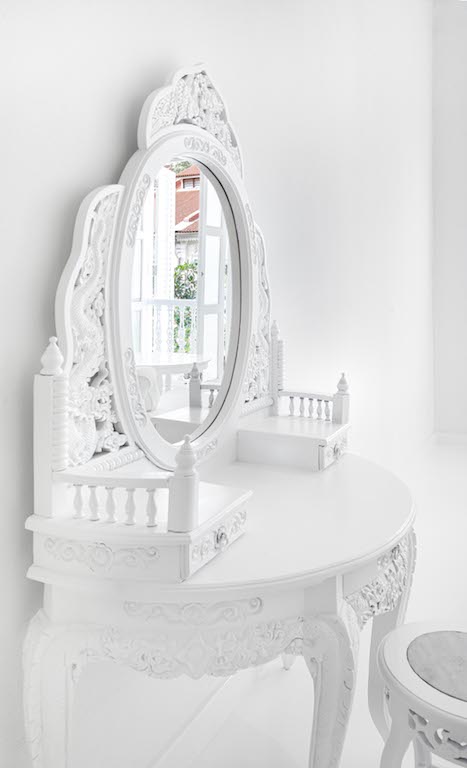 Seah explains: "When it comes to adaptive reuse projects, the question is always the same, how do we tread the line between the past and the present? If one opts for the project to be just about preservation, it's as good as time standing still… which could be paralysing and inhibiting. But at the same time, neither do we want to disregard history completely by creating something too foreign or novel. Our response was to layer over the existing history with a proverbial blank canvas while leaving choreographed glimpses into the past, blanketing both space and the furniture in it – allowing us to blur the inherent boundaries between past and present, object and space."
The house gives a glimpse into its past in an understated manner, with shadows of old timber as well as layers of exposed brick and intricate details of pre-owned furniture. Majority of the tables, chairs, chests, mirrors, screens and vanity desks, were re-purposed and given a new lease of life, staying true to the theme of preservation.
To pay homage to the past, yet define its distinctive future, MOD painted these up-cycled pieces all-white but carved out "playful peek-a-boo reveals" of vignettes on the decorative vases, ceramic plates and corner legs of wooden screens, vanity dressers and chairs. Historic details are preserved in a similarly conceptual fashion, where brick walls are revealed in concentrated circles.
At the same time, MOD invites visitors to imagine a future with Dream, a text-based neon piece that the studio created, with a quote by Thomas Jefferson that encapsulates MOD's approach to Canvas House. The quote "I like the dreams of the future better than the history of the past" summarises the attitude of the space. Seah adds: "It is a neutral white canvas for the future to be dreamt upon, rather than a wholesale homage to the past."
See the full gallery here:
Photos: Edward Hendricks, CI&A Photography
You might also like:
Blankstudio converts former dormitory in Chiang Mai to boutique hotel using disused materials
Alexis Dornier designs tree-top boutique hotel in Bali, invites other studios to pitch in more ideas
Phang-na boutique hotel by Studio Locomotive harks back to owner's Peranakan heritage