The Raffles Singapore recently reopened after undergoing massive renovation over a period of two years. Known for creating luxury environments for a global client list which includes the likes of The Plaza New York, the legendary Troutbeck hotel in Upstate New York and The Gainsborough Bath Spa, New York-based award-winning design firm Champalimaud Design was approached in 2013 by Raffles Singapore and tasked with the mammoth task of updating one of the most iconic hotels in the world. The studio was presented with a unique challenge of maintaining an ambiance intrinsically tied to the hotel's unique 130-year-long history, while at the same time taking the hotel in a renewed design direction through a meticulous update and refresh. The result is nothing less than spectacular. De51gn speaks to Ed Bakos, CEO Champalimaud Design, about what inspired the restoration process.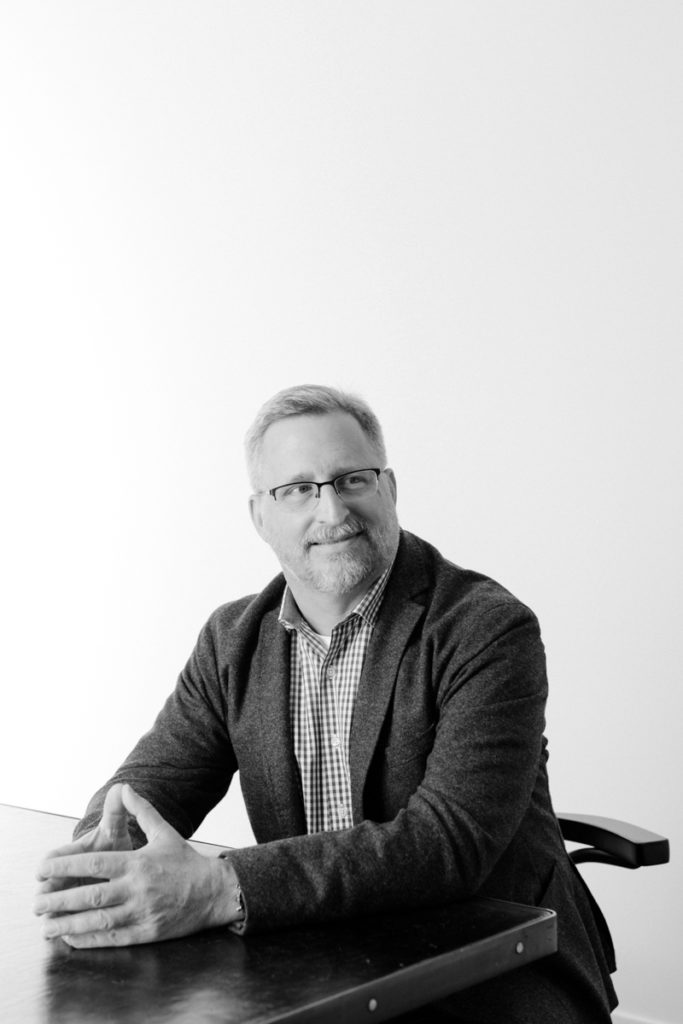 De51gn: How did this project collaboration come about?
Ed Bakos (EB): In 2013, our client Katara Hospitality reached out and invited us to participate in a competition for the redesign of Raffles Singapore.
De51gn: We presume you had visited the hotel before the renovation was even commissioned. If
so, what did you think of the hotel then?
EB: I visited Singapore for the first time in 1995, and the first thing I did was visit Raffles. I immediately fell in love – it was a marvel! At the time I would have never imagined being part of its next renovation. Working on this project has truly been a dream job.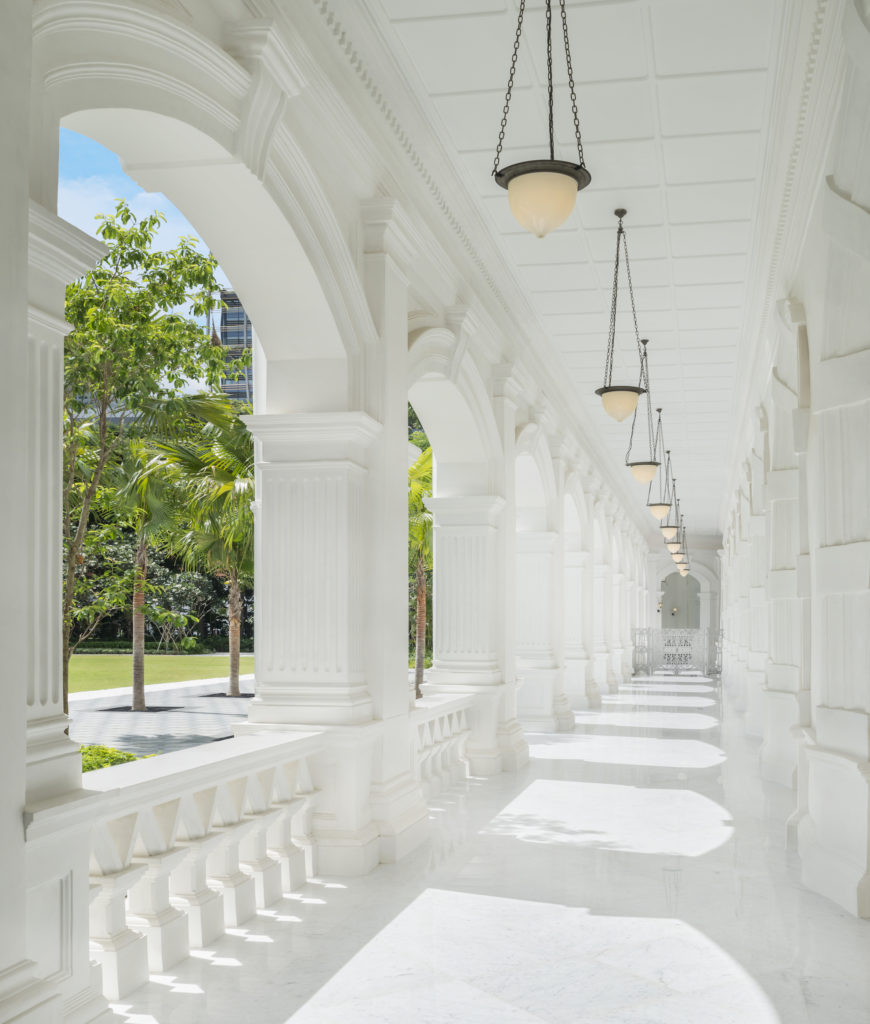 De51gn: There is only so much you can change in a historic property like The Raffles Singapore. How did you envisage the new interiors?
EB: In some ways, we wanted it to feel that little had changed, but also upgrade its experiences to be
relevant to the needs of today's travellers. Raffles Singapore has historically been a social centre. However, that atmosphere was lost in its last renovation. The hotel went from being a place that was buzzing where one could meet and greet others to being somewhat exclusionary. We wanted to bring back the social element of the hotel and invite guests to engage with the hotel in a way they were meant to.
De51gn: What were some of the biggest challenges at hand while working on this project? How did you address them?
EB: The biggest challenge for us was reimagining a hotel that a lot of people have an emotional connection to. There's a certain expectation, a certain familiarity, a feeling that one gets when they visit Raffles Singapore – it's been that way for over 130 years. It was essential for us to create an impactful and elevated hotel experience while being mindful of the expectations and emotional needs of those guests – but it was also important for us to design a hotel that speaks to the needs of today's travellers and the next generation of Raffles visitors. It was a challenge, but I think we succeeded.
De51gn: Did you make any major interior structural alterations?
EB: The biggest structural change we made was to the original Jubilee Hall – which we converted to a stunning ballroom. We also added escalators near that area of the hotel.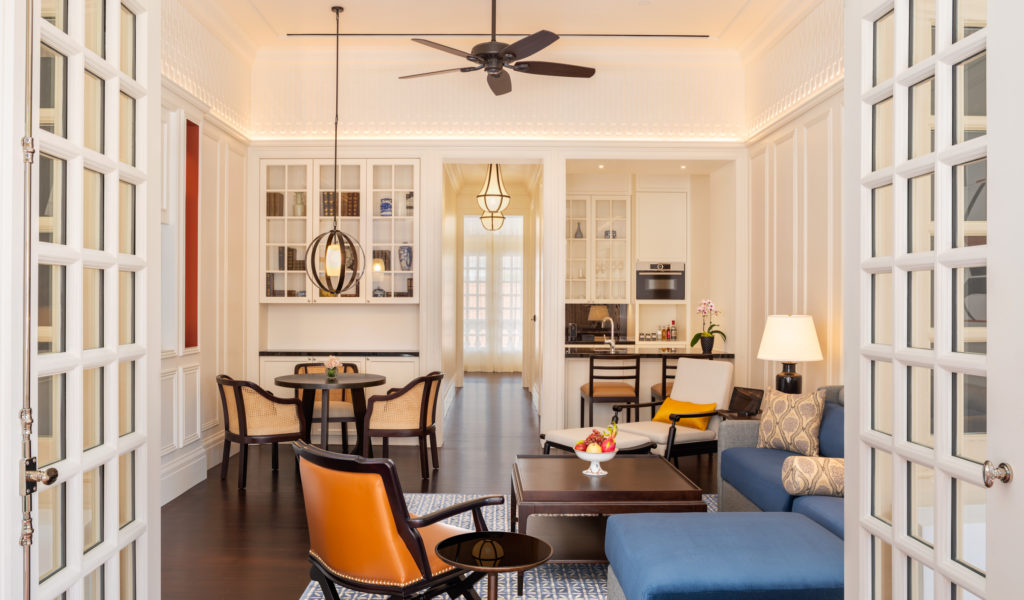 De51gn: What, according to you, are the biggest design highlights of the refurbishment?
EB: If I had to choose one highlight, I would say the lobby. It's a really elegant and energetic place. We designed it so that it could be programmed as an active social space for guests and visitors. It's a space for movement and for stillness. You can relax there, pass through or have high tea – there's a really nice flow to it. We also added a custom-designed Preciosa chandelier in that was intended to create an impactful moment of arrival in the space.
De51gn: Were there any existing features prior to the refurbishment that you absolutely wanted
to keep?
EB: It was important for us to keep the overall emotional resonance of the hotel. While not a physical thing or design feature, it is something that matters to the overall Raffles narrative and to the guests who have been visiting the hotel for years. We also kept some of the other details the hotel has been known for such as the original electrical switches for the rooms and the white marble floors in the lobby.
De51gn: How much time did you spend working on this project from the pitching stage to completion?
EB: We started working on the project in 2013. It took six years to complete.
De51gn: Have you spent much time visiting other sites in Singapore? Do you have any favourite places – hotels, restaurants etc? What do you like about them?
EB: I have spent a lot of time in Singapore – especially during the construction of the hotel. Some of my favorite places include the rooftop at The Fullerton Bay Hotel, The Peranakan Museum, and the Singapore Botanic Gardens, especially the Corner House.
De51gn: How would you describe The Raffles Singapore to a friend who has never visited it
before?
EB: That it is the most enchanting hotel in Asia.