Located on Hanoi's Nam Ngu Street – a narrow but vibrant lane filled with restaurants and shops – Nemo Studio, led by Liz Nguyen and Nghiem Phong, has designed this 999m² homestay which has a 6.5m wide facade and 25m in length. The street is also home to both old and new buildings and as such, the property is sandwiched by other houses.
To create more space for this project as a solution, the architects placed a large wooden deck right near the entrance for guests to rest and view the street. A tree has been planted in the deck as a green area for the building and also for the populous neighbourhood. Behind the deck, there is a spacious reception area and stairs leading to the mezzanine and the bar in the basement.
A void created in the centre splits the building into two segments, which are connected by red corridors. The sections of the void are curved as a shape of a funnel, which allows more light to stream in as well as enhancing the ventilation. Various planters have been placed in the facade and the void that offer greenery to the rooms and common space. A completely free area at the rear supports ventilation and light to go through the house.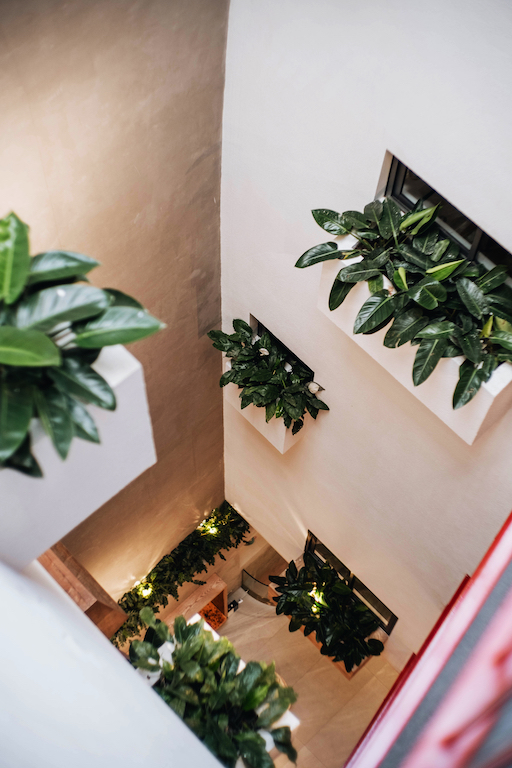 You might also like:
G8A Architects designs Hanoi cafe that breaks away from city's traditional tube houses
Vietnamese Tube house by AD+Studio creates visual boundary while integrating with its surroundings
Toob Studio designs house in Vietnam that seamlessly connects its three levels
The top floor has the largest private space for visitors, with double-volume height, void, and a corridor with glass bannister. The family suite on the floor has access to private stairs and roof gardens. The combination of white walls and different hues with granite and concrete lend a soft touch. Natural wood, bamboo, brocade reminding of crafting tradition of the north of Vietnam have been used as accents throughout such as furniture.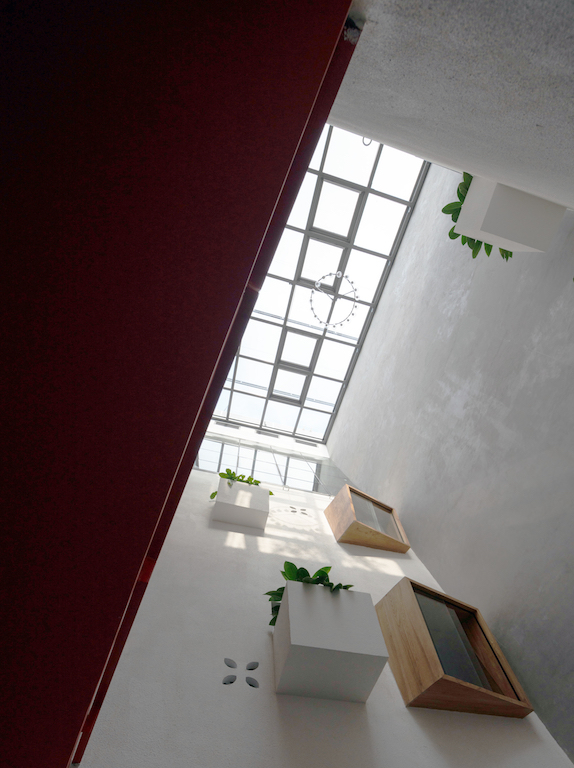 Located in a rather narrow street, the modules of concrete and wooden loggia have been carefully arranged in elevations, with tree tubs between. A large glass roof is structured with full control of opening and closing ventilation and awning, adapting different weathers. The solar power panels placed on the rooftop help to save energy.
See the full image gallery here:
Photos: Trieu Chien