The ninth edition of the Singapore Art Week (SAW) 2021 kicked off on January 22, promising to showcase a plethora of artists – both local and international – bringing their work together through a series of events, despite the disruption caused due to the ongoing Covid-19 pandemic.
One of the components, Ceramic Expressions, launched in 2017, is an annual exhibition series that has since evolved to become a leading platform in Singapore for showcasing original, creative and unique ceramic works by local internationally-renowned ceramicists. The fourth edition this year – that also happens to be the biggest since its inception – will showcase 25 to 30 works from well-known international and Singaporean ceramicists at the avant-garde The Substation Gallery. It is being presented by Mulan Gallery.
Among them is Mr Michael Rice, an Irish ceramic artist, designer and academic based in Dubai, UAE, who specialises in ceramics with a special focus on firing procedures such as raku, smoke and saggar firing. His work also highlights key attributes of ceramic art such as surface, texture, natural geometry, gestalt principles, and archetypal forms.
In the past, Mr Rice has been a recipient of the Arts Council of N. Ireland Individual Artist Award in 2005, 2006, 2008 and 2009. He is the International Academy of Ceramics UNESCO representative for the UAE and in 2016 exhibited as a finalist in the Taiwan Ceramic Biennale at the Yingge Ceramics Museum in Taipei and was the runner-up in the Van Cleef & Arpels Middle East Emergent Designer Prize in the same year. He was a finalist in the Korean Ceramic Biennale 2019 and was once again selected as a finalist for the Taiwan Ceramic Biennale in 2020.
Currently, he is the Chair of the Visual Communication Department and an Associate Professor of Studio Art at the American University in Dubai. In an exclusive interview, Mr Rice speaks to DE51GN about his work that is being showcased at SAW, and how the ongoing pandemic has impacted his artistic thought process.
Tell us about your collection of artworks being showcased during Singapore Art Week? Have you explored any links to Singapore in this collection? How did your participation in the event come about?
I'm exhibiting one piece as part of a group show titled "Ceramic Expressions". It's the fourth iteration of this event and I feel really blessed to have been chosen by the curators to be part of it as its format has been to showcase works by both local Singaporean ceramicists alongside several well-known international ceramicists.
I have been aware of the event since its first edition and some of the artists that have exhibited in this show are the biggest names in the world of ceramics so it's an honour to be in the same company. I was contacted by the gallery back in March 2020 and asked to propose some work and was then selected to be one of the exhibitors in September 2020. The piece in the exhibition was created in Dubai as part of a new body of work that was perfected during the summer. Whilst not directly referencing Singapore, I feel the work has a universal appeal as its coral inspired texture is accessible and has a familiarity to everyone.
What was the inspiration behind it?
The work is titled 'Axiomilia' which is a nomenclature for a type of coral fossil. It is inspired by patterns in nature. I see patterns everywhere and in some ways, they all seem to be a smaller part of some large connecting fractal. Whether it's the patterns I see at my feet at the beach or the aerial views from a plane window, it seems a similar code is playing out everywhere, uniting and merging everything together. The work in the exhibition is my attempt to mimic these arrangements by creating my own forms, coupled with a new finish that was perfected again referencing the surfaces of the natural world. The goal was to try to make the work appear as if it may not be man-made.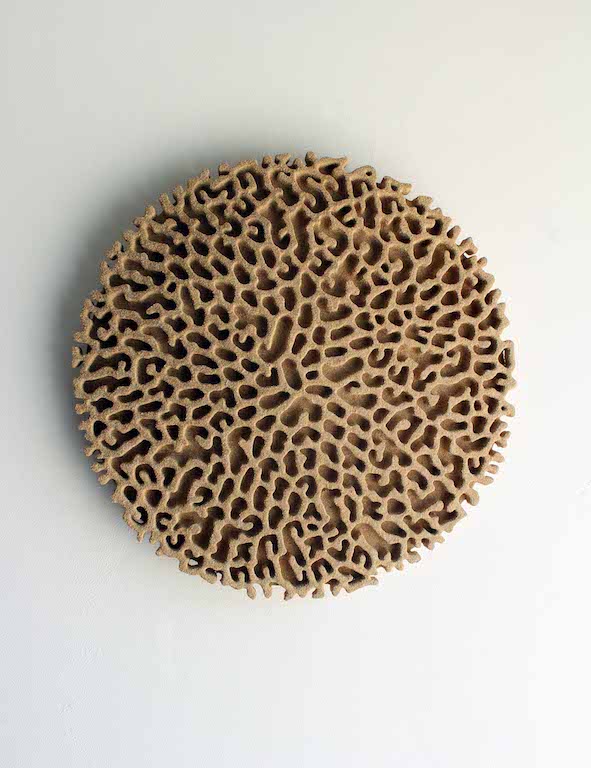 This year has been especially challenging for most people, not least artists. How have you coped with this disruption and has it informed your work in any way?
The darkest time was when we were locked down for almost three weeks and I couldn't go to my studio. But after that it has been the most productive time in years! Not being able to go anywhere is fantastic if you have a passion that you can dive into; it's been a saviour in so many ways and I have created more than I have in years and been able to do so much experimental new work – work that I would never really get the time to get to otherwise. So for my studio practice, it's been amazing. Now, I need the world to get back to normal again so I can get to exhibit it all!
What kind of materials have you used in the collection and why? Is there an intersection between art and design in this collection?
I would say my ceramic works are really always at this intersection. In fact, I would say the word ceramicist means to be an artist/designer/maker/craftsperson. As a ceramicist, I really feel monogamous to clay. It's strange to put it in these terms but clay really does reward your full-time commitment and without this commitment, it's impossible to create work that is differentiated. There is such a level of failure to eventually get successful that once you achieve some results you realise that the ceramic world is so vast that you can't help but get lost in it. Other materials or media just don't seem as nourishing.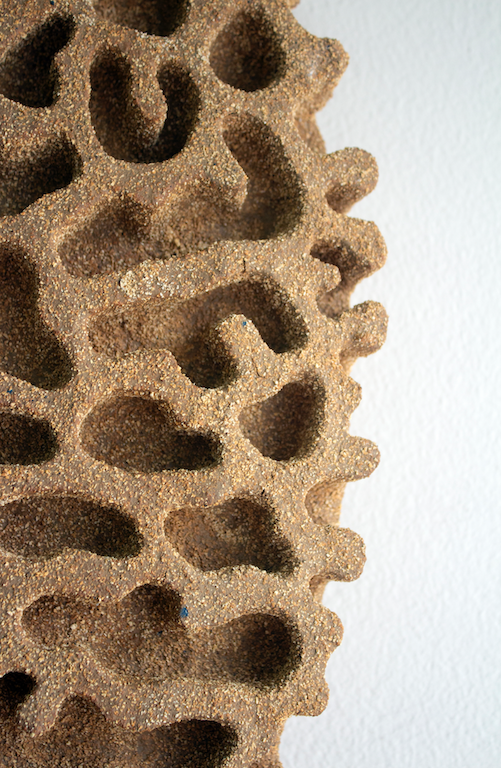 How do you think adverse situations like the ongoing pandemic affect art in general?
It's a bad time for sales but a great time to be experimental and try new things. As an artist, time is the one resource you can never get enough of, so at the moment, it's a great time to reflect on your practice. I exhibited at Dubai Design Week in November 2020, and it was the first real large-scale event since Covid-19 exploded globally. It was like people were really hungry for art and design events and to just be out and around other people. So although this is a bad time for everyone, I really feel that we all now realise that digital is just not enough, when it comes to looking at things – in person is the only way to go. It's just not possible to have the same experience online and I think this has forever made people appreciate this: visions of escaping into some digital virtual world seem less interesting these days. I think we all underestimated connection with other people. I can't help but feel that the moment this is all over, galleries will be packed.
With travel restrictions in place, you and perhaps many other overseas artists won't be present when the exhibition takes place here. What kind of loss is this for an artist? How much do you like travelling and what are some of your favorite destinations and why?
This is a real pity as I love to travel and even more so to go to an overseas exhibition that you are part of. It's such an amazing feeling of pride and validation to see your work appreciated in this context and to miss it is a real bummer. It's also, of course, great for networking and for potential sales but the pandemic won't last and I can't wait to get on a plane when it's all over with that relaxed 'going on holiday' feeling we all once took for granted. I love Europe in the winter. My wife and I would roam around some city such as Vienna, Paris, Bruges, Prague, Brussels, go to galleries and museums in the day and Christmas markets at night with a big coat, scarf and gloves. That is something I really missed this year!
What aspect of creating something fascinates you more – conceptualisation, actual creation, or the end result?
I love the entire process, but I sometimes need to remind myself that the end result is the goal. You can get so lost in experimentation and ceramics often gives you so many unexpected potential paths to go down that you need a goal or else you could just experiment forever. I did a bit of this over the summer which was amazing but I now have four or five solid objectives to get to, all different enough to be separate while all having the same genesis. Any more than this and it becomes impossible to get anything finished!
Who or what inspires you?
I love the work of Magdalene Odundo, a Kenyan-born British ceramicist. She has always been my ceramic hero and I'm now very lucky to call her a mentor and a friend.
You're from Ireland and now based in Dubai. How does multiculturalism influence your thought process?
I feel that being surrounded by so many different people is such a good thing for your mental landscape. You get to find out so many interesting and thought-provoking new views and then there is, of course, all the different types of food! My wife is Pakistani so I learn new things, new ways of seeing every day, and the American University in Dubai, where I teach has students from all over the world so multiculturalism is really about living it every day. I think at this point I need to be in a multicultural space to feel normal. Ireland is great and it's home but I know there is way too much out there to see.
What do you reckon is your next work going to be about?
I have several projects for the Expo2021 in Dubai so that will be keeping me busy, and these are projects that to some degree have defined parameters. For my own work, I love the idea of praxis. It really is the way I now work. Everything made today was inspired by what happened yesterday and things at this point kind of proceed out of themselves. I might have a design but I'm really happy if in the process it gets radically altered, if that's the way it's going, I'll go with it!
The exhibition Ceramic Expressions runs until January 30, 2021 at The Substation Gallery, 45 Armenian Street, from 11am to 7pm. Admission is free.
You might also like:
Álvaro Siza and Carlos Castanheira use light to expand small exterior of Ningbo's Huamao Museum of Art Education into spacious interior
SUTD students inspired by Ironman win Singapore edition of James Dyson Award 2019
Singapore Archifest 2020 Pavilion design competition winner has been announced