Humming Tree is a multi-disciplinary studio based out of Kerala in southern India founded by architects Mohammed Afnan and Arun Shekar. The studio has designed a set of limited-edition tableware collection made out of burnt clay to celebrate diversity. DE51GN speaks to the architect duo to learn more about their design approach and the inspiration behind the collection.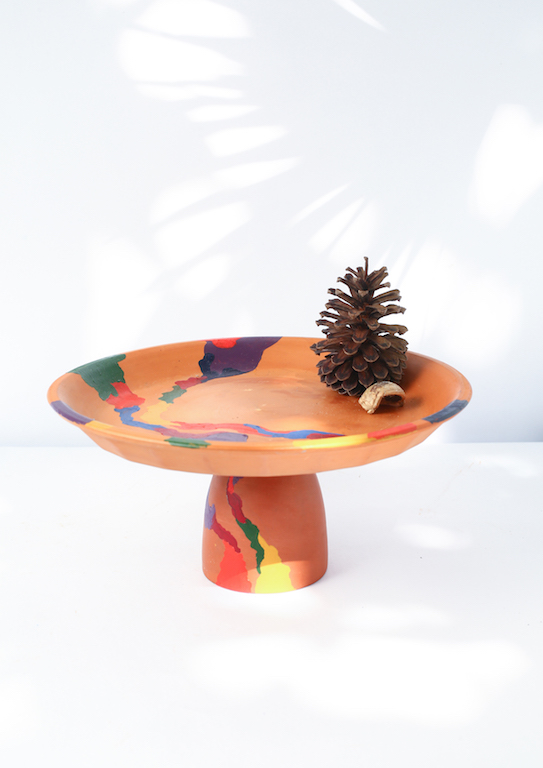 DE51GN: Please tell us about the multi-disciplinary approach to your practice?
Humming Tree (HT): We look around and regard our practice as a context — what is it and what it can be — ahead of the firmly functional concerns. We think about its civic nature and how that can be enhanced, how the spaces we create can enliven the acquaintance of being there. We always see and work towards the impact created towards nature, the environment we live within and strive to abide by this and work towards creating better-built surroundings at both micro and macro levels.
Everday, the practice imbibes a more complex process while it seeks to embrace the various aspects of design. We look at design process to be dynamic and holistically which includes building technologies and systems, syncing in with the more human dimensions.
"Everything and every one is unique in their own way and we need to embrace it. Although some may consider these [handmade objects] to be imperfect or even mistakes, it is through these unplanned gems that you find the true joys of happiness in product design." – Arun Shekar and Mohammed Afnan, co-founders, Humming Tree
DE51GN: What was the objective behind setting up your own architectural practice?
HT: It was back then as students at design school that we had always wanted to collaborate together as we could understand each other's languages well enough. This led us to start our own practice in 2013. We had a similar school of thought but 'we are more likely to disagree than to agree'. Having said that eventually, that is what makes our work look the way it does. We were always clear that our practice would be named on something about not having a word that is either of our names or a mash-up of our names, creating a sense of oblique ambiguity about the brand and which allows for an open conversation. We kicked off humming on how to grow from a seed to a tree by turning our passion into our job. That's how Humming Tree was born.
DE51GN: What inspired you to become architects? Is there any architect/s you particularly admire?
It would be, undoubtedly, Geoffrey Bawa. There is always a great deal in learning from the materials to details they are simply mind-blowing. His belief that 'Craft will become fundamental in design.' is something our practice imbibes and got exposed to this architectural language to a great extent. We believe that architecture schooling gives you the autonomy to use the right side of your brain – the creative part.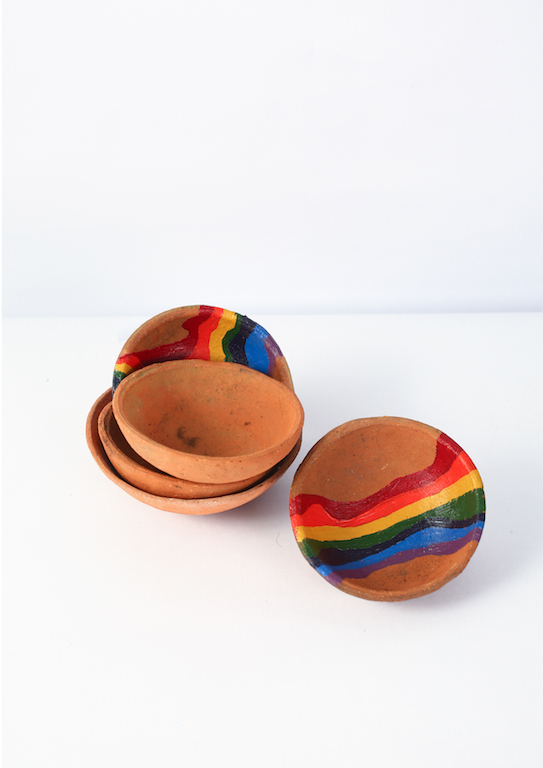 DE51GN: Is there a thriving design industry in Kerala? What are the opportunities for professionals in the architecture and design industry?
HT: Well, exposure through social media has made tremendous shift in design industry. Architects and designers based in the large cities with prime establishments are in Kochi, Trivandrum and Calicut. Fascination with the traditional architecture of the coast with its narrow, shaded streets, internal courtyards, the juxtaposition of terraces which are combined with an exposure to Western architecture, offers wide choices in design. We love that [Instagram] is a gauge of what we are feeling or the studio is thinking about on any particular day.
You might also like:
A day in the life of: Saif Faisal
Sustainable house by Wallmakers in southern India mimics remote Himalayan cabin
Compact house in South India by Ego Design Studio tackles hot tropical climate with local materials
DE51GN: How did the Revelations range come about?
HT: Through lasting ideas of anecdote. We wanted to make this piece for Pride, as equality is so important to all of us. I find that at some point with every design we become very aware of a specific character that is occupying our mind, compelling various choices and ideas coming into the work.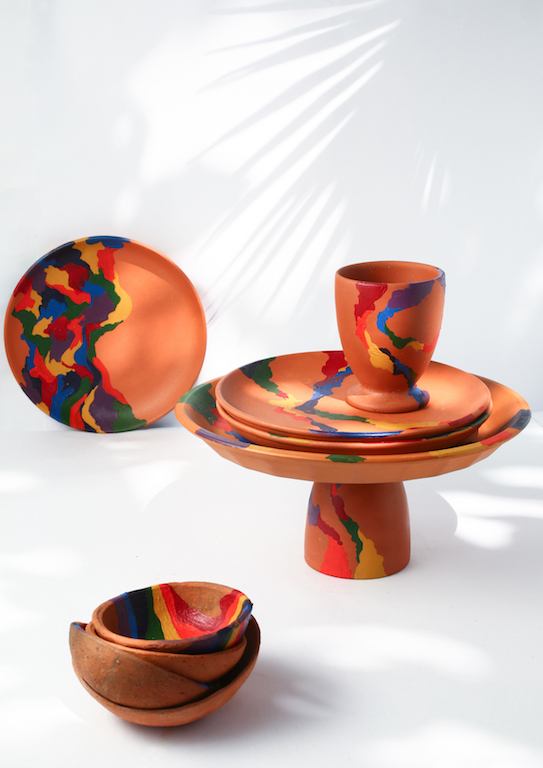 DE51GN: What was the inspiration behind it? Please explain the choice of material and the methodology behind using it?
HT: Clay is found easily in Kerala, and it is often used for handmade objects because it's natural and 'imperfectly perfect'. Making stuff from burnt clay has been part of human know-how for thousands of years. One would anticipate each clay item to turn out the same since the measures are all similar. But, after every terracotta firing, you will find a handful of surprises with small extraordinary flaws, unforeseen patterns, and tonal mixes. This leaves us with a thought that everything and every one is unique in their own way and we need to embrace it. Although some may consider these to be imperfect or even mistakes, it is through these unplanned gems that you find the true joys of happiness in product design.
The concept was to have the colours blend together where they meet and scream that 'We are here to stay'. The idea of using the terracotta material and imposing the abstract pride pattern was to break free from the traditional norms and create art which becomes conversation starters.
The Terracotta tableware has a matt surface hand painted with pride colours by local craftsmen in Kerala. The patterns are varied to ensure that no two cups are the same, as a "celebration of diversity".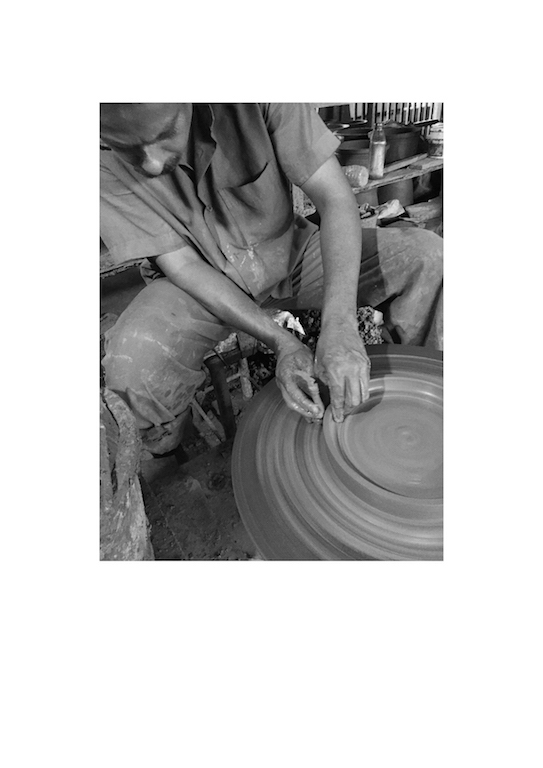 DE51GN: Why is it specifically dedicated to the LGBTQ community?
That's a nice question – it's strategically dedicated to everyone out there and not just LGBTQ. We wanted to make this piece for Pride, as equality is so important to all of us. The idea was to have the 'Revelation series' become conversation starters on the dining table so it can be a better place where people talk about love and whom they love unapologetically. At the end of the day, we made the things we wanted to see, but we are also curious to see what other people think.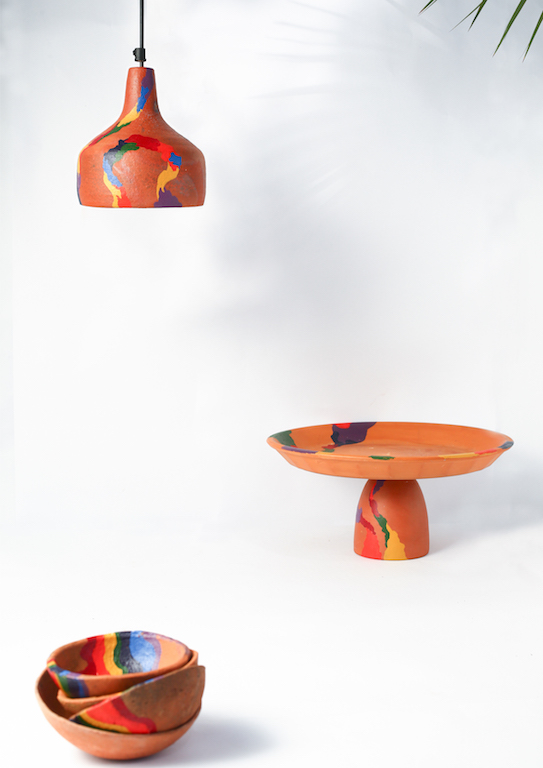 DE51GN: Is there always a socio-cultural premise behind your work? To what extent does it influence your work?
HT: The hardest part of the equation is being truthful about whether or not what we're making is something that the world needs or the world wants. We have always trusted our instincts in what we're doing, we believe that there's a reason in what we do, and we try to do it well.
Our aim was to bridge the urban-rural divide through design and community engagements. With dramatic changes in the environment and increased use of synthetic materials, people are soon realising the importance of 'going back to the roots' and have begun to welcome the idea of handmade and sensitivity towards nature. Although we can see the trend getting picked up, it needs more push and awareness among the general masses. We hope that the project could be adopted on a wider scale, and adapted to the local market.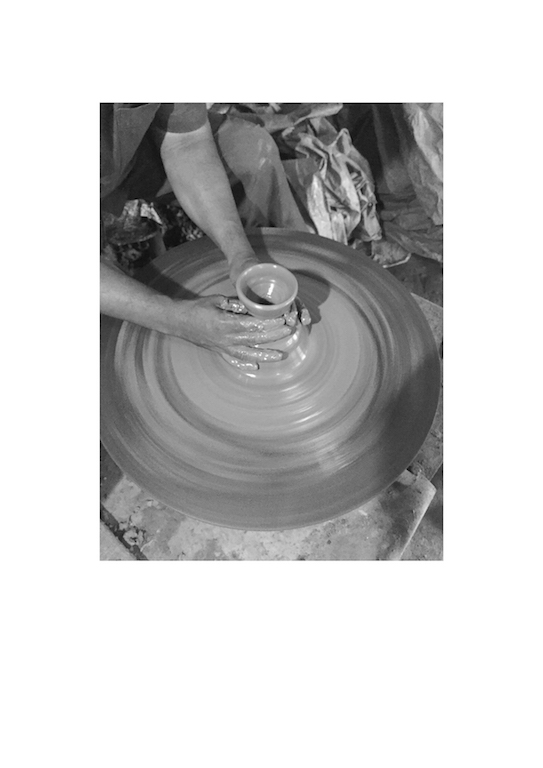 DE51GN: What are some of the real challenges for designers and architects in India that can address social issues?
HT: Taking risks in sensitive topics and making them work.
DE51GN: What are some of your recent and upcoming projects? Which are you most excited about and why?
HT: Sometimes, it's not the design but the qualities of a place and space that make you think of things in a different way. There are many different genres we are diving at Humming Tree; a few of them are in the realm of landscape and fashion that we are excited about.