Designed by Professor Chenping Han and his team from School of Architecture and Design, China University of Mining and Technology, "The Deformable" modularised Covid-19 Epidemic Prevention Hospital, is located in a park on Mincheng Road, Minhang District, Shanghai. The project was designed at the beginning of 2021 and is now under construction. Commissioned by Wuxi Environmental Sanitation Services Co. Ltd China, the project has a total construction area of 750.5m2, and consists of the isolation ward area (24beds), the medical staff work area, and auxiliary functional areas for power, water, ventilation, and oxygen supply.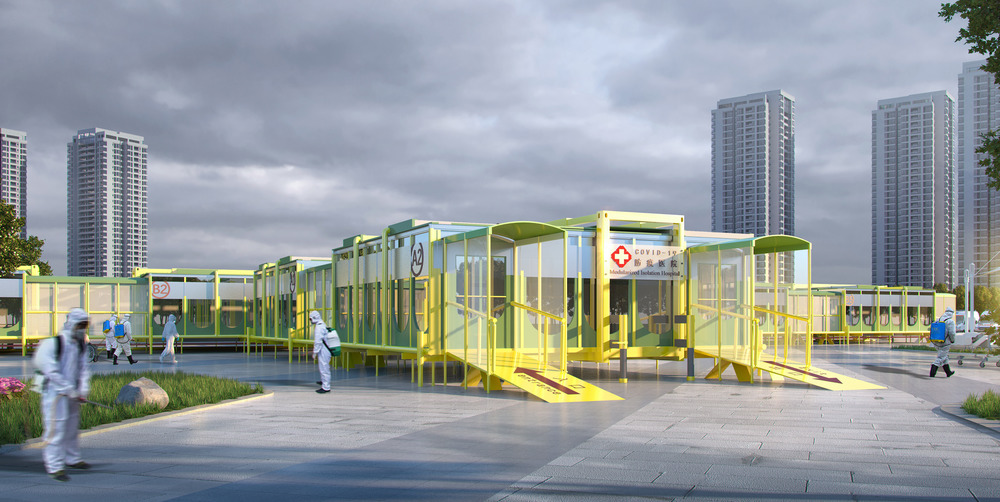 The project core is the isolation negative pressure ward, and treatment, office, cleaning, ventilation, and energy as the auxiliary modules. Based on the research and development of module generality, temporary epidemic prevention and rescue hospitals of different sizes with long service time can be constructed through the rapid combination of modules.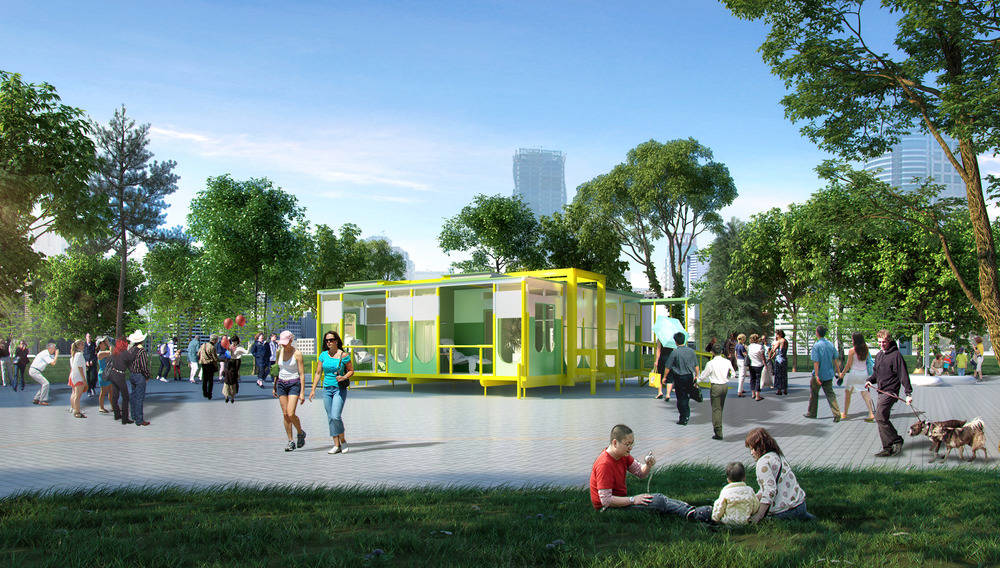 Human history is always accompanied by various viruses. SARS, MERS, Covid-19, and other unpredictable outbreaks of highly infectious viruses severely threaten the survival and normal social life of mankind. Since the scale, time, and place of such outbreaks cannot be predicted, a temporary medical building that can be used for a long time is of great necessity. Such buildings should possess the following characteristics: easy for storage and transportation, suitable for the treatment of infectious diseases, applicable for multiple sites, and environmental-friendly. Equally important, adjustable building scale, time-saving construction and demolition, and low requirement for construction personnel are also indispensable characteristics of these buildings.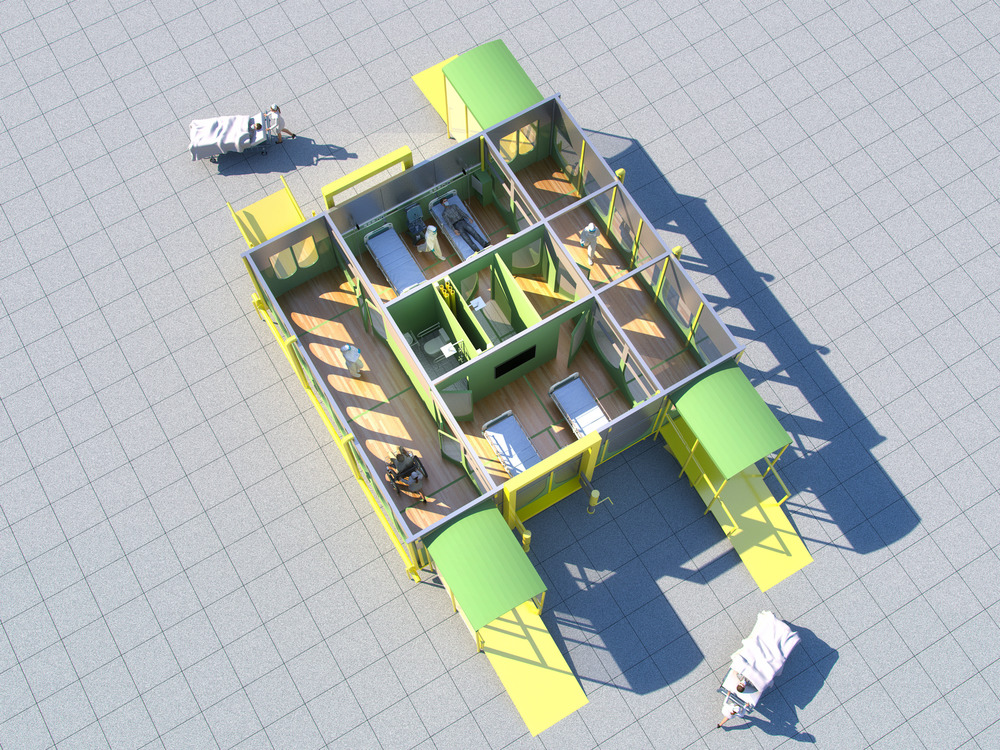 The project compresses various architectural components into a module based on the prototype of a 20-foot international standard container (6.06 x 2.44 x 2.59m), with a total area of 14.79m2, through a series of design methods such as integration, separation, movement, replacement, opening and closing, deformation, expansion, lift, and rotation. After deformation and expansion, the module covers an area of 76.15m2. It is equipped with negative pressure ventilation, sufficient daylight, separate channels for the infected and medical staff, a buffer area, toilets, and two standard isolation wards with four beds. Its space design meets the design specifications and requirements of hospitals for infectious diseases. Moreover, integrated module design is made for power, water, drainage, and ventilation in order to cope with the impact of building deformation on electricity, water, ventilation, and other equipment. Only lamps, display screens, and simple medical equipment are to be connected and installed on site.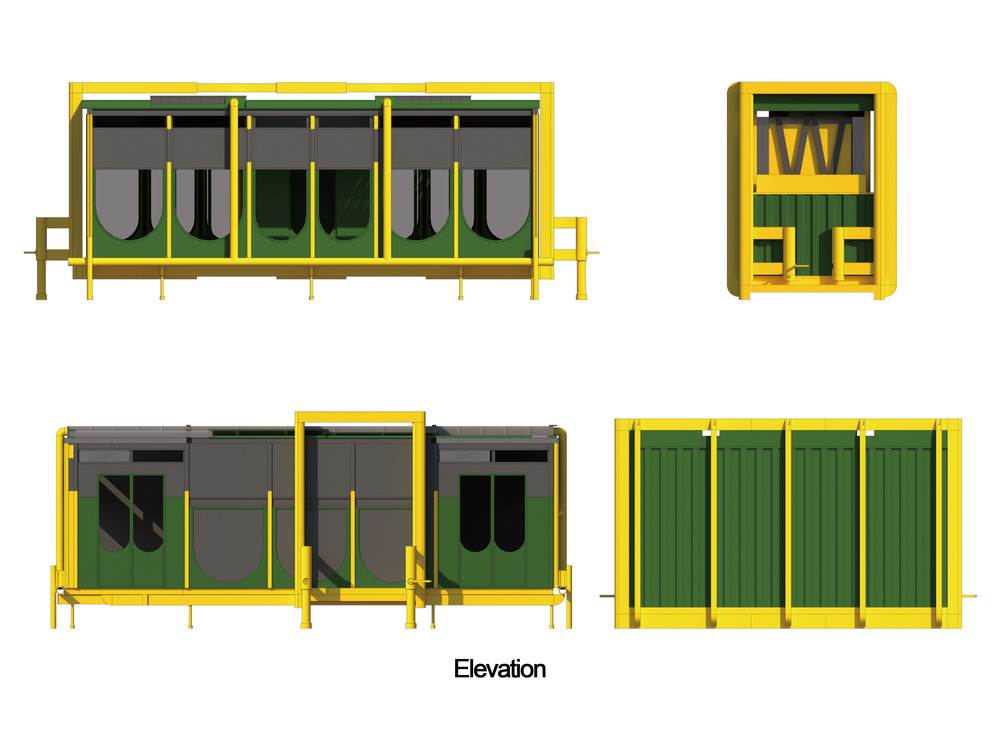 Full consideration has been attached to the psychological comfort of patients and medical staff in this project. A large number of reflective materials are employed on the facade of the building to reduce the possible visual and psychological impact of the hospital on people through its mapping to the surrounding environment. To increase the affinity of the hospital, the main colours of the building are green and yellow, which are similar to daily household appliances.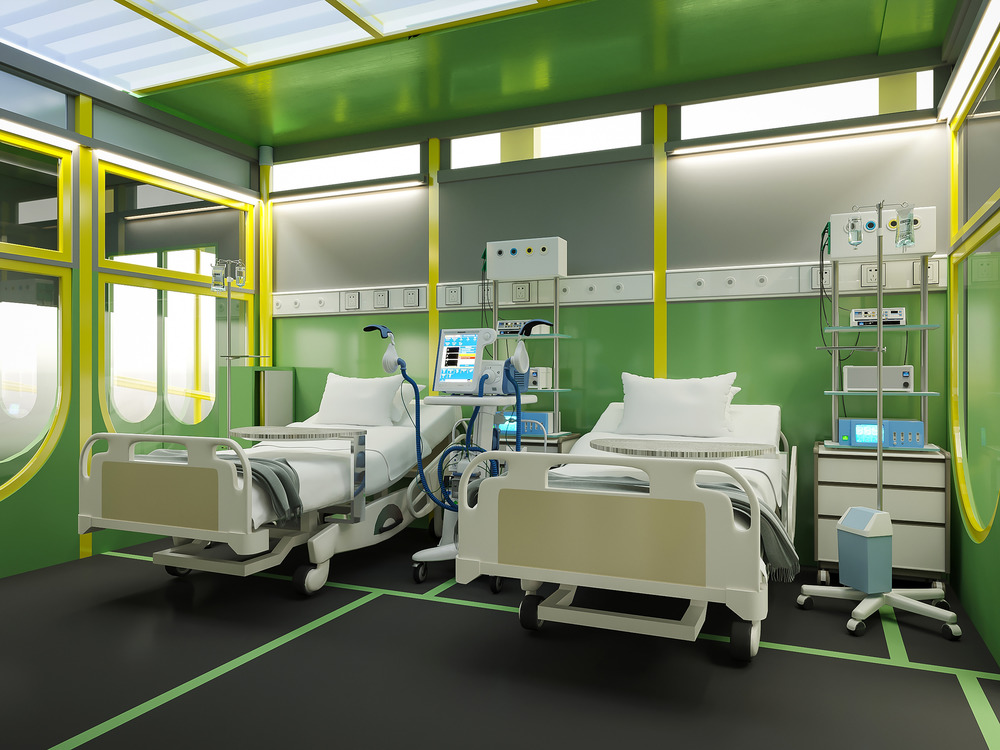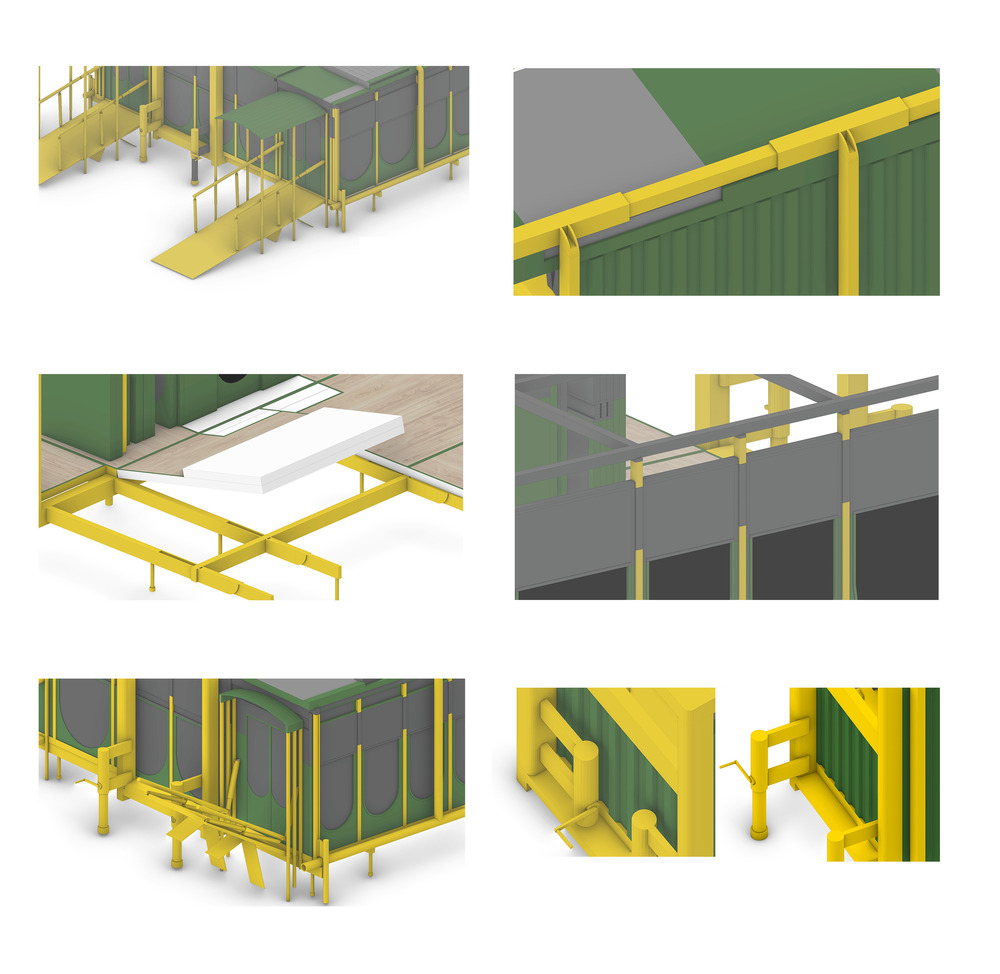 This hospital is best suited to flat and solid sites. Without the destruction of the site due to the laying of the building foundation and pipeline, it takes only two workers and three hours to complete the assembly of a module (including equipment and facilities). Since the installation of each building component is carried out in strict sequence, even less skilled workers can carry out construction with some simple training. In addition, although the lifting of the module requires the use of a light crane, the module can be unfurled and dismantled with common tools and simple scaffolds.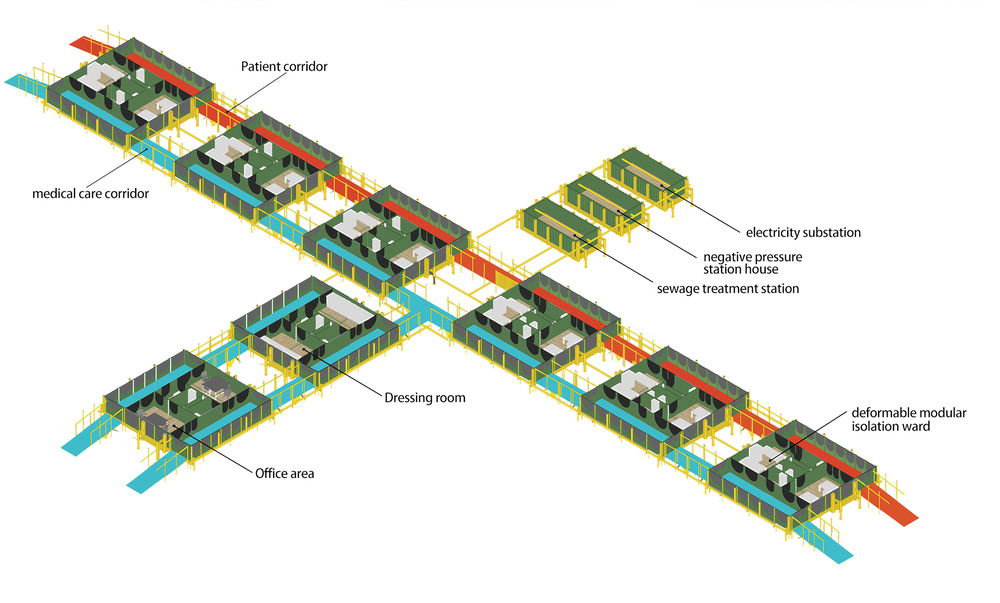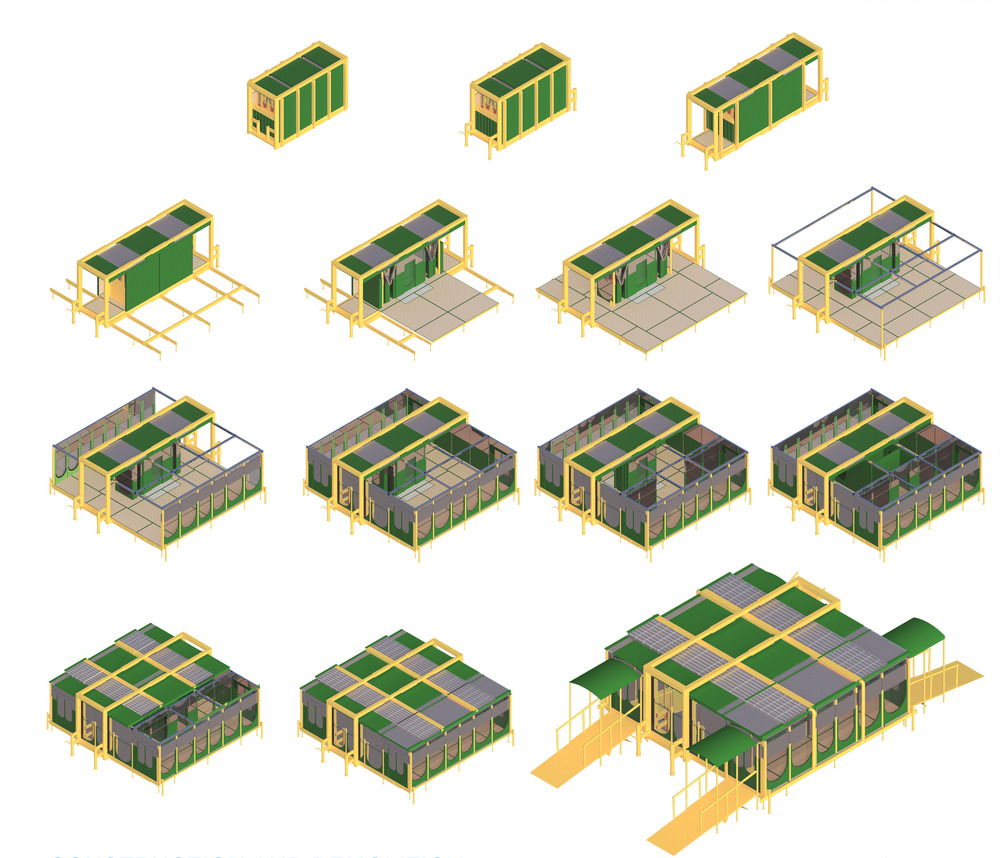 The project also offers two options for the post-pandemic disposal of the building: one is to take it down and store it for future use; and the other is to give it new uses and functions on site, such as hotels, bars, and cafes.
Technical sheet
Official Project Name: The Deformable modularised Covid-19 Epidemic Prevention Hospital in Shanghai
Location: Shanghai, China
Supplier: Housespace Prefab Co. Ltd.
Client: Wuxi Environmental Sanitation Services Co. Ltd.
Architect / Designer: Chenping Han
Project Manager: Feng Gao
Architecture Team: Hanchenping Studio, CUMT
Status: Under Construction 
You might also like:
WTA designs emergency quarantine facilities in Philippines to build hospital capacity in fight against Covid-19
Carlo Ratti Associati proposes modified shipping container ICU units to boost hospital capacity to deal with Covid-19 pandemic
Jupe Health designs world's first mobile off-grid ICU unit to act as Covid-19 isolation rooms