As the industry's most anticipated annual design event, the 57th edition of Salone del Mobile saw a number of new product launches. It seems that this year, the event focused not only on the products, but also amped up the installations and other fringe events. While the general atmosphere during this week is always fairly vibrant, things looked a lot more spirited. As Milan resident and lighting designer Sergio Boccia says: "The profile of 2018 Salone is a pop Fuori Salone for the masses. There's space for everyone – John Pawson, kids, families, Chinese visitors, street food, selfies and everything else."
Here are 8 installations that caught our interest.
LOEWE
The Spanish luxury label presented a sprawling collection of blankets, tapestries and tote bags, showcasing diverse craft techniques that have been carefully selected from around the globe.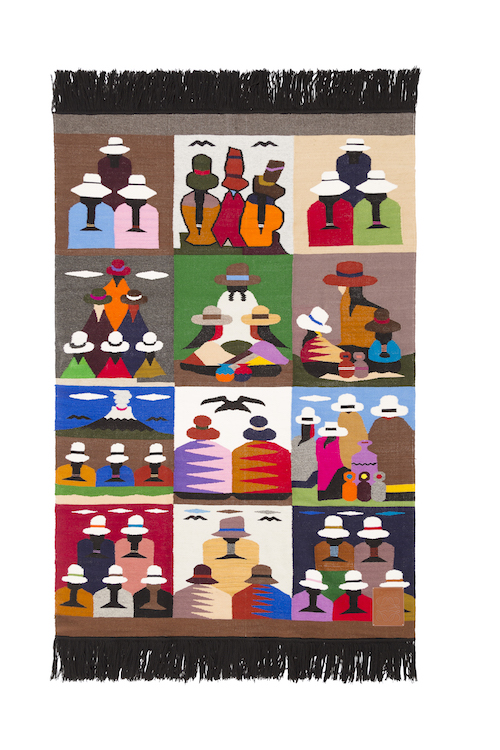 Creative director, JW Anderson, and his team travelled to remote corners in Europe, Asia, Africa and South America, exploring various types of artisanal textile production methods, focusing in particular on workshops that bridged tradition and modernity.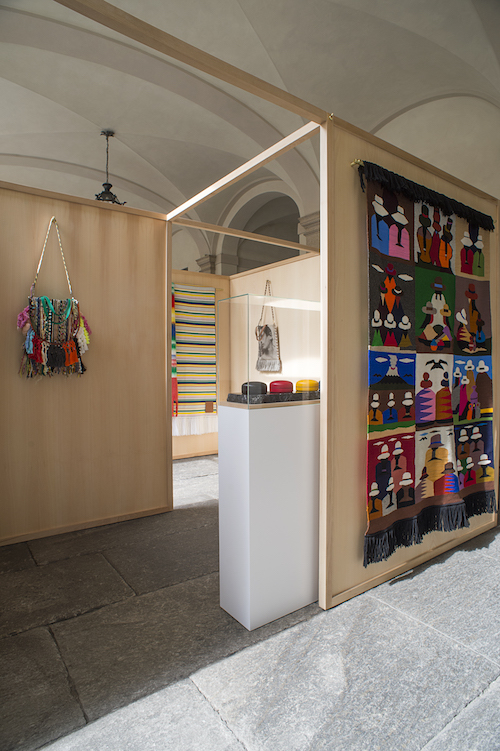 On display are ribbon hand-embroidery from India, used here on blankets and totes; items made with the ancient method of boro in a Japanese atelier using highest-grade Japanese fabrics; and also from Japan, an exquisitely hand-painted silk tapestry; in Senegal, highly skilled craftswomen applied an elaborate African patchwork technique to achieve the complex patterns entirely by hand; from the high Ecuadorian mountains, Loewe sourced an exceedingly rare fabric gathered from the back and neck of the vicuña, a llama-like animal that lives in the wild in the Andes.
OPEN SKY BY COS X Phillip K. Smith III
Swedish brand COS launched Open Sky, a large-scale sculptural installation by architect-turned-artist Phillip K. Smith III, site-specific to Milan's Palazzo Isimbardi, a historic building dating from the 16th century. The installation marks COS's seventh consecutive installation during Salone del Mobile and its first collaboration with the artist.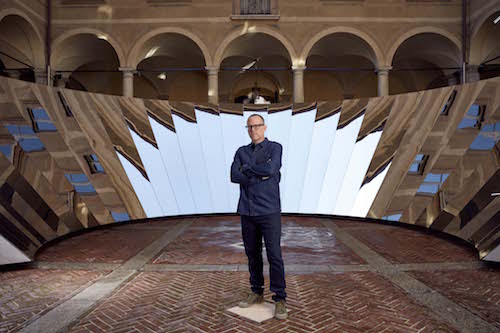 Open Sky transforms the overhead square of sky of Palazzo Isimbardi's courtyard into a grounded, physical ring of reflected sky. Upon entry into the courtyard, one is faced with the tactile, yet abstract presence of the immense, circular form.
Moving through the courtyard and into the Palazzo's adjoining English garden, visitors will find five free-standing sculptures with both horizontally and vertically folded reflective skins that use the greenery and trees of the garden, the surrounding architecture and the sky overhead as visible material. These variable samplings of the garden space are reconfigured or re-collaged across the sculpture surfaces, compressing space while evidencing the precise colours and evolving atmosphere of the day.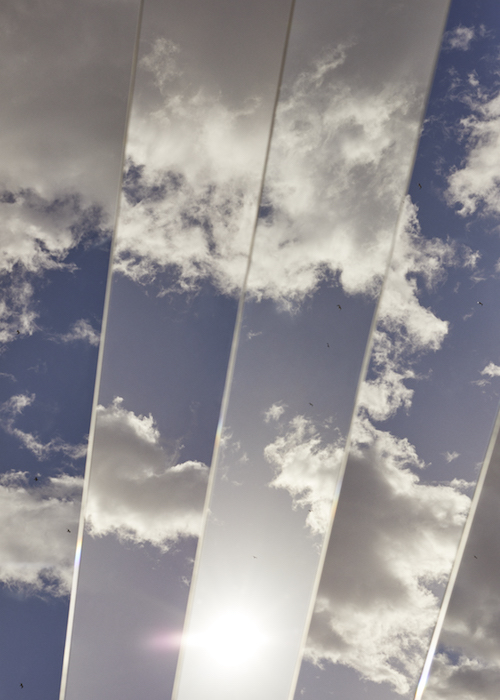 'At COS, we have been inspired by the way Phillip K Smith III's works interact with their natural surroundings allowing us to experience spaces in unique new ways and are thrilled to share Open Sky with the public. We cannot wait to see how the visitors respond to his work in this exciting new location. It is an honour for us to collaborate with such talented creatives who reshape the way we see the world around us and from who we derive so much of our inspiration at COS', said Karin Gustafsson, Creative Director of COS.
Phillip K. Smith III noted of the installation: "My work is inspired by the constant shifts in light, colour, and form that are presented in the natural and built environment. It was exciting to work with COS on an open brief within the inspiring architectural landscape of Milan. The specific site conditions of Palazzo Isimbardi afforded me an opportunity to reframe the historic architecture while meshing it with the enveloping beauty of the Milanese sky. While the installation will certainly create an overall shared group experience, each person will also leave the Palazzo with their own unique experience… unique to the time of day, to the specifics of the sky at that moment, and dependent entirely on their path of experience. Each participant is in control of how the sky and architecture merge across the nearly 14 metre diameter surface. I am truly looking forward to witnessing how the work is encountered throughout the week."
CLS Architetti X Arup
Engineering firm Arup and architecture studio CLS Architetti have used a portable robot to 3D print a concrete house, which is on show for Milan design week.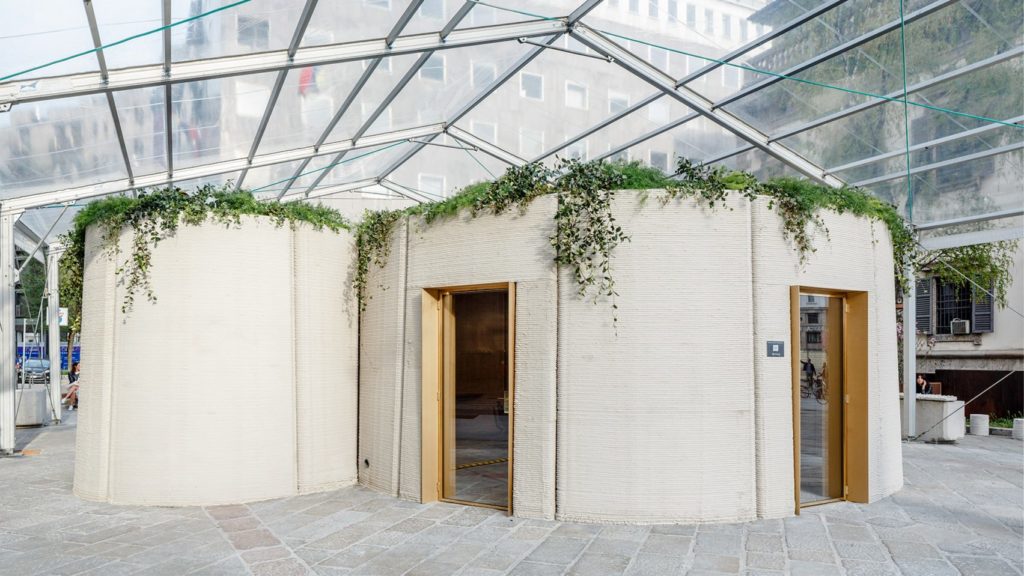 Printed onsite on Milan's Piazza Cesare Beccaria, the 100sqm house was formed over the course of a week. Made up of 35 modules, the house features curved walls, a living area, bedroom, kitchen and bathroom. The walls were was built by a robot designed by Cybe Construction, a 3D printing company from Poland, using a special mix of concrete and additives developed by Italcementi, one of the world's largest cement suppliers. The roof, windows and doors were added afterwards.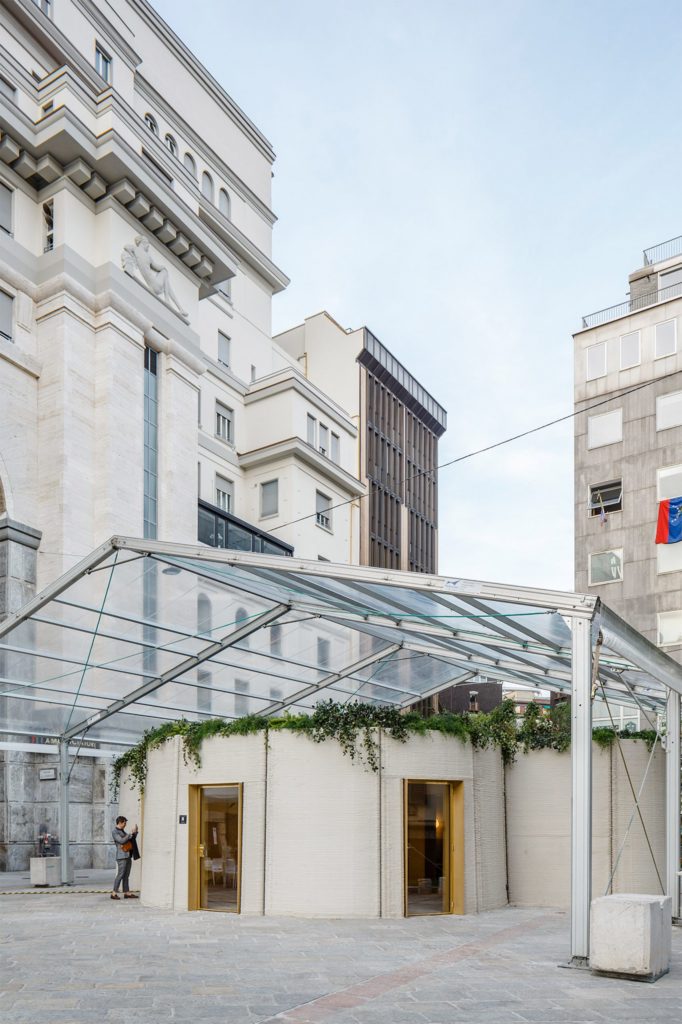 The concrete mix is squeezed through the robot's nozzle like toothpaste from a tube, and each section of wall is built from the ground-up in layers. According to Arup the full house was printed in just 48 hours.
TYPECASTING BY VITRA X ROBERT STADLER
Curated by Austrian designer Robert Stadler, the exhibition presented by Vitra is on display in La Pelota, a former sports hall in Milan. Iconic objects, prototypes and designs that never made it into production will be among the 200 pieces from Vitra archive that make up the showcase during Milan design week this m month.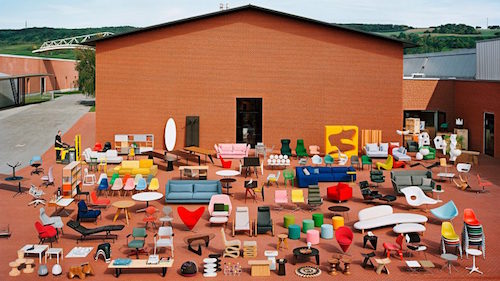 Stadler has organised the objects in a way unrelated to their functions or the history of furniture. Aiming to examine the way furniture shapes people's lives and identities, he has grouped the objects according to the personality traits he feels they possess.
"This film-set-like display of iconic, forgotten and new Vitra objects is as much about furniture as it is about us," he said. "Along with its practical task, furniture has always had a representational function. As such, chairs can typically be read as personalities or portraits."
The designer describes these groupings as communities, in which iconic products will be displayed alongside prototypes and unsuccessful reject designs.
"This organising principle offers a new view of the broad range of objects Vitra has contributed to design," Stadler said. "As a transhistorical, non-hierarchical presentation, it combines different object typologies chosen from current and past production, special editions and prototypes."
"Looking at familiar objects through the lens of self-staging and image cultivation sharpens the perception of furniture's role in defining our personal and social profiles."
MASTERLY BY ALEKSANDRA GACA X RENAULT
At Masterly, an exhibition of Dutch designers at the Palazzo Francesco Turati Polish-born and Netherlands-based designer Aleksandra Gaca presents her latest custom textiles – including Bloko, a new fabric made for Renault's personal autonomous drive car of the future, Symbioz.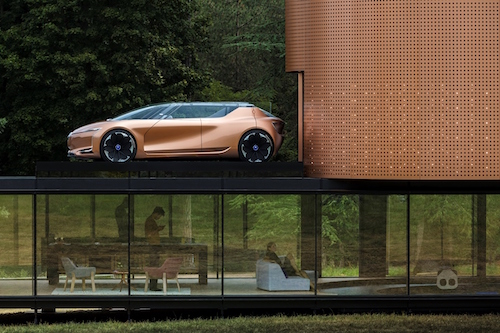 Renault Design has joined forces with Gaca to design her exhibition at Masterly, highlighting the importance of her textiles in the innovative Symbioz concept, comprising a concept-car, a house and a demo car. Symbioz represents Renault's vision of the car of the future and its role in our lives inside and outside the car.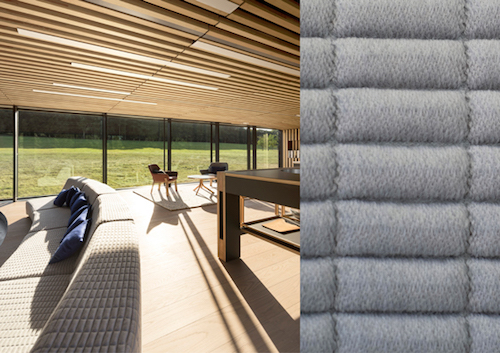 Visitors at Masterly can see the car and a lounge sofa inspired by the Symbioz house – furnished with the same Bloko fabric – that was the other component of the project, underlying the continuity between home and vehicle. For this exhibition, Renault Design created a new couch as a symbol of the Symbioz house, and Gaca has designed a new fabric especially for it – a variation on the Bloko theme. The textured 3D material appears in several contemporary colour ways.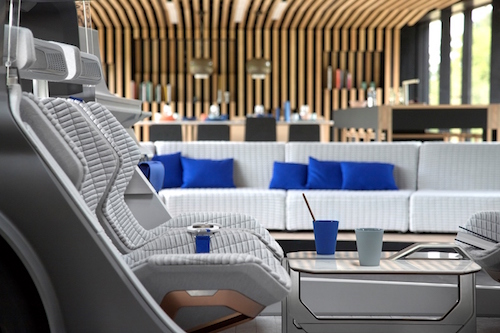 In over two decades as a textile designer she has devoted herself to pushing the technical boundaries of weaving, for example in her pioneering work in 3D textiles. She works with various architects and companies, from John Pawson to Casalis and from W Hotels to Renault, on both bespoke and commercial solutions. "Textiles have a positive effect on our emotions," she says. "The softening effect on the senses – touch, sight, hearing – is something I find very important in the modern world and what I most want to share."
DISCO GUFRAM
The history of Gufram and nighttime furniture dates back to the tumultuous and fascinating times of the Italian radical design of the '60s and '70s. At this year's Salone del Mobile, the Italian furniture brand pays homage to its extravaant past with Disco Gufram, a space that combines past and present through a collection of disco-inspired furniture.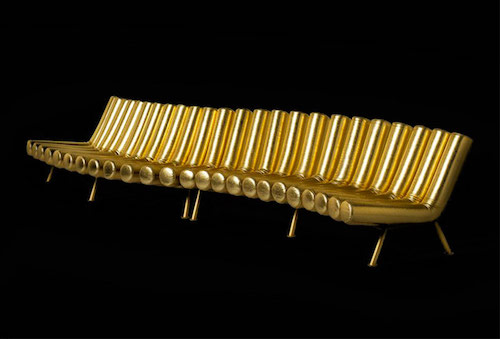 Gufram owner and art director, Charley Vezza, invited three designer groups to contribute to the brand's own surreal disco, which aims to be an energetic, enthusiastic experience out of the ordinary. Influenced by the brand's archives, Atelier Biagetti interpreted a collection of upholstered disco couches from the '70s into a set of five different seats that nod to the originals but with a modern touch. "Each piece is conceived as a person with a precise attitude, a sense of humour, a beauty, also some vices and dreams that get wild during the night," says the studio of the couches, which come under the names of Betsy, Tony, Stanley, Jimmy and Charley.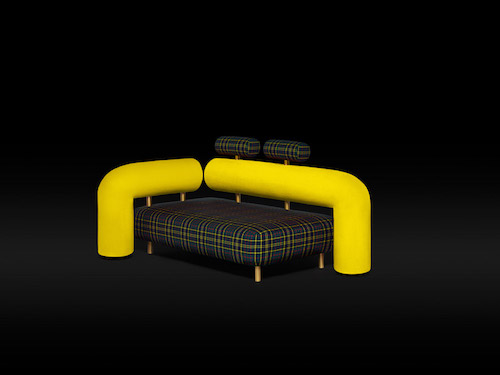 Paris-based GGSV (Gaëlle Gabillet and Stéphane Villard) came up with a collection of carpets that aim to make you dance within the walls of your own house. Fittingly named "dance floor", the collection comes in a variety of bright colours and shapes – from pink, to orange and purple and from round, to long and thin ones.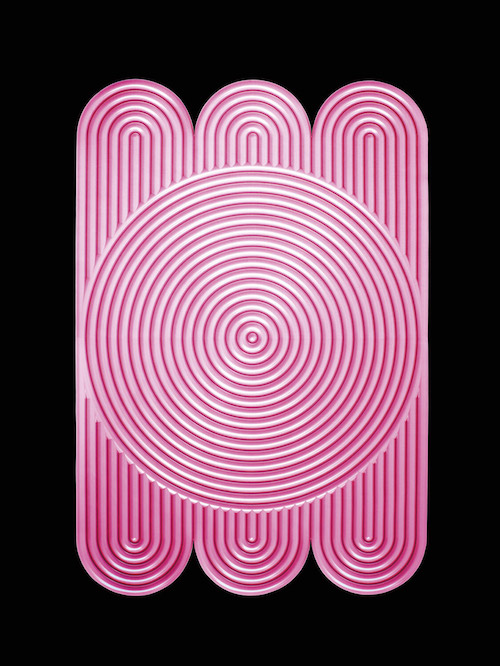 Rotganzen, the dutch design studio already known for its fascination with disco balls, created a collection of three cabinets and two coffee tables that represent a melancholic reminder of the temporary nature of the glamour of a night out. The studio describes the amorphous disco balls of the collection as a "visual metaphor of fading glory," intended as a playful image of the past.
THE DINER BY DAVID ROCKWELL
'The Diner' by New York architect David Rockwell and his team at the LAB at Rockwell Group presents a 'democratic spirit that draws people of all backgrounds' at the pop-up restaurant and bar in the historic vault under the main train station Milano Centrale, which represents classic American design.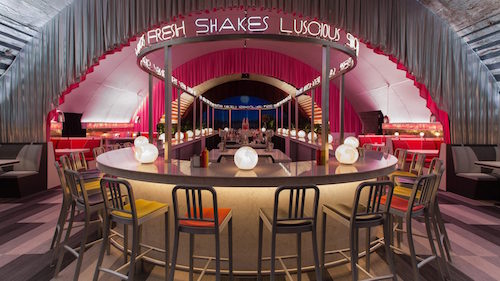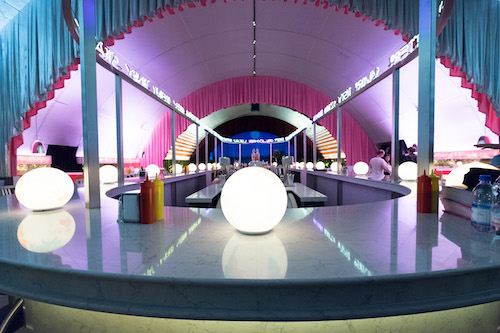 In celebration of the architecture and design magazine Surface's 25th anniversary, the Rockwell team collaborated with design studio 2×4, a global design consultancy headed by Susan Sellers that promotes visually dynamic and innovative ways, to create the ultimate American iconic diner in downtown Milan combining design, food, hospitality, and celebration. The counter top surfaces are from Cosentino's Dekton and Silestone range.
INTO MARBLE BY NENDO
Taking place at Spazio Bigli, the idea for this space originated from Marsotto's expertise in marble processing, leading to the decision to use marble for the pedestals, as well as the objects presented. Since this exhibition showcases linear and sharp furniture, the pedestals were designed in contrasting rounded shapes that resemble puddles.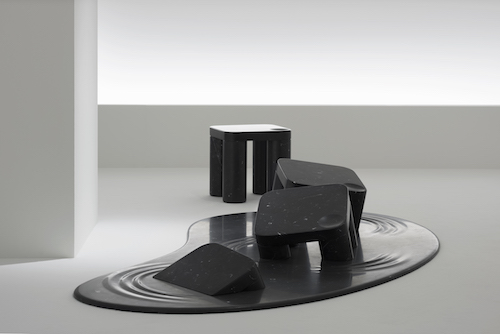 The edges were softened and gentle ripples were added on the top surfaces to accentuate
the soft appearance. Each piece was produced by a multi-milling machine followed by
a manual polishing process.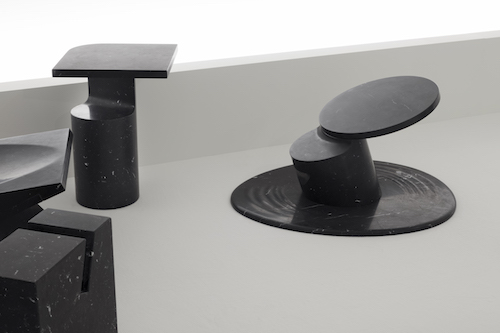 Furniture pieces were placed on top of the puddle-like stands, creating an ambiguous
expression that can either look as if the objects are melting into liquid or emerging from it.
Moreover, some pieces seem as if they are sinking into others, like a bowl sinking into the
table it is placed on. By doing so, an enigmatic exhibition space blurs our perception of
which objects are the main exhibits and which are the objects that are displaying them.
FORMS OF MOVEMENT BY NENDO
A showcase of 10 different collaborations with Japanese manufacturers using unique materials and
advanced techniques, including 'seven sliding cases' and 'four-layer vase'.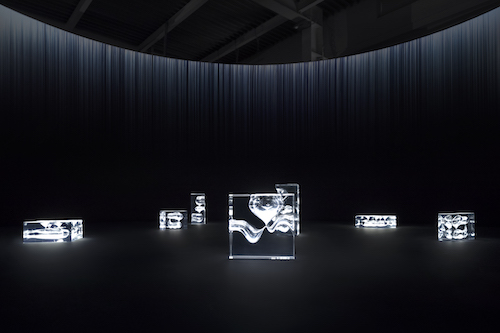 This exhibition focuses on this relationship and displays 10 projects that deal with the concept of movement; a container collection that introduces different lids that open and close according to various ways of touch, zippers that explore new functions by reexamining the familiar linear motion, a window shade that automatically opens and closes according to the movement of people and light, and an hourglass collection that designs time itself by controlling the movement of the sand within.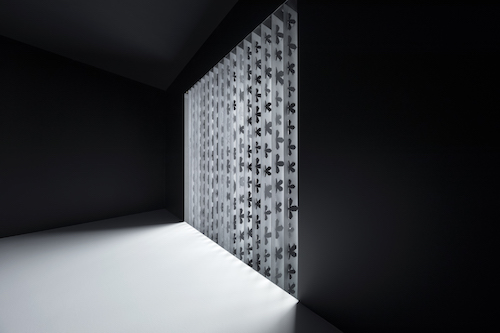 These objects and various others presented, embody movement in their shape and function while incorporating advanced technologies, state of the art mechanisms, and unconventional materials.