The Dujiangyan Zhongshuge bookstore by X-Living is a place where you admire the structure before you get to its contents. Push the glass curtain door open and your eyes immediately rest on the C-shaped bookshelves made out of natural walnut colour. The seemingly irregular sequence builds a connection with the larger interior space and becomes a highlight in the front hall. The inspiration is drawn from grey tiles with a historical sense. The unique and lively arc shape subtly divides the forum area. Walking under the bookshelf is like walking alongside an outdoor eave, or stepping into a rolling mountain.
The profound cultural heritage of the reading space offers a view that is much different from traditional bookstores. Bookshelves extend from the space to the adjacent columns, piquing readers' curiosity and guiding them along their route.
THE BAMBOO FOREST
Walking along the winding way between the bookshelf wall, a children's reading area is situated, where random and irregular green bamboo has been 'transformed' into bookshelves in a creative way. The designer also chose a representative decorative element of Sichuan, the panda. An illustration hangs on the bookshelves depicting pandas climbing on high branches, creating a beautiful artistic concept of natural vitality. Looking downward, colourful cushions are stacked like hills, creating a fun-filled fantasy reading atmosphere for children.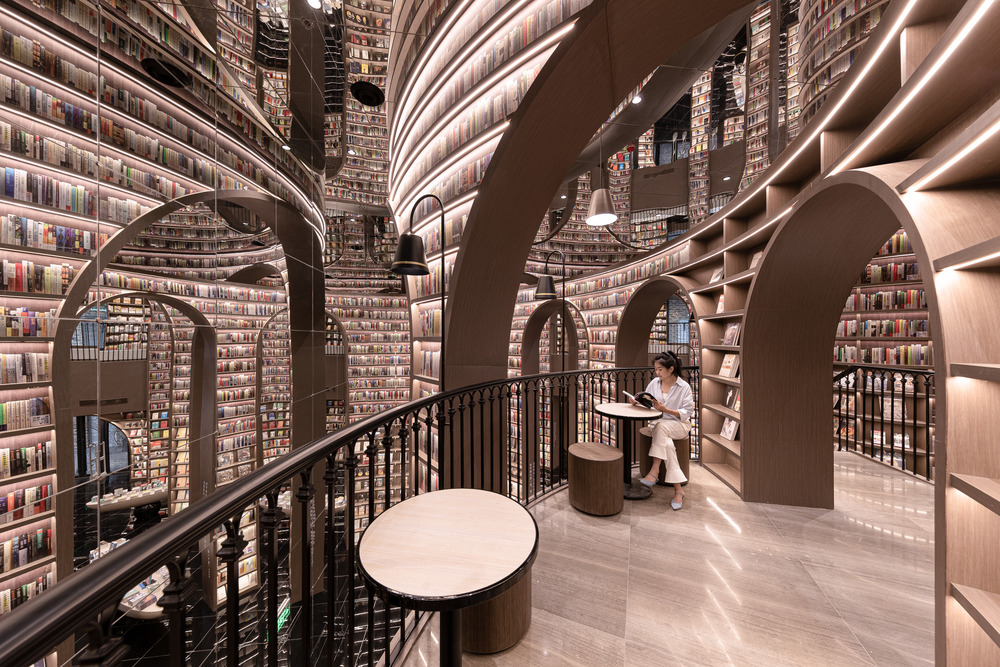 INSPIRED BY NATURE
In the central core, designer and founder of the practice, architect Li Xiang uses a mirrored ceiling to visually expand spatial ductility, and to create a sense of openness. The bookshelf wall, inspired by the majestic Dujiangyan Dam in Sichuan, spreads upward like a super city wall built of historical culture and serves as a functional carrier for books. With the effect of black tile flooring, the book tables appear like boats quietly moored on the lake and seem as if they are floating between the bookshelf walls. A glimpse at the space provides a visual treat. Architectural changes to the structure along the walkway also reflect the dynamic aesthetics of climate change, whether it be rain, wind, or fog. Through door holes on the bookshelf wall, different functional areas are all within sight, enriching the visual experiences of readers.
As you go up the stairs, bookshelves to the side offer a variety of books within reach. Other inaccessible areas are decorated with book pattern film, continuing to build the majestic momentum of the space.
Whether it is the tile technology used to depict ancient wisdom in the reading area, or the bamboo sea display in the children's reading area that captures a sense of happiness and exploration, or the portrayal of natural scenery in the literary area, the design elements aim to create an ideal destination for the soul, marked by the harmonious coexistence of liveability and natural ecology.
Project details:
Project name: Dujiangyan Zhongshuge
Location: Sichuan, China
Project area: 973㎡
Year of completion: 2020
Design company: X+LIVING
Creative designer: LI XIANG
Project director: Fan Chen, Wu Feng
Participating designers: Cu Zehuan, Lin Maiqi, Jiang Xueping, Fan Haifeng, Che Rui, Peng Xiang
Photographer: SFAP
You might also like:
Wutopia Lab designs Huangyan outpost of Shanghai's iconic bookstore inspired by clouds and gardens
Cultural institution in China by Studio Zhu-Pei mimics the surrounding mountainous landscape with a widely cantilevered roof
Tri-Orange Design converts former industrial site in Hangzhou into an artistic retail showcase and lifestyle venue