The third edition of the Chicago Architecture Biennial opens to the public today, bringing together more than 80 contributors from 22 countries, including TheasterGates, MASS Design Group, Forensic Architecture & Invisible Institute, RMA Architects, Jimmy Robert, Vivien Sansour, and Wolff Architects, to name a few–and engaging over 50 partner sites and 100 partner organisations across Chicago. This year's biennial, titled…and other such stories, explores the way architecture shapes, and is shaped by, culture, history, and nature around the world, asking critical questions about how architecture has informed our present, and the power the field has to shape a better, more sustainable, and more equitable future.
The biennial is free and open to the public and will be on view both in its main venue, the historic Chicago Cultural Center, a neoclassical building constructed in 1893, and in official offsite venues through January 5, 2020.
The contributors – selected by the biennial's curatorial team, which, in addition to Umolu, includes co-curators Sepake Angiama and Paulo Tavares – will present works that reflect on architecture as it relates to social, political, and environmental issues worldwide, including issues around property and social housing, the division of natural resources, and systems of power and civil rights.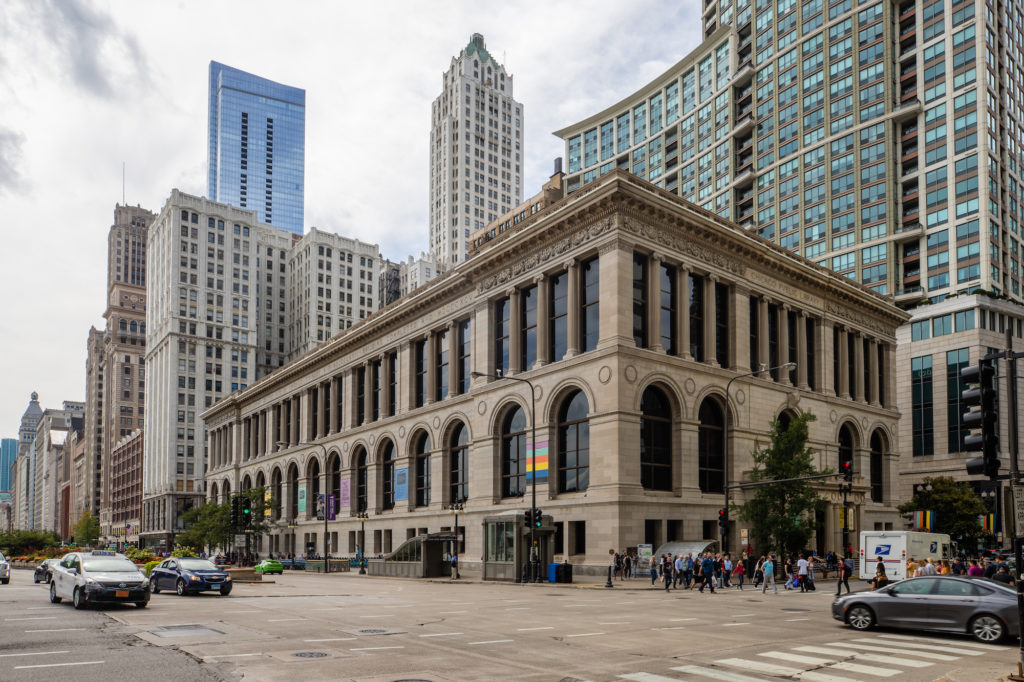 "Biennials offer a unique opportunity both to reflect on the state of the field and to showcase new projects and research by established and emerging practitioners," notes Yesomi Umolu, Graham Foundation Artistic Director, Chicago Architecture Biennial. "Our goal with…and other such stories was to find inspiration in the built environment of Chicago that would spur a conversation globally on our rights, memories, and relationship with the natural world. We are excited to present the biennial projects and continue this collective conversation with citizens of all ages in Chicago and visitors to the city."
Mayor Lori E. Lightfoot adds: "The biennial represents a remarkable time for the city, when citizens, visitors, cultural organisations, and businesses are all able to come together to celebrate and explore our shared histories and envision new possibilities for the future of cities. We are honoured to be the site of this inquiry, bringing compelling figures from around the globe while positioning Chicago at the forefront of an exploration of what the future holds."
Sitting at the crossroads of the Great Plains and the Great Lakes, Chicago has been shaped by planetary forces: colonial expansion, mass migration, extraction economies, and rapid industrialisation. Thus, Chicago's urbanism is inextricable from the flows of people, goods, and capital—and the concurrent exploitation of bodies, labor, and nature – that have contributed to its making. Today, despite the promise of economic development, Chicago, like many other established and emergent global metropolises, faces challenging urban conditions that require the reimagining of forms of exchange between human activity, technology, and the natural world. By extension, owing to its physical geography, Chicago is a singular context in which to address climate and ecological concerns shared by many postindustrial societies.
Some of the important highlights include: "Homophily", a term coined by researchers in 1954, is "the tendency for friendships to form between people 'of the same kind.'" Their study concluded that close friendships happen not simply due to shared racial identities but also thanks to shared beliefs. The model was born in the context of midcentury urban struggles over race and space. Homophily: The Urban History of an Algorithm (2019) by the Center for Spatial Research looks at its legacy today as an algorithm that shapes social dynamics in digital space, driving everything from targeted advertising to movie recommendations to predictive policing on Chicago's streets.
Another programme sheds lights on the socio-economic complexities of built urban environments. For example,  CAMP Collective's City Housing in a Cultural Matrix (Mumbai) (2019) is an interactive film combining cinema, state-sponsored documentary, newspapers, policy reports, and archives from social movements, among other source materials. It examines a "poor man's colony" that was set up in the1950s and then destroyed twenty-five years later to make room for an atomic research facility; four different organised responses to urban housing and slums triggered by a landmark court case, alongside a parallel cinema movement; and contemporary, site-specific strategies in a highly complex global environment.