Tam Dao villa by Vietnam-based practice Tropical Space is a vacation villa located in a valley at the foot of the mountain in Tam Dao town, a hill resort in northern Vietnam that was established by the French colonialists in the early 20th century. The front of the house is east-facing, welcoming the dawn, and the rear looks toward the golf course valley in the west, and offers a view of the sunset.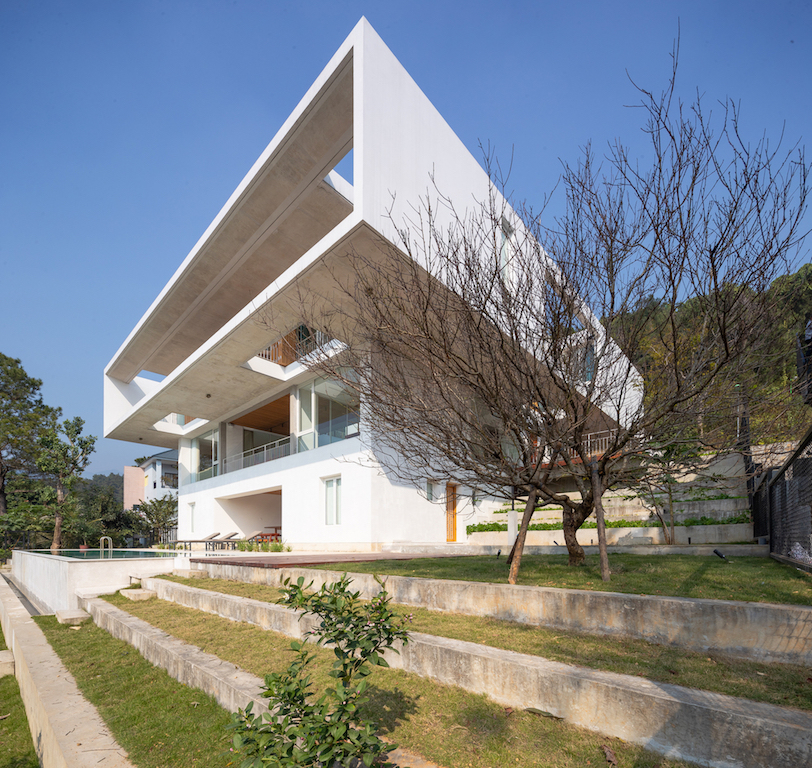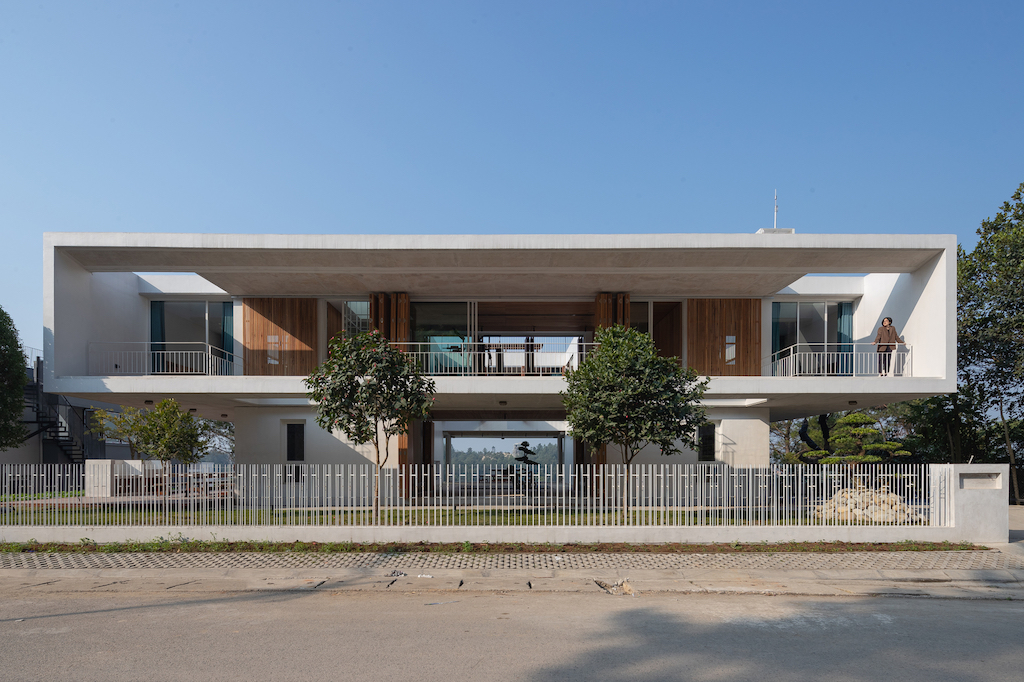 The house is spread on three levels with a simple architectural shape featuring three square boxes placed on top of each other that descend towards the valley. The biggest box is the second floor with dimensions of 22m x 22m x 3.3m. Ground floor and basement units are 16m x 16m x 3.3m. There is a void of 6.5m x 6.5m in the centre of the boxes where a fish pond is located on the ground floor.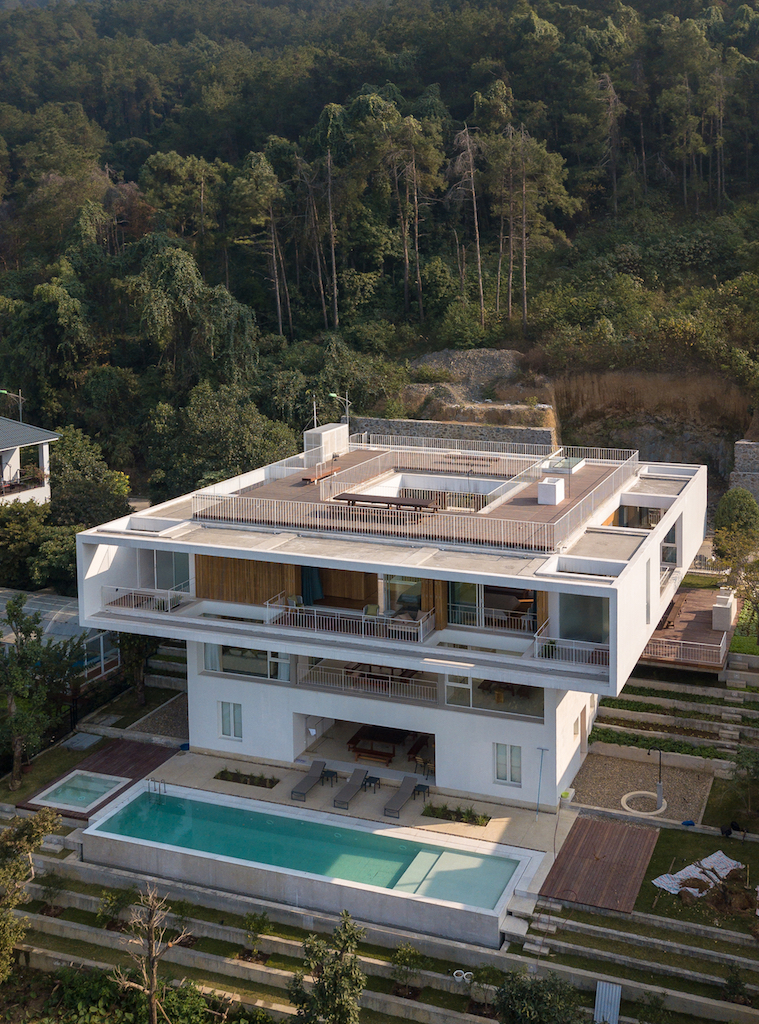 To ensure that the beauty of the valley and undulating terrain is visually unobstructed and can be enjoyed from all angles, the architects kept the entrance of the house at the foot of the mountain, while the main hall is on the ground floor, and the front and rear portions are extended and connected to the courtyard.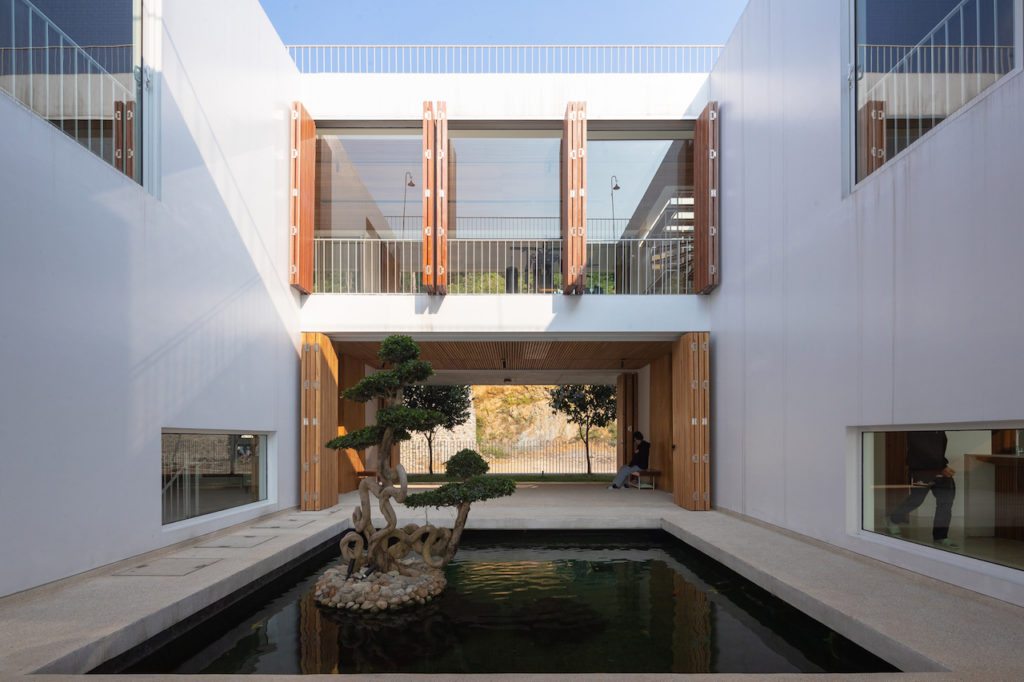 The courtyard and the pond are integral to providing a good cross-ventilation breeze in the house. The hall is designed open, is a place to sit down, have some tea, relax and feel the changing moments of the weather – the scenery, sunshine, and rain.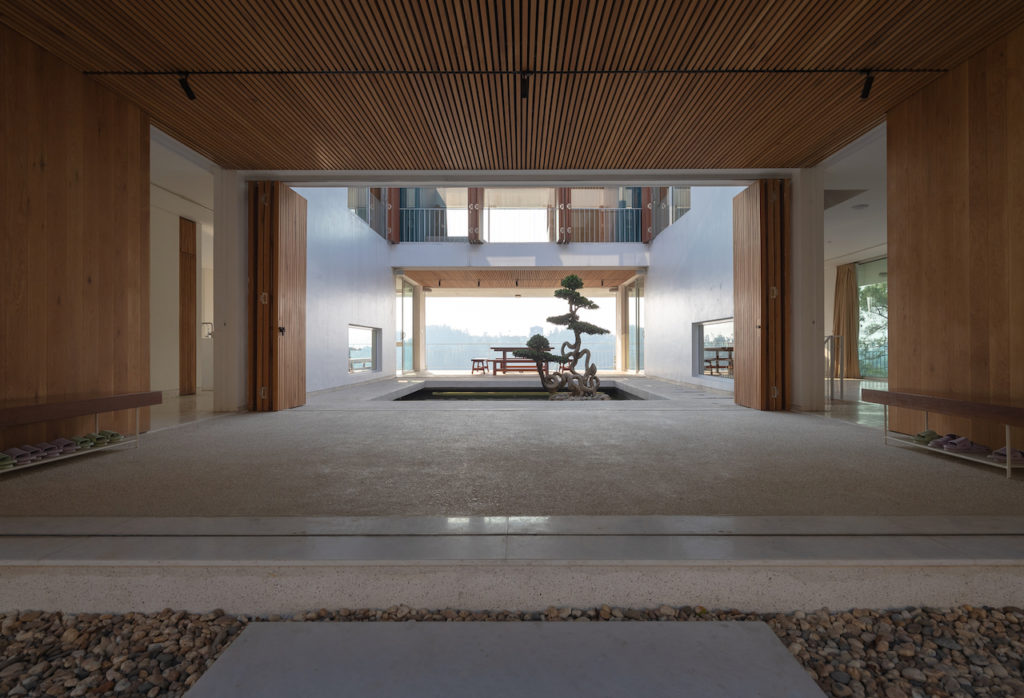 The ground floor is the reception area and the main kitchen connected to the outdoor BBQ area. The basement consists of two bedrooms with views of the valley, a bar area, and a wine cellar where people can watch the sunset and fish swimming through the large aquarium. The second floor accommodates the master bedroom and three other bedrooms.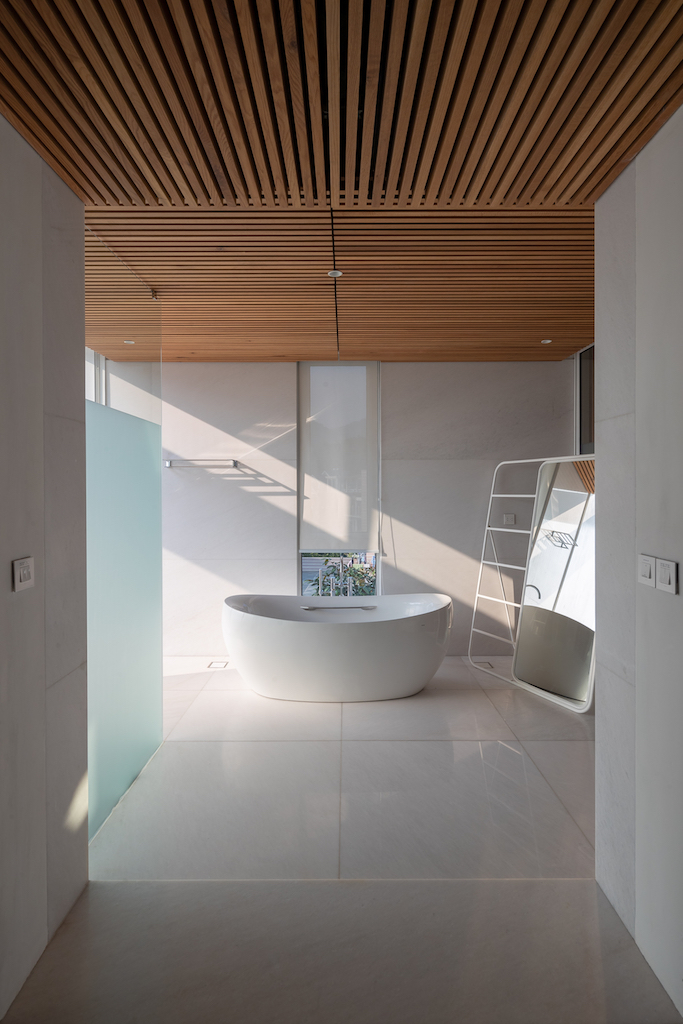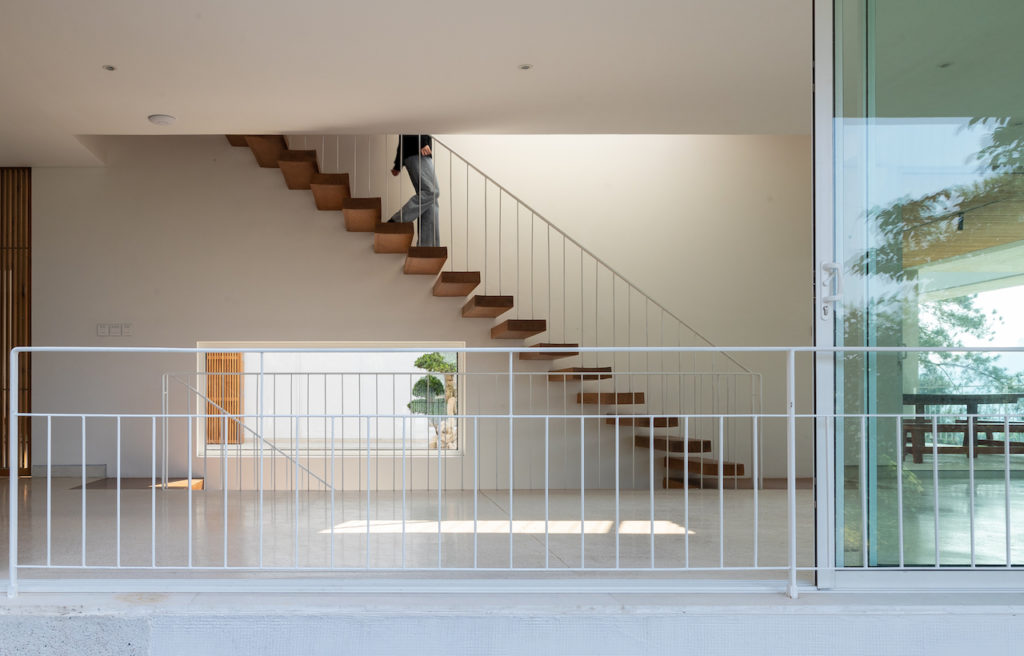 The void and solid spaces are interlocked to ventilate and get more natural light into every corner of the house. The views are penetrated through many layers of voids creating the depth of the space. The rooftop is a camping area where people can experience the early mist wafting across from the mountain to the valley and back.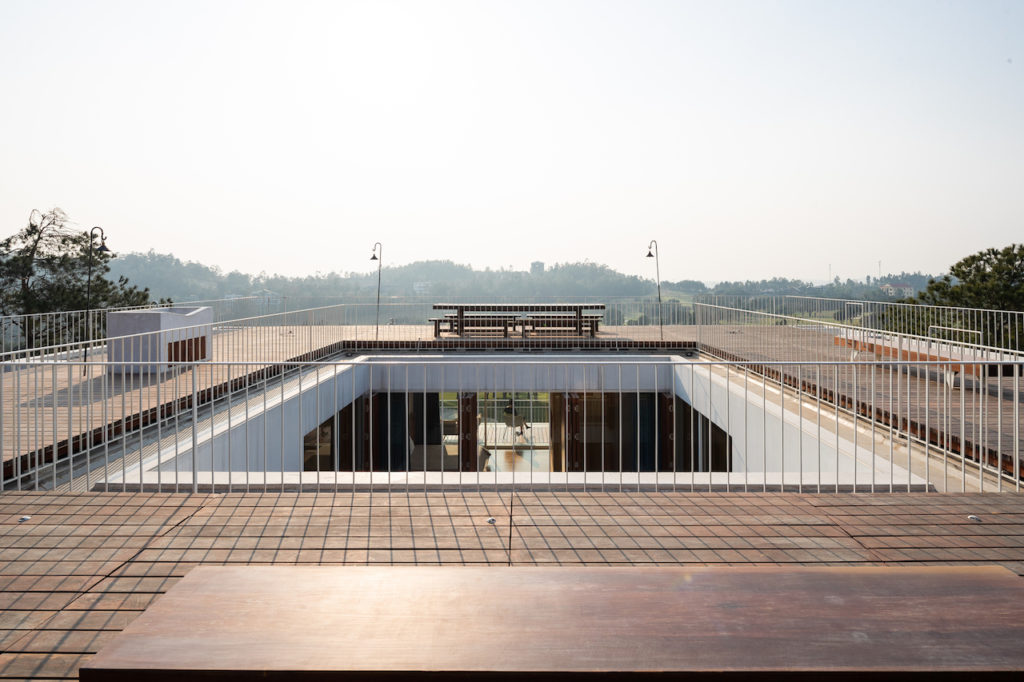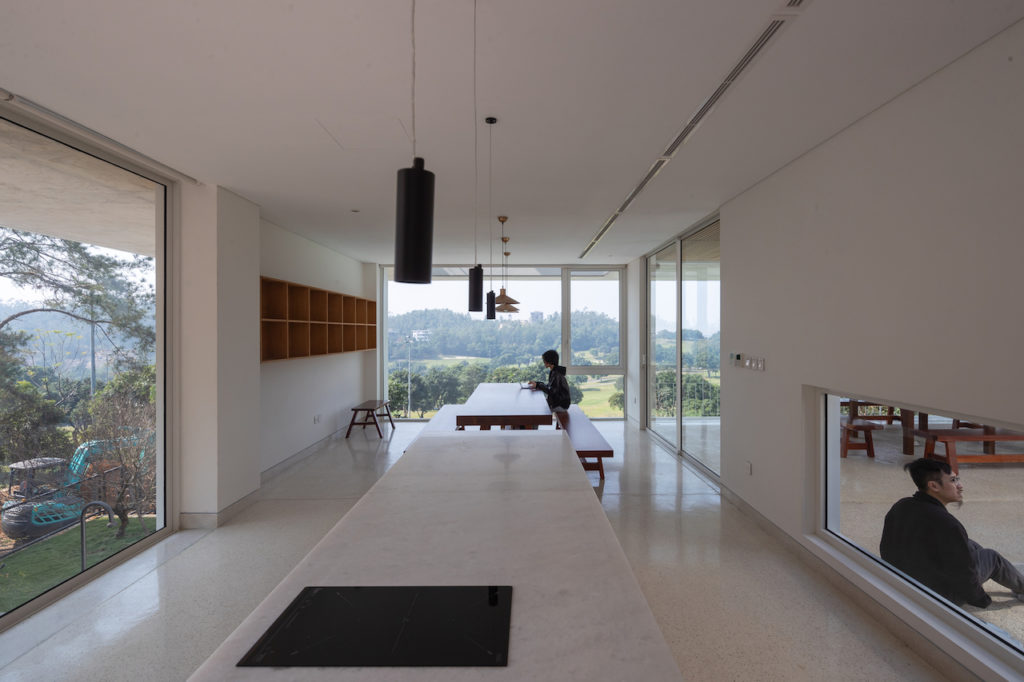 The long horizontal terraces are perforated to reduce the emphasis on overtly-lengthy spans, and to enhance the vertical view. These terraces also create the buffer space or blurred boundary between the indoor space and the outside scenery.
Architects: Tropical Space
Area: 484m²
Year of completion: 2020
Photographs: Trieu Chien
See the full image gallery here:
You might also like:
Tropical Space designs residence and cafe in Da Nang with three interconnected blocks using local clay bricks
Layered approach in Ho Chi Minh City by MIA Design Studio maximises space while surrounding it with greenery
Trần Thị Ngụ Ngôn and Nguyễn Hải Long of Tropical Space share how Vietnam's young architects embrace traditional materials to create modern architectural language