Design practice Atelier Waterside has renovated a cafe in Guangzhou called the Sigma Cafe that has been positioned as an important node for the local community, where residents gather at this cosy sharing space.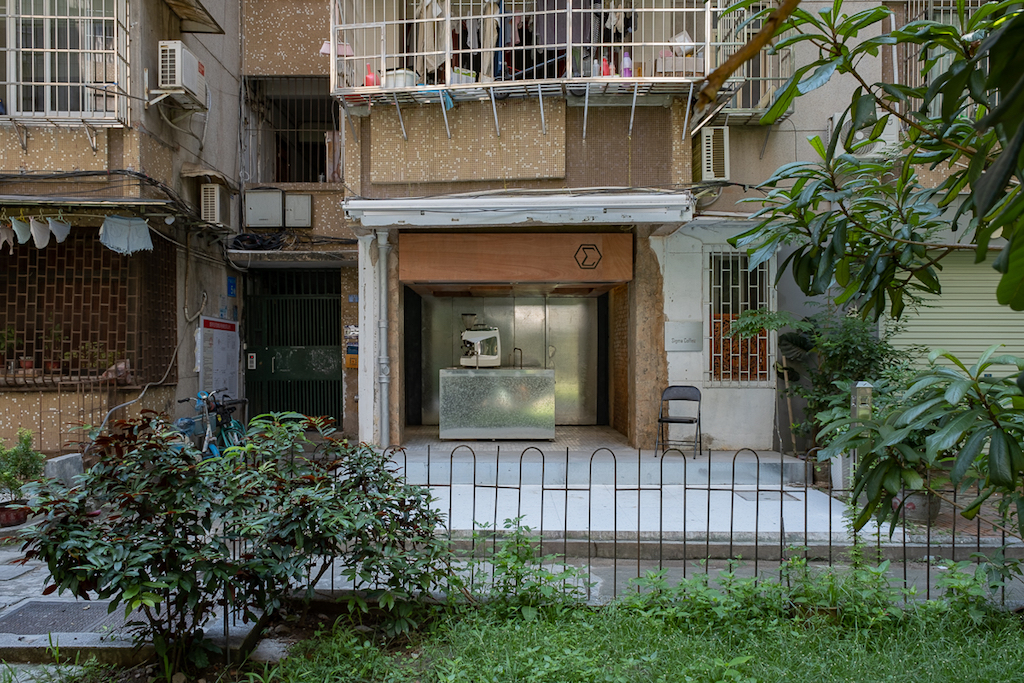 The scope of renovation lies in the north-facing living room separated from the original residential unit, located on the first floor of a collective housing estate. This eight-storey house, with a frame structure, is a part of the Tiyu Dong Community built in the 1990s. In front of the shop, there is a stretch of wild-grown grass. The architects carefully considered the introduction of the grassy scenery into the interior space, which formed the starting point of the design.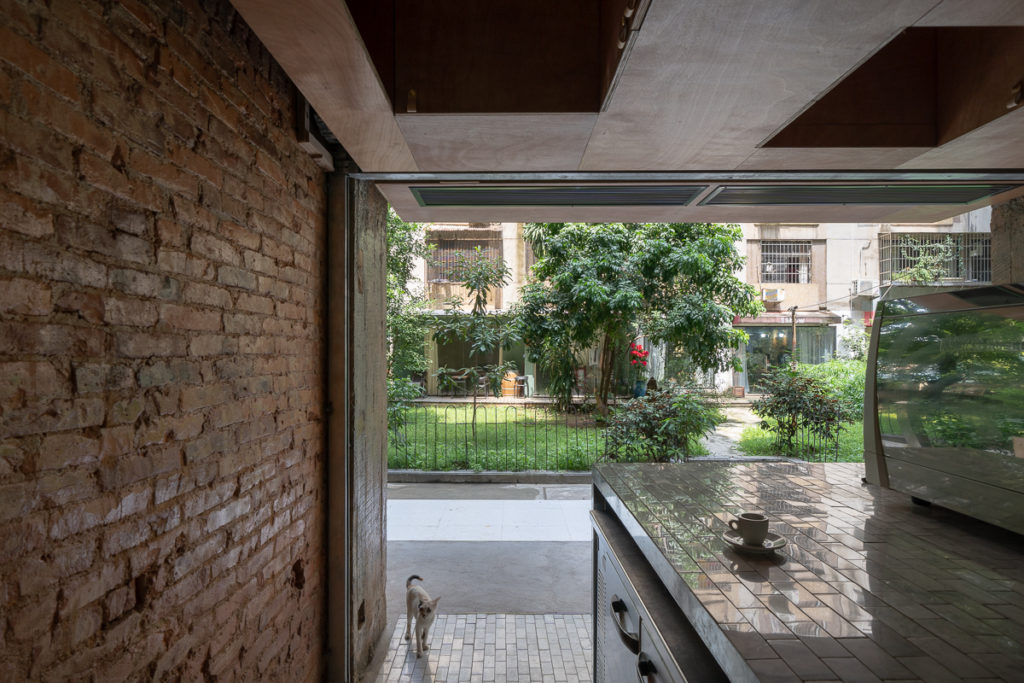 The design aims to respond to the outdoor grass by making use of the diffusion characteristic of the galvanised steel sheet, so as to create an indoor "landscape". The facade made of galvanised steel sheet lies in the partition wall of the rear kitchen and front room, and the landscape reflected by the facade changes with light and viewing angle. From the outside, it provides the illusion of a viewing window.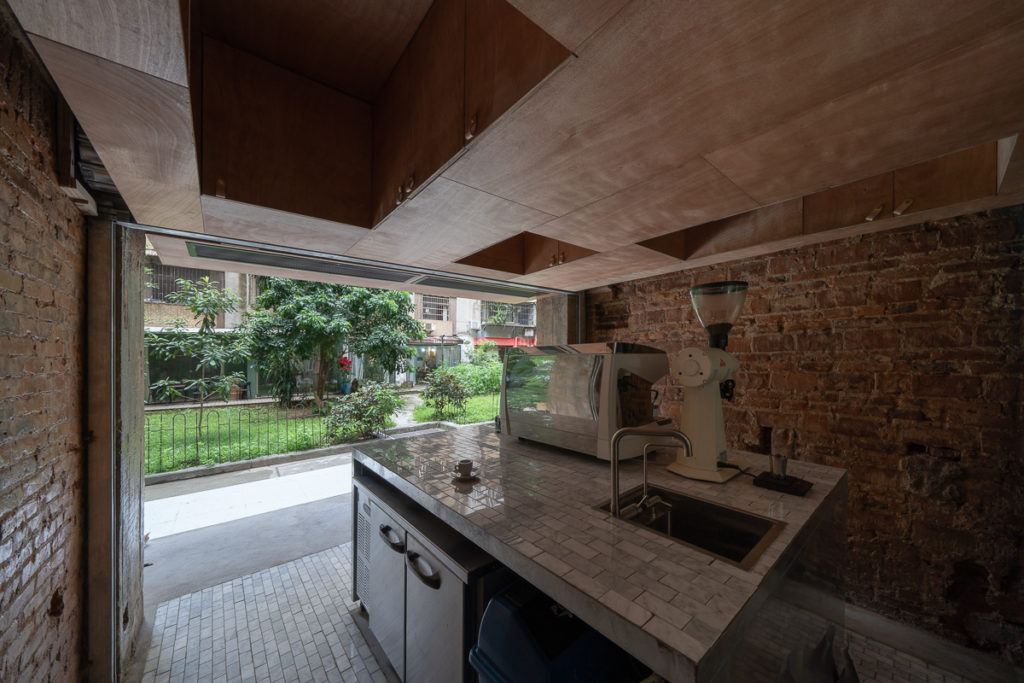 The design team removed the plastering layer of the original interior walls, exposing the brick walls and concrete beams and columns, in order to intensify their contrast with new materials. White natural marbles of similar size to red bricks have been used as paving to refine the texture of the space. The kitchen island raised from the middle of the ground accommodates coffee equipment, while also defining a spatial workflow, so as to obtain an open and sharing bar space.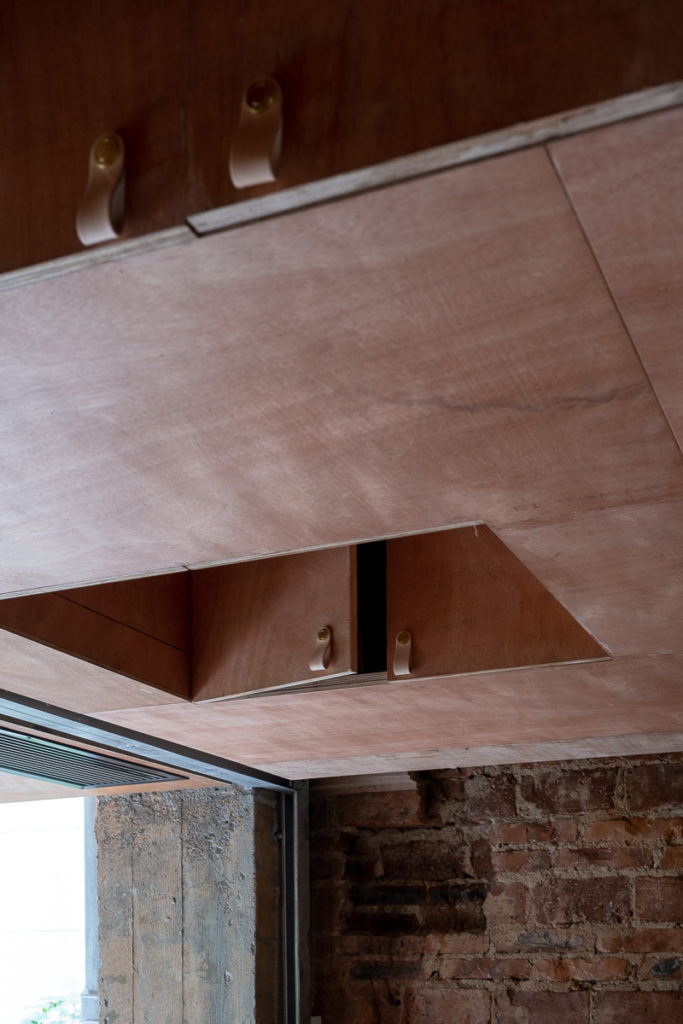 The wall cabinet made of plain plywood is suspended above the room, which serves as a storage space for lightweight materials. It extends outwards to hide the air curtain, and becomes the storefront signboard in the meantime. Galvanised materials are also specially selected as the material of the rolling shutter that safeguards the store. By doing so, passers-by are able to view the scenery reflected on the galvanised rolling shutter when the shop is closed.
Project details:
Architects: Atelier Waterside
Area: 15m²
Year of completion: 2020
Photographs: Chao Zhang, Yang Liu, Ziheng Peng
Designer: Yang LIU
Construction: Chen Weifeng's Team
Client: Guangzhou Ronghe Coffee Co., Ltd.
City: Guangzhou
See the full image gallery here:
You might also like:
ASWA architects designs tiny cafe with curved roof and asymmetrical gable in Bangkok
Onexn Architects creates a tiny 9sqm cafe in a former air-conditioner repair shop in Shenzhen that has impacted the entire street
Cafe by PHTAA Living Design maximises tiny space with built-in shelves in timber gate