Vienna has been conferred the Lee Kuan Yew World City Prize 2020 for reinventing itself for success in the 21st century without losing its distinctive identity as a capital of culture, music and history. In particular, Vienna has taken on a leading role in addressing the global challenges of climate change, and sustaining the highest quality of life for its inhabitants.
This edition of the Lee Kuan Yew World City Prize marks the 10th anniversary of the biennial award that has been jointly organised by the Urban Redevelopment Authority (URA) and the Centre for Liveable Cities (CLC) since 2010. The prestigious global honour recognises outstanding achievements and contributions to the creation of liveable, vibrant, and sustainable urban communities around the world. The announcement was delayed due to the ongoing Covid-19 pandemic.
The prize citation stated: "The Austrian capital is the epitome of a holistic planning approach that establishes a clear and shared vision that is succinctly summarised in STEP 2025, the Urban Development Plan of Vienna. Before the framing of this plan, the city had completed a 21-kilometre-long flood protection channel in 1989 that now doubles as a closed water body for recreational activities during non-flood times and a large public park for everyone in the heart of the city."
The judging process highlighted three important criteria that recognise Vienna's people-centric urban planning programmes.
ENVIRONMENTAL STEWARDSHIP
Aside from integrating technology to achieve long-term environmental objectives, the city has embarked on consistent and far-sighted climate-sensitive action to address and mitigate the impact of climate change. For example, the Urban Development Plan of Vienna, also known as STEP 2025, sets out plans to create more open and green spaces that can contribute to the reduction of the Urban Heat Island effect. This follows the city's previous efforts to protect against climate challenges. For example, Vienna has adopted a steady series of flood protection measures since 1884 – one of which would be the construction of New Danube, a 21-kilometre flood bypass channel, in 1989. The environmental stewardship improved the flow and water quality of the Danube not only within the city, but also for the surrounding region. This has led to even stronger links among the city and neighbouring areas in meeting environmental goals while also generating a more competitive regional position in international markets.
The Smart City Wien Framework Strategy initiated in 2011 is an exceptional, overarching blueprint that guides the sustenance and advancement of Vienna's distinctive high quality of life. The city has taken an enlightened view in integrating emerging technologies within the goals of the Strategy – which emphasises Quality of Life, Resource Efficiency and Innovation – by harnessing technology as an enabling tool to achieve long term social and environmental objectives.
PROMOTING LIVEABLE AND HEALTHY COMMUNITIES

To create a variety of new infrastructure and affordable housing choices for its people, Vienna embarked on large urban redevelopment projects in Aspern Seestadt and Nordbahnhof. In these new urban centres, Vienna's residents are connected to their workplaces and recreation nodes by active mobility networks, as well as an extensive network of affordable public transit options. This has encouraged a shift towards more eco-compatible modes of commuting around the city, such as walking, cycling, and public transport.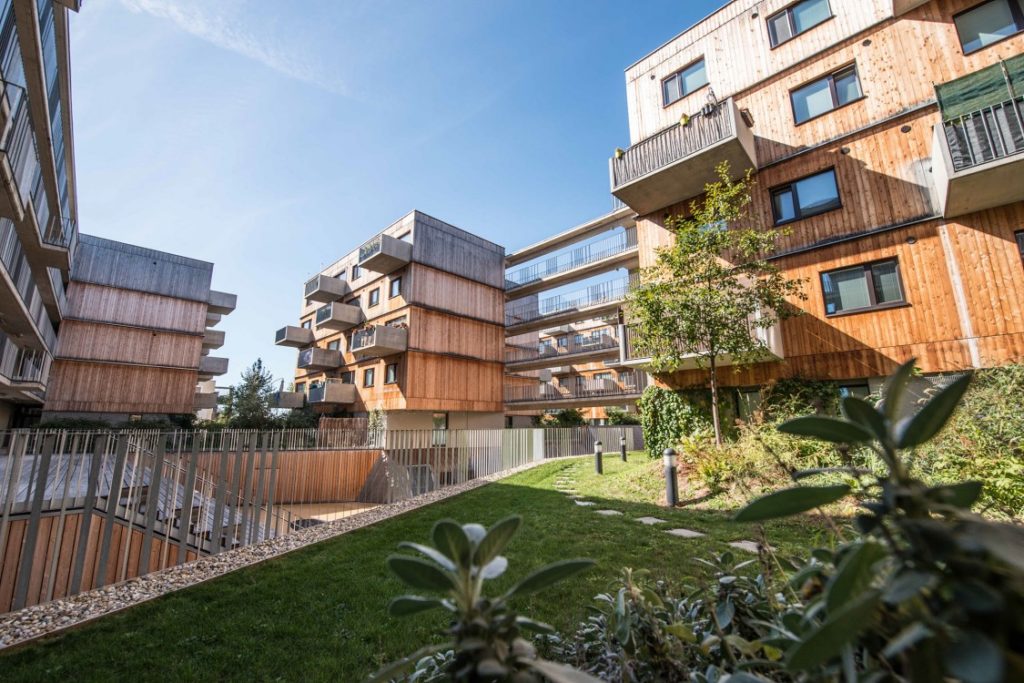 Vienna has earned a singular reputation for its commitment to social housing which began in the mid-19th century and continued through to the present day. The city is creating a broad variety of affordable housing choices and new communities as demonstrated in the redevelopment of Aspern Seestadt and Nordbahnhof.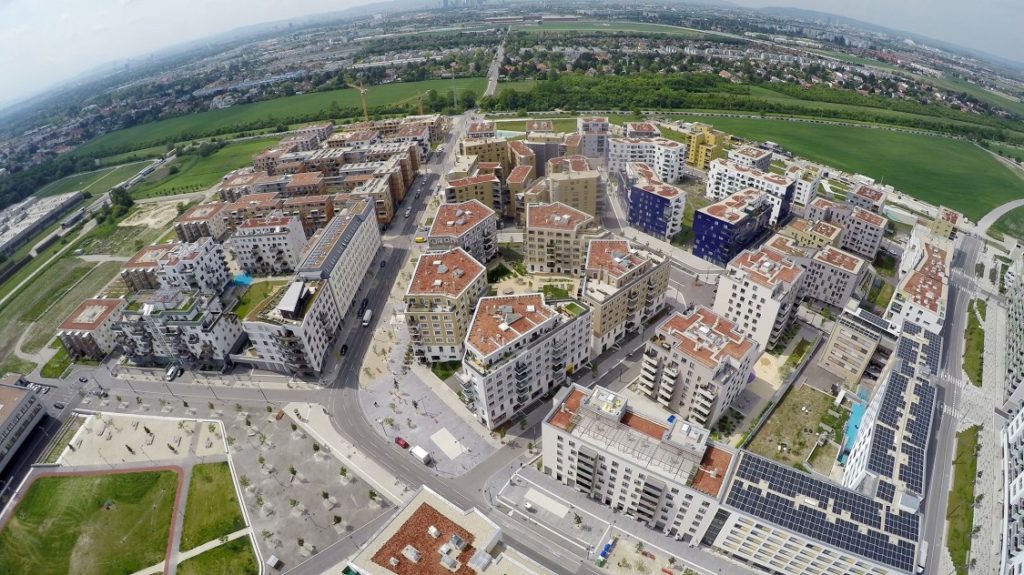 The active promotion of cycling and walking is complemented by an extensive public transit network that presents a wide spectrum of commuting options in the form of metro, trams, and buses. By setting the price of an annual public transportation ticket at a very affordable €365, or €1 per day, more people have chosen to give up their cars. As of 2018, there are more people owning an annual public transport ticket than a car. Today, to get around the city, 28 per cent of inhabitants walk, 7 per cent cycle, 38 per cent use public transport, and 27 per cent use motorised transport.

STRONG CITIZEN AND STAKEHOLDER ENGAGEMENT

Vienna's commitment to a participatory development process has cultivated a shared vision and durable culture of cooperation. For example, the city provides various platforms for its citizenry to shape public spaces. One such platform is the Grätzloase (Neighbourhood Oasis), a ground-up initiative that transforms parking lanes into parklets for vibrant community interaction. 
Vienna recognises the importance of social integration and thus puts the needs of its inhabitants at the forefront of priorities. The substantial efforts of the city to involve citizens and stakeholders in its development process from an early stage is applaudable. Creative ground-up efforts in the form of initiatives such as Grätzloase (Neighbourhood Oasis) provide platforms for citizens to shape public spaces, for example by transforming parking lanes into parklets that serve as communal anchors. The modest scale of these individual projects has considerable impact in helping to establish a durable culture of cooperation at the community level that complements the broad vision for Vienna and its region.
In addition to an award certificate, Vienna will receive a cash prize of S$300,000 and a gold medallion worth S$50,000. This Prize is sponsored by Keppel Corporation.
City profile
| | |
| --- | --- |
| Mayor | Dr Michael Ludwig (2018 – date) |
| Area | 414.9 km2 |
| Population | 1,888,776 people |
| Density | 4,553 per km2 |
Three cities have been selected as the 2020 Special Mentions to showcase their good and unique urban practices.
Antwerp shows that its strategic projects can help to rejuvenate the city, Boston exemplifies a whole-of-society effort to transform the city, while Lisbon demonstrates a dramatic resurgence over the past decade.
Representatives from Vienna and the three Special Mention cities will also be invited to celebrate their achievements and share their unique urban initiatives and experiences at the Lee Kuan Yew World City Prize Lecture and Forum, which will be held in conjunction with the Summit that will take place from 31 July to 3 August 2022.
You might also like:
French academic Carlos Moreno's 15-minute city plan wins OBEL AWARD 2021
Singapore Deputy Prime Minister highlights why cities will remain relevant during World Cities Summit and suggests solutions
Ben van Berkel: Urban density as we knew it will change but by 2050, 70% population will live in cities