This beach cafe called the Whale Island cafe on South Korea's Jeju island was designed by architect SeoYun Jang of Design Lab so S.O Architects for a client who wanted to create a retreat where coffee, music and nature would collide. As one of the country's most popular vacation spots, the cafe's location offered considerable advantages. The site – located at the western end of the island – provides a spectacular view of the sunset looking towards Cha-gui-do (also known as Whale Island).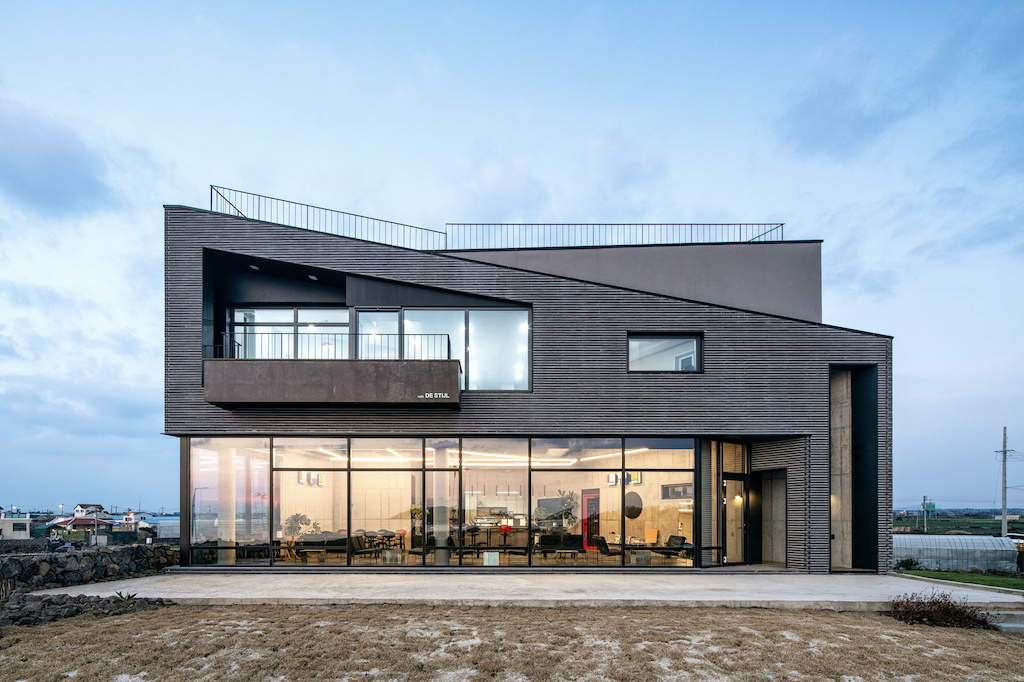 The sunset view was fundamental to the 245m² project, so the architect proposed an open trapezoidal building looking towards the island. As a result, all the indoor spaces, as well as windows allow people to look and experience the island with a different perspective from each of the spaces.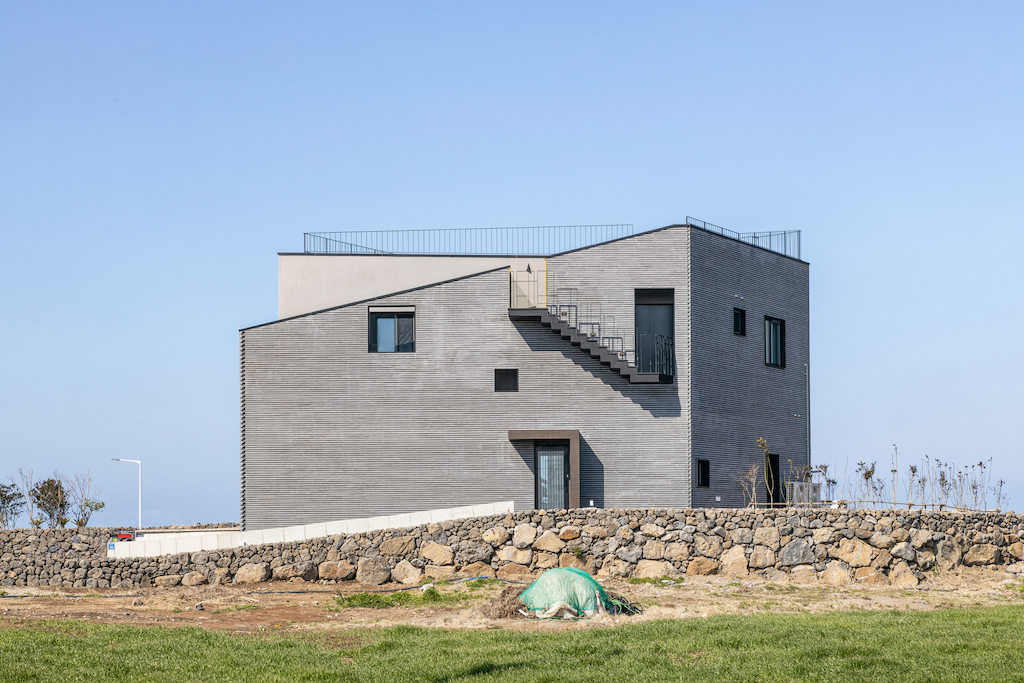 In addition to the island, different landscapes are revealed in every direction on the site, and we wanted to make people experience all of them. So at first, Jang imagined a structure spread out on the site, but the legally defined building-to-land ratio was limited to 20% and the height of the building was 10 meters, and the budget was not generous. The client, too, did not want too long a line of movement and spread-out buildings. However, the sequence entering the building left traces of the entry ramp, and the landscape in various directions was made to experience through the stairs leading up to the rooftop viewing space.
The inclined masses, which overlap with each other, create a three-dimensional shape like the Whale Island, and allow people to wander between the layers to enjoy views and spaces. The basic exterior material is a vintage black cement brick that resembles the unique black basalt on Jeju Island. In addition to bricks, exterior materials such as exposed concrete, stucco and hot-rolled steel plates have been selected as external materials that produce natural textures over time.
The client expressed his preference for De Stijl concept of the cafe, but not in the strictest sense, so Jang decided to use only De Stijl's colors such as red, yellow, blue, and black as accent points throughout the project.
You might also like:
Tropical Space designs residence and cafe in Da Nang with three interconnected blocks using local clay bricks
Radius Interior Design Studio creates skateboard-inspired cafe in Taipei
RJDL Architects designs infinity-shaped cafe within reused shipping containers in India
The rooftop space was also an important aspect of the project for the client. With such scenic views as the sunset, Mt. Halla, and windmills, the rooftop became a nodal point. However, for Jang, the journey to the rooftop also needed to be equally impactful in the experience it provided. The architect created an interesting upward movement without exposing the house that also sits on the site.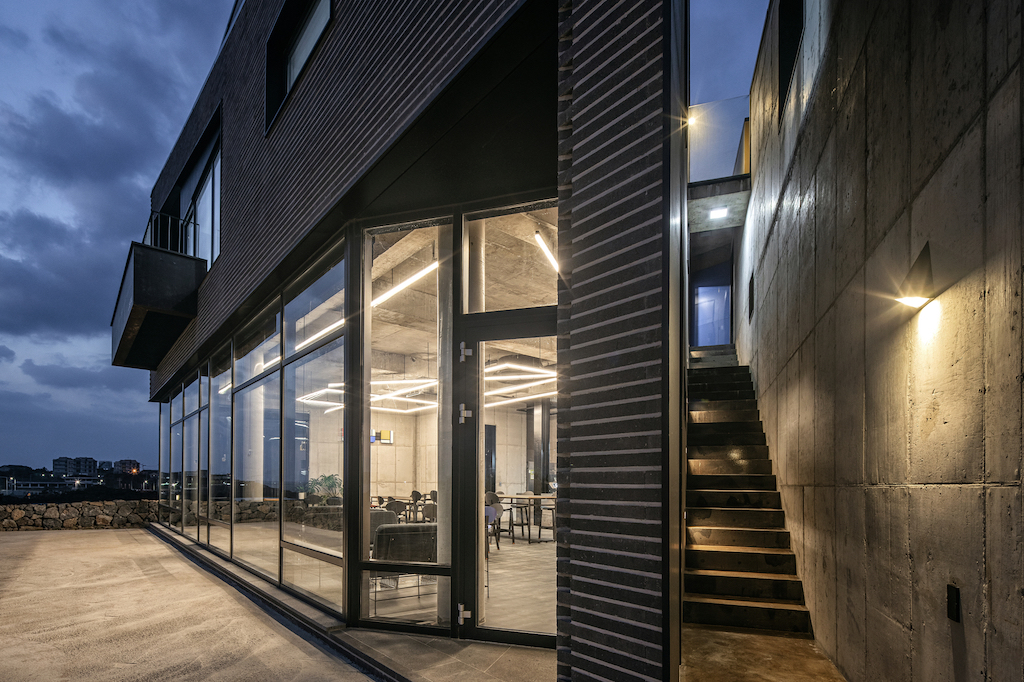 Revealing only just enough, and creating more intrigue, Jang leads people through this space in offering controlled views and sight until they get to the expansive rooftop. "We hoped that every time people turned around, they would meet a new landscape that unfolded, and feel a completely different sense of space every time they raised their heads or bowed down," Jang explains. "Also, we expected that the sudden appearance of the window, the aerial stairs right after passing between the dark and high walls, and the view of stairs below and the ocean at the other spot on the way, would present a sufficiently dynamic sense of space."
See the full image gallery here:
Photos: DongKyu Yoon