Ludovico (Vico) Magistretti, one of the most influential Italian industrial designers, was born in Milan on 6 October 1920. He came from a family of architects: his great-grandfather Gaetano Besia built the Reale Collegio delle Fanciulle Nobili in Milan; his father, Pier Giulio Magistretti, was involved in the design of the Arengario in Piazza del Duomo. Vico went to Parini High School followed by the Faculty of Architecture at the Royal Polytechnic in Milan.
He moved to Switzerland in 1943, where he studied at the Champ Universitaire Italien in Lausanne, taught at the local university.
During his stay in the Swiss city he met Ernesto Nathan Rogers, the founder of the BBPR firm who had taken refuge in Switzerland after racist laws were passed in Italy. This was a key encounter in Magistretti's intellectual and professional development, since the architect from Trieste turned out to be his maestro.
"TO BE TRULY CONTEMPORARY, ONE MUST ALWAYS HAVE A HAND IN THE PAST AND A HAND IN THE FUTURE." – VICO MAGISTRETTI
He returned to Milan in 1945, where he graduated in Architecture from the Polytechnic. He then immediately began his career working with the architect Paolo Chessa at the firm owned and run by his father, Pier Giulio, who passed away that same year.
Magistretti was one of the founding fathers of so-called Italian Design, a phenomenon which he himself described as "miraculous" and which only happened thanks to the coming together of two key players: architects and manufacturers.
He began working with some exceptional manufacturers from the end of the 1960s, including Artemide, Cassina and Oluce, designing objects for them which are still "classics" of modern-day production.
Here, in his father's small firm, he spent his entire career in partnership with just one extraordinary character, the surveyor Franco Montella, working exclusively on creating the basic concept for projects within the firm and then delegating their technical development externally (engineers and technicians).The Carimate armchair honours Magistretti who designed the original red Carimate in 1959 for the golf club Carimate in Italy.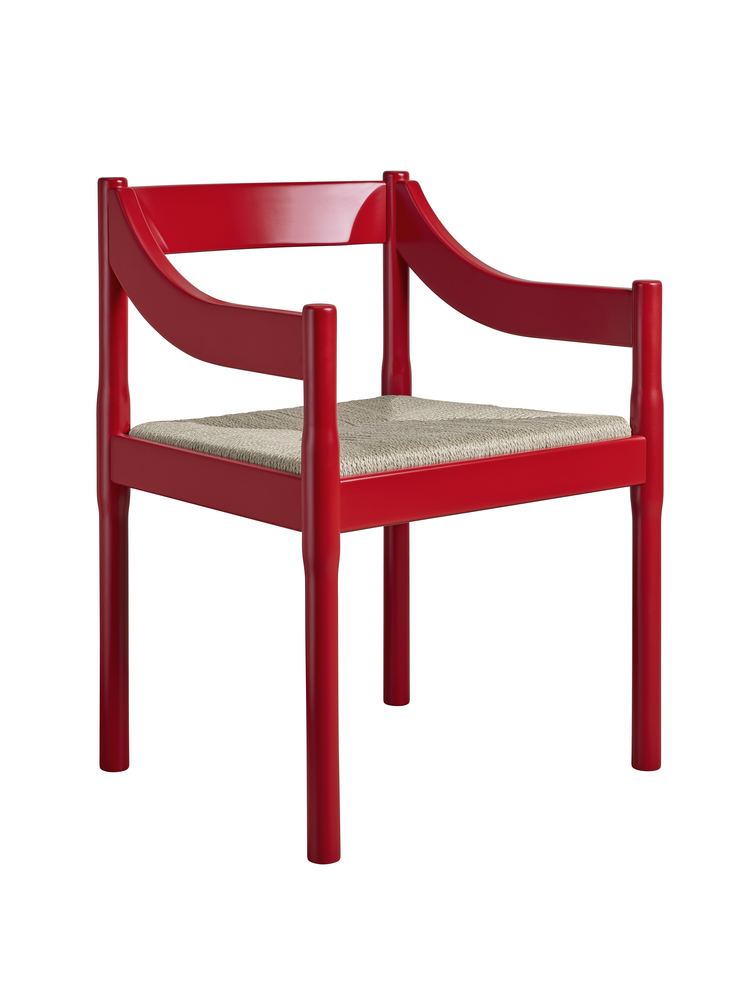 To honour his memory, the details of the anniversary edition by Fritz Hansen specially stand out. The flag line seat is inspired by the original straw seat, honouring the original aesthetic, without risking the organic decay associated with natural straw. Fritz Hansen has used European, GMO-free flax for the flag line – 110 meters are woven by hand to create the beautiful, organic seat.
Small changes to the seat height and backrest design have been made for comfort. And the chair is available in red and black lacquer to honour earlier versions of the design. Every chair is individually numbered on a brass plaque under each chair for authenticity and longevity.
You might also like:
Founder of London's Design Museum and iconic furniture brands, Sir Terence Conran, dies aged 88
Nendo designs retail outlet for skincare brand in Tokyo using biodegradable and recycled materials