TOUCH Architect has designed a 265m² single-detached house in Thailand's northeastern Tambon Thepharak district. As per Thailand's building regulations, the minimum land size for a single-detached house is 200m². This small single house belongs to a recently-married couple who wanted a modern house with all the functions and space-wise to consist of three-bedrooms, and two-bathrooms.
The team of architects led by Setthakarn Yangderm and Parpis Leelaniramol, and assisted by Pitchaya Tiyapitsanupaisan and Tutchakorn Jumreiang, considered a few scenarios for the house. While a square-shaped plan fits perfectly on square-shape land, and generates most utilised functions, it also wastes more circulation space.
On the other hand, a linear layout cannot perfectly fit on the square-shaped land, even though a single line circulation path helps to eliminate any unnecessary construction area. Deriving a balance between the two forms, and the restrictions involved, a bending linear massing is formed in order to create the most efficient space with less circulation area that fits well on the site.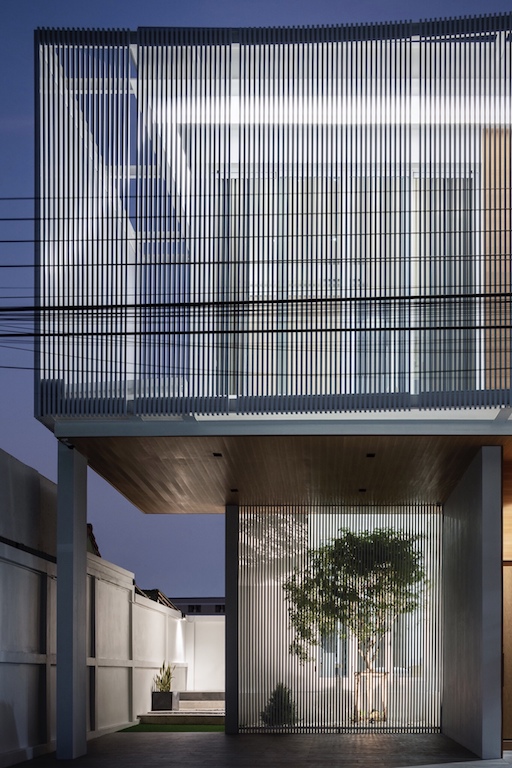 You might also like:
Full Scale Studio designs villa in rural Thailand with floating staircase in courtyard
Ta-Cha Architects designs a holiday residence inspired by traditional Korat Houses of northeastern Thailand
Low footprint Bangkok residential project by Ayutt and Associates Design aims to generate self-sustainable ecosystem
There are two l-shaped blocks for massing design, intertwined with each other, with one of them stacked upon another. This creates void space in between the two, which is used for a green area. In other words, the pre-existing tree is enfolded by the house. The massing defines a circular path that creates a circular spiral way – extending from the entrance until the upstairs rooftop area. Since all functions surround the centre courtyard, each step moves past the green area, allowing the residents to feel closer to nature.
The architects also considered the impact of hot tropical climate on this small house. The addressed this by creating heat avoidance elements on two sides. The first one is the 'Bending shading device' which is provided at the front part of the house. It helps reduce heat and creates more privacy for the bedroom on the second floor. The staircase is on the southside, which helps to block heat for the living area. Moreover, the trees are planted along this orientation. Durable materials have been used such as aluminium trellis together with substituted material which is wood plastic composite instead of using an authentic one, in order to lower maintenance costs.
See the full image gallery here:
Photos: Chalermwat Wongchompoo