Daita Project by architect Ryuichi Sasaki of Sasaki Architecture is a 536m² residential complex comprising 16 apartments located in a quiet residential area close to a main road in Setagaya-ku in the western part of Tokyo. The site is located in a hilly area dotted with L-shaped mansions surrounded by trees.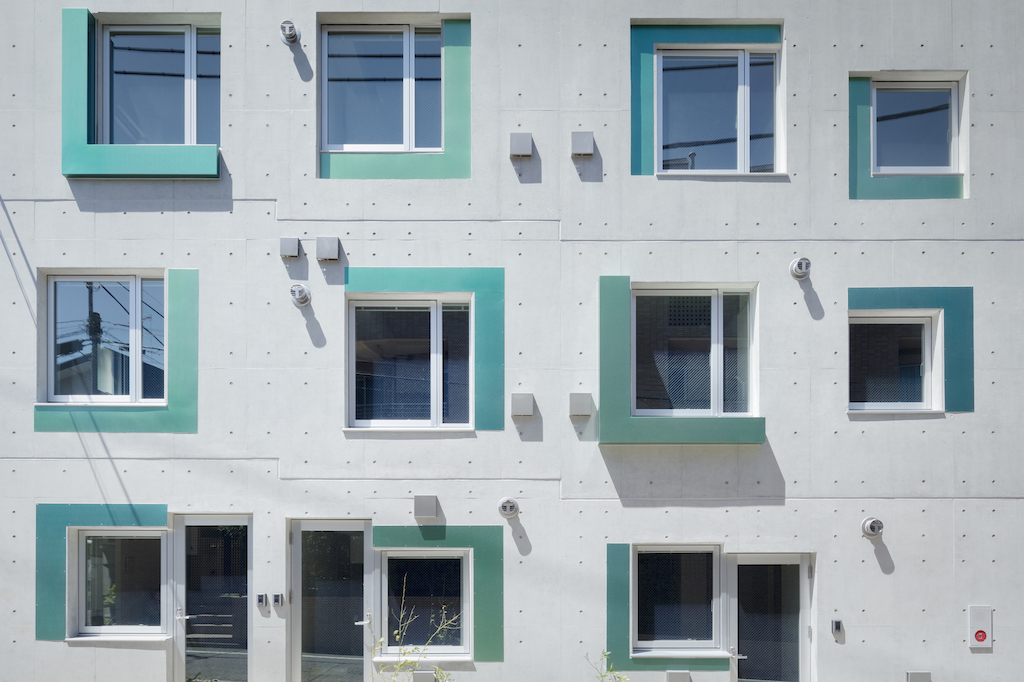 An L-shaped space was created resembling the nearby mansions. Plantings are used at the building's exterior reflecting the nearby natural green spaces. Three maisonette units face the street and step in relation to the natural slope of the property. The upper floors use the height difference provided by this slope to create a diverse sectional profile. The dwelling units span the depth of the site and access the surrounding scenery which resembles the natural landscape surrounding the nearby mansions. This access to nature is felt and experienced by utilising the different heights of the dwelling units.
L-shaped coloured stainless steel openings are scattered along the facade penetrating the outer and inner wall surfaces creating a feeling reminiscent of the surrounding green area and references the existing trees nearby. Studios are arranged above the maisonettes and their ceiling heights gradually change along the sloping street while the roof follows in kind. This provides a diverse collection of spaces within the cross-sectional volume of the building.
The dwelling units combine a simple design with little wasted space which allows for a variety of flexible configurations. This is expressed by the contrasting white paneled and bare concrete walls. A series of steps within each of the spaces create a relationship where living, dining and bedrooms can be changed by the residents. In addition, an L-shaped self-supporting wall has been designed to be used as a walk-in closet or perhaps as a compact PC booth.
A playful use of materials and spaces based on a minimalism related to the nature of the site provides a richness to this special experience. A dialogue between the existing architecture and surrounding area is established through the use of colour, plants and the physical form of the residence.
See the full image gallery here:
Photos: Takumi Ota
You might also like:
Japan's DOG Architect designs small house and artist studio with sloping roof that provides view of artwork display wall
Hearth Architects designs wooden house with two separate delta roofs in Japan's Koga-shi town
Aoa architects designs house on compact site in Seoul with new typology of urban living