Award-winning interior architect Pallavi Dean, founder and creative director of Dubai-based Roar design studio has revamped one of the emirate's most popular Lebanese eateries – Mezza House – in the Downtown Dubai precinct. The concept draws its inspiration from the Yarmouk River Valley – a small but diverse ecosystem that forms part of the border between Syria, Jordan and Israel. Keeping in mind the restaurant's gourmet offerings from the Levant region, Dean has conceptualised a contemporary interior that takes cues from the region's cultural diversity.
"I have been a fan of Mezza House since it opened in the early 2000s. We wanted our design narrative to tell the original story of this iconic Downtown restaurant and retain its legacy, yet reimagine it for the next decade." – Pallavi Dean, founder and creative director, Roar
Dean shares that Yarmouk Valley was the point of reference during concept development. "This is where Jordan meets Syria, where the lush riverbed rises up to meet the jagged mountains, and where summer meets winter. It is also a designer's dream: the landscape offers an incredible array of textures and colours as inspiration. Our client wanted to redefine what a contemporary Levantine restaurant should look and feel like in Dubai today so we thought the Yarmouk River Valley with its vast diversity has the perfect
connotations," she says.
The inspiration is evident in the black iris flower motif seen on the wall for which Dean commissioned a local artist who hand-draw the flower pattern on the walls and developed the plasterwork, giving them an exaggerated embossed look while drawing parallels between the walls and the valley.
In terms of spatial planning, the restaurant is organised as a series of naturally flowing areas rather than one open-planned space, keeping it varied and imparting elements of interest at every point. One of the highlights of the redesign is the labyrinthine network of golden pipes that runs across the restaurant, unifying the space visually as well as mapping out the guests' journey.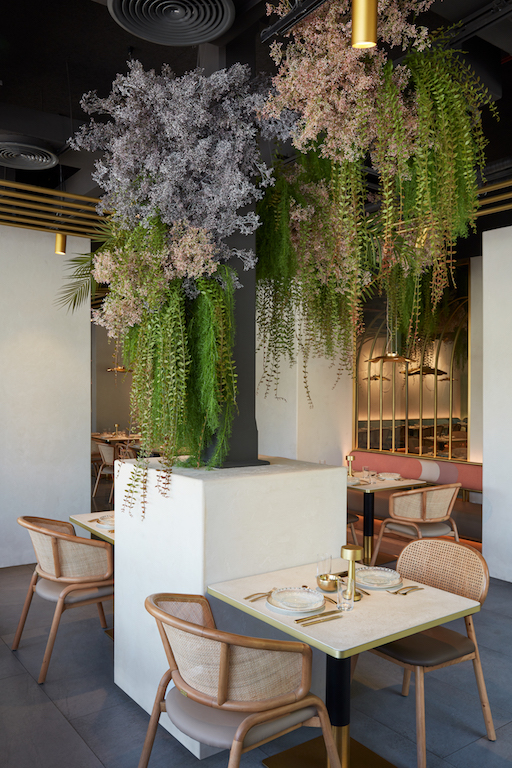 One of the recurring themes in projects undertaken by Roar is an emphasis on biophilia. As an early champion of biophilic design, Dean has referenced this principle throughout the restaurant – from the rattan furniture to wall coverings and floral arrangements suspended from the walls and ceiling.
The use of a soft palette – rose and green – immediately recalls the varied hues of flora found in the Yarmouk River Valley, such as the pink tones of the Anatolian Orchid and the green notes inspired by the leaves of the emblematic Atlantic pistachio tree that is found in the valley.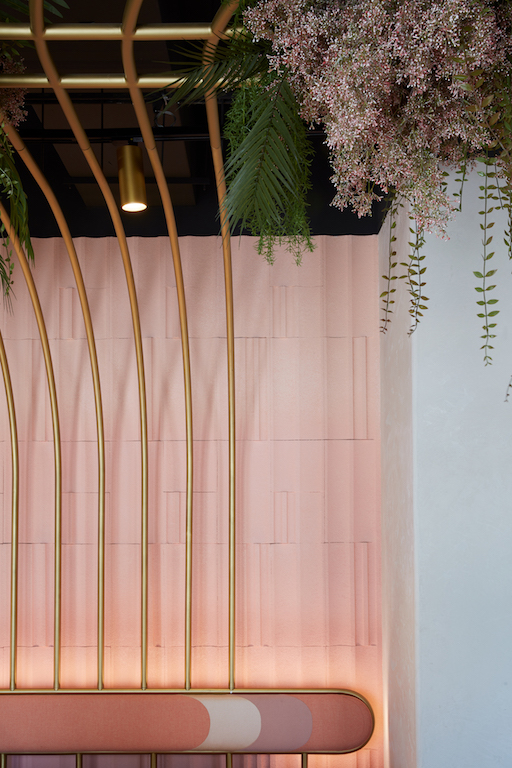 "Ombre or colour gradation is present throughout – once again a theme we have borrowed from nature. If you stand at the bottom of the Yarmouk River Valley and look around your feet, you can see the vibrant colours of the grass, the plants and the shrubs. As you gradually raise your eyes to the skies, the palette changes to the more neutral grey and beige rocks at the top of the mountains. The textures also shift from soft, smooth and round to rough, jagged and angular. We deliberately incorporated these contrasts all around Mezza House, from the back of the seats to the art on the wall."
See the full image gallery here:
You might also like:
A Day In The Life Of: Pallavi Dean
Lenz Architects designs fine dining French restaurant in Almaty fusing brute industrial structure with glamorous interiors
Hitzig Militello Arquitectos design London pub-inspired restaurant in Saudi with brick mashrabiya