As businesses prepare to resume operations, designers and architects are rethinking workplaces and setting the guidelines for the "new norm". The office of the future was already a much-debated topic up until the ongoing covid-19 pandemic upended all forecasts and trend predictions. What we are now facing is a utopian world that will push designers to recalibrate the way they approach office design. DE51GN speaks to Jeremy Kumala, senior associate design at leading global business and commercial design consultancy practice, Unispace. The practice has recently designed the corporates offices of Carlson Wagonlit and Anaplan in Singapore.
What do you think will be the major outcomes or lessons learnt from this pandemic? 
Jeremy Kumala (JK): Most businesses have gone through some form of digital transformation over the past few months, which has completely changed how and where we work. It felt like overnight we were scrambling to invest in technology, set up home offices, and update policies and protocols. 
As managers, we have had to let go a little and trust our employees which has led to more autonomy over our working hours. We have also learnt that while there are some great positives to working from home, there are also some aspects that are frustrating. So, I think we are now all questioning how we move forward and how we can combine the best of both the home and the office.  
"Pre-pandemic, we spent about 90% of our focus time in the office and about 10% at home. Post-pandemic, this will likely be flipped on its head with more people choosing to spend their focus time at home." – Jeremy Kumala
 
What can we imagine the future of workplaces to be like? Will it go back to individual cubicles? 
(JK): If you have seen the 1967 film Playtime by Jacques Tati then you will be familiar with this image. It was once a futuristic vision of the office and it is quite ironic. While comical, to me this doesn't represent progress – nor is it viable! People should always be at the centre of our designs. 
A "blue-sky" project Unispace delivered pre-pandemic is more in line with how I see workplaces shaping up in the future. It blends high-tech functionality with the comforts of home to create "a destination of choice".   
For Australian energy company Woodside, we created a campus that challenged the traditional notions of how a workplace should look and function. It has a strong focus on wellness, social connections, collaboration, and focus.  
The tower has 32 floors and has more than 60 different spatial configurations, including a family-friendly level. Children can do homework or play while their parents work nearby. There's also an interactive games zone with Playstation, retro arcade games, table tennis, pool and foosball.
On level 14, there is a knowledge zone with digital and traditional libraries, a multifaith prayer room, parenting suites, and a mindfulness area. The workplace caters to different work modes, with quiet rooms, armchairs, sit-and-stand desks, and glazed meeting rooms. And if that's not enough, there's also a rooftop pool. 
How can firms leverage technology to optimise their often-pricey real estate while also providing a conducive workplace for their employees? 
JK: The most basic barrier is lack of bandwidth. Workers need decent access to the internet otherwise they may struggle to use other tools, apps, and other platforms you're providing. Embracing cloud-based technology is important for scalability and business continuity.
It allows you to easily scale up or down your operations without having to purchase expensive server hardware or demand additional space for large server rooms. In terms of hygiene, the idea of the 'contactless office' is gaining momentum and helping to boost worker confidence when returning to the office.
Landlords and businesses have been upgrading their facilities to include motion sensors at entrances and in communal areas like bathrooms and kitchens to eliminate the need for workers to touch common surfaces such as taps and door handles.  
We also expect to see an increase in workplace apps – initially to help people transition back to the workplace and book their seat for the day, but also to track people down for those face to face encounters.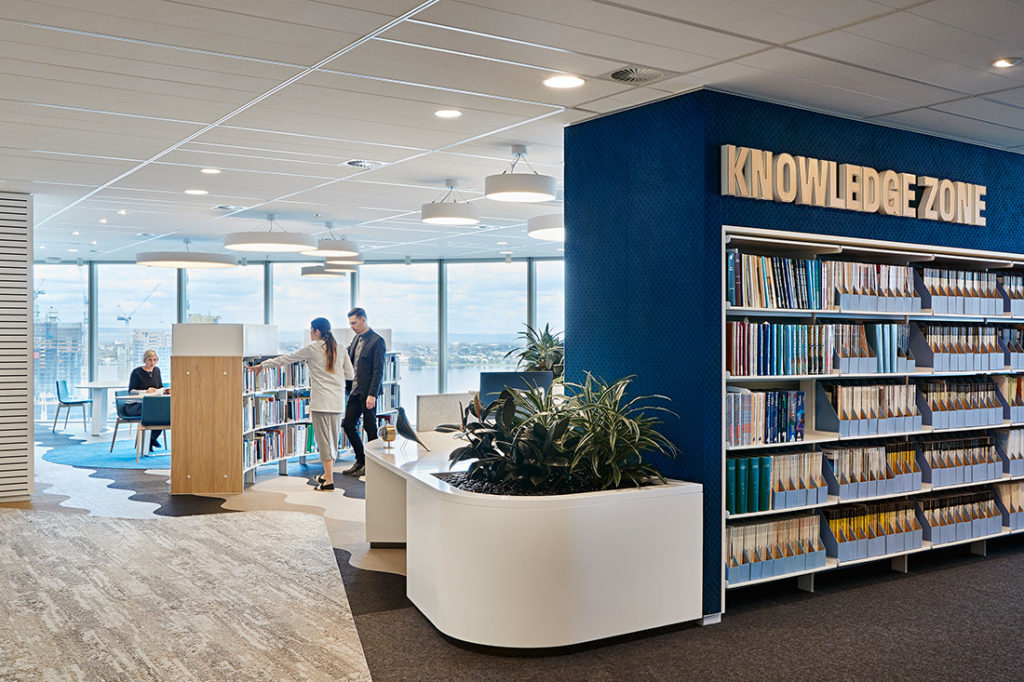 What can businesses that require a high degree of collaborative work across teams expect in terms of spatial functions and how can interior architects help them create these zones? 
JK: Businesses that require a high degree of collaboration across teams can look to incorporating smaller duo desks in nooks, semi-enclosed spaces or large kitchen–style tables for bigger groups. More recently, we have seen the rise of immersion rooms, whiteboard zones, and tiered theatres.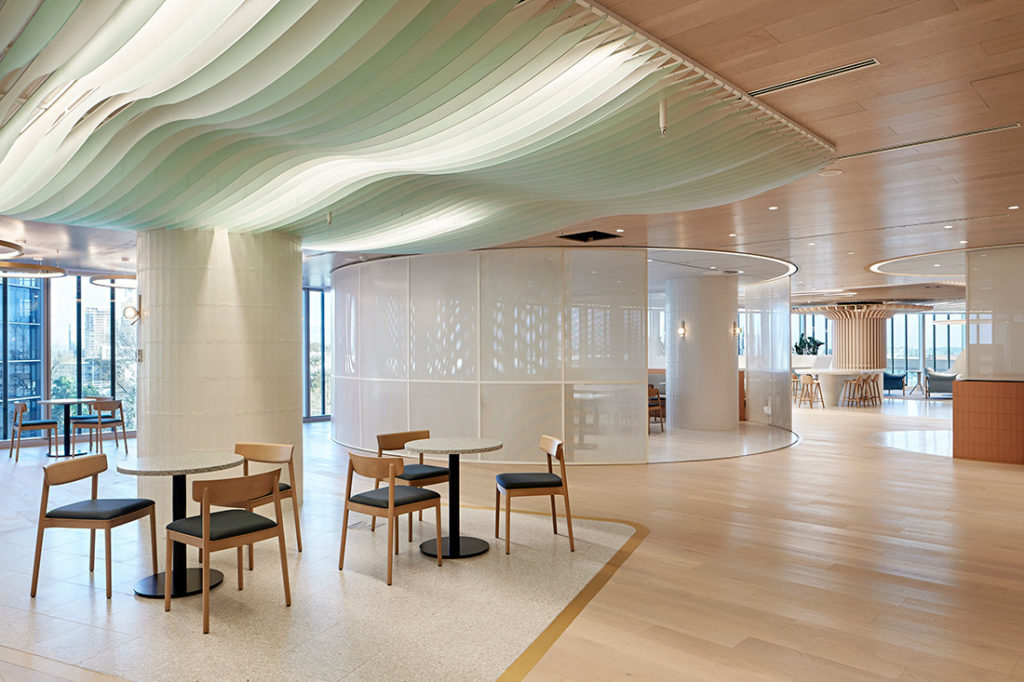 In terms of materiality, what can be expected in workplaces that adhere both to hygiene standards and their environment friendliness? 
JK: A big discovery in surfaces was the fact that copper and its alloys can destroy the coronavirus in up to four hours. Antimicrobial materials and coatings like copper will likely play a bigger role in workplace planning and design, especially in high-touch, communal areas. 
The demand for advanced air filtration systems has spiked during the pandemic. I think we can expect workplaces to invest further in systems that can filter airborne pathogens and draw in more outside air to lower transmission opportunities and support healthier working environments.
 
With a rise in indoor air quality monitoring, we should hopefully see a reduction in the use of materials that contain volatile organic compounds (VOCs), such as acetone, formaldehyde, and butanol, which contribute to indoor air pollution. 
You might also like:
The Bad Studio designs property sales office in India with geometric volumes that wrap around trapezoidal site
Kyoto's 2M26 converts century-old traditional nagaya house into multi-purpose home-office, atelier and event space
Vietnamese firm Kientruc O designs its office with completely natural cooling and ventilation
For firms rethinking and adapting to new ways of working, it is anticipated that work-from-home and office-based routines will go hand-in-hand. How can workplace design reflect this?
JK: Pre-pandemic, we spent about 90% of our focus time in the office and about 10% at home. Post-pandemic, this will likely be flipped on its head with more people choosing to spend their focus time at home.  
Depending on the business, there may be less need for dedicated desk space, and greater need for collaborative areas for solving complex problems, knowledge sharing and socialising. If there is a longer-term shift to working from home, organisations will have a responsibility to ensure their employees have the right ergonomic set-up to support this. They'll also need to ensure their workdplace is equipped with the right technology to facilitate meetings with individuals working outside of the office.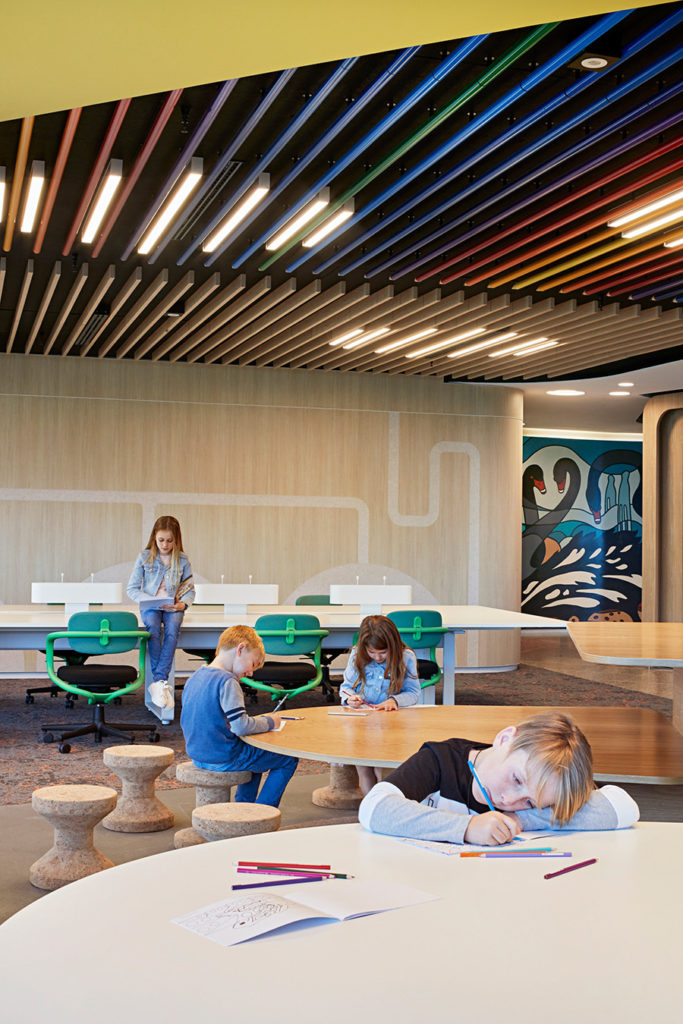 In your experience, what are the three aspects in the context of design that contribute towards retaining employees? 
JK: It is difficult to pin down three things, but in my experience, tech companies have always been the best at attracting talent and turning employees into advocates for their brand.  
They do this by instilling a culture of success and focusing on community building. Their workplaces aim to be an authentic reflection of their brand and values, to make people feel part of a greater good.  
When we worked with Deliveroo on their new London headquarters, our aim was to bring their mission of; "bringing food from the world's best restaurants into everyone's home or office" to life. The space is fun, but most importantly, it connects people. 
We've since seen this approach filter across industries, as the battle for talent intensifies and businesses adopt more agile approaches to working.