Located in Mohali, a satellite town of Chandigarh – known for its iconic Le Corbusier buildings – in the northern Indian state of Punjab, the 190m² office space by Charged Voids, led by architect Aman Aggarwal, and assisted by Swati Agarwal and Anshu Garg, sits on a narrow and small site facing one of the busiest commercial hubs of the city.
The central idea behind the workspace for a builder's office was to design a closed box opening mostly skywards but with careful gaps looking into the street and using the courtyard as a buffer between the exterior and the interior. The strong and clear geometry of intersecting lines and an ellipse counter the complex brief and create a well flowing spatial sequence. The idea was to utilise the small site by incorporating it with minimum elements but maximum efficacy.
The primary requirements were a small reception, a large office with an attached meeting room on the ground level and a work-space for the accounts team along with a second office on the second level. A significant requirement was a separate access to the terrace to allow for future expansion with ever-increasing floor area ratios in these commercial hubs.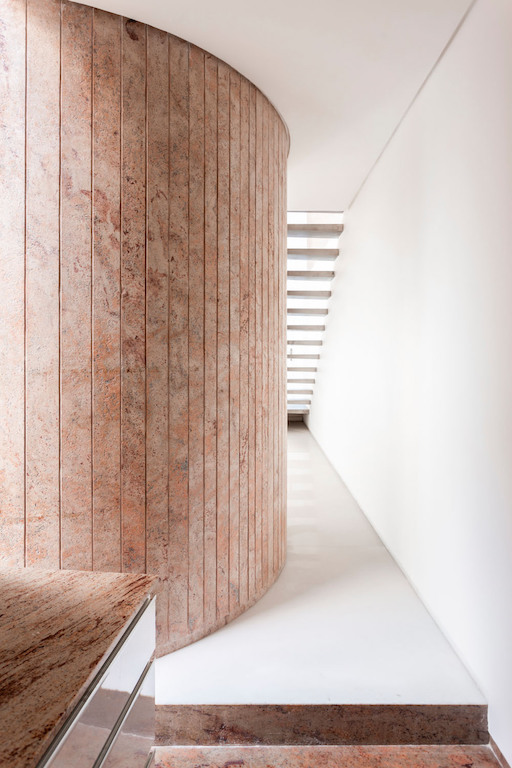 All the requirements were met with a clear thought of spaces flowing into one another along with a large central volume. Two intersecting walls that form a sort of "L" allow reorienting the entrance towards the main axis of the commercial hub which is located adjacent to a plot to the left of the site.
The other wall allows separate access to the third level and also the washrooms for the main office. The central ellipse on the ground level is the closed meeting room – more enclosed to enable the cash transactions prevalent among local builders) which is attached to the main office as well as the central space.
The interjection of courtyards and skylights is a strategy that allows users to experience the fragments of nature like the wind, light and greenery and break the powerful geometry of the elements of design. The overall material palette is limited to only white marble and Sivakasi gold granite along with simple white painted surfaces.
Photos: Javier Callejas
You might also like:
Stu/D/O designs corporate headoffice in Bangkok with interlocking masses and tilting planes
Trace Architecture Office restores old traditional house in paddy fields, converts it into library and cafe
Modern house by Neogenesis+Studi0261 stands out in rural Indian surroundings