New York-headquartered design-and-concept firm AvroKO has designed two new eateries for The Opposite House hotel in Beijing. Located in the upscale and vibrant Sanlitun district, the artistic hotel was designed by Kengo Kuma in 2008.
The client Swire Hotels tasked AvroKO to refresh two of the F&B concepts at the hotel. William Harris, one of the founding partners of the design practice shares that its first collaboration with Swire Hotels happened when the property developer enlisted AvroKO to design three signature food and beverage venues for The Temple House hotel in Chengdu, China.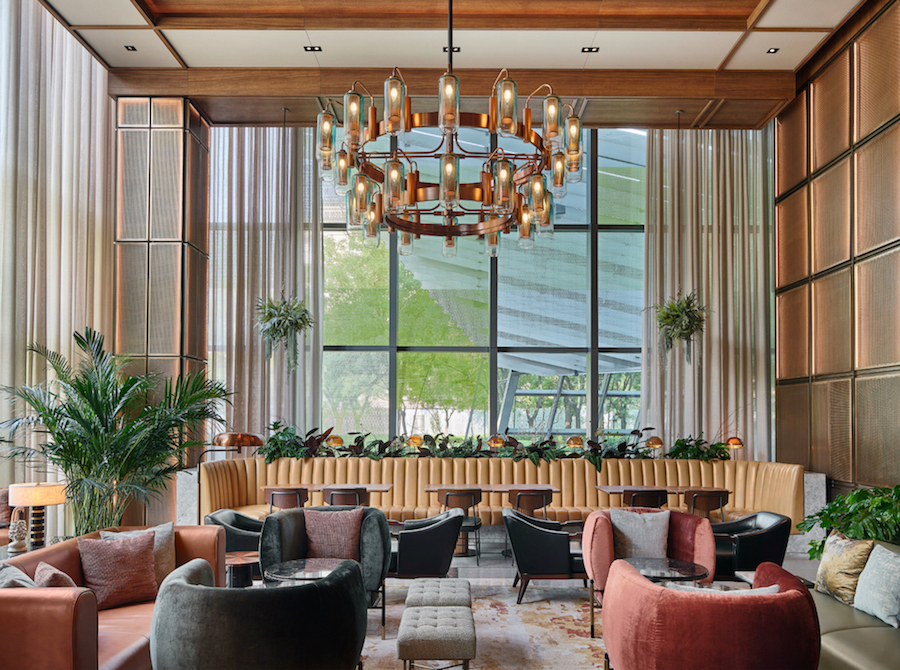 "That project was completed several years ago, but we have remained good friends and stayed in close contact over the years," says Mr Harris.  "We were asked to create two flanking, signature F&B experiences to redefine and balance the hotel's entry sequence and programmatic offering. To that end, we created one luxurious and plush cocktail bar and lounge called Union. To counterbalance the high-end refinement of Union, Superfly, directly across the entrance hall, became an approachable foil, geared towards a younger clientele with a more casual environment and friendly price point."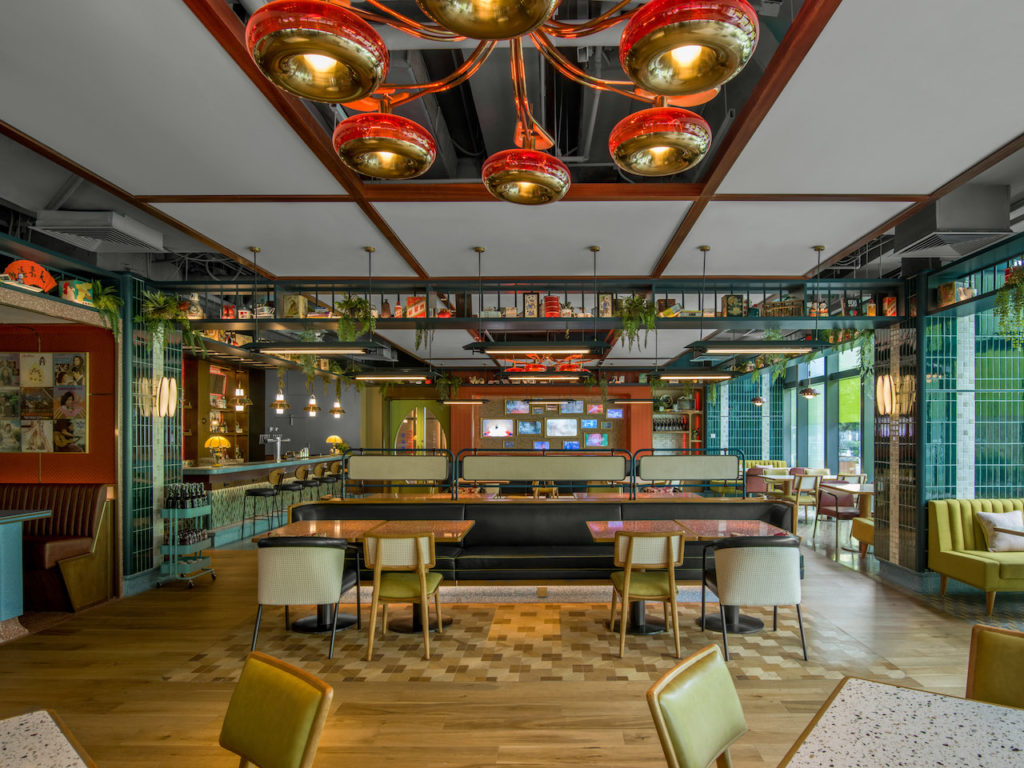 SUPERFLY – inspired by neighbourhood tea restaurants of Beijing
AvroKO's sister strategy and branding agency, Brand Bureau, created the concept and branding for both venues in close collaboration with Swire. Mr Harris explains that Superfly was designed as a fun, casual, neo-pop Chinese bistro that channels the energy and eclecticism of China's youth culture. It is inspired by the "Fly" restaurants (small restaurants that serve delicious and affordable food and are popular and attract guests like "flies") of Beijing, but in keeping with the progressive and artistic values of The House Collective. The design and branding of this retro-futuristic space were led by AvroKO's Bangkok studio and Brand Bureau, AvroKo's sister firm, that managed to creatively blend iconic typologies of the past with a vision towards the future.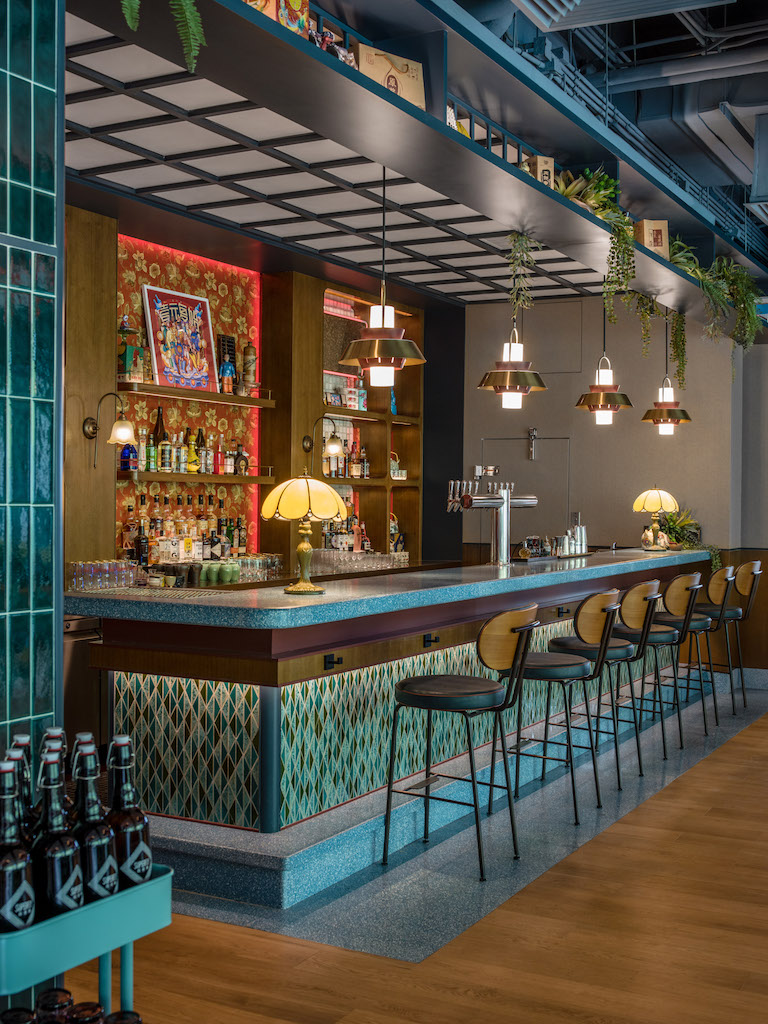 Colourful and bold ceramic tiles in greens, blues, and whites take cues from neighbourhood staple Cha Chaan Tengs (Hong Kong-style tea restaurants), as do the salmon-coloured terrazzo tables. Vintage wallpaper patterns behind the bar are contrasted with pops of neon and an array of eclectic lighting. Symbols of Chinese leitmotifs are represented by rich graphic novels, Kung Fu comics, and pop-culture posters. A signature video art installation with a multi-screened, hybridised collection of early martial arts videos and quirky, old school children's cartoons create an animated visual tapestry that feels at once familiar yet refreshingly new.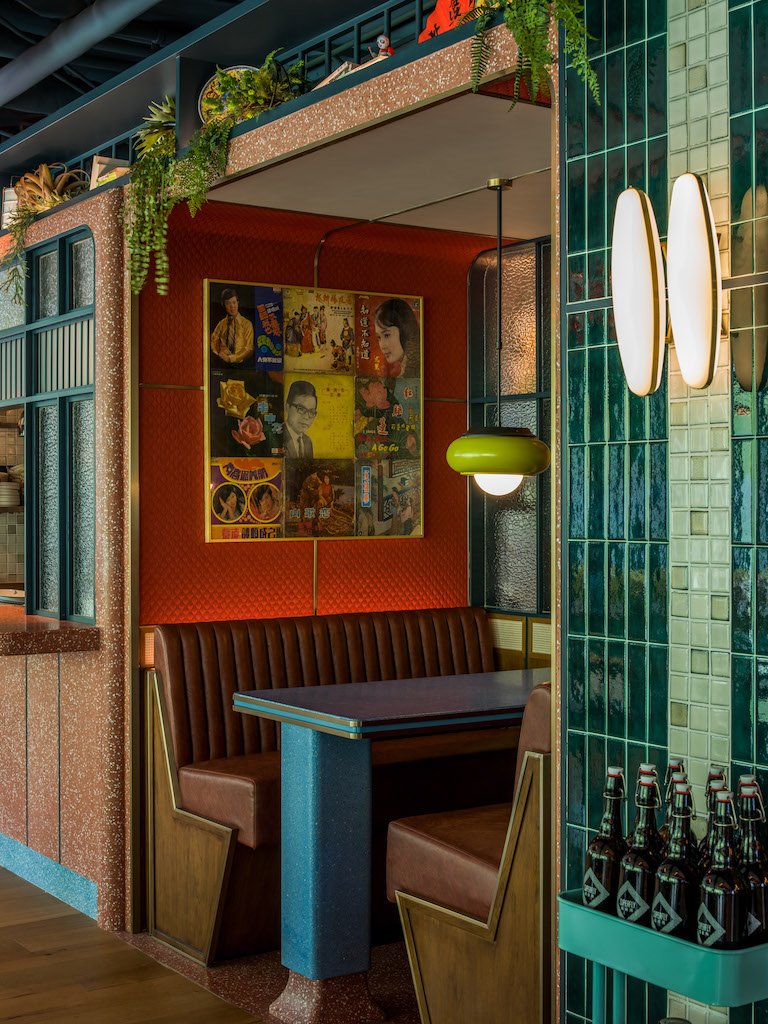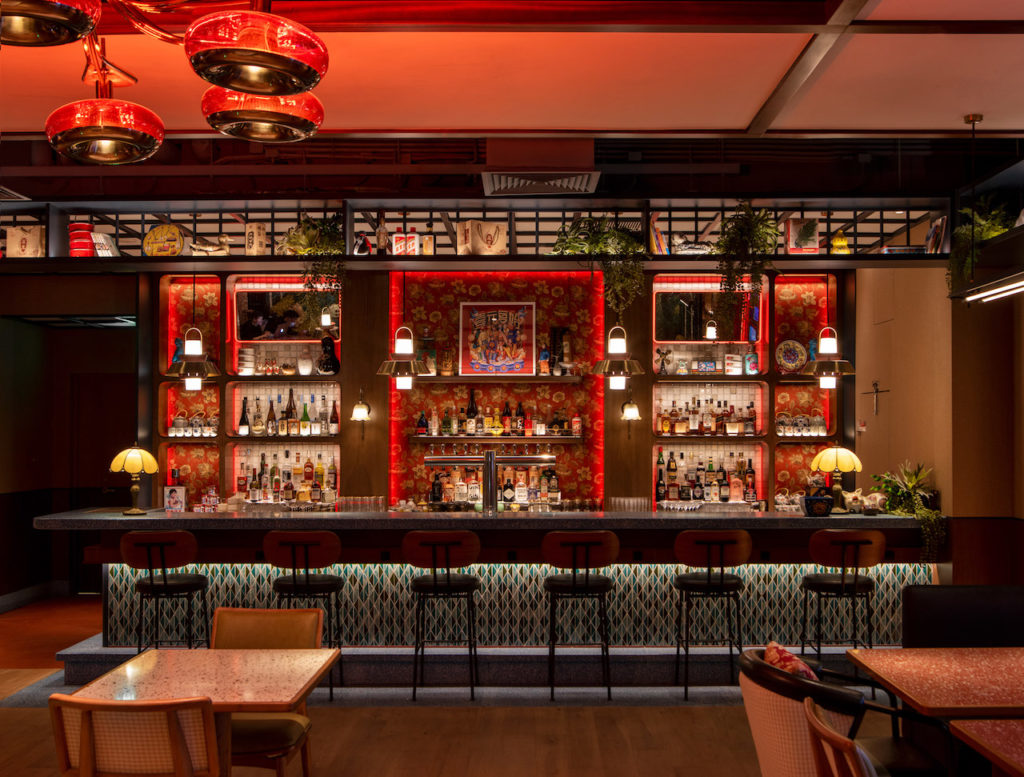 The liveliness continues with framed views of the open kitchen, with Pullman booth seating in brass and fabric-wrapped arched niches flanking the action. Sleek leather banquettes and chairs in shades of forest green and chartreuse sit beneath modernistic custom chandeliers crafted from brass and hand-blown red glass.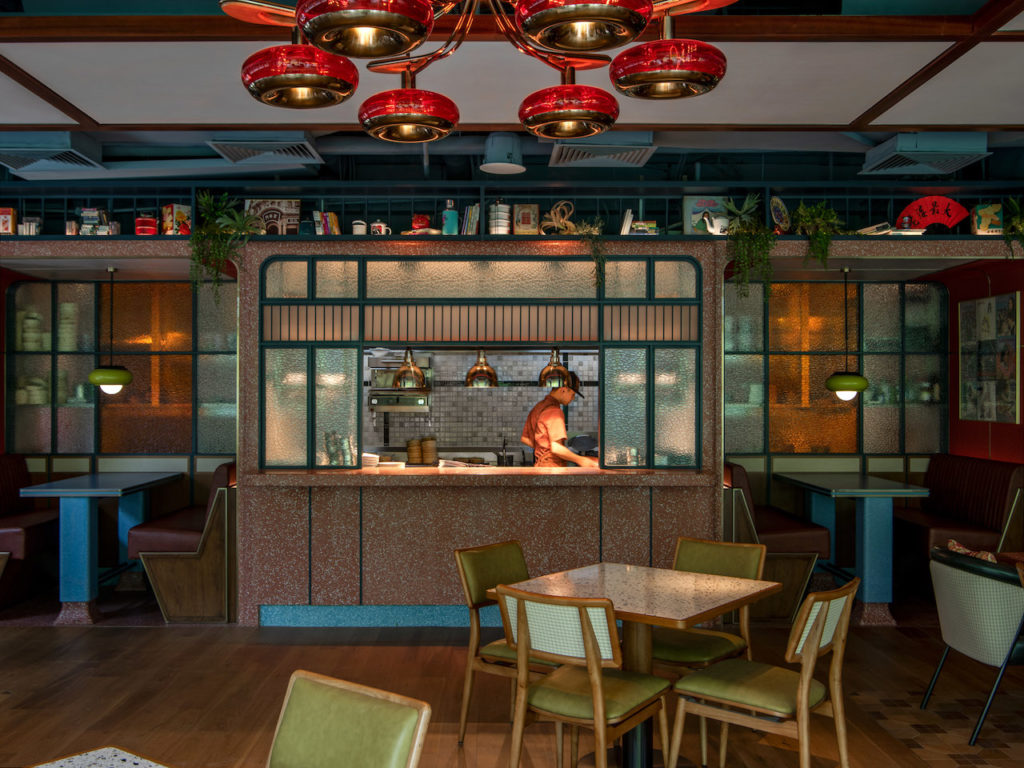 UNION – sophisticated cocktail bar
Evoking a whimsical setting, Union was designed to have a strategic social flow – aided by copper architectural frames and metal mesh sheets that showcase artwork, sculptures and objects, draw in and engage guests, while hidden elements such as the bar trolley, spice wall and DJ booths enable a seamless transition from day to night.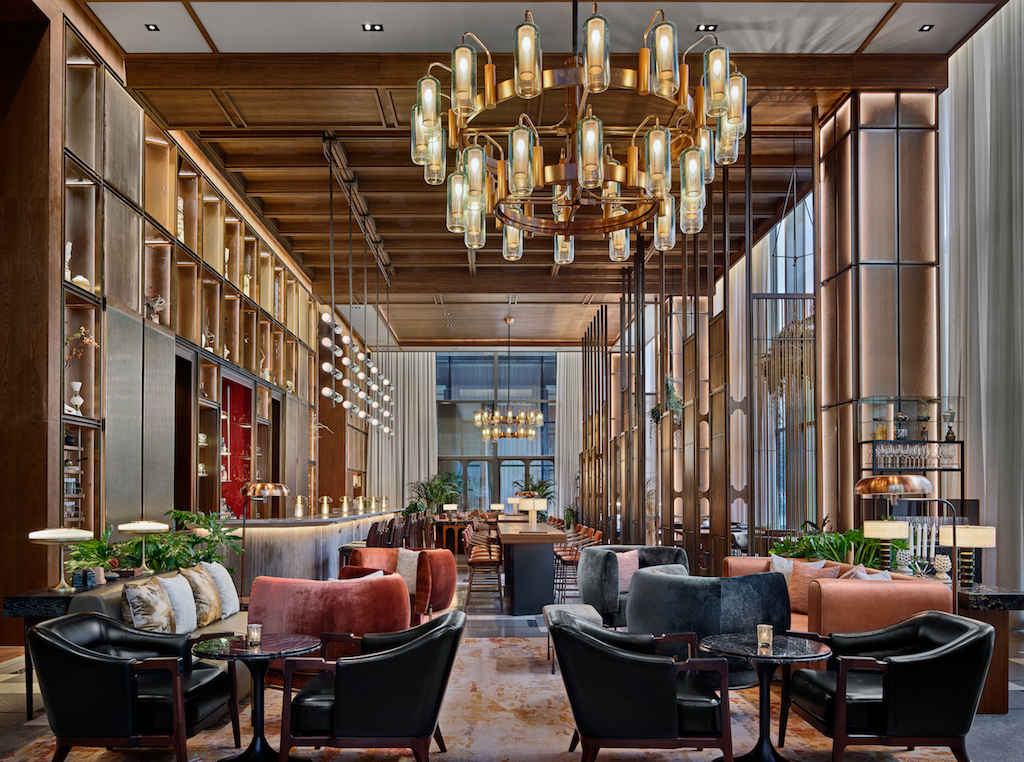 Also, helmed by AvroKO's Bangkok studio, Union's interiors were inspired by the visually striking and versatile studio – suitable for living, working and socialising – of British ceramic artist Lucie Rie, known for her 20th-century modernist and colourful pottery.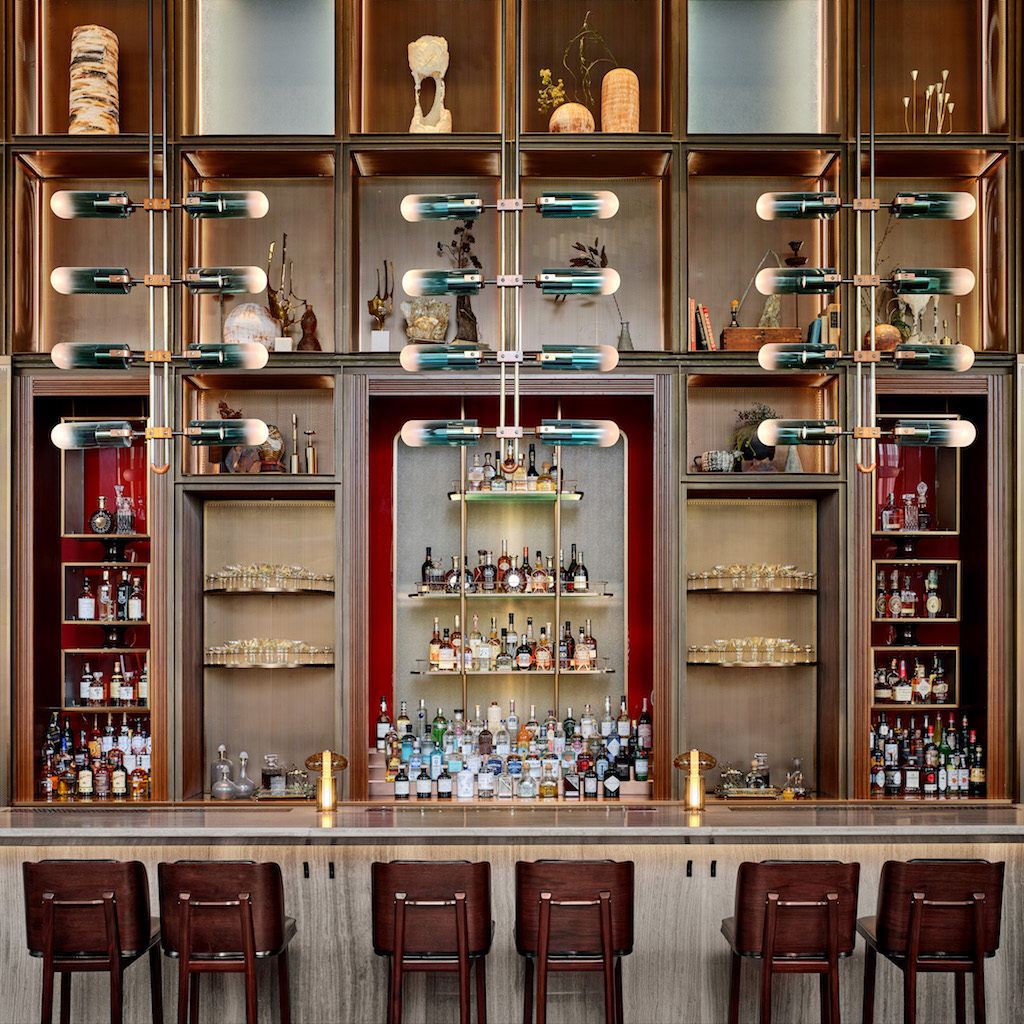 In 2020, when The Opposite House underwent a thorough renovation which created opportunities to offer new experiences to its guests. The challenges? "In the early stages of conceptualising the concepts, the key challenge was identifying how to ensure the concepts were different enough that they would attract a different audience," says Olivier Dumonceaux, the general manager of The Opposite House, drawing attention to the new F&B concepts. "While Union is reflective of a 1920s modernist social hotspot, Superfly is a reimagined Sichuan fly restaurant, drawing inspiration from Chinese pop culture. Frasca, The Opposite House's Italian restaurant, meanwhile, takes its inspiration from 1940's Italian cycling and mid-century Italian cafe," he elaborates.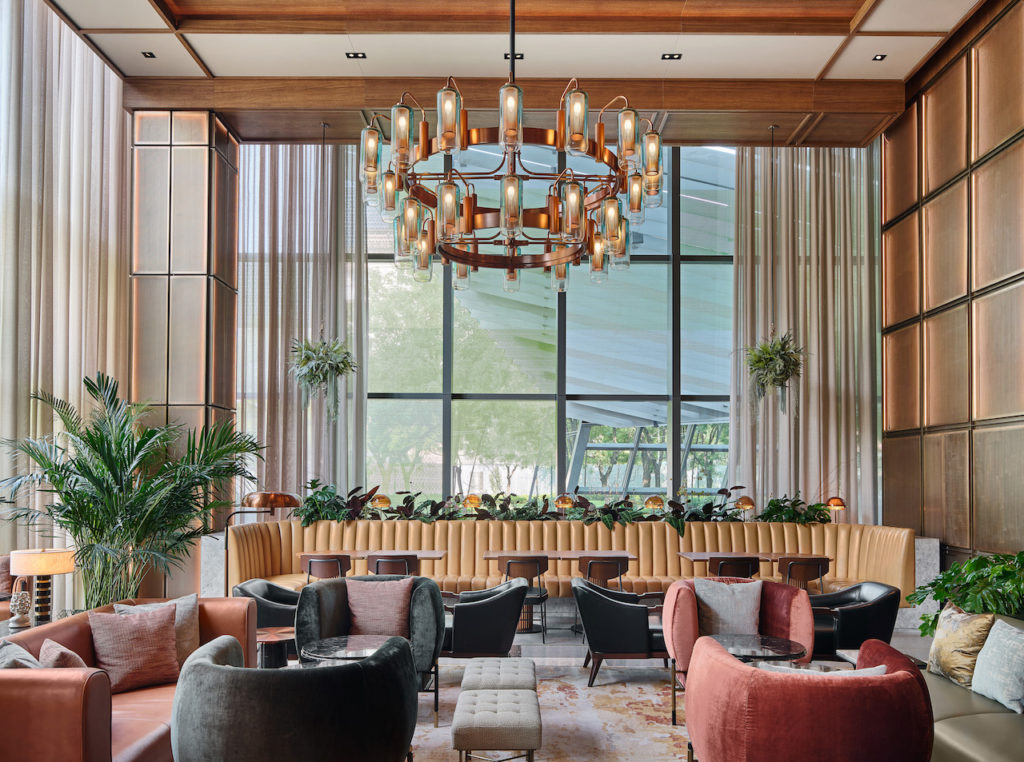 At the same time, Mr Dumonceaux points out that the design of each space aligns with Kengo Kuma's timeless architecture aesthetic and The Opposite House's core identity as a hotbed of art and design. Doing so also presented the hotel and its design firm with the biggest challenge: "To ensure that each concept kept its unique character and identity, while still maintaining the overarching personality of The Opposite House," says Mr Dumonceaux.
Speaking about the collaboration with the AvroKO team, Mr Dumonceaux says the design practice was amazing to work with. "They really understood our vision for the spaces and ran with it, ensuring that both Union and Superfly were unique, yet maintaining our inherent personality. As the house of art and design, we encourage individualism and like to see the property as a canvas for creatives to make their mark on, which AvroKO certainly did," he says.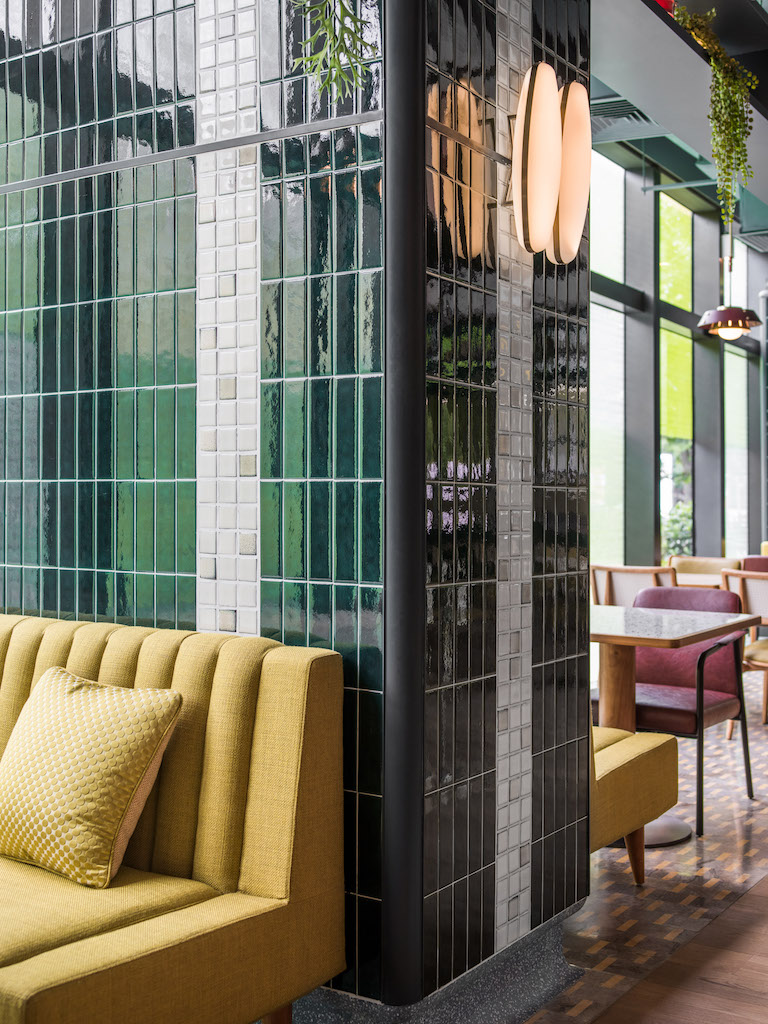 AvroKO was co-founded by Mr Harris and his three original partners – Adam Farmerie, Greg Bradshaw, and Kristina O'Neal – in 2001. Since its establishment, the company has grown to a staff strength of over 59 in its New York City office, 31 in its Bangkok office, 15 in its San Francisco office, and eight in its recently-opened London office. Their active portfolio of architecture projects include restaurants, bars, and hotels in 21 countries and 32 cities worldwide and have garnered them numerous awards and accolades: three James Beard Awards, eight Hospitality Design Awards, two HA + D awards, two Gold Key Awards, seven Sleeper AHEAD Awards, as well as the Lawrence J. Israel Prize.
See the full image gallery for Superfly here:
See the full image gallery for Union here:
You might also like:
Jingu Phoenix designs modernist Shenzhen restaurant with art gallery-like fluid spaces against a mountain backdrop
Lenz Architects designs fine dining French restaurant in Almaty fusing brute industrial structure with glamorous interiors
Kengo Kuma and Associates designs suspended restaurant on steep slope that pays homage to traditional temple