Singaporean architect Michael Ngu (above; photo: Kevin Pang), Chief Executive Officer of award-winning firm Architects61, is the winner of the inaugural Goh Chok Tong Enable Award 2019, a recognition conferred upon exceptionally-talented individuals with disabilities from different fields. Mr Ngu, 62, started his career as an architect in the New York-based firm of Pritzker Laureate, the late I.M. Pei, who passed away in 2019. Having worked closely with his mentor for 10 years before moving on to pursue opportunities in Australia and, eventually, Singapore to work with Architects61, Mr Ngu took over the reins of the firm when the original founders, Tay Lee Soon and Yang Soo Suan retired. In the past 30 years, he has collaborated with renowned international firms, including Kohn Pedersen Fox, I.M. Pei & Associates, Cox Architecture, UN Studio, Studio Heatherwick and Kenzo Tange. As a differently abled architect and an avid hand-cycling enthusiast, he not only inspires others through his work, but also his thoughts and actions on creating a more inclusive society for all Singaporeans.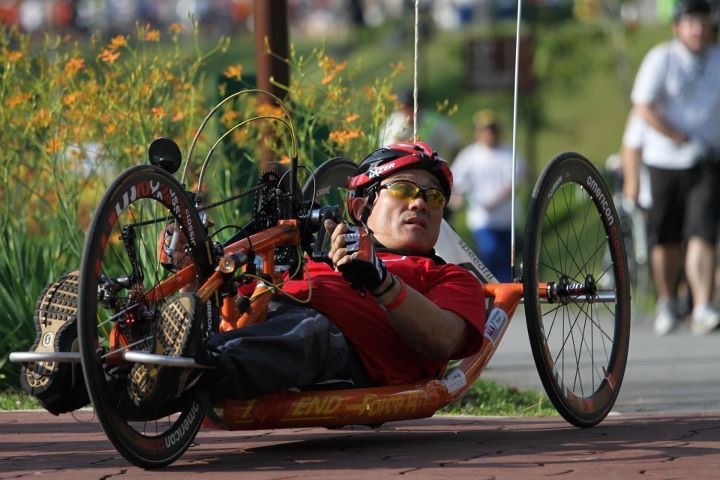 To mark the 55th anniversary of Singapore's birth as a nation, Mr Ngu speaks to DE51GN about starting his career with I.M Pei in New York and Singapore's place in the built environment.
ON WORKING WITH I.M. PEI
After graduating from the University of Pennsylvania, as a young boy, I dreamt about working with I.M. Pei in New York. I worked there for eight years, still as a supporting, mid-level architect. It's an office of 500 people spread in three locations. The man was a genius. He had no airs. I have learnt humility from him so when I work with my employees on a project together, we are colleagues, I'm not their boss. I have an open-door policy. Pei's life philosophy was that you should make your team as comfortable as possible.
When I was leaving, I don't know how he came to know about, but he asked to see me. Out of 500 people, I think I'd have been in the bottom 100. A couple of things that he said changed my life personally and as an architect. He said: "I'm so happy for you that you've made a decision to move on. I've always treated this office as a training ground." It was unexpected.
By the time I had started working in his office, it had already been around for 50 years. He said that his struggle was that too many architects decided to retire in this office. There was no succession plan. He also taught me that there will always be ups and downs, and sometimes relationships with clients can also be affected. You have to learn how to be tactful, as well as the cultural nuances of working in different regions. For example, in China, if you are going out for dinner with clients, you should know, it's going to be a liquid dinner.
Pei was a master of politics. Even though his projects have a polarising effect, he knew exactly how to cultivate his relationships with city planners and clients. He was also a man of principles, so he never sold his designs to a client. He only undertook them if he could execute them.
WHAT MAKES US UNIQUELY SINGAPOREAN?
Our reputation rests on sincerity, commitment and delivery. I've worked on projects in the Middle East also. There, you're competing on a world stage with international firms and starchitects. We may not be in that star league. But the clients trust us because for certain segments of projects, we do them extremely well.
If they wanted an iconic piece of architecture such as the Burj Khalifa, they won't come to us. From my years of travelling and working around the world, we know which space we belong to. Some of my fraternity say that we can do all, but I tell them we can't. Having worked with Pei for 10 years, I know how this system works. The realisation is important. I did soul searching for a decade. We're only a 40-year-old country, we have to grow organically.
Singapore, right from the beginning, as a system, has always emphasised high-quality delivery. This works across industries, and not just in architectural services. Clients just believe that Singapore firms will deliver without a doubt. It's not so much about one specific skill but the attribute perceived by foreign clients. There is tremendous trust in our Singapore system that they truly embrace. A lot of projects can be sold by PR persons but it can go from bad to worse. Singapore has this reputation of commitment and results. I need to qualify by saying that not all economies in the region or globally will see Singapore's architectural profession at the international level. We're a young and small country and due to our small population, our talent pool isn't big in size. We were sharing a roundtable with former Prime Minister Goh Chok Tong once in the Middle East, a region that was booming at the time and we said that we can't rest on our laurels. We have to continuously deliver.
At Architects61, we've forged strong and lasting relationships with stalwart international opinion-makers with our smooth delivery and professionalism. We have worked with many of the top architectural practices, such as American firm Kohn Pedersen Fox (KPF), whom we have collaborated with for over four decades on iconic projects such as the Singapore Exchange Centre, One Raffles Quay, Marina Bay Financial Centre and the most recent completion of Robinson Tower. Other like-minded international partners include Thomas Heatherwick for the Changi Airport Terminal 5 project, UNStudio for Ardmore Residences and V on Shenton, Kenzo Tange for UOB Plaza among many others. When these global firms collaborate with foreign companies like ours, their foremost concern is what will be the outcome of the project.
I get along very well with Thomas Heatherwick. Whenever I meet him, we take a selfie. He had been wanting to do projects in Singapore for a long time. He sought me out personally saying, "Michael you know the ground here, and you know the policies". It reflects true humbleness on his part.
A lot of developers and architects want to be here because we have an efficient system, the projects have an expected momentum and finish at a decent time so developers and architects know that you don't lose steam and money. They appreciate the system and that Singapore clients appreciate quality, and value design as part of the value creation process.
We have also worked with Ardmore Residences with UNStudio whose co-founder Ben van Berkel loves Singapore. He has gone on to finish Five on Shenton and Singapore University of Technology and Design. For these well-known architects, when they collaborate with us, they know that the process is predictable.
DESIGN COMPETITIONS
Participating in design competitions costs money, no one pays you. You are in it to win, not to boost your ego. I bring to the table the best local practices, and a good knowledge of government policies. The foreign collaborators truly appreciate this. We come up with a winning formula, such as our upcoming Terminal Five project at Changi Airport. No one thought we will win this project. We beat the odds. The competition went on for 10 to 15 months. During that period, we sensed that we were on the right track. There were also times when we felt that we were struggling. We came up with a design that we think will address Changi Airport Group's aspirations. While it's very different from all the airports out there, we need to be aware of the end-users' needs on creating something that will become an asset. Last two years, since we won it, the design has evolved but the character hasn't changed. The credit goes to Heatherwick. At my age, I want to enjoy the process. It's less about ego or winning or even financial gains.
You might also like:
Corridors of Diversity film by Kevin Siyuan highlights the important role of corridors in Singapore public housing
5 shortlisted designs for Singapore's Founders' Memorial announced; Kengo Kuma, Cox Architecture and DP Architects among those in the fray
Heatherwick Studio-designed Eden tower in Singapore incorporates biophilia in high-rise balconies