Rotterdam-based practice KCAP Architects, in collaboration with architect of record, DCA, and landscape architect, Grant Associates, has revealed the design for its new Singapore project, The Reef at King's Dock". The residential project, jointly commissioned by leading property developers, Keppel Land and Mapletree, is located at Keppel Bay and features 429 apartments in 10 buildings. The concept proposed by the Dutch practice, which has offices in Zurich and Shanghai, is entirely geared towards a sustainable way of living. 
The project concept centres on an urban village with diverse building types that benefits from the remarkable position at King's Dock, offering a sea view, an abundance of green spaces, and floating swimming pools.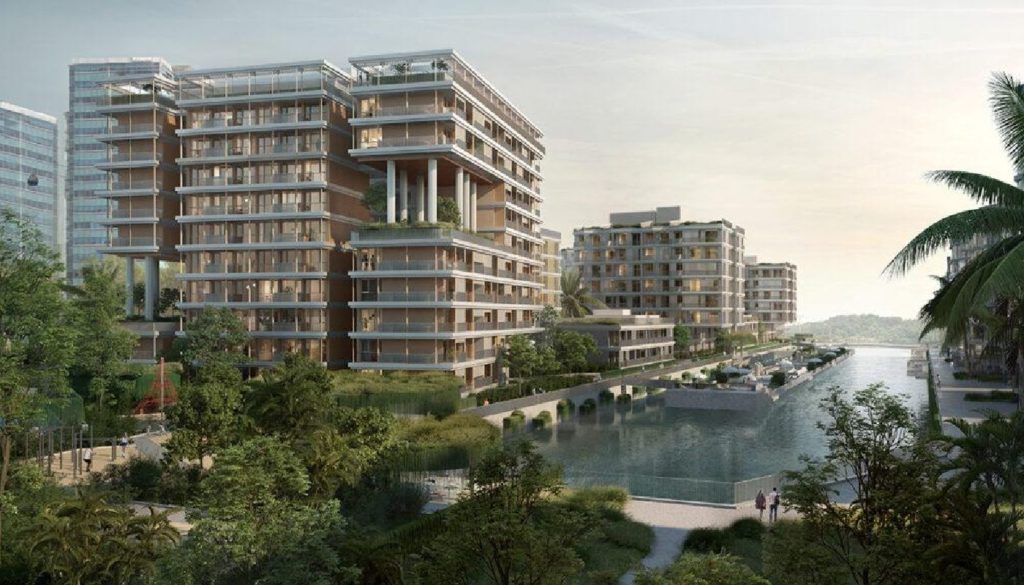 The Reef at King's Dock is close to downtown and within walking distance to the southern commercial centres of Harbourfront and Vivo City, and will be in close proximity to the upcoming Great Southern Waterfront development, sited just off the tourist attraction of Sentosa Island. The ancient shipping dry-dock is part of Singapore's listed heritage, forming a transition from Keppel Bay's residential developments to the Harbourfront area. Not surprisingly, KCAP's Dutch tradition, most of it influenced by shipping and waterfront commerce, has also inspired the development's overall design.
 The urban design of King's Dock Village is a composition of three building types – the Courtyard, the Tower, and the Villa – grouped around a sequence of semi-public spaces with lush vegetation along King's Dock. The buildings gradually step down from 10 stories in the north to five stories in the south, providing a view from the corridor – transitioning from Mount Faber to the water. The design results in varying building height and scale, providing a distinct skyline and unique atmosphere around each building. The individual buildings' juxtaposition creates intimate garden pockets and climate protection in a village-like setting that offers excellent views of King's Dock and its surroundings.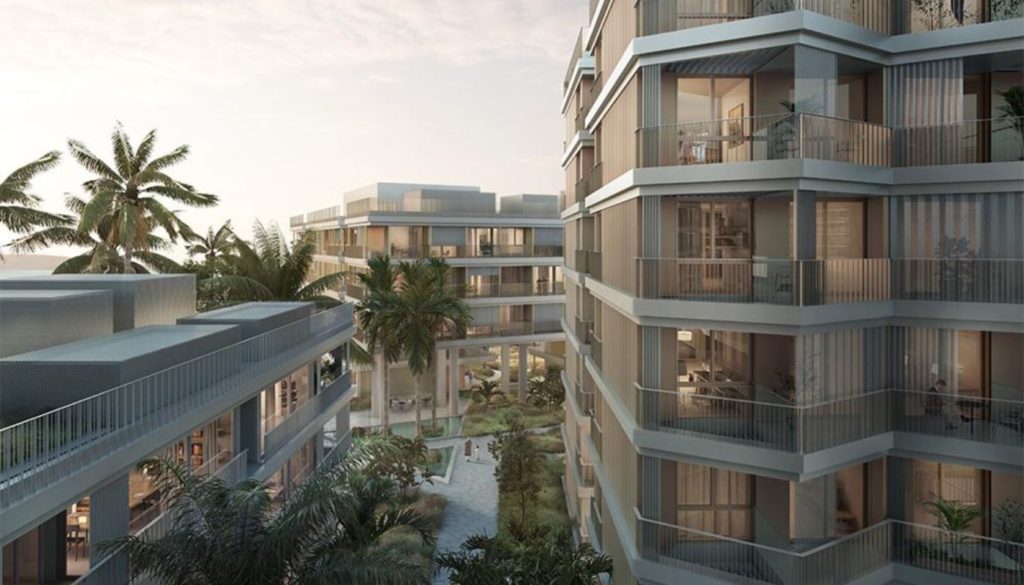 The buildings' architectural concept offers porosity and permeability through pockets of communal gardens, balconies, and sun-protection filters. The facades of three different building typologies vary in their orientation, shape, and external sun screening selection. These form a dynamic, double layer, providing privacy and protection while contributing to the cooling of the facades. The roofs of the buildings are designed as green surfaces, retaining rainwater and working as isolation.
The design includes a variety of green spaces; a central garden promenade connects all entrance lobbies of the buildings. Shared facilities like a drop-off entrance pavilion, a clubhouse, and sports facilities offer a broad range of residents' services. One of the highlights is a 180m-long pontoon with various swimming pools and sun decks that is moored in King's Dock and provides a seamless connected experience with the surrounding marine biodiversity and the waterscape.
The Building and Construction Authority of Singapore, a statutory board under the Ministry of National Development of the Singapore Government, has already given the project a Green Mark Gold PLUS  certificate.
Photos: KCAP , Filippo Bolognese
Project details:
Project name: The Reef at King's Dock
Architect: KCAP Architects
Architect of Record: DCA Architects
Landscape Architect: Grant Associates Singapore
Quantity Surveyor: Arcadis Singapore Pte Ltd
Structural Engineers: T.Y. Lin International Pte Ltd
M&E: Alpha Consulting Engineers Pte Ltd
Interior Design: Index Design Pte Ltd
Green Mark and Acoustics: Arup Singapore Pte Ltd
Traffic Consultant: Vertix Asia-Pacific Pte Ltd
Façade Consultant: Meinhardt Façade Technology Pte Ltd
Marine Consultant: Delta Marine Consultants Pte Ltd
Fire Safety Engineer: IGNESIS Consultants Pte Ltd
Lighting Consultant: Light Collab LLP
Design for Safety: CN2E Consultants Pte Ltd
You might also like:
Top Singapore studios, Ong&Ong, Park + Associates and RT+Q, design new luxury waterfront development in Batam
BDP Architects wins competition to redesign Singapore's Geylang Serai Market
Singapore agencies launch competition to invite ideas for rejuvenating Changi Point