FADD Studio, led by architects Dhaval Shellugar and Farah Ahmed, has designed a 929m² residential project in Hosur in the southern Indian state of Tamil Nadu, which is 35kms away from India's silicon valley city, Bengaluru. The site spanning 2,500m² has been landscaped using Zen and tropical elements. The brief by the globetrotting client who uses this property as a holiday home was to bring an international sensibility paired with quirkiness and a place that provided a canvas for experimentation.
Set inside a tropical and lush gated community, this holiday home is unassuming with its grey exterior and Prussian blue columns. In contrast to the understated exterior, the interiors reflect boldness and drama. A meticulously detailed geometry of vibrant blue, soft peach and muted grey floor tiles are one of the distinct features on the house. The geometry continues into the ceiling that is composed of thin slatted pinewood, and curves at the passage leading to the far side of the house. Doors are concealed, only seen by the handle to give an uninterrupted feel to the passage.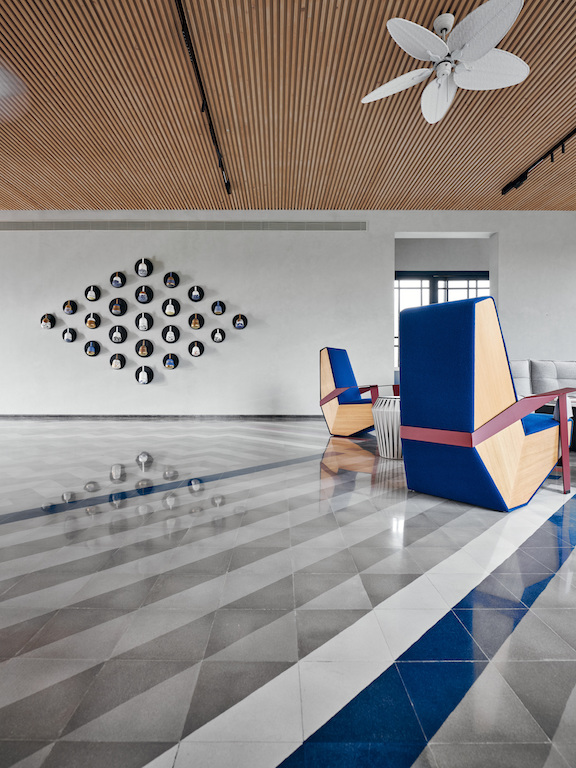 In the living room, quirky accessories by Philippe Starck lend it a whimsical character. The open kitchen and dining areas are in shades of greys and blues. The openness of the whole space provides an interesting backdrop for a ceramic wall installation by renowned ceramic artist Vinod Daroz.
In the guest bedrooms, the palettes are soft and wintery; the master is luxurious yet minimal with brass highlights while the children's rooms are blue and black. The understated house further opens out on to green views.
See the full gallery here:
Photos: Gokul Rao Kadam
You might also like:
Modern house by Neogenesis+Studi0261 stands out in rural Indian surroundings
unTAG Architects designs low-impact and affordable luxury house for retired farmer in rural India
Charged Voids designs India office with enclosed ellipse interjected with skylights and courtyards