The Blues Communications, an events and strategic communications company based in Bangladesh's capital Dhaka, enlisted architectural practice Dehsar Works to create design its head office that could accommodate 30 to 40 workstations on a site that was formerly occupied by a warehouse. Being a creative firm, the Blues management requested a concept that was out of the box and reflected the company's forward-thinking practices.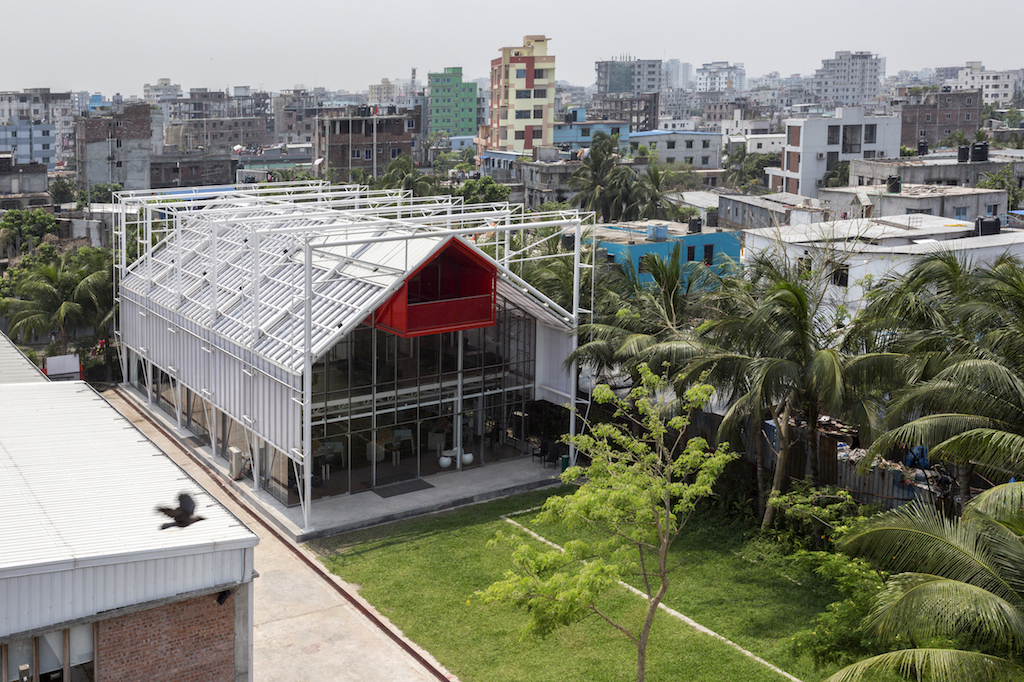 In essence, the architect proposed a concept to build a playful office with versatile spaces which can be used for purposes such as meetings, conferences, and short meet-up. The company's employees' working hours are not stereotypically nine to five, and they often work long hours.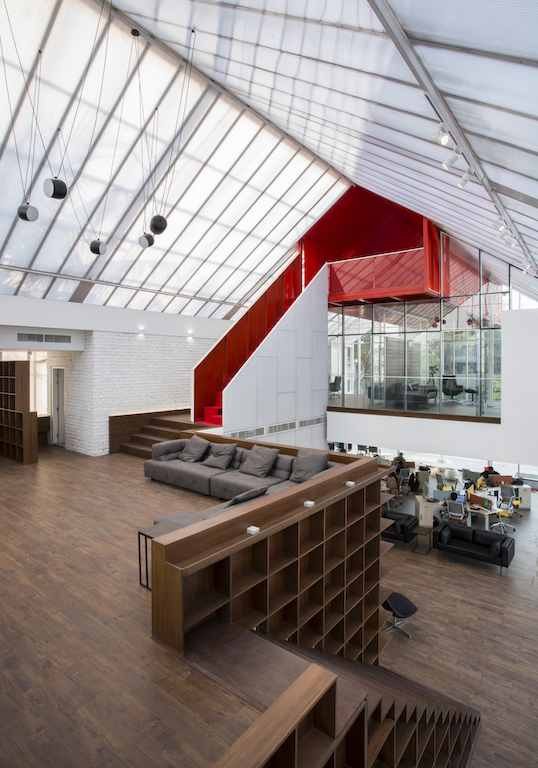 Some of the materials the architecture practice deployed in the construction are pre-fabricated metal exoskeleton as the mainframe; tri-layered polycarbonate sheets were used to provide thermal comfort and reduce cooling load; double-glazed glass facade to reduce heat gain and indoor-outdoor relationship; floor slab with poly concrete deck panels; pre-fabricated wooden panels as floor finish materials; reinforced concrete and bricks were used only in service blocks which were placed to reinforce the metal exoskeleton.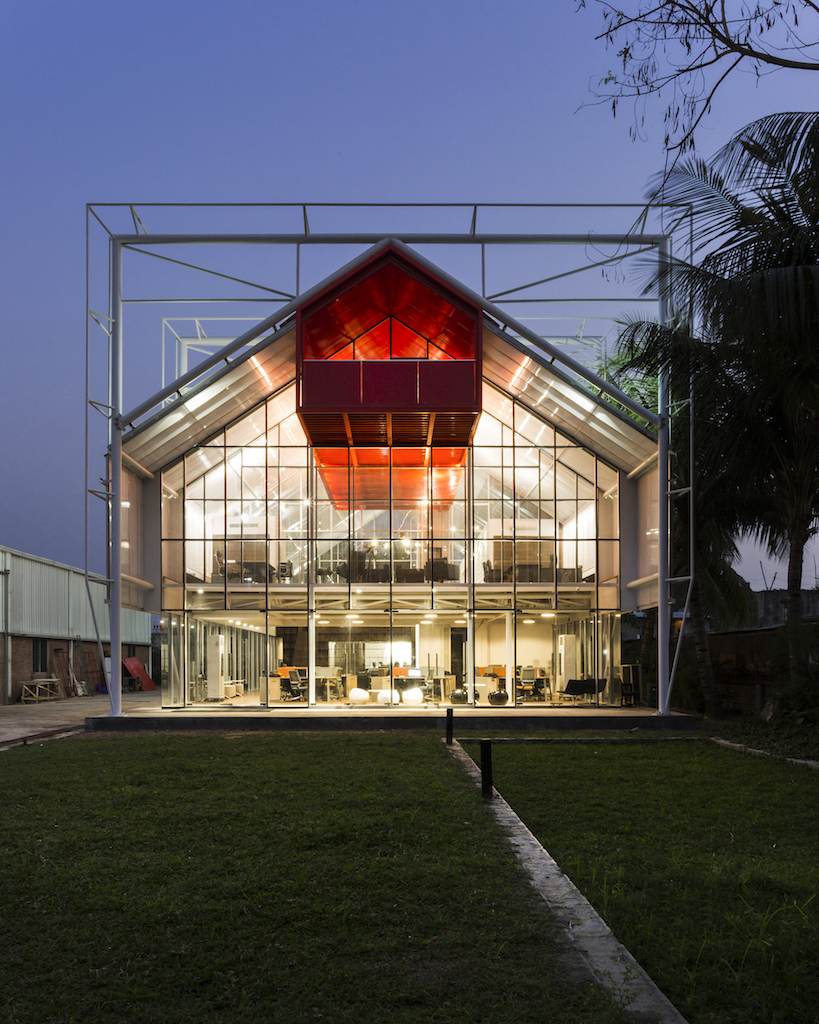 In addition to creating an open office space, the architects also added a loft space, while keeping in mind main requirements such as efficient service management, cost reduction and ease of maintenance. To keep the construction cost low and maintain the original carbon footprint, the existing concrete foundation was utilised by fabricating a metal structure over it. Variable Refrigerant Flow of air-conditioning, and a centralised service block have been placed inside the building. The high ceilings and large transparent glass façade allows natural light to the core of the building that undergoes constant changes as light reflections alter over the course of the day.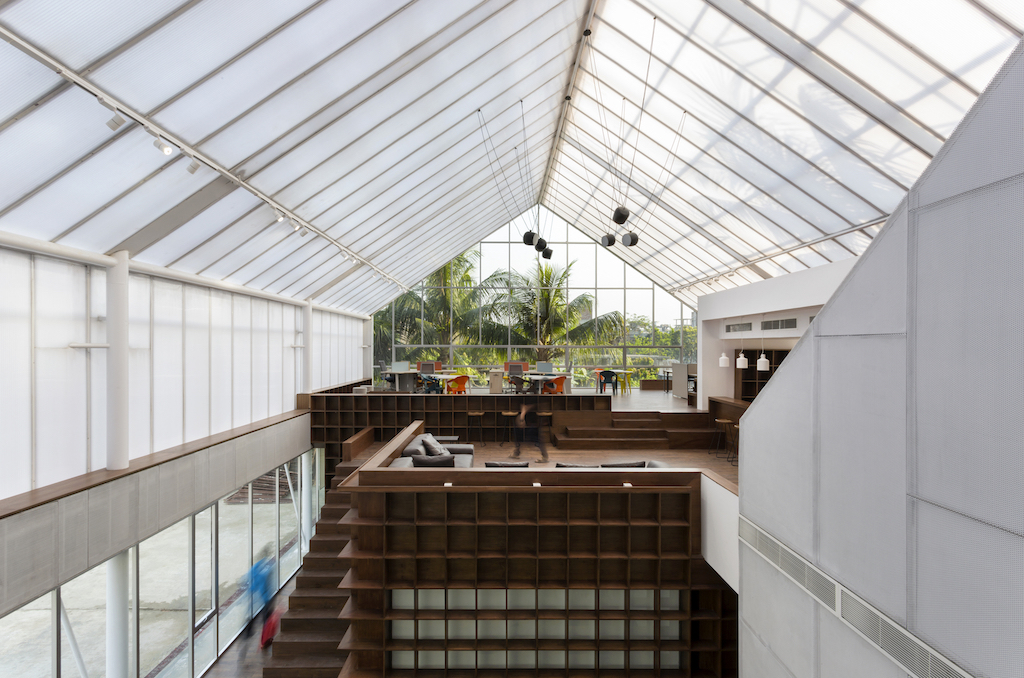 At night, the office is lit by white LED lights, resembling a giant luminaire, while making the building shimmer in dialogue with the surrounding vibrant neighborhood. Providing all ancillary facilities with seven parking spaces, vehicular and pedestrian access along with two vertical and other horizontal traffic circulation. The landscape has ample green and plants to create a better workplace.
Project details:
Architect: Dehsar Works
Area: 2,019m²
Photographs: Noufel Sharif Sojol
Manufacturers: AutoDesk, Saint-Gobain, ALM Steel, McNeel, Nasir Glass, ONLEAD, PMG, Shah Cement, Star Partex, Trimble Navigation
Lead architect: Rashed Hassan Chowdhury
Project architect: Sayedil Ashrafin
Structural consultant: Habibur Rahman
Electrical consultant: Alinur Rahman
Plumbing consultant: Kamruzzaman
See the full image gallery:
You might also like:
Architect Rizvi Hassan designs Bangladesh community centre using local materials for female Rohingya refugees
Woha Architects to transform former wasteland into sustainable campus for Bangladesh university
Anandaloy community project by Studio Anna Heringer announced winner of OBEL Award 2020