David Chipperfield Architects has designed the new headquarters of AmorePacific, Korea's largest cosmetics company located in the Yongsan district of Seoul. The site, which the company has occupied since 1956, is adjacent to an ex-US military zone which is now being transformed into a large public park, Yongsan Park. The project received the AIA UK Award and the Korean Architecture Award in 2019.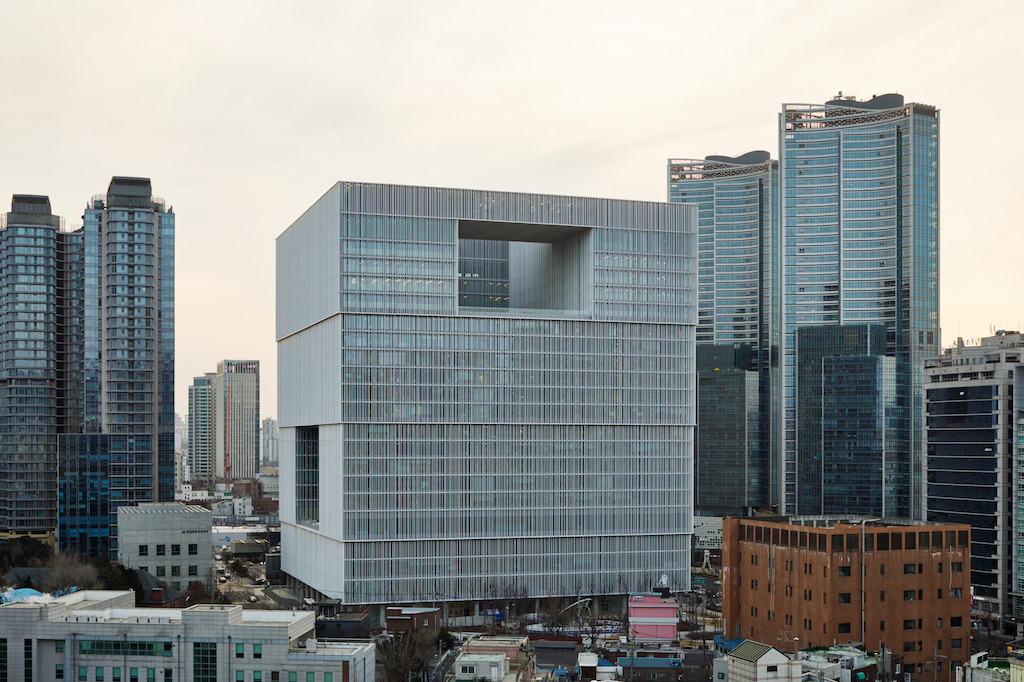 The new building echoes the aspirations of this modern organisation by mediating between local and global, private and public, collective and individual, formal and informal – creating a dynamic identity in dialogue with the ever-changing urban surroundings.
The building presents itself in the cityscape as an enormous cube. Laid out on 30 floors for a total of 216,000m2, it hosts, in addition to offices, a variety of public spaces, including an auditorium, a museum (the AMOREPACIFIC Museum of Art), a library, spaces for children, and cafés and restaurants.
A spacious interior courtyard and three large voids in the facades, each with a hanging garden, break up the uniformity of the cube, increase the permeability of the building in relation to the surrounding city, and improve the flow of air and light into the interiors.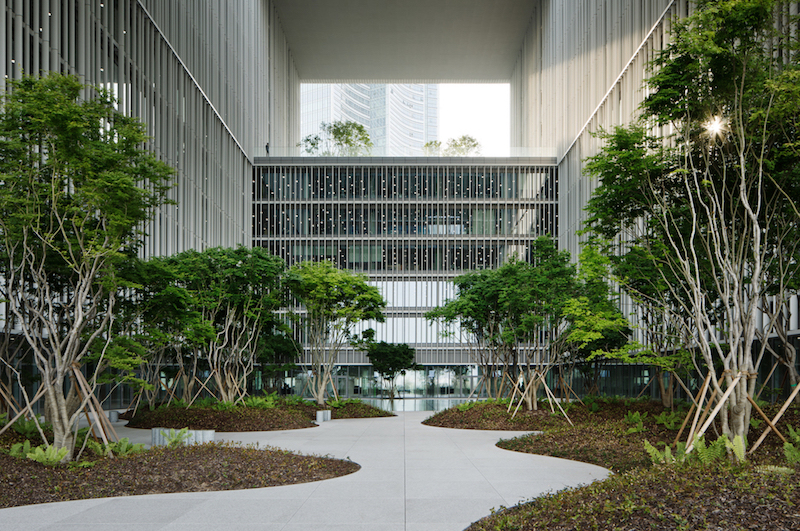 You might also like:
IROJE KHM Architects designs boat-shaped tall carpark in Seoul
Frank Gehry-designed new Louis Vuitton Maison in Seoul is a floating luminescent sculpture
unarchitecte transforms disused building in China into integrated community kindergarten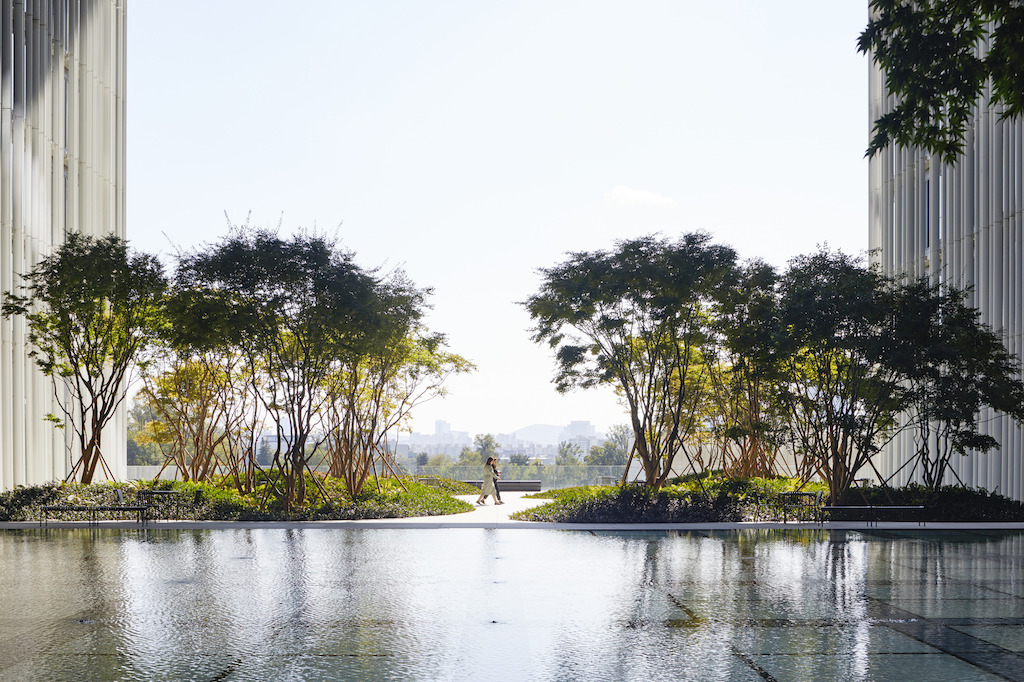 In collaboration with David Chipperfield Architects, UniFor, a Molteni Group company, has developed a new product for this important new building: DCA Partition System.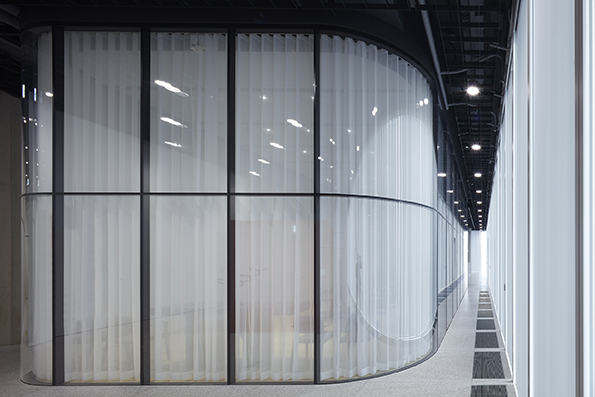 This modular, double-height partition system, created especially for AmorePacific and subsequently added to UniFor's collection of series products, was designed to separate meeting rooms, executive offices, work areas, and related services in an elegant and functional manner, as well as to delimit specific functions in the public areas.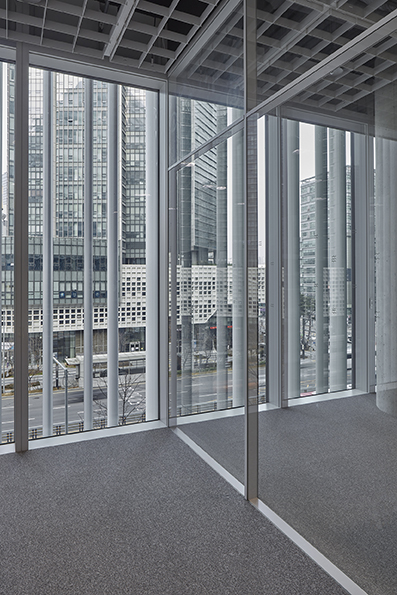 This full-height modular partition system for work environments is characterised by acoustic features. It was conceived for dividing and organising differentiated work zones in an efficient and rational manner by creating flexible, protected, and reserved spaces: meeting rooms, executive offices, task areas, co-working spaces, and shared service areas. The system is composed of the following components: frames in painted or anodised aluminium profiles; glazing panels in extra-clear structural safety glass with an insulating cavity; insulated infill panels with finishes in a variety of materials; swing doors with the same characteristics.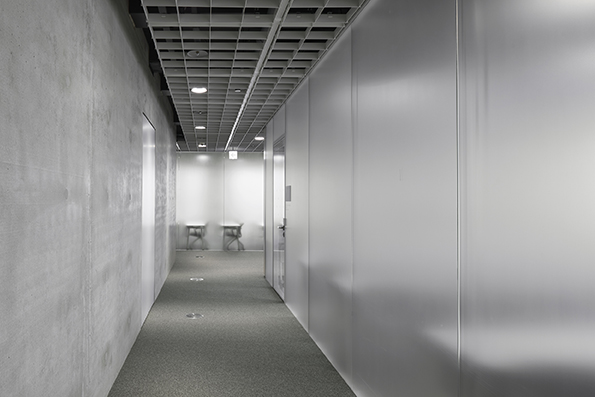 The profiles along the base and the top of the partition are designed to remain exposed or to be concealed within the raised flooring and the false ceiling, in this way permitting the partitions to be integrated perfectly with the architecture of the host building.
See the full image gallery here:
Photos: Noshe, Ute Zscharnt