Even as the foreseeable future of live sporting events looks bleak, China is constructing the world's largest football stadium in Guangzhou. Its $1.7 billion price tag notwithstanding, the early renderings of the project has polarised the community with its lotus shape inviting scathing comments from the local architectural community but approval from the general public. Chinese architects have pilloried the project that they say represents a gimmicky and ostentatious taste of high profile clients who flex their financial muscle to get such structures built that eventually become an eyesore in the larger urban context.
Built for one of the Chinese Football Association's Super League teams, Guangzhou Evergrande, named after the Evergrande real estate group, the stadium will include 100,000 seats and 162 VIP boxes – breaking the capacity record of Camp Nou stadium in Spain, home to FC Barcelona.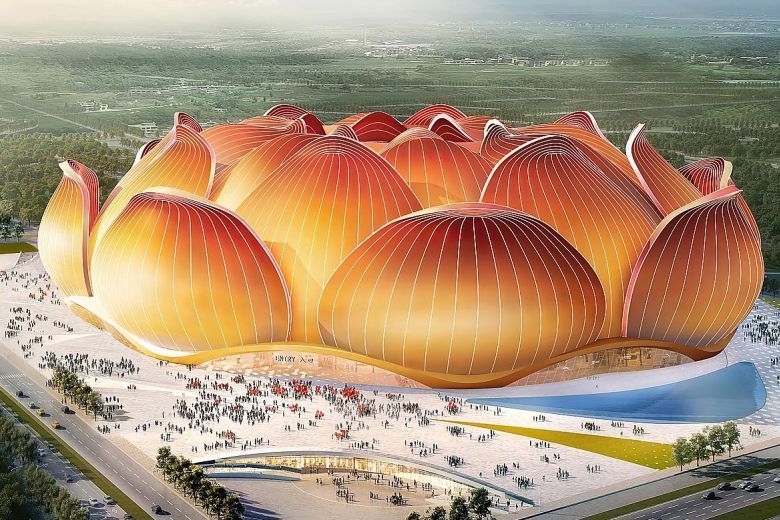 Inspired by the shape of a lotus flower representing Guangzhou as the 'Flower City', the concept of the stadium was proposed by Evergrande Group's president, Jiayin Xu, while the design was conceptualised by Hasan A. Syed, design principal at Gensler.
The project is expected to be completed by the end of 2022, with plans to host events for the 2023 Asian Cup.
You might also like:
Pomeroy Studio masterplans Kallang Alive sustainable sports and recreation hub in Singapore
Pomeroy Studio masterplans Kallang Alive sustainable sports and recreation hub in Singapore
Kengo Kuma-designed National Stadium in Tokyo that replaced Zaha Hadid's concept is ready for 2020 Summer Olympics and Paralympic Games