British practice Adjaye Associates has revealed plans for an interfaith centre on Saadiyat Island in the United Arab Emirates' capital Abu Dhabi, after being selected from among a shortlist of unnamed international firms.  The project officially known as the Abrahamic Family House will feature a mosque, a church, and a synagogue.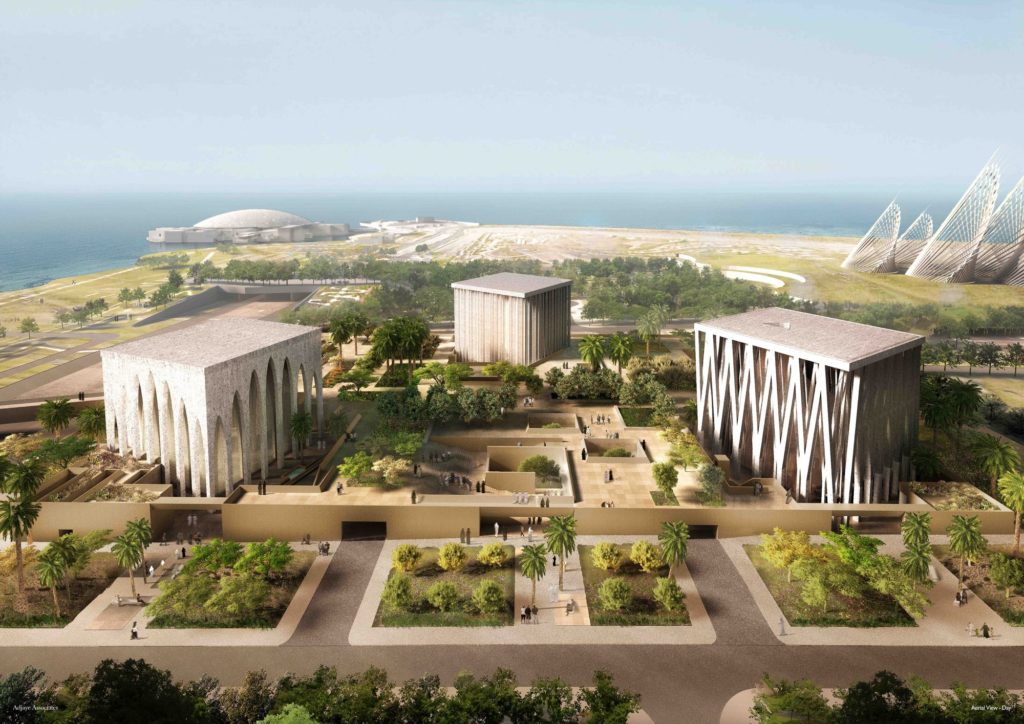 The development is being billed as a "collective space which will serve a community for inter-religious dialogue and exchange, nurturing the values of peaceful co-existence and acceptance among different beliefs, nationalities and cultures". The move comes as the Gulf country celebrates the Year of Tolerance.
In addition to separate worship spaces for each religion, there will be a fourth building, a shared space for "collaboration and informal gathering".
Sited close to Foster + Partners' yet-to-complete Zayed National Museum, the project is backed by the Higher Committee of Human Fraternity.
The new body was set up to deliver 'the goals' of the Document on Human Fraternity for World Peace and Living Together, a joint statement signed by Pope Francis of the Catholic Church and Sheikh Ahmed el-Tayeb, Grand Imam of Al-Azhar, which aims to ensure that different faiths can live peaceably in the same areas.
David Adjaye, founder and principal of Adjaye Associates, said he was humbled and honoured that the design had been selected for the project.
He says: "Architecture should work to enshrine the kind of world we want to live in, a world of tolerance, openness, and constant advancement. Architecture and landscape design can interpret the fabric and principles of a place, to advance the conversation, reassess current assumptions about the world, and discover more meaningfully what a place can give back.
"As an architect, I want to create a building that starts to dissolve the notion of hierarchical difference. It should represent universality and totality, something higher that enhances the richness of human life. We hope we have set out a plan for a beautiful and thought-provoking space that celebrates the three faiths and stimulates dialogue and understanding at a critical time for the world."
This religious institution comes hot on the heels of the construction of the Baps Swaminarayan Sanstha Hindu temple in Abu Dhabi, which has been designed by RSP Architects. 
The oil-rich emirate is home to other high profile architectural sites such as The Louvre Abu Dhabi by  Jean Nouvel, Sheikh Zayed Bridge by Zaha Hadid Architects, as well as the upcoming Zayed National Museum by Foster + Partners and Guggenheim Abu Dhabi by Frank Gehry.