Designed by Ole Scheeren, the recently completed DUO twin towers in Singapore's Kampong Glam heritage area exemplify urban reconciliation.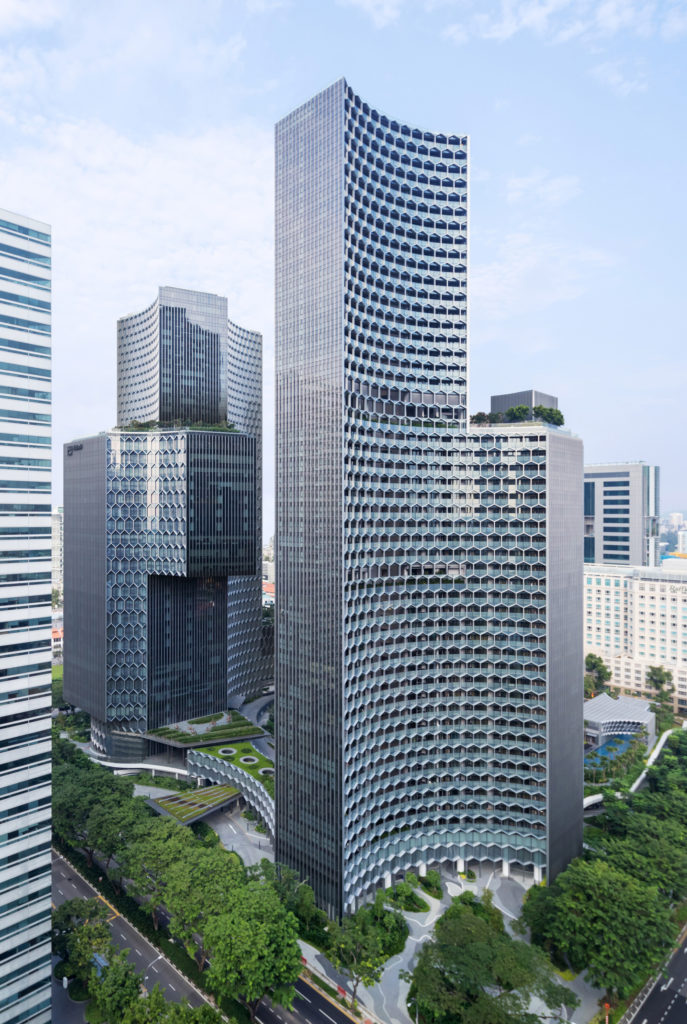 The design for this Malaysian-Singaporean joint venture actively engages the space of the surrounding city to form a new civic nucleus in Singapore's modern metropolis. The two towers are not conceived as autonomous objects, but defined by the spaces they create around them.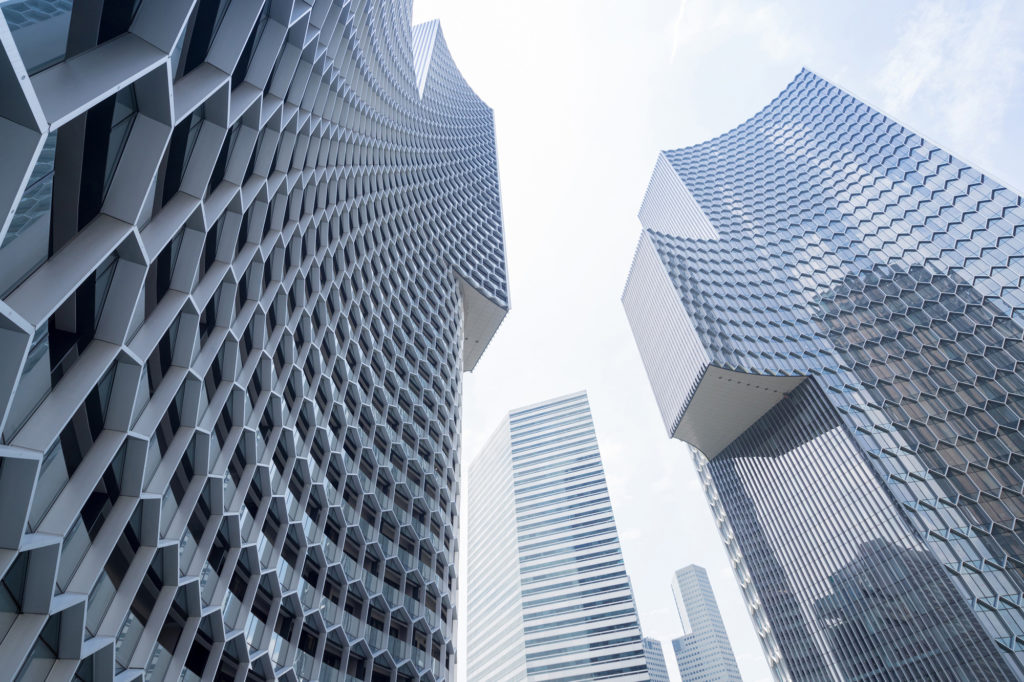 Singapore consistently ranks as one of Asia's most livable cities. However, it is being increasingly dominated by isolated individual towers that favour exclusion over social connectivity. The prescribed zoning confronts the project with a dual dilemma: it splits the site into two separate pieces, and leaves large, bulky footprints for the resulting tower envelopes which risk overpowering the surroundings and the intimate scale of the adjacent historic Kampong Glam district.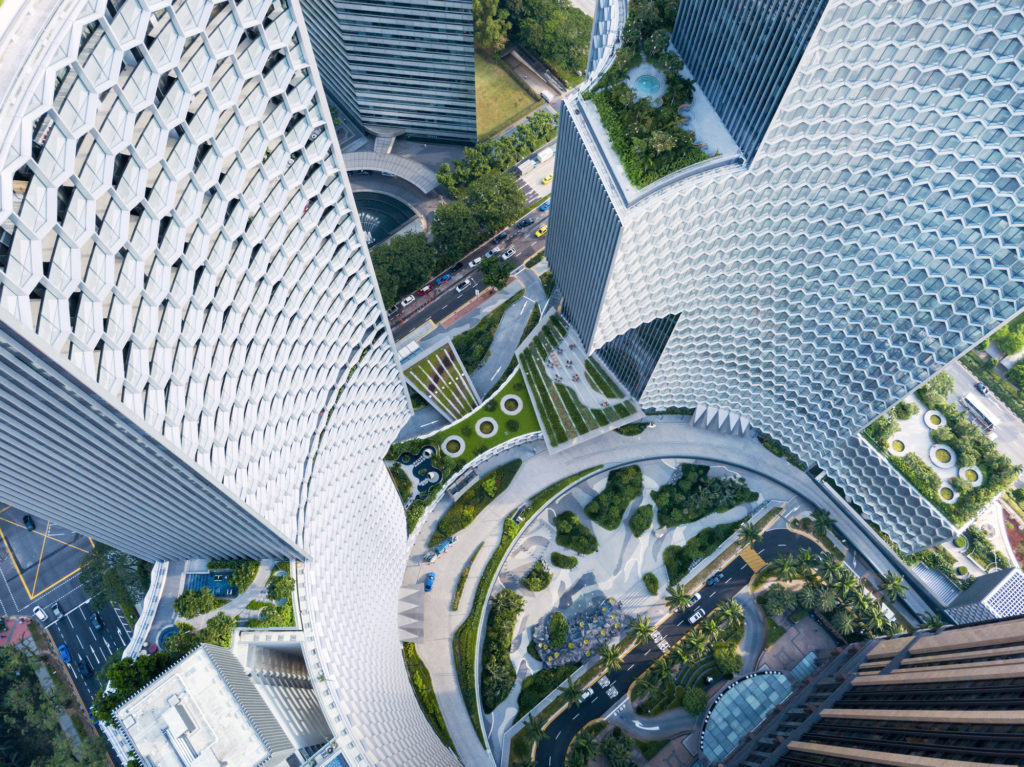 The design for DUO subtracts circular carvings from the allowable building volumes in a series of concave movements that generate urban spaces – a kind of "urban poché" that co-opts adjacent buildings and symbiotically inscribes the two towers into their context.
By generating the massing through a subtractive process, the elevations of the new towers are reduced to slender profiles. Vertical facades rise skywards along the adjoining roads, while a net-like hexagonal pattern of sunshades reinforces the dynamic concave shapes. The tower volumes are further sculpted to feature a series of cantilevers and setbacks that evoke choreographed kinetic movements of the building silhouettes.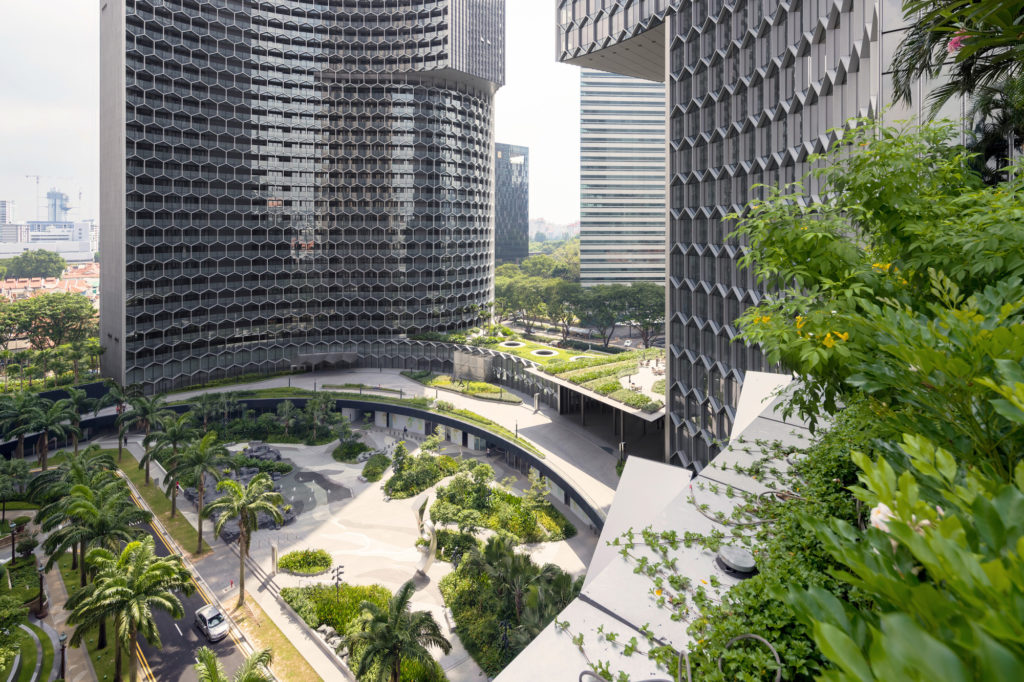 The buildings dematerialise as they reach the ground to provide a porous permeable landscape traversing the site. Leisure zones and gardens act as a connector between multiple transport hubs and establish a flow of tropical greenery and lively commercial activity, accessible to the public 24 hours a day. A plaza, carved into the centre of the towers and integrating the neighbouring building as part of its perimeter, forms a new public nexus between the historic district of Kampong Glam and the extension of the city's commercial corridor.
Multiple levels of vertical connectivity give access to large elevated terraces for the hotel and residents, a public observation deck and a sky restaurant atop the office/hotel tower, while establishing a direct connection to the adjacent underground MRT subway station. Vehicular traffic is lifted off the ground to allow uninterrupted pedestrian circulation. Extensive landscape areas at the ground levels, elevated terraces, and roofscapes provide accessible green space equal to 100 per cent of the site area.
The development incorporates environmental strategies through passive and active energy efficient design and naturally ventilated spaces. The building's orientation is optimised to prevailing sun and wind angles, while the concave building massing captures and channels wind flows through and across the site, fostering cool microclimates within the shaded outdoor spaces.
Embracing civic spaces in a symbiotic relationship with each other and thereby transforming the surrounding multivalent urban fabric, the two sculpted towers act as urban space generators.