Located in a disused barbeque site in Xichong Resort, Dapeng New District in Shenzhen, Bonfire is an installation by MAT Architects unveiled on the sidelines of the ongoing Shenzhen UABB Biennale. The site comprised of dozens of round and square bbq units is surrounded by lush trees, and with the sea and a beautiful beach at the south.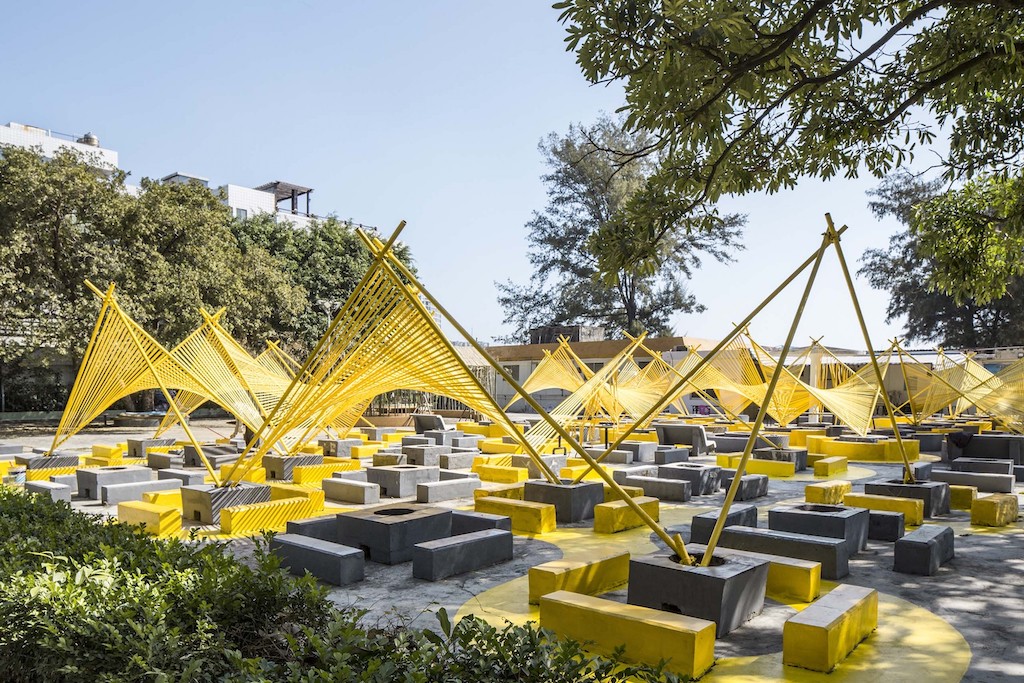 The idea of the work "Bonfire", curated by Jing Han and Handshake 302, is trying to break the layout of the original barracks of the BBQ site, and turning to a freestyle connection and reorganisation, so as to create an instant "collective" space by the on-site installation.
"In the woods by the seaside, we built a continuous spatial installation based on the original stove layout on the bbq site, the image of bonfire above the stove seems like one of the earliest symbols of "collective" in human society; it can be the proof of " presence" for the past collective, and is also able to be conceived as the spatial projection of the instant "collective" at the moment." – MAT Architects
The 100m² installation creates an interesting public space with the continuous frame by yellow scaffolding and colourful spray on the ground; it converts the derelict and boring bbq venue into a vibrant playground. The elastic material keeps vibrating under the influence of the sea breeze, as if to declare the passage of time and the presence of collective. When night falls, the cluster of yellow fires in the woods under dusk seems to convey the story of the circle of human activity.
Photos: Kangshuo Tang